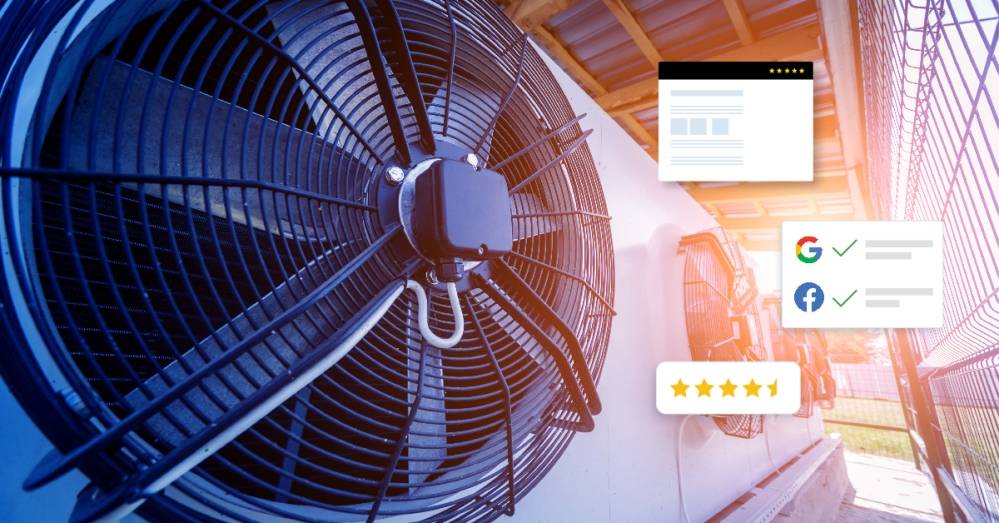 Effective HVAC Digital Marketing Strategy: 6 Basic Tips
When you run an HVAC business (or any other kind of business), you always want to generate leads and bring in new customers. Of course, that's easier said than done when you're part of a steadily growing, massive multibillion-dollar industry. Google yourself and you'll instantly be reminded that you're constantly up against dozens of local competitors big and small.
So, you know you need to start marketing — otherwise, you probably wouldn't be reading this. But how do you make your mark, gain customers, and stay viable? Nowadays, digital marketing (aka digital advertising or online advertising) is the #1 way to boost business in a bustling HVAC industry.
When you're putting together your HVAC marketing strategy, remember these six tips that you or your marketing partner should be doing to kick off your HVAC digital marketing.
[Related: The Extraordinary Results of Integrated Digital Marketing]
1. Your Business Profile / Online Listing
A Google Business Profile is a crucial starting point — it's usually what customers first see when searching for nearby HVAC businesses. Your Google Business Profile is the first step in local search (sometimes it's the only step), and it's a make or break component of your digital marketing.
To make your profile detailed and legit, make sure it's complete and verified. Customers are far more likely to click or call a business with a lot of information listed, good reviews (we'll get to that in a minute), and photos.
Having a business profile includes checking it regularly to make sure it's accurate. Incorrect business information can drift around online, and customers lose trust in a business when they spot wrong information. That's never a good thing.
With listings management services, you can ensure your business's digital marketing strategy is consistent and controlled across search engines. And you won't have outdated or autogenerated information hurting your business's reputation. (Yes, autogenerated information gets added online a lot.)
[Related: Free Online Business Listings Scan]
2. A Professional, Effective, Optimized Website
A professional, lead-generating website is your business's home on the web – and your most important marketing tool.
Because a website's crucial to your HVAC digital marketing strategy, ensure your site is appealing and user-friendly. But a solid modern website goes beyond that — you need mobile-friendly design, voice search capabilities, search engine optimization (SEO) and SEO-rich content that's updated regularly.
Creating and maintaining a website demands skill and time. If you don't already have a site, a digital marketing company will build you a great one. If you do have a site, that company can probably take your website and make it better (more effective at generating leads).
Today, as a rule, DIY websites just don't cut it — all too often cheap (or free) doesn't equal quality. You won't have the high-level writing and design you need to stand out from your competition, search visibility, clear contact information, and overall appeal that you get with a custom-built website.
Plus, that SEO we mentioned is vital to all effective digital marketing strategies, so it's absolutely critical that your website is built with the latest SEO strategies.
You've probably run across this exact predicament in your HVAC work. A customer may want the cheapest option, but that option is almost always a short-term fix that doesn't really make the grade… and wouldn't reflect well on your business.
[Related: 5 Tips for Good Small Business Website Design]
3. Get (and Stay) on Social Media
Social media isn't just for socializing.
When you use social media for your business, you instantly increase word of mouth (WOM). That might seem like small potatoes, but it's free marketing that keeps your business top of mind.
Facebook and Instagram are the obvious choices for most businesses. Facebook is far and away the biggest social media platform and will put you in front of the most customers and prospects.
Don't confuse social media with social marketing. Social marketing goes way beyond just posting pictures – including posting ads, boosting posts, and precise targeting using Facebook's algorithms.
Because social media marketing is often a full-time job, most local businesses partner with a digital marketing company. They'll take care of the whole process, including making sure your posts are optimized, effective, targeted to reach the customers you want, and tailored to your brand. It's not simply a side gig — it's a massively influential component of your HVAC digital marketing strategy.
[Related: Facebook Advertising for Small Businesses]
4. Start Email and SMS/Text Marketing
Few things in life are certain, but two things are clear — nearly everyone uses email, and almost everyone uses cell phones. Put those two facts together, and you'll see email and SMS (text) marketing is a route you can't afford to not take.
Although email and text marketing can put your business in front of millions of users, what makes it work is the ability to pinpoint your local market. That's the sweet spot where you'll get the most revenue and customer interaction.
Using marketing automation, you take the manual labor out of the equation, get customer insights, and connect meaningfully with customers.
If you embrace the possibilities of email and text marketing, you could see, as some businesses have, as much as six times the revenue you invested. If you're putting together an effective HVAC marketing strategy, that's definitely in the "effective" slot.
[Related: Top 5 Ways Your Small Business Should Be Using Email Marketing]
5. Place Ads Where Your Customers are Looking Online
Yes, there are ads online just like ads in print. They're what naturally spring to mind when you think about digital advertising, and they're definitely an integral part of your HVAC digital marketing strategy.
You have three primary options, and all are highly effective:
Search advertising is your most affordable option and boosts your site's ranking in search results on Google, Bing, and Yahoo. Display advertising involves visuals (pics and videos) custom-designed for your business and retargeted to appear on popular sites, apps, and platforms. Social media advertising also includes custom-made ads that appear while customers browse.
For the most profitable results, use all three options. Then ads for your HVAC business will appear — strategically — in all the right digital spaces.
[Related: Your Social Media Marketing Checklists]
6. Maximize Customer Reviews… and Your Online Reputation
So, once your HVAC digital marketing strategy's building blocks are in place it's time to make the most of your online presence.
It's a fact — customers trust other customers more than they trust advertisements. Ads are genuinely valuable, but it's hard to beat word of mouth recommendations and customer reviews. Think about it… when was the last time you bought from a business with a poor star rating when you checked a listing?
To maximize the power of positive customer reviews, invest in online review management. No matter how you get reviews, be sure to post great reviews on your website, social media accounts and more. Hey, you can even feature reviews in custom-made visual ads (like we said, digital marketing strategies work better together).
For added control, use reputation management to optimize what customers see when they search. Your business's first impression carries a ton of weight, so make sure it's stellar. The right marketing partner can help you monitor and manage how your HVAC business appears to customers online.
Making the most of good (and bad) reviews is the perfect way to round out your effective HVAC marketing strategy.
[Related: How to Ask Your Customers for Reviews]
Do it all easily with Hibu
When you partner with Hibu, we make digital marketing simple with custom solutions.
We can help save time, save money, and maximize the ROI of your HVAC digital marketing strategy with real results, one-on-one service, and flexible pricing.
Get more clicks, calls, and customers – call us at (855) 620-9600 or complete our Get Started form for a free, no-obligation consultation.