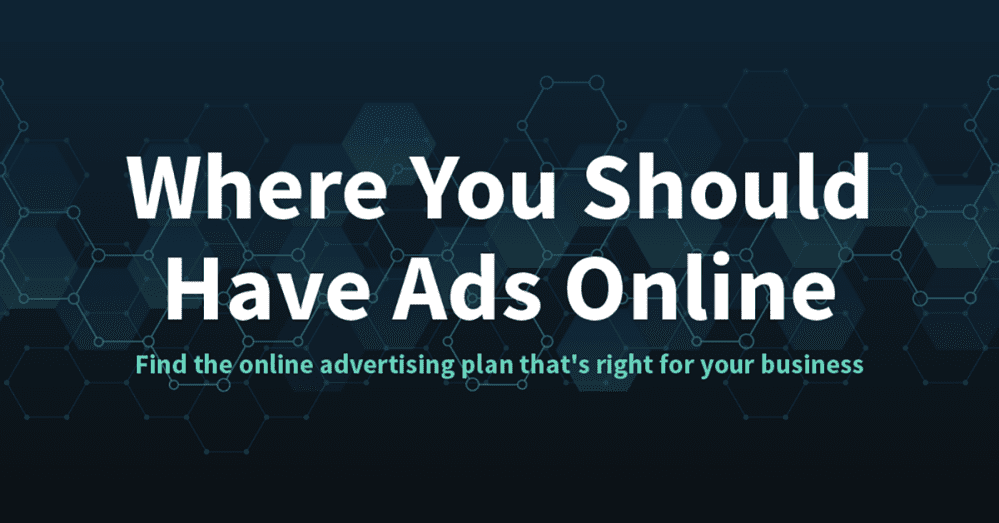 Everywhere your small business should have ads online
When it comes to advertising online, where will your small business get the best results / the best ROI / the best bang for your buck? Start by asking yourself this simple question:
Are your customers looking at ads…
On search engines like Google, Bing and Yahoo?
On the websites they visit every day?
On social platforms like Facebook and Instagram?
The short answer to all of those is "Yes" — and your online advertising strategy needs to reach all of your customers, whether they're searching… surfing… or on social media.
Check out this infographic for a quick overview of where you should have ads online to reach your local customers.
[Related: The Complete Guide to Where Your Business Should Advertise Online]
[Infographic transcript]
Where You Should Have Ads Online
Find the advertising plan that's right for your business
In today's advertising-heavy world, how do you get your business noticed?
For small businesses especially, it may seem like an impossible task when you start to examine all the possible places to advertise your business online. So, to try and simplify a bit, here are a few tips to help guide you through the crowded (and often confusing) space of Search, Display, and Social Advertising.
Search Advertising
These are the ads that appear when customers are searching for a product or service, usually on Google, Bing or Yahoo. Using search ads is especially smart and effective because it places your ad in front of an audience when they're actively searching for a product, service, or information.
Advantages
Extremely targeted — Search advertising makes it possible for you to reach a very selective audience to match your individual business objectives
Qualified leads — Customers are driven to your site just as they're seeking out the specific product or service you provide
Social Advertising
Choosing to add social advertising to your marketing plan can be an effective way to put your business in front of a massive audience. With its advanced targeting capabilities, if you have the right expertise you can fine-tune your targeting to reach a very specific, very high-quality audience — getting your message to your intended audience quickly and effectively.
72% of US adults use at least one social media site
77% of consumers say they are more likely to buy from a brand they follow on social media over one they do not
67% of consumers say that they are more likely to increase their spending with a brand they follow on social media
Display Advertising
Display advertising comes in a variety of different forms, but at its core, it revolves around the same principle — graphic or video ads appearing on the top, on the side, and in the middle of web content on almost every website. It's an excellent way to build brand awareness and get clicks, conversions, and sales from users who might not have an immediate interest in your business.
4 Display Advertising Tips
Target the right audience segment. Understand your audience to reach them with your campaign.
Use clear and compelling headlines and text. Try your best to avoid generic messaging or click-bait.
Based on what you say in your ad, have users land on the appropriate page where they can take action on the offer/service advertised.
Don't ignore the mobile market. It's important to make sure your ads look good on both desktop and mobile devices.
Why you need all three
The businesses that see the most success today aren't handicapping themselves by using only one type of advertising. They're utilizing a unique mix of all of them — and you should too! That way you can reach your ideal customer whether they're searching for a service or product on Google or Bing, surfing their favorite websites, or spending time socializing with people on social networks.