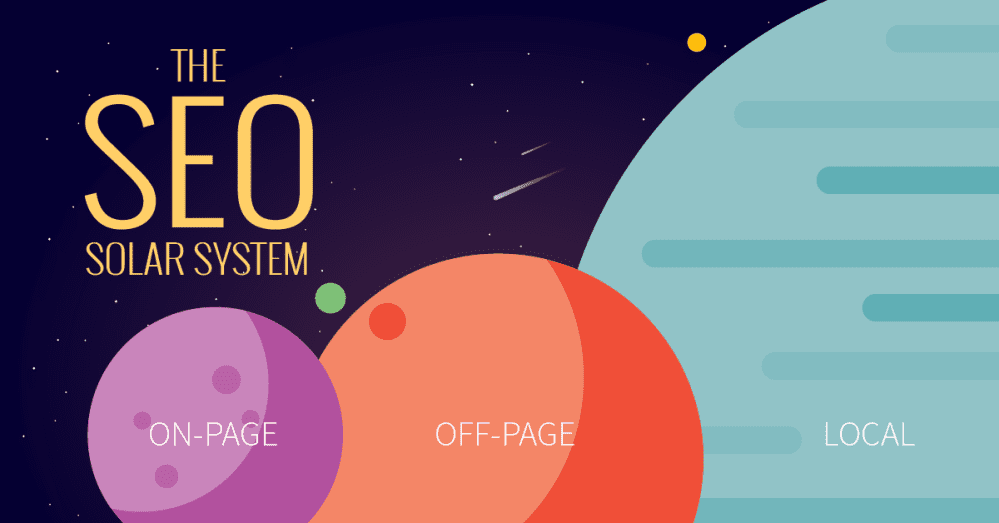 The SEO Solar System: Different Spheres of Influence
You can't talk about marketing your business online today without hearing the word "optimized" — specifically Search Engine Optimization (or SEO). But SEO is a broad term that covers some very specific — and very different — online practices.
On-Page SEO
On-Page SEO is everything that's built into your actual website: your site content, metadata and code quality. On-Page SEO makes sure that your site's pages get indexed (or recognized) by search engines and added to their "library" of pages that can be served up when someone searches for relevant keyword phrases (including the easiest one of all: your business name).
Search engines read the content (or copy) on your site's pages. Now more than ever, they reward pages that are unique and useful, so make sure your content speaks to your site visitors' needs and interests.
Search engines read the metadata in your page's code. Your Title tags act as a "label" that tells the search engine what each page is about… meta description tags tell users why they should click on your page's listing… and alt tags help search engines understand what the images on your site are showing (because search engines can't "read" images — only text)
Finally, the type of code your site uses can make or break On-Page SEO. Remember to avoid using Flash on your site and to make sure your site is mobile friendly.

On-Page SEO is all about getting your site indexed properly, not prominently. For higher ranking in the search results across a wider variety of keyword phrases, you need to invest in Off-Page SEO.
Off-Page SEO
Off-Page SEO is the process of getting your site's pages to show up when people search for terms related to your business — like "best roofer in Columbus, OH" or "how to replace a headlight" or "pediatrician 19003." While On-Page SEO is about recognition from the search engines, Off-Page SEO is about building up your relevance.
Off-Page SEO practices include:
Publishing content across the Web that uses these terms and links them back to your website's URL, search engines start to see your site as the "answer" to specific search queries
Video distribution, with links from those video descriptions back to your site
Article, blog post and press release writing and online distribution
Social bookmarking, posting Powerpoint presentations to appropriate sites, manual link requests and more

Customers looking for your specific business are more likely to find you via On-Page SEO or Local SEO, but customers researching a general topic or trying to find a provider they don't know yet will likely be leaning on Off-Page SEO to find your business online.
Local SEO
Local SEO includes ALL the references to your business across the Web, like search engine profiles (like Google+ Local and Bing) and directory listings (like Yellowbook.com, Yelp, Foursquare and more). Even the social media profiles for your business could be considered part of Local SEO.
Anywhere your business is referenced online is a potential path for your customers to find you — either by visiting that listing, visiting your site, or reaching out to you directly (by calling, emailing or stopping by). If your basic information in these Local SEO listings isn't correct — your Name, Address and Phone Number, or NAP — it can be harder for your customers to find and contact you. And some of these listings pull information from each other, so a wrong phone number in one listing can suddenly appear in your other listings (even if they were correct yesterday)!
Many of these online listings for your business already exist. They've been autogenerated over the years based on publicly-available information, or information that your customers and community members have shared online. You may have "claimed" these listings (or taken over management of them) already, or they may be waiting for you to claim them or verify them.
Keeping track of all your online business listings — and making sure you include consistent information about your business — is vital to getting found online.
What else should you know about SEO?
SEO is a process, not an event
SEO is never "done." From adding new, properly-tagged pages to your site (to boost your On-Page SEO chances) that focus on a specific topic (to boost your Off-Page SEO relevance) to managing and maintaining all of your online directory listings (to boost your Local SEO accuracy), SEO is a regular activity your business needs to engage in — just like doing inventory or sweeping the floors.
Each page of your site can show up on the search engine results page (or SERP)
The more pages you have, including blog posts, the more chances you have to show up in the SERP. And the more you can focus each of those pages on a specific topic — and include well-written content that visitors will find helpful — the better your chances of showing up for a specific search query.
SEO is just ONE way that customers can find you online
Don't forget about Direct traffic (people typing in your URL after seeing or hearing it somewhere else, or clicking on a link to your site in an email), Referral traffic (links to your site on other sites, including your social media profiles), Pay-Per-Click search engine advertising and Display advertising. Take a look at some other great tips about how to promote your website online and offline.
Need to polish your On-Page SEO? A Hibu Website includes On-Page search optimization PLUS the Local SEO benefits of Hibu Listings Management. We'll "tag" your pages to get found and indexed (or recognized) by search engines and claim, correct and protect your other online listings. We'll even set up Facebook and Twitter profiles for your business if you don't have them already.
Looking for Local SEO? Hibu Listings Management will claim, correct and protect your business listings across the Web, everywhere that matters online — including Facebook and Twitter.
Ready for Off-Page SEO? Hibu SEO Services is designed to boost your visibility for targeted keyword phrases — maximizing your online visibility with a professionally-managed search engine optimization campaign.