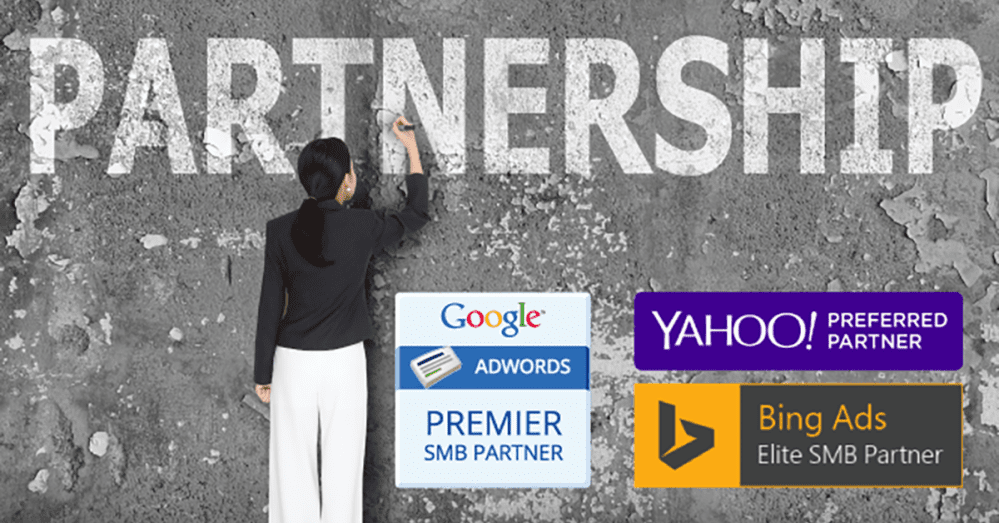 Our Search Partnerships — Your Search Advantage
It's no secret, one of the most effective ways to improve the products and services you offer is to partner with the best in the business, no matter what business you're in. Hundreds of thousands of local businesses across America partner with Hibu to help them get found – and we partner with Google, Yahoo! and Bing to help our clients connect with the customers they need to reach.
Hibu's Search Marketing PPC Partnerships
Search Marketing Pay-Per-Click (PPC) can be a powerful marketing tool to drive traffic to your website, and to drive calls and foot traffic to your business – but it can be intimidating for small to medium-sized business owners.
When you work with hibu, we become your digital marketing partner – an extension of your team. We're experts at PPC – from campaign setup to optimization, ad creation and ad placement. We manage your PPC campaigns to deliver the best results and maximize your ROI. There's a lot that goes into a successful PPC campaign, and it's safe to say for most SMBs, PPC isn't something you shouldn't try on your own. You need an expert partner… and so do we.
We've developed close, professional working relationships with the top three search engines – in fact, hibu has been awarded direct partnership accreditation with the industry leaders in PPC. Here's a look at hibu's Search Marketing PPC partnerships and how our partnerships with them can be a big advantage when you partner with us…
The Google Premier SMB Partner Program
Google AdWords is the leading PPC marketing service — over a million businesses rely on Google AdWords to get them found online. hibu is a Google AdWords Premier SMB Partner. The Premier SMB Partner Program connects experienced AdWords partners (like hibu) with local businesses that want expert help in creating, managing and optimizing their Search Marketing PPC advertising campaigns.
Benefits of working with hibu, as a Google Premier SMB Partner:
In-depth AdWords expertise: you can take advantage of hibu's local knowledge, product expertise, and access to Google technology. Plus, you'll also benefit from hibu's strategic relationship with a dedicated Google partner manager who provides the latest insights into AdWords products and tools.
Campaign management: from setup to optimization, our full-service Google AdWords management can help you maximize your campaign's ROI.
Detailed reporting: you can access performance data and key insights into how your AdWords campaigns are performing.
Marketing guidance and support: we'll actively manage your marketing program, taking the guesswork out of campaign development and letting you focus on running your business.
Customer support: you can reach us by email or on the phone if you have questions or simply want to discuss your campaign results.
The Yahoo! Preferred Partner Program
hibu has been recognized as one of only a handful of innovative Yahoo! Gemini partners because of our dedication and commitment to delivering a higher standard of client service. We've been through rigorous testing and certification to help you and your Yahoo! Gemini PPC campaign succeed. As a Yahoo! Preferred Partner, we provide you with insights that hone your marketing campaign, tailored services that maximize the impact of your ads, and technology that optimizes and tracks the performance of your Yahoo PPC campaigns.
Benefits of working with hibu, as a Yahoo! Preferred Partner:
Marketing Insights: we have access to the latest Yahoo research and best practices from industry thought leaders who are experts in their field.
Tailored Services: hibu is part of a small group of trusted providers by Yahoo that has the right digital advertising solutions to fit your business' unique needs and marketing objectives.
Performance Technology: Yahoo! has equipped hibu with a wide range of advanced tools and solutions to maximize your digital ad spend, including Yahoo's newly launched Gemini "native mobile advertising" platform.
The Bing Ads Elite SMB Partner Program
hibu has received the new Bing Ads Elite SMB Partner Program designation. Bing has recognized hibu as a partner who has shown proven expertise in driving growth to small- and medium-sized businesses through a deep understanding of the search advertising landscape, specifically through the Bing Ads platform. We are committed to providing high-quality support and service and have the requisite technology, innovation and skilled workforce to help businesses see success using Bing Ads products.
Benefits of working with hibu, a Bing Ads Elite SMB Partner:
Expertise that maximizes ROI through custom-fit digital marketing campaigns, the latest technology, performance tracking and tailored reporting.
Dedicated support that lets you focus on your business while hibu takes care of your Search Marketing needs.
Deep industry and Bing Ad platform knowledge gained through exclusive access to customized training and industry insights.
Put hibu's Partnership Advantage to work for you