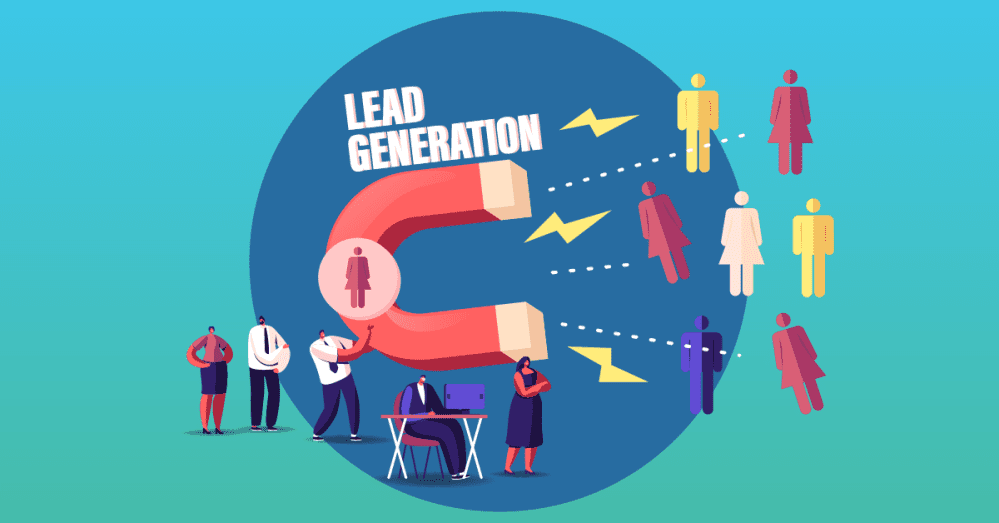 The Small Business Guide to Lead Generation
As a small business owner, your existing customers may be your best source of new income. But that doesn't mean you can simply ignore potential prospects.
Despite the fact that attracting a new customer can cost up to five times more than nurturing an existing one, lead generation should still be an integral part of your small business marketing strategy.
If this is an area with which you struggle, you're not alone. That's why we've created this small business guide to help you generate more leads. By implementing some of these ideas (and working with the right custom digital solutions provider), you'll have the ability to drive more of the right customers to your website.

How Can You Generate More Leads for Your Small Business?
You may feel like the odds are stacked against you as a small business owner. After all, you probably don't have a marketing expert in house, let alone an entire marketing department. But if you're able to utilize the marketing resources available to you, you can level the playing field. Our custom digital marketing solutions are designed to deliver results – and we know first-hand that the following lead generation tactics can really pay off for small businesses. Here's what we would suggest to help you reach your goals.

[Related: Free Guide: Digital Marketing 101]

Leverage the Power of Reviews
Online reviews are incredibly impactful. In fact, 91% of customers under age 35 say they trust online reviews as much as personal recommendations. Nearly 80% of customers aged 35 to 54 say the same, according to Search Engine Journal. If your business isn't leveraging the power of online reviews, you're going to be left in the dust.
Fortunately, it's easier than ever to generate and manage your business reviews online. Not only are there multiple review platforms that customers use on a daily basis (like Facebook, Yelp and of course Google), but a program like Hibu Reviews allows you to gently remind customers to share their thoughts and collect their feedback in a snap. This can help you create a steady stream of positive reviews from satisfied customers, clients or patients without having to add another task to your to-do list.
Online review generation can help you showcase your customer service skills and can also drive substantial traffic to your site. The more reviews your business receives, the better your brand perception and visibility. You'll be more likely to appear in search results (especially local SERPs!), giving your customers a shortcut to exactly what they're looking for.
Bizrate Insights tells us that nearly 55% of shoppers read at least four reviews before they make a purchase. By focusing on your online reviews, you can build trust with your leads before you ever make direct contact with them.

[Related: The Importance of Online Reviews]

Claim Your Local Listings
Local business directories and online listings are essentially today's version of the phone book. Rather than physically sift through hundreds of yellow pages, customers will type a few words into a search engine to find the product or service they want.
That's why you need to claim or submit local listings information for your business (and ensure it's accurate across the board). Since 46% of all Google searches are seeking local information…and 97% of people actually prefer to learn about a local company online…local listings are one of the best ways to reach your target customers.
Hibu Listings Management ensures that every listing for your business is up to date across the internet. Inaccuracies can confuse both search engines and your customers, so your listings will be totally synchronized and optimized for maximum results.
The more readily your business appears in directories and on platforms like your Google Business Profile, the better your traffic and sales can be. Focusing on local listings management can be an excellent lead generation tactic for your small business.

Run Ads on Social Media
Social media may not be your thing, but it needs to be part of your marketing strategy. According to Fundera, 74% of consumers rely on social media when making purchasing decisions. What's more, 60% of customers will engage with brands they've bought from before on social media. In other words, social media is a powerful marketing tool for nurturing both new leads and existing customers.
With so many options available for online advertising, it can be tough to know which will work best for your small business. Hibu Social makes it easy for your brand to reach and grow your audience on Facebook and Instagram. With nearly 1.9 billion daily active users accessing the Facebook platform, your business needs an active presence there, too.
Fortunately, you don't have to worry about making posts or running ads in the Metaverse yourself. We'll create your Facebook Page with all of your unique branding while ensuring your ads show up in the News Feed, on Facebook Messenger, in Facebook Marketplace, and even on Instagram to appeal to your ideal audience. We'll help you acquire more qualified leads through these targeted ads – and you'll get the insights you need to follow your progress in real time.

[Related: Facebook Ads + Posts]

Optimize for Your Local Market
Local SEO is an essential part of any small business marketing strategy. Rather than optimize your website for overly broad keywords in the hopes of appealing to everyone on the internet, you'll want to be much more specific in your targeting.
One aspect of local SEO you'll want to consider is location-specific keywords. Also known as geo-targeted keywords, they can help you reach customers who are looking for your products or services within a specific geographic area. These keywords might include the physical location of your business, the areas you service, or a large city close by.

There are a number of places that geo-targeted keywords can be used on your website, including:
Blog posts
Service pages
FAQ pages

While you don't want to go overboard with location-specific keywords or stretch the truth about the areas you service, these key phrases can add necessary context for search engines. When a potential customer searches for something relevant "near me," Google will know to include your website in their search results.

[Related: Dominate The Search Results With Hibu Local Ranking]

Another way to increase your chances of appearing in local search results is to optimize for voice search functionality. Voice search has become immensely popular in recent years, with nearly 50% of respondents in a Social Media Today survey reporting that they use voice search to research products they want to purchase.
Since most voice search users will take advantage of this feature on the go, it's a natural fit for small businesses. Customers who are already on foot or in a car are looking for immediate answers close by. They're on their phones and voice assistant-enabled devices and ready to visit a business within their community. If you can increase your chances of appearing in voice search results, these customers will find you easily and visit your location promptly.
One thing to remember is that we interact with Siri and Alexa much differently than we do with a Google search bar! Optimizing with long-tail keywords, particularly those in the form of a question (like "What pizza places deliver near me?"), can improve your voice search visibility. Keep content conversational and make sure your website is built to provide a good mobile experience, too.

[Related: What Makes Hibu Smart Sites So Smart?]

Don't Forget About Your Current Customers
We've talked a lot about marketing to brand new leads…but you don't want to forget about your current customers, either. They're a reliable and cost-effective source of new sales, so you can't afford to neglect them after they initially purchase (like nearly 30% of brands do).
Marketing automation makes it easy to "close the loop" and make sure that your current customers don't fall through the cracks. With Hibu Assistant, you can re-engage those customers continuously with win-back offers, sales promotions, and other targeted email marketing campaigns. You can even send text messages to those who opt in. We know that SMS marketing boasts an 82% open rate on average, so text messages can be a powerful addition to your strategy.
Ultimately, the success of your business isn't built solely on new lead generation. Remarketing to current customers will provide a steady revenue stream based on customer loyalty. When you can keep former or current customers coming back, you'll spend less on new lead generation and more time getting business from repeat, happy customers.

[Related: Introducing Hibu Assistant]

Generate More Leads With Help From Hibu
We know how important it is for your small business to have a full lead funnel. We also know how difficult it can be to accomplish that goal on your own. That's why we've made it our mission to provide the support small business owners need to reach the next level with customized marketing solutions. To learn more, contact us today at 877-237-6120 or request your no-obligation consultation.