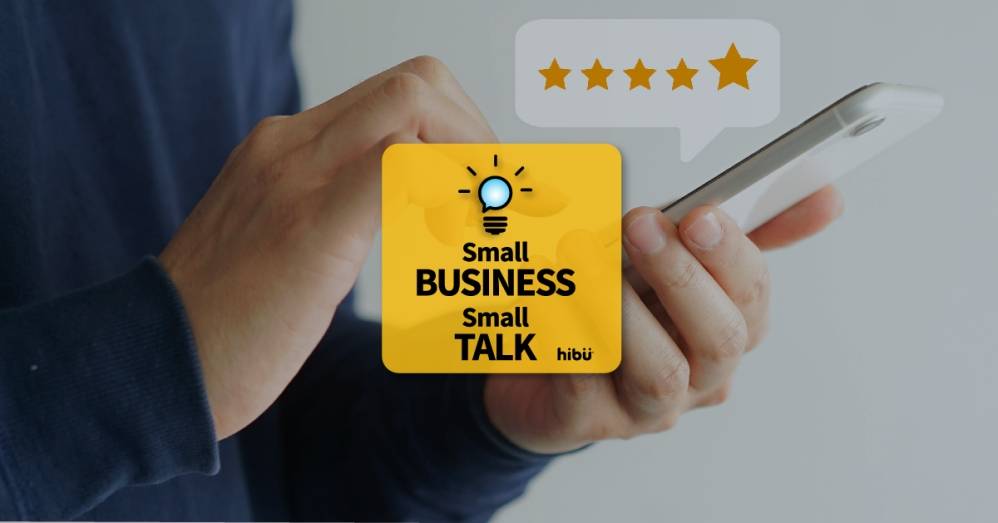 Podcast: Protecting your business's reputation online
In this episode of Small Business Small Talk, Ian and Lauren are joined by Eric Damm, Hibu's Sr. Digital Product Manager, for a revealing look at the things that go into your online business reputation.
Listen to Small Business Small Talk powered by Hibu on any of these streaming services:
APPLE PODCAST | YOUTUBE | SPOTIFY | GOOGLE PODCAST | STITCHER
From incorrect listings to misrepresented services ("Uhm… no, sorry, we don't do that."), ratings, reviews and responding to both… good and bad — it's all part of your overall impression online… and it can make or break your business. Listen in and see how you can make sure your business reputation gets rave reviews (literally).
[Podcast transcript]
Ian Messinger:
Hi, I'm Ian Messinger with my co-host, Lauren Blackford.
Lauren Blackford:
Hey there.
Ian:
Thanks for joining us for this episode of Small Business Small Talk powered by Hibu. Today we're talking with Eric Damm, Hibu's Senior Digital Product Manager, about taking control of your small business online reputation higher. Thanks for joining us.
Eric Damm:
Hey, Lauren. Thanks for having me.
Ian:
Sure. Now, we're glad you could be here today. So, I want to dive right into it. You know, when we say reputation, I think that conjures a lot of different things for people, whether they just, you know, have some association with the word in general, or they're thinking of "Oh, well, for my small business, my reputation equals blank." So, when we talk about online reputation in the small business sense, what all does that include?
Eric:
Online reputation, as you said, really is a very loaded term. And when we think of online reputation, we really think of the foundation of your business online. So how is your business listed online? How do people see your business online? What do they see about your business? What do you say about your business, all of that can be wrapped into your online reputation, or your online Foundation, or really what we like to think of your digital storefront? So, we all know you have the physical storefront where people can drive up, see your business, visit your business, in the digital world, and in the online world, really, your reputation, and your foundation is your digital storefront. So, when people are looking for your business, what can they see about you? What can they read about you? What information do you provide to them? So, we can really break that down and get into a lot of different aspects of what we call your online reputation.
Lauren:
Does that go beyond just a website, Eric?
Eric:
Absolutely. More and more these days, we're talking about people finding businesses away from the website, your website is still very much visited by your customers, people looking for your business, but being listed on the likes of Google and Facebook, and I can go forever naming different apps, directories, sites, all these places, there are experiences that people looking for your business will find you and will find information about your business away from your website more and more. That is where the online experience is being found.
Ian:
And that's interesting, right? Because I think as a small business owner, it's easy to think, Well, you know, I put time and effort into my website. And I expect that when someone's looking for me online, they're typing in my URL, or they're, you know, when they search for my business name, my website is what shows up. And it sounds like it's a lot more than just your website, or in some cases, maybe your website doesn't show up at all. That's not what people see when they're trying to suss out who you are and whether they should give you their business.
Eric:
Right, your listings – as we like to say, in the world of online management – your listings, as I mentioned before, span a wide variety of places, whether it's apps on your phone, so we all use Google Maps or Waze or different places that you look for businesses. As I mentioned before, the Facebooks and Googles are big ones. But really making sure that you have consistent and accurate information everywhere goes a long way in the world. You really want to own and make sure that you're in complete control and complete knowledge of what is out there about your business. A lot of times you might say, you know you're open 9 to 5, you know, that you specialize in a certain aspect of your business. But that's not really what's out there. There's a lot of bad data out there. Bad data gets circulated and the more and more gets circulated. It can infiltrate different places that you don't realize it is owning everything about your business online is a very important aspect of really controlling your reputation and controlling what people see and know about your business.
Ian:
So is it fair to say that beyond the things that you've created or are aware of, there may be other things that people are encountering, as they as they either look for your business by name or you know, looking for a roofer and you happen to fall into that search that folks may see something that you know, the small business owner isn't aware of and maybe right wrong, outdated, what have you?
Eric:
That's exactly right. I know we do what we consider… what we call a listing scan to see what's up about your business, all the different places that you're listed, and how accurate and consistent that information is in different places… we often find, and business owners often find when we show this to them, that what you alluded to there, and they had no idea that was listed, oh, that's an old phone, that's not my address anymore. or something, even if it's more related to the business, oh, I don't do power washing anymore, I only do painting now, and that still says I do it. And that information, like you said, lingers out there, it gets spread out there. And being aware of what's there and making sure accurate, consistent and up to date are three real bullet points we want to focus on when we talk about your online listings.
Lauren:
It's so interesting that you mentioned that, Eric, because if a consumer is searching for a roofer, but they don't do roofing, and it says it out there, and they get a phone call and say, Hey, I need a roofer. I'm not a roofer anymore. Yeah, that's a bad customer experience. So, like you said, it's so important for businesses to keep their information online accurate and consistent.
Eric:
Yeah, and the flip side of that is being proactive when you do something, whether it's, you know, you're changing in the ever-changing world that we're in right now, you're now doing online ordering, or you're now doing curbside pickup or anything like that, you want to proactively push that out there. So yes, your examples perfectly accurate, and a very real one where I don't do that anymore. But if you do start to do something, you want that information everywhere, you don't just want that on your website. We mentioned putting that on your Facebook, your Google, everywhere, you know, there are so many sites, whether they're vertical specific sites that only have food options, if you're a restaurant or contractors, if you're a contractor, there are so many of those that we call vertical specific sites, we want to make sure that information is everywhere. If you're doing something, you want to you want your customers, you want your potential customers to know that you can do that or you provide that service, or you're now open till X amount of hours, we need to make sure that information is not only accurate and consistent. But like I said up to date, you're putting that information out there and you're making sure people can find that when they want to know somebody wants a 24-hour plumber, right now, they want to know that you have 24-hour service. That better be listed everywhere, not just sitting on your website that may or may not get found by that person searching.
Ian:
Right. And then the flip side of that from I guess a risk perspective is, you know, with what sounds like so many places that your information may be listed, it only takes someone finding the one that's wrong. And you know, driving to your location and oops, you closed an hour ago, but that listing wasn't updated. You know, that's probably not going to be a repeat customer. That's someone who's only had one negative experience. And they're like, well, I'm never going to that pizza place again, you know, their hours were wrong.
Eric:
It's a very dangerous thing. It's like I said, the digital storefront, you wouldn't want somebody pulling up to see a closed sign right there at your front door. You wouldn't want somebody calling your phone to see nobody answering you when somebody's calling to ask for a roofer when you're not doing roofing anymore. All of those things are very negative experience that, like you said, not only affect that particular person, but we all know they have trickle down effects, right? We talk about, you know, word of mouth and positive experiences being shared with others, the negative ones get shared just as fast and are just as detrimental to your business. So, it's a big thing to make sure that your information is accurate. And making sure that everybody knows what you want them to know about your business.
Lauren:
So, Eric, you brought up word of mouth and positive negative experiences. Let's talk about how else a business can manage our online reputation based on what other people are saying.
Eric:
Right, thanks, Lauren. So aside from what you want to say about your business, which is your listings, what other people say about you, your ratings and reviews is probably the most easy way to understand this one is a very important of managing your reputation is very important aspect of managing your reputation. So ratings and reviews, I think at this point, all of us know what ratings and reviews are, I would be very surprised to find somebody that hasn't read a Google review ready Facebook review, read a review on your website, review on Yelp written review on Yelp, even we have stats out there, I think that the most recent one to have might be over 90% of people read reviews before making an online purchasing decision.* So, making sure that those ratings and reviews about your business… that you're aware of them. So, you want to generate reviews, there's really two aspects of what I think are important in the world of ratings and reviews. One is generating those reviews, making sure that you're getting reviews, making sure those reviews are positive, the reflective of your business and the recent I if your most recent review is three years ago, it's not going to hold a whole lot of weight in the world. And then not only generating those reviews, but making sure that you're fully aware of those reviews. You're reading them. you're responding to them. You're in complete understanding of what people are saying about your business. Those are two major aspects of managing your online reputation and how it relates the ratings and reviews.
Ian:
Right, you'll often see, as a consumer, you know, a lot of I shouldn't say a lot, but you know, you'll look at a listing and see negative reviews. And at least for me, when I don't see a response from the business owner, I kind of scratch my head like, Whoa, where are they? You know, best case scenario, they're not monitoring the fact that they're getting negative feedback, which doesn't make me think, as a consumer, that they're changing their ways. If I believe that negative review or worst case scenario, they're just not interested in trying to address that complaint, which makes me think, well, gosh, if my experience with them go sideways, like I don't, I don't know, if I'm going to get any kind of resolution here. Maybe I should look for somebody else.
Eric:
Yeah, you hit on two big points there. And the first one is, when you do have those negative reviews out there, it's scary. It's something that no business owner wants to say. And, unfortunately, it's very likely going to happen every business owner, so when they're out there, handling those negative reviews, is very important. And then you had mentioned that, when you personally see a review that doesn't have a response, it doesn't leave a great taste in your mouth, right. So, the person that left that review wasn't very happy. And the person that reading that review is also probably not very happy. From the business owner standpoint, there's really something there's really one thing that you can do there, which is respond to that review. And when you're responding to that negative review, there, there are some guidelines that you really need to be aware of. First one is don't fight back, you. You have to resist an urge to tell that person they were wrong, or fight with them or say you couldn't believe they didn't like your service. But a major thing to keep in mind is don't fight back, be respectful. And make sure that when you're responding, that you're responding to something you're comfortable with everybody reading. Handling that review in a calm manner and trying to address the situation. And offer to remedy the situation is definitely a coaching point that we like to talk to our small businesses about understanding that review, read that review, respond to that review, and offer to remedy the situation.
Lauren:
The old, the customer's always right.
Eric:
That's right. That's right.
Ian:
And it can be something as simple I imagine, as you know, rather than I guess what I'm thinking is, if you're aware enough to be responding to negative reviews and thinking, well, I don't want the next consumer to see this. You don't have to get into specifics. And you certainly don't have to get into you know, now this person's wrong. I did everything right. It can be as simple as just something along the lines of you know, I'm sorry to hear your experience with us wasn't what you expected. You know, "please reach out to us privately and we can try to help" and even that to another consumers is like "oh, that's very friendly and professional." And, okay, I know, I'll have an avenue, if you know anything, where to where to go wrong with my experience.
Eric:
That's a perfect response in and responding to that review is big. And listen, sometimes the customer is right. There are things that you can learn from reading those reviews. If somebody said that, you know, you said they sat in the corner of your restaurant that was way too loud, you couldn't hear a thing. Maybe they're right, maybe you could make that change and say, well, the corner of that restaurant is really loud, and then nobody else will have that same experience. Every negative review is not a fighting point. But definitely a learning point for businesses. The point being that you need to… as a business owner… be aware of those reviews, whether they're valid, whether they're true, whether that person has a good point, a bad point, a positive point or a negative point, making sure that you're able to read those reviews and understand those ratings that are coming in from your customers. That is a major, major point of managing your online reputation.
Announcer:
You're listening to Small Business Small Talk powered by Hibu. Hibu is the country's leading provider of synchronized Digital Marketing for Small businesses, delivering more visibility, more visitors, more leads and more customers. Visit us today at Hibu.com. H-I-B-U. Hibu.com.
Lauren:
Back with Eric Damm, talking about taking control of your online reputation. I love that idea of it being a learning opportunity. So, is it just as important to respond to the positive reviews?
Eric:
Yes, it is. I say that with a little bit of a nuance. I wouldn't say it's just as important. It is also… it can be very important. It can be very useful and there's a lot of advantages to responding to positive reviews. I would not say that the only tactic you should take is respond to every negative review. and ignore the positive reviews. I do think there is… like, you mentioned there is a lot of merit in responding to positive reviews. One, you get a chance to show that customer and show other customers that you care when they say they loved your restaurant, and you thank them for saying that. They feel better about it, they're not just saying that, you know, you're showing that you took the time and you took the thought to respond to that review. And other people see that. And also, another major aspect of responding to positive reviews, is you can use that as free marketing. There's a lot of times where somebody is going to compliment something about your business, double down on that, if somebody says we had a great, we had a great experience sitting outside, at your restaurant, you can go you can go a step further and say we're so glad you enjoyed our brand new patio. And we worked hard, and it just opened in May. Right? And now that you're getting free marketing in there, right, that's a place people are reading reviews, people are going on to different sites about your ratings and reviews and rating them. And now not only they see the 4.8. But you got to sneak in there that you just did a new patio, and another customer down the road in your neighborhood like that. You double down on the positive the fact that that review?
Ian:
Yeah, sure. More of a humble-brag methodology. I think that's right.
Eric:
Yeah, there's a lot to be said for positive and negative reviews there. So, it's hard to formulate a cut and dry strategy to say I only reply to these, or I reply to one out of every x reviews, businesses can certainly formulate that strategy. That's something that a lot of businesses like to do, that's part of creating your brand voice, if your brand voice is, Hey, I'm going to respond to every single review, I'm just going to say thank you, and use that person's name. And we're so glad you enjoyed your experience. And that's the strategy you're going to take. That's great. I don't think there's necessarily a right or wrong strategy, like I said, to say what percentage of reviews need to be responded to. But I think when we talk about managing your reputation, and having a brand voice, and your online reputation in general — a review response strategy is a big part of that, whatever that may be. And as part of that, I would absolutely encourage business owners to respond to those reviews, especially negative ones, respond to some positive ones have a consistent voice, have a consistent message you want to convey, and get involved in those ratings and reviews, you know, you could have hundreds of reviews out there. And if you don't want to respond to them, or you don't read them, they're not doing you they're not doing your customers near the amount of positive nature that they should have there. So, I think reading and responding to reviews, I can't say it enough. It's just a major piece of your online reputation.
Ian:
I'm glad you said that. Because I suddenly realized, as we're talking about reviews, which is as you know, incredibly important and multifaceted part of your reputation, I don't want to lose sight of the fact that it's just one part of your reputation. We've talked about earlier on, you know, your listings, which are kind of the facts that are out there, you know, your hours, your phone number, your address, your website URL — we've talked about reviews, positive and negative responding to both positive and negative. Is there anything else when we're kind of thinking about that break that big umbrella of reputation? I mean, those are both kind of, I guess, to a degree, passive things, is there anything that a small business can do proactively to influence their reputation?
Eric:
Yeah, and that's another good point there. So, I think this one ties into a little bit about different points we've made so far. But, really getting that information out there. In the form of posts. I think that that term has probably been heard by most people. You know, Facebook posts have existed for quite some time, social posting, social marketing. We've all heard those words, but really part of the online reputation what you're saying there, the proactive messaging, the proactive communication out to your customers, can really be accomplished through those posts. I know that I mentioned your Google profile — Google My Business, GMB as we like to call it. Google now has posts on their profiles, as well as Facebook does. And a lot of those posts there front and center, they're given prominent places, and Google likes them. Facebook likes them, your customers like them. And when I say Google and Facebook like them, they help in your placement, which we all know is a major thing we strive for as business owners, making sure that you're found when somebody searches for you. But those posts are not just information to your clients. But they go a long way in helping the placement of your online listing. So those posts that I'm talking about they can be anything from promoting a new special a new event. add something new at your place of business a new service that you offer. I know I alluded this earlier, but in the world of the COVID, if you're doing something differently in response to this, all of that information, instead of just putting it on a bullet point on the bottom of your website, it's going to get a lot more traction, it's going to get a lot more eyeballs when it's a GMB post or it's a Facebook post. So, I think really putting that information out there — and I love the word you used – proactively — is going to capture eyeballs that that's the placement that that's really where customers are going to see the information that you want them to see.
Lauren:
You mentioned Facebook and Google, and there's the little bit of an elephant in the room. So we've been talking about reviews, read your reviews, a couple years ago, Facebook changed the way that they do reviews and switch them over to recommendations. Can you talk a little bit about what that has looked like? Because I still see businesses that have, you know, a star rating, but its recommendations that are Yes or no? And I think that can be a little confusing. Sure,
Eric:
Yes, there's absolutely a bit of confusion and something that we get a lot of questions about with what is Facebook doing with this scoring system? What does the rating score? What is it recommendation? Do I still leave one through five? So all good points that you made there, Lauren, in the question. Facebook does now have a rating score. It looks just like your rating. It looks just like the one through five stars do. So as a business, hopefully, you're in the 5.0. But you know, 4.5, 4.7, it still does look like that rating score that we're used to. But really, when a person, whether it be a client, or somebody that you've done business with when they leave you… I want to say rating, but that's probably not the right term anymore… when they leave a review of your business, they now choose to recommend your business Yes or no? It's a binary scale on Facebook, now there is no three-star, four-star, five-star — it is "I recommend this business" or "I don't recommend this business" binary. And they can leave a comment as well, with that new review. And the score that you mentioned, there is really a score that Facebook is formulated based on old ratings, if you had them, they didn't throw them out the window if you worked hard and got your business up to a 4.8. Based on all of those old four- and five-star ratings. That's really your starting point. So as a business if you had a 4.8. And then when Facebook switched over to recommendations, you've since then gotten 20 positive recommendations and zero negative recommendations, your score may be a 4.9. Now, we don't have a specific calculation for it. Nobody does. It's not us. It's not you that doesn't have it. Only Facebook has it, it is a score that Facebook puts out there based on the number of recommendations and the ratio of positive and negative as well as those legacy ratings that used to be out there about your business. And one other thing on the recommendation. I mostly was focusing there on the on pay what we call the on-page recommendations, somebody goes to your business profile on Facebook, and they say yes, I recommend this business hopefully, or no, I don't recommend this business. But there's also off page recommendation. So as a user of Facebook, if somebody says I'm looking for a new place to get my hair cut, in a neighborhood page or on somebody else's page, you can say, I recommend and then tagged the business, Lauren salon, and Facebook knows you're tagged as a positive recommendation. Even though nobody was on Lauren salons page and recommended it. Those off page recommendations still count towards your score. So, Facebook is really trying to capture the sentiment about your business and how many people recommend your business and then assign a quote unquote score to you. Managing that recommendation score, that rating score is really just as a point, it's really the same thing to a business owner. It just looks a little different now.
Ian:
Yeah. And that's I you know, not to not to keep going negative but as you're talking about that kind of you know, straight up or down. yea or nay I recommend I don't recommend like, Boy, that's kind of cutthroat that's, you know, no, no wishy washy. Is there with one leg even with three. Are you a glass half full or glass half empty? Like No, they said yes or no, that's it.
Eric:
Yeah, it's a good point. And you would see a lot of, you know, on Google or anywhere else, four stars awesome place. I love my service, but my pizza was a little colder. It wasn't the best version of that pasta I've ever had. Now they're forcing the hand of those reviewers would recommend that or not make your choice. Like you said it is a little cutthroat. But business owners again when we're talking about managing reputation, treat them the same way. Whether it's a negative recommendation, positive recommendation, a five star or one star, reading it, understanding it, learning from it responding to it. All the same bullet points still pertain, whether we're talking about Facebook or Google or Twitter. advisory Yelp, I know, we've been focusing a lot on Facebook and Google, because they are the biggest players in the game. That is where a lot of reviews are left, that is where a lot of reviews are read. There's no secret about that. But there are tons and tons of smaller review sites, industry specific review sites, as I mentioned before, where there will be ratings, there will be things said about your business. And reading those is just as important, the volume may not be there that is on Facebook and Google. But if somebody hates your business, they have a lot of bad things to say about it. And that's out there on any site that you didn't know about, that becomes just as important, just as you know, and potentially more dangerous. If you're not seeing that review out there. So right, it doesn't change the fact that business owners absolutely must be aware of everything said about their business, wherever it said about the business.
Ian:
And I think one of the things that that's easy to lose sight of when you're getting, you're getting positive reviews or negative reviews, it's easy to take those personally to a degree, you know, why is why is Google putting up these two-star reviews? Or you know, how come Facebook's letting these people give me, you know, thumbs down would not recommend. And I think it's important to remember as a small business owner that those platforms are just like you should be thinking about your next customer. They're saying, listen, people who come here and are looking at ratings and reviews are trying to decide whether to give you their business. And we want to give them as much information as we can about whether, you know, you're a safe bet, or a good choice. Which kind of takes us full circle to you know, even if you're getting those negative reviews, play the same game that these platforms are if they're talking to your next consumer, you conduct your next consumer to you know, as long as you're responding and putting things in context and putting positive things out there, it can be very easy for that next consumer to look at a negative review and go that guy sounds like he was just fired up about something because everything else here looks great. You know, that was just one disgruntled person having a bad day.
Eric:
That's a very good point, Ian, and one of the most common questions I hear all the time. And a very good question for business owners is… now what am I going to do about that negative review? Can I delete it? Unfortunately, no, we can't delete anything that's out there on Facebook or Google unless you violate certain guidelines. And yeah, that's a slightly different conversation. But if somebody had a bad experience, or they chose to write that their experience was bad, whether you agree or not, there really isn't anything we can do in terms of deleting that review. So, the coaching and the guideline that we'd like to provide. And I think it's exactly what you were mentioning there is, you know, bury that review. And I say that in a nice way. Because it's since we can't delete it, what we can do is push it down the page. So, if you're out there asking for reviews, and you have five other people that had a great experience to that one, negative one, that's what we want your page to reflect as well. We want somebody to read 510 20 positive reviews before they can see that negative one. And exactly as you as you frame that, if nine out of 10 or 19 out of 20. It sounds like a survey 19 out of 20 people at a good positive experience, you know, the next consumer reading that can understand that one person may have had a negative experience, right. So really making sure the best way to handle that. And to sum that thought up is the best way to handle those negative reviews, aside from responding to it, as we've already spent plenty of time on is making sure that we're burying that negative review by getting those positive reviews, asking for positive reviews, generating more reviews, to really highlight and reflect on the positive experience that other consumers had.
Lauren:
So, Eric, what are some ways that a business owner can ask for reviews, from their happy customers to maybe bury those negative reviews? Or just increase the positive reviews in their ratings? Right?
Eric:
That's another very common question is I want to get good reviews. I just don't know how I don't know how to ask for them. I don't know where to ask for I don't know when to ask for. Before we get into specific tactics, I think the most important thing to say and it sounds like something we probably learned as kids is don't be afraid to ask. I think there's a lot of people out there that have great experiences with all toys, all sorts of types of businesses. And it's not really human nature to go run home and write about every single one. One, I don't think we all have that kind of time where it has it right about every positive review. Nor is it just something that's always front and center in our minds. But the flip side of that thought is I think when you ask for positive reviews, when a business owner asks for a review, or asked for some feedback, even if you want to say that term, people are happy to provide it. The old Don't be afraid to ask it really rings true. So, I think that's kind of step number one is you know, you don't know until you try. You're not going to get a review unless you ask that's not necessarily true, because I'm sure people will still get them. But really making sure that you're proactively asked. For those reviews or asking for feedback is a big one. And that's kind of front and center in terms of the, quote unquote, strategy for getting more reviews, don't be afraid to ask. And in terms of tactics, this is this can vary. People can put links on their websites people can use can have links on your bill, your invoice, your thank you card, if you send customers thank you cards. You know, there's so many different ways to talk about this, depending on the type of business you are. And the way that you communicate with your customers. Again, sending bills and invoices is relevant to certain types of businesses, not all. But anytime you communicate with your customer, an email a newsletter, there's so many touch points that you have with your customer, including a would you leave me review is never a bad idea.
Lauren:
And you're right, people don't run to review sites unless they've had an outstanding or a terrible experience. So, if you're just pleased, and you're asked for a review, you're probably more likely to write that than if you weren't asked in the first place.
Eric:
That's right. Unfortunately, it tends to be more they run when they have a terrible experience, which is why we need to make sure we're flooding that page with the positive one. So, the one person that runs home to write their negative experience isn't ruining it for everybody else isn't really dominating your page. There are so many people that have so many positive experiences, and they are willing to promote those local businesses promote your business. People just you know, as we said, here, they're just not running to do it. But it's a very important aspect of this. Because when you ask and when you generate those positive reviews, the effect on your business are enormous reviews go. So far, you know, people reading them the search engine, as I've said, they help your placement, they help your website, if you have positive reviews on your website, you're going to get more interactions, if somebody is reading a positive review on your website. And then they see a form filled right below that reading that positive. Reading that positive review, probably is going to nudge them more in the direction of filling out that form of going with you instead of continuing to shop around for other businesses. So positive reviews, the positive effect that they have on your business really can't be understated, there's more stats, there's so much to be said, online reviews are the new word of mouth, there's so many things that we can say. And we can spend hours digging up different stats about how important positive reviews really are to your business. So, by all means, don't be afraid to ask for them, though, you know, do what you can do to generate those positive reviews, you will not be disappointed when you see the implications that has on your business.
Ian:
You just kind of hit on my next question, which you know, if we if we kind of zoom back out to the idea that your online reputation is a combination of all these different sources and channels and things that people can interact with online, you know, once you start getting those positive reviews, or you have a plan to ask for those reviews, you know, how do you I guess how and where do you distribute those to make sure that you know, when someone does go looking for you whether they land on your website, or your Google My Business Page, or they go straight to Facebook? Or Heck, they ask a you know, Voice Search assistant in their home or on their phone, you know, what's the best piece of place in town, where all the places that you can kind of feature those reviews so that people know that you're a good choice?
Eric:
Yep, really good question. And you touched on a few different things that I want to make sure that we address there. One of them you talked about whether they see it on Facebook, or whether they see it on Google or whether they're on Yelp. So, part of managing your online reputation, having what we call a strong reputation, is making sure those reviews are balanced. They're everywhere. Having 100 positive reviews on Google, and not a single review on Facebook. While that's great, is not really what we would consider the strongest of online reputations, because I know some people may go right to Facebook, and they're not going to see a single review. And you don't get a chance to go back and say what, but wait, you miss my 100 Google reviews, right? Right. No matter where people are searching, they need to see him. So, one of the biggest aspects of having a strong reputation is making sure that those that your reviews that are out there are balanced. They're everywhere. And we already talked about the fact that they we need a high volume of them, we need them to be positive, you can have 100 of their own negative, that's not going to be a whole lot of good. So, we need to make sure that we have a lot of them. They're in balanced places. And we need to make sure they're recent. So spread that out is one big one big aspect of answering that question that you had said they're in. And then the other part of featuring those reviews is your own website is as we talked about what we said, you know, maybe not the only place that people find your business, they still go to your website, a lot of experience will still go back there and we can show those positive views on your website, your website is not just to list your name, address, phone number and what you do. But featuring those nice reviews is also a major component of something that we like to do for Hibu websites. So, as we know, the Hibu websites can integrate very nicely with Hibu reviews, as well as Facebook. And with Google, and we can feature those reviews. And when clients or potential clients more likely are looking at your website, having those reviews on there is going to be a strong performance driver on your website. So, seeing that, you know, you're a five-star business and people on Facebook, "Like" you have people on Google like you. And people have given you direct feedback… there's a lot to be said. You're really building up, you know, your positive reputation on your own website.
Ian:
And we've tested that, right, we've measured that the difference between, you know, websites we've built where there, there are no reviews and websites where we pull those in, and they're kind of part of the feed of content that the ones with reviews tend to tend to do better, right?
Eric:
Yes, the data absolutely supports that. That's not my personal opinion, or that's not me, you know, hoping that's true. That's absolutely what we see conversion engagement, all the different metrics that we like to measure for a high performing website. Those are increased when we see reviews on your website, and especially when those reviews are positive. We feature what we call an aggregate rating your score on top of your website. So if you have 100 reviews from Facebook, Google, and those equal out to be 4.8 stars, and we put that on top of your website, people love to see that that is going to drive more click throughs more engagement, when compared to a website doesn't have anything you know, where they're just taking your word for it, as opposed to the 100 people that left you ratings and reviews. Taking other people's word for it absolutely. manifests itself in better engagement on your website.
Announcer:
You're listening to Small Business Small Talk powered by Hibu. Hibu is the country's leading provider of synchronized Digital Marketing for Small businesses, delivering more visibility, more visitors, more leads and more customers. Visit us today@Hibu.com. H-I-B-U. Hibu.com.
Ian:
We're back with Eric Damm, talking about taking control of your online reputation.
Lauren:
And just real quick, Eric, you mentioned balance in reviews across the sites. How does Hibu help with that? Because that's something difficult to manage.
Eric:
Very difficult to manage. And thanks, Lauren. So, the Hibu reviews product itself is understanding is really working in the backend now to understand what your current review situation looks like. How many reviews do you have on Facebook, I mean, Reviews on Google, when was your most recent review, and really pointing your reviewers to what we'd like to say where you need them the most. We always need more reviews, we always need better reviews, there's no such thing as too many. There's no such thing as too high review. But what Hibu is trying to do is making sure that we're helping keep that balance. And we're making sure that that positive review and those recent reviews, and those high number of reviews are happening everywhere. So, when you ask for a review via Hibu reviews, we're also as a secondary step there, making sure that that review is being asked for in the correct place. And like I said, where you need it most it's a very intelligent feature. It's something that we've recently built. And it's something that should absolutely take all of the guesswork and take the hard work, like you said, for business owner, take it out of their hands. And just let Hibu reviews take the driver's seat and point reviewers where you need it, which is in in turn going to give you that strong balanced reputation that we're all after.
Lauren:
That's so great intelligently putting the reviewers where the business needs the reviews the most. It's amazing.
Eric:
That's right.
Ian:
I'm glad you said that because it kind of speaks to the I guess the elephant-in-the-room question that that I keep going back to is, you know, we've talked in this episode about your Facebook Page, your website, Google My Business, TripAdvisor, Yelp, you know, all these all these different things and getting reviews and getting your basic information correct and how that all kind of snowballs into your overall reputation and then the need to divide that amongst all those different channels for balance — I can just hear a small business owner going… I believe you. This sounds important, but I got a business to run — how the heck am I supposed to keep up with all this? So, you know from the perspective of that that small business owner who, you know, may be very interested may think this, this sounds great, but just has no idea how to scale all of these activities. You know, what's… I guess, kind of what's your advice in terms of, you know, how do you how do you get this done?
Eric:
I guess you touched on exactly what we want the small business owners to say. "I believe you." Hibu has a lot of experience in all of these fields. And we touched on a lot of important aspects of your online reputation. So we talked about listings, and we talked about them being accurate, and consistent and up to date. We talked about making sure there's no bad data out there about your business. We talked about making sure you proactively post new information about your business. We talked about generating reviews, about where you generate those reviews – Facebook and Google. We talked about understanding those reviews, reading those reviews, replying to those reviews. Understanding how your reviews compare to your customers. And another piece I don't think we talked about, but that's another big part – your reputation is one thing but understanding how your reputation fits in to the overall landscape is another piece. Ad you're exactly right… this is a lot for a business owner to keep track of. It's a lot just for us to talk about. It will make your head spin. But Hibu solutions touch on all of this, blends all of this, and really makes one cohesive solution that is creating… I think we used this term at the beginning of this conversation… is your online foundation and your online reputation and making sure that all of those things are taken care of and optimized and really forming what we would call a strong foundation for your business when people are searching for your business – all of that can be taken care of through Hibu products and tools all in cohesive solution. So the business owner, as you said Ian, can focus on running their business… rather than focus on all the bullet points that I just mentioned.
Ian:
Right. Right. They don't have to sit there and think… right, I guess I have to hire a reputation manager now? Where's he gonna sit?
Eric:
Exactly. There's a lot to understand, a lot to manage there, and as I said, the Hibu Solution can really do all that, can really simplify all that. It sounds like a lot, but it can really be boiled down and simplified by what Hibu can do for you.
Ian:
Well, Eric, thank you very much. This has been really informative – and I will be leaving you a positive review. And for those of you listening outside of this small group here, if you liked what you heard, please leave us a review if you can. And once again, we are Small Business Small Talk… and we are out.
Announcer:
Thanks for listening to this episode of Small Business Small Talk powered by Hibu. Hibu is a leading provider of synchronized Digital Marketing for Small businesses across America. With Hibu, you get all the digital marketing your business needs, all from a single provider, all working together to maximize results. Visit us today at Hibu.com. H-I-B-U. Hibu.com.
[Transcribed by https://otter.ai]