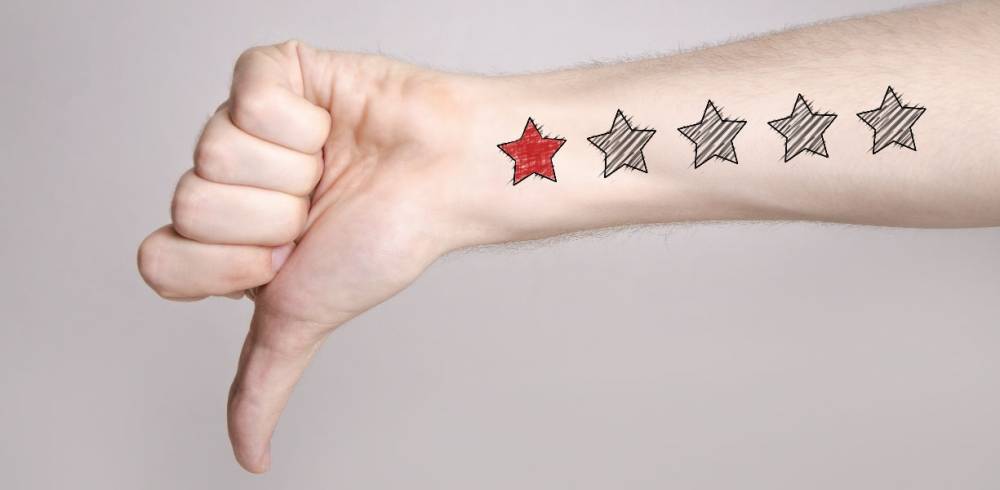 8 Ways to Deal with Negative Business Reviews
How important are online reviews for your small business? Very important. In fact, 84% of consumers trust online reviews as much as personal recommendations, and 93% say that online reviews influence their purchases one way or the other.
You might be hesitant about letting your customers leave reviews on your site (after all, who wants to create a space for negative feedback?)… but not allowing any reviews at all can make your customers hesitate as well. Reviews on your site — even reviews that aren't completely positive — help build credibility and trust with your local customers.
Plus, in most cases, there are already other listings for your business online where someone has or will leave a review. Sites and apps such as Yelp, UrbanSpoon, Google My Business — and even social media sites like Facebook — allow customers to publicly review your business.
In other words: there's no way to stop customers from reviewing you… but you can respond to negative reviews in a positive way that helps your customers, your business, and your online reputation.
[Related: The Complete Guide to Managing Your Online Reputation for Small Businesses]

How to deal with negative reviews
1) Respond promptly
Responding within a reasonable amount of time shows that you're paying attention to what your customers are saying.

2) Admit your mistakes
Every company makes mistakes. When you readily admit that something went wrong, and are open to making amends or changing, you develop trust with your customers.

3) Correct the issue, if applicable
Did you have issues shipping the product? Let the customer know you're working on the problem and getting them their product as soon as possible. Did a customer have a poor experience at your place of business? Apologize, acknowledge their point of view, and ask what you can do to make things better in the future. 71% of consumers change their perception of a business after seeing the business respond politely and promptly to a review.

4) Write like a person, not a corporation
Your customers are more likely to be understanding of a problem coming from a person rather than an emotionless company. Be personable and make the customer feel comfortable explaining their issue. If you use a polite and conversational tone, it will help you connect with your customer and evoke empathy.

5) Provide restitution, if appropriate
Ask what you can do to help make their future experiences better and give them a point of contact to get in touch with further. Offer a discount for their next visit, send a replacement product, or extend their warranty coverage.

6) Highlight your strengths
While acknowledging your mistakes, be sure to point out that your company aims to succeed at X, Y, and Z. Showing that you haven't forgotten your company's goals and commitment to customer service is essential.

7) Ask loyal customers to share their experiences
Unhappy customers are more likely to say something. Make sure you're asking for feedback from those with positive experiences as well. Add a "Find Us on Yelp" call to action somewhere on your website and social media, or follow up with customers via email to request reviews if they're happy with their service.
[Related: How To Ask Your Customers For Online Reviews]

8) Be consistent
Do you usually…
Answer reviews within 24 hours?
Provide a support or customer service email address for followup?
Offer an apology first thing?

Good. Keep it up. Your customers want to see that you're dependable, and nothing says "dependable" like consistency.