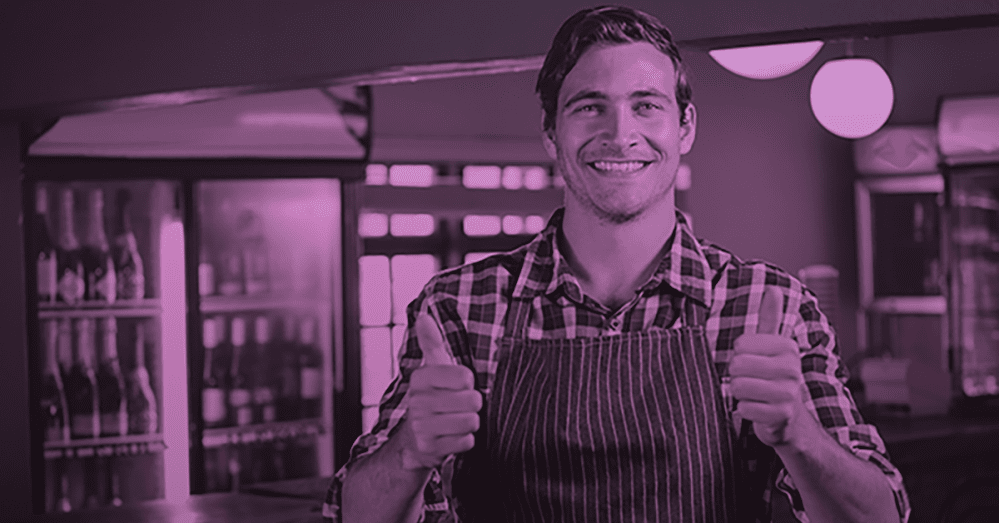 The Complete Guide to Managing Your Online Reputation for Small Businesses
Like it or not, every single thing you do surrounding your company impacts your business reputation. From your face-to–face interactions with potential customers and clients to the design of your website to the comments you respond to (or ignore) on social media — all of these elements affect how the public perceives your company.
This guide to managing your small business's online reputation will help you decide what's important to focus on in order to gain new clients… boost your revenue… and succeed in your field.
Why is your small business reputation important?
While you work hard to develop a specific voice and brand to sell your particular product or service… your business reputation is largely in the hands of your customers and clients. These people take their personal experiences with your company (and oftentimes the learned experiences of others) and decide from there what to think about you.
Beyond making an impact on what potential customers think of your business, and if they decide to engage with your company or not, your reputation also affects everyone else in your network — including your employees, your community members, and even your competition.
Your business reputation can:
Showcase what sets your business apart — without sounding like you're being promotional
Point out where you're succeeding — and outline what you need to improve on
Give your current customers a place to share their thoughts — and give potential customers plenty to think about too
Make a good first impression online
First impressions are obviously important to small businesses, because if your business gives someone a poor experience right off the bat, they're very unlikely to give you a second chance and can cause you to lose customers.
On the other hand, a dazzling first impression can inspire word- of- mouth recommendations from happy customers and gain you new clients. Plus, if you make a good first impression, your loyal clientele is more likely to forgive a misstep or mistake later on down the road (especially if you're honest and open about it in the future).
Customers form a first impression about your business in seven seconds, so you want everything from the visual design of your website (the online storefront of your business) to what you say and how you say it on social media to be up to snuff and representative of your brand.
Update the online facts about your business information
Did you know that 80% of people say they lose faith in a local business when their online business listings show incorrect information? Your company's business listings are what people see when they type your company's name into Google or other search engines, and their accuracy is a big part of building a strong business reputation.
This information about your business — like your hours, address and phone number — exists in plenty of places online beyond your website, including sites like Yelp, Google My Business and CitySearch, as well as on your social media profiles. Because of how many ways your business listings are likely to show up in search results, you want to make sure your company's information is accurate and up to date across the board.
Keep in mind that some of these listings are autogenerated, meaning the information could easily be wrong or old, so don't depend on the internet to pull the right information. If something isn't correct, track down the owner or publisher of the listing and make the changes as soon as possible. This is especially critical if the wrong information has to do with your location, phone number or email address, since you could lose potential customers and also come off as unorganized, which would harm your reputation.
When you make your information easily accessible and accurate, you show that you are honest, reliable and available for new business.
[Related: Don't Leave Your Online Reputation to Luck]
Manage your online reviews
Online reviews can be found on sites like Google, Yelp, Foursquare and your social media pages. These come straight from customers who have usually had a very positive or very negative experience with your company — something that they want to tell others about.
Although having zero reviews means you have no negative reviews, it also looks bad to potential customers. How many times have you looked up a business to see what other people have to say before contacting them? If you don't see any reviews, you can't be sure the business is legitimate, and a lot of people don't want to take that risk. 84% of consumers trust online reviews as much as personal recommendations from a family or friend.
Positive Reviews
Even if they've had a good experience — how can you make sure that people will give your company a positive review?
First, provide excellent service and products so your customers have something to rave about
Second, you can always request feedback or reviews from recent customers by following up via email after an interaction, or adding a "Find Us on Yelp" call to action on your website, social media or at your physical brick-and-mortar location in the form of a sign or sticker

And if you receive an especially detailed or positive review? Share it on your social media to engage with your audience, or add it to the testimonials section of your website.
Negative Reviews
What happens if you stumble upon a negative review of your business? Don't panic — it's not the end of the world.
If the review doesn't meet Yelp or another site's guidelines, you can report the review and suggest it be removed
If the negative review is legitimate, it's time to craft a reply

71% of consumers change their perception of a business after seeing the business respond to a review. Use your best customer service skills and respond in a polite and direct way. Address the user by name… acknowledge and apologize for their experience… ask or offer what you can do to address it… and leave contact information such as your email for them to follow up. This looks monumentally better than ignoring a poor review or arguing with the reviewer (plenty of consumers still think "the customer is always right"), and it can do wonders for your business reputation.
[Related: 8 Ways to Deal With Negative Online Reviews]
Engage and communicate with your local customers
This brings us to our next element of managing and building your online reputation — responding to feedback and engaging with your clients online. Engaging with people who visit your site or "follow" you on social media helps to build a strong community surrounding your brand and a loyal customer base.
Respond to both negative and positive feedback with follow-up questions to show your customers that you're open to suggestions — and ready to respond and take positive action.
Interacting with your audience in a casual and fun way — such as asking questions on social media, conducting polls and contests, and writing follow-up emails or messages to past customers — makes your brand personable. Responding to and engaging in customer communication strengthens your online presence and can improve your business reputation.
Any opportunity you have to interact with your customer base is an opportunity to turn them into repeat customers or have them tell a friend about their experience. Social media is the perfect platform to do this. According to Lyfe Marketing, 71% of consumers who have had a good social media service experience with a brand are likely to recommend it to others. Personalized offers, follow-up messages, and active and engaged responses on social media and review sites can inspire loyalty among your customers and motivate them to spread the word about your company — building your positive business reputation.
[Related: Webinar: Taking Control of Your Online Reputation]
Check out your competitors
Knowing what you're up against in your industry is also important for maintaining and improving your business reputation. Remember, your local customers will be choosing between your business and other local businesses with their own positive and negative reviews. You need to know what their customers are saying about them, and come up with a plan to meet or beat them where you can:
How their prices compare to yours, including specials and offers
How comprehensive their products and services are
How they handle customer service — especially when there's a problem

Ultimately, looking at your competitors' reviews lets you put yourself in the shoes of your ideal customer. What works? What doesn't work? What are some common complaints or misunderstandings about your industry, and how can you get out in front of those — or plan to address them after your interaction with your customers?
The right tools and the right partners to manage your online reputation
Improving your online business reputation can seem like a lot of work, but luckily online tools exist that can help you every step of the way, such as Hibu's synchronized approach to building an online foundation for your local business..
We'll create or claim your online listings, including your Google My Business page, and keep it up to date to make sure the right information is always available to your customers. We'll also help you share and manage your positive reviews and feedback to build trust and loyalty among future clientele. Our comprehensive solution helps you take care of all of these variables from one simple dashboard — so that you can manage and maintain your positive online reputation with confidence and ease..
Contact us today to take the first step and find out more about how Hibu can help you take control of your online reputation.