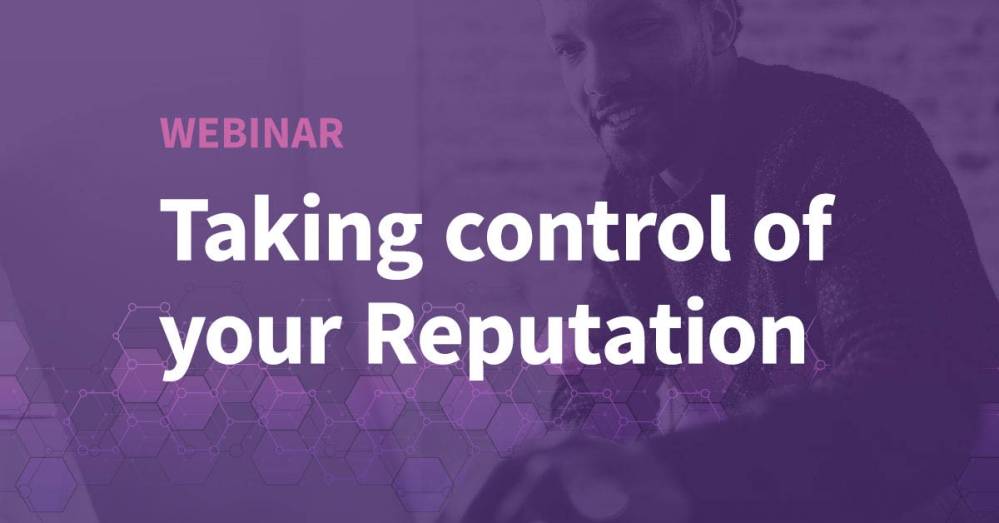 Webinar: Taking control of your online reputation
With so many places to leave ratings, reviews and feedback online, it's hard to miss what a happy (or unhappy) customer has said about a business. And today, most consumers pay plenty of attention to your online listings, online reviews and overall reputation online.
Watch our pre-recorded webinar about taking control of your online business reputation to find out how you can correct and protect your most important business information online…and share and respond to all your local customers' reviews.
[Webinar transcript]
Hi, everyone. Thanks again for joining us today, online, at work or at home. We really appreciate your time and hope this webinar is valuable to your business. So let's get started.
You may know Hibu has been a proud partner of small businesses across the U.S. for more than 80 years. And in that time, one of the things we've learned is that no matter how good your marketing campaign and your ads are, nothing can make or break your success online like the reputation of your business.
Richard Branson describes it this way: "All you have in business is your reputation."
Now that's an easy thing to say. And you could just as easily say "all you have in business is your plan" or "all you having business is your team." But your online reputation — and all the factors that go into it, and all the places your potential customers can form an opinion, positive or negative of your business even before they work with you — is so critical and so foundational to your success. And the exciting thing is that it's something that you can control.
Establishing a solid online foundation for your business
So let's take a step back. Your online success starts with establishing a solid foundation. Don't worry if you're already in the build phase with a website or if you're already promoting your business with paid or social media. The beauty of digital marketing is that you can establish your foundation after you've already done step two or step three.
So what's that solid foundation made off? It's easy to focus on your website or the conversations you're having on social media, but your online foundation is made up of three things you may not think of as often:
Number one — Your online business listings
Number two — Your online reviews
Number three — Your online reputation

Your business listings, reviews and overall reputation
Your business listings are the facts about your business — your business name, address, phone number — and other details that need to be correct and consistent everywhere.
Raise your hand if you've ever looked up a business and found two different phone numbers. You hesitate, right? Your customers will too.
Raise your other hand if you've ever asked Alexa or Siri for the hours for a local business and gotten the wrong information. It's not a great experience, and we'll talk more about how to fix it.
Your online reviews are the feedback from your existing customers. They're public… they're personal… and your next customer is looking at them to see if they can trust you. We'll talk about that more, too.
Overall, the facts and feedback make up a powerful first impression for your potential customers. The right information and positive reviews everywhere your customers look or ask for them make up your online reputation and your online foundation.
Correcting and protecting your online business listings
Let's take a deeper dive into your online business listings. There are dozens, if not hundreds, of listings for your business online. Really! From Google to Apple Maps to directory sites, your most important business information is online and available.
And most of these listings probably weren't created by you. So if you're not keeping an eye on them, you might not know if they have the right information or not.
How does the information in your listings impact your customers' opinions?
95% of people say they've found incorrect information when searching for a local business online. Sure, mistakes happen, but local consumers take those mistakes seriously.
80% of people say they lose faith in a local business when they're online listings show incorrect information. That's a lot. That's eight out of ten people who might not trust your business if they find the wrong name, wrong number or wrong hours online.
And here's where it gets really interesting — your listings information changes every six days on average. And that's because your listings, especially if you aren't keeping an eye on them are influenced and updated automatically by public information online. Your hours on Google may change because of an update, right or wrong, on Foursquare. Your address on Apple Maps may change because of new information, right or wrong, on Yelp or Manta.

Ultimately, to make sure your most important business information is correct and consistent online, and to start the ball rolling in the right
direction for your online reputation, you need a way to manage your listings.
Collecting and sharing your online reviews
Now let's talk about the next pillar of your reputation— the online reviews for your business reviews are everywhere online.
From Google to Facebook to dedicated review sites like Yelp to your own website, it's never been easier for local consumers to find out if other people like your business.
If you're thinking yeah, sure, there are plenty of reviews, but who trust those? They're fake… or they're written by people with an axe to grind… or they're just written by friends and family. Well, maybe sometimes. But that's not what local consumers think of online reviews.
78% of consumers trust reviews as much as personal recommendations. Yes, it is easy to find online reviews suspicious, but we've all gotten so used to connecting with real people online friends, family, colleagues, neighbors in our community that we trust what we see online more than we used to.That goes for reviews, too.
In fact, 57% of consumers will only use a business if it has four or more stars. While one or two not so great reviews could be overlooked, more than half of consumers need proof that your business is great at what it does — and that all snowballs into this:
Positive online reviews have become the number one factor for consumers considering a purchase online. Now, don't get hung up on purchase and think this is just about e-commerce. Whether you're a landscaper or a dentist or a pet groomer, your overall rating online is going to be a factor in whether someone chooses you or your competition.

So the secret here is pretty obvious: you need a plan to collect reviews from your customers and then share those reviews where people are looking for them — online, on your website, on Google, on Facebook and more.
Monitoring and responding to your online reputation
So now that you know more about listings and reviews, let's talk about how those influence your reputation — and the challenges small businesses face.
Here's the thing: maintaining your listings and reviews takes time. It can feel like another full-time job, and it's easy to forget about in the day-to-day operations of your business.
Here's what we hear from local business owners:
I can't find time to keep up with changes to my listings
It's hard to track and respond to all my online reviews
How do I make sure everything is consistent and correct online?

All good points. Let's look at some stats about the impact responding to reviews can have to your reputation.
97% of consumers look at online reviews for local businesses
71% will change their perception of a business after seeing them respond to a review. So it's not just about getting reviews. It's about monitoring and responding to them, too, especially the negative ones, which are a great opportunity to show that your business is listening and ready to help, even when things don't go exactly as planned.
In fact, 40% of consumers expect a response to negative reviews within 24 hours


A simple solution to take control of your online business reputation
Ultimately, what you're looking for when it comes to managing your reputation online is a solution. An all-in-one solution that makes sure your business information is correct… your reviews are being populated (and you have access and capacity to respond to those reviews) and that your overall reputation, whether someone's just looking for your phone number or looking for your hours of business, are correct and consistent.
You need a way to monitor all your listings and reviews… reach out to and respond to your customers… and to compare your reputation to your competitors'. After all, the best reputation is only as good as the one next to it.
What you need is a simple, all-in-one solution to monitor, respond to and correct what your customers and third-party providers say about your business online.
Hibu's Reputation Management solution is really about establishing a solid online foundation to take control of your reputation, and that's made up of three different products:
Hibu Listings Management, which gives you the ability to correct and protect your most important business information online
Hibu Reviews, which helps you collect and share your customers reviews and ratings online
And Hibu Reputation, which gives you the power to monitor and respond to everything your customers say about your business online

Thank you again everyone for your time. We really hope you found this useful. It's been a pleasure talking to you today, and if there's anything we can do for you, please check out Hibu.com, or reach out to us at the number below, and we'll be happy to give you a free consultation and walk you through next steps for establishing, monitoring and protecting your reputation online.