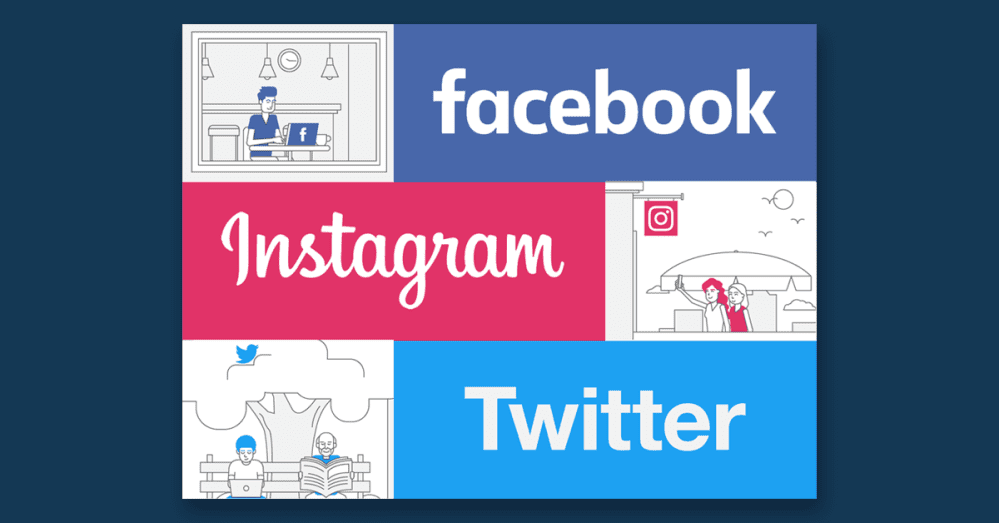 Your Social Media Marketing Checklists
Where do you stand when it comes to social media marketing?
Social media is rapidly becoming a crucial part of marketing a small business. A recent report states that 70% of business-to-consumer marketers have acquired a customer through Facebook. Are you using social media to market your company? Here are some fast facts and quick questions to see where you stand…

Facebook
Facebook is the most widely-used social network and has shaped online interaction as we know it since its start in 2004. Amazingly, almost 80% of all Internet users use Facebook; that translates to more than 1.7 billion users. With all of those users creating and sharing content, it's increasingly challenging to carve through the noise and get your content in front of your audience.
Want to know if you are on the right track using Facebook to reach those potential customers? Here are three things to consider:
Did you set up a business page?
Posting from your personal account about your business isn't going to cut it. A business page works as an extension of your business on Facebook. In addition to making your business discoverable, it's an easy way for you to share updates and more with the people who matter most—your customers.
Are you posting content regularly?
Posting sporadically is the quickest way to kill any social momentum you might have had. Customers want to know when they visit your page that they are going to see something new.
Do customers find our posts relevant or interesting?
The brands doing the best on Facebook use their content to remain interesting and valuable to their audience. Whether they create the posts themselves or share from other sources.
Instagram
Instagram isn't just a photo sharing app; it is one of the fastest growing platforms on social media. With more than 300 million users, Instagram has become a visual way for businesses and brands to connect with people.
Ultimately, how you use it will depend on your goals and your business, but here are some questions you should ask yourself if you want to see how you can use Instagram for your small business:
Have you upgraded to a business profile?
With a business profile, businesses can choose how they want their customers to get in touch with them: call, text, or email with a tap of the contact button as well as get directions. Business profiles also unlock access to analytics and the ability to promote your posts. Speaking of which…
Are you using Instagram as an ad platform?
As the platform continues to grow, so does its potential to get your message out in front of potential customers. Don't miss out on the competitive advantages that Instagram ads could provide for your business.
Do you monitor your comments?
It's important to interact with your followers who comment on your posts. Building that relationship helps to keep your customers loyal and lets you handle any potentially negative comments before they start to hurt your reputation.
Twitter
Twitter may seem like nothing more than a handful of characters (up to 140 characters, to be exact) quickly tossed out onto the web, but it's much more than that — it's quickly becoming the number one way businesses are communicating with their customers.
Brands are joining and using Twitter not only to promote their messages but also as a way to quickly address their customers' interests and needs. Are you using Twitter's full potential?
Does your bio have the right keywords in it?
Using the right keywords in your Twitter bio will make you more discoverable in Twitter search. It can mean the difference between being found by a potential customer or being lost in a sea of egg-shaped profile images.
Are you tweeting regularly?
The saying goes "Time waits for no one", but in a perfect world we'd like to add "…and neither does Twitter". If you aren't out there producing or curating a steady stream of content, then you are already losing the Twitter game.
Do you post content your customers would find useful?
Tweeting things that your ideal clients or customers would value helps you build your reputation. Over time, this should help you to gain some momentum as an authority and a go-to figure for your industry.
How did you do?
So, could you say "Yes" to all the questions? Don't worry — if you're not there yet, it's easier than you think to get where you need to be to compete and succeed with social media.
First, get the overall lay of the land with our Smart Business Owner's Guide to Social Media.
Then, learn more about how Hibu can help you use social media for your small business – including Facebook, Twitter, and more – take two minutes to watch this short video on how you can turn social media into Social Marketing.
Sources:
Socialmediatoday.com/content/28-must-see-social-media-statistics
Pewinternet.org/2016/11/11/social-media-update-2016/