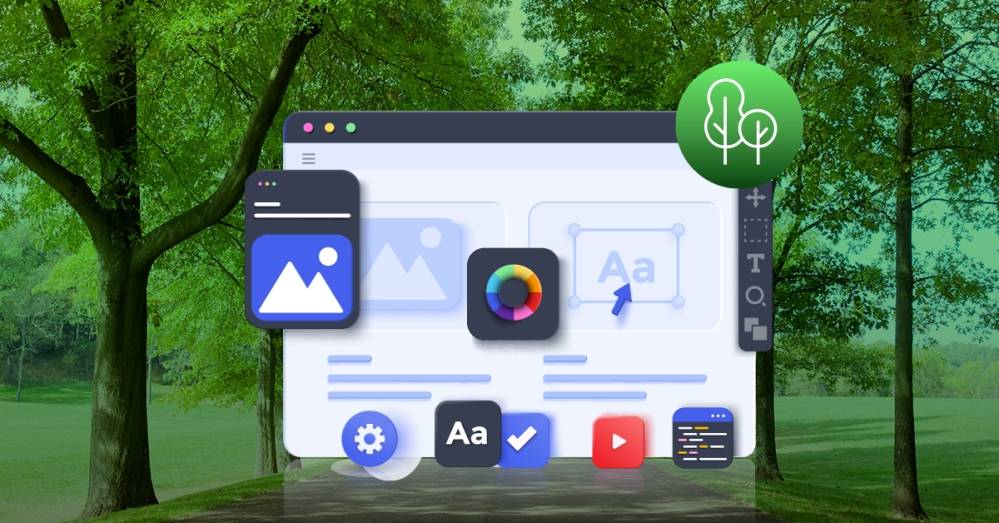 Your Tree Service Website: 7 Design Features to Improve Your Site
As the owner of a local tree service business, you have a lot of competition. If someone searches for "tree service" in your area, how many options pop up? Dozens? More? It might seem as if getting a prospect to your website would be the big challenge – and while it is a challenge, it's not necessarily the biggest problem you face online.
What happens after they find you – once they actually make it to your website? When they land on your site, will it catch their eye and convince them to call, or will you fall to a competitor with a better site?
Studies have reported that you have just seconds – or less – to make a first impression with your website. And the average time customers spend checking out a site is just about 54 seconds. So clearly, good website design is integral to your tree service business's success. Engaging customers to keep them on that site is paramount.
So, here are seven website design features your tree service's website should have. (And, yes, for the record, Hibu builds top-notch websites that include features like these).
[Related: Why Every Small Business Needs a Website]

1. Use Visuals to Showcase Your Work
What's more impressive than showcasing visuals that really illustrate your hard work?
Before-and-after pics and how-to videos (probably best to stick to low-level pruning suggestions – or position them as "here's how we do it") are attention-grabbers that demonstrate your expertise and offer instant appeal. People love to see the process when you do a particularly complicated, painstaking job.
You can use dedicated photo galleries, project-specific pages, videos, infographics, animations, and more. Consider showing off your most challenging project — that's a surefire way to show exactly what your business can do!
Surveys show 40% of customers truly value visuals on websites – so, a picture really is worth a thousand words — and a thousand clicks.
[Related: Website Terms Your Small Business Should Know]

2. Take Advantage of Professional Design
We know using a cheap or free website service is tempting, especially when you run a small- to medium-sized local business.
But here's the thing — you're probably not going to get the effective, professional, reliable website you need that way. Elements like user experience (UX, or how users interact with the site) and user interface (UI, or how the site runs) are critical.
If your UX and UI aren't flawless, you'll have glitches, lags, slow load times, and other customer turnoffs. You want to keep customers on the site longer than that 54 seconds. They expect the best browsing experience, and if they don't get it, they'll probably go see what your competitors are offering.
[Related: Common Web Design Mistakes on Small Business Websites]

3. Make Sure Your Site Is Mobile-Friendly
Over half of all website traffic is on mobile devices. That's a hefty chunk — but not a surprise – today, pretty much everyone's eyes are glued to their cell phone. Needless to say, your tree service website needs to run seamlessly on mobile if you want significant results.
Mobile-friendly website design can make or break customers' experience on your site. If they struggle to navigate, suffer page lags, or have to zoom in to read text, they'll simply exit the site, quickly. That means you lose business, and a competitor gets the customer… and the money.
[Related: Check Your Mobile Website Design in 5 Seconds]

4. Place Your Key Info on Every Page
This ties into overall website design, but it deserves its own spot on the list. When customers check out your site, your business name, contact info, and logo should be on every page.
Why? Well, partly because it's simple branding — but it's also just for convenience. The text on your site, a great offer, a video or service estimate – any of these could convince a customer you're the perfect business for their job – and as soon as they decide to contact you, you want to make it as easy as possible. Having to click the "back" button over and over, searching for contact information, is frustrating – so easy-to-find contact info is a must for enabling a quick response.
That means your phone number needs to be visible no matter where they are on your site – whether it's at the top of the page, in the footer at the bottom, or both – to keep you reachable with minimal effort.
And remember – voice search is everywhere. Customers should be able to get to your tree service website hands-free. And once they get there, they need to be able to find what they need (contact information) with a quick glance. Voice search is convenient and practical, and customers expect a modern website to accommodate it.
[Related: 5 Tactics to Increase Visibility and Growth for Your Small Business]

5. Your Site Needs to be Optimized for Better Search Ranking
Here comes the heavier stuff (the stiff best left to the pros). Search engine optimization (SEO) is an art and a science of its own, and it's crucial when you want your site to show in local searches.
What's SEO? In essence, keywords and phrases specific to your business boost (or sink) your ranking in search results. It's more complicated than that, but there's the gist.
Even if you have the best tree service website, that website won't do you much good if customers don't find you when they search. It's another solid reason to work with a digital marketing company for SEO services. SEO specialists work with you to find -- and continually update -- ideal keywords that raise your search rank.
[Related: 6 SEOmens That Are Bad News for Your Small Business Website]

6. Highlight Reviews and Star Ratings
You can't ignore the power of online reviews — customers trust other customers. With that in mind, it's easy to maximize the power of good reviews by highlighting those great reviews and your SMB's star rating on your website. You can use call-out boxes, banners, dedicated pages, and dozens of other avenues to do just that.
Reviews increase word of mouth (WOM) and user-generated content (UGC) – free marketing tools that undeniably boost business. When current customers leave reviews, potential customers read them. And it should come as no surprise to anyone who's shopped online that your online business profile star rating can be the deciding factor for customers searching for tree services.
If you don't have many online reviews, or have bad ones (deserved or undeserved), a digital marketing company can help. Specialists will help you request and post those crucial reviews. And if your online reputation is iffy because of a few bad reviews, those specialists will help you manage the situation – and show you how to turn bad reviews into an excellent marketing opportunity.
[Related: 5 Reasons Why You Need to Focus on Online Reviews Now]

7. Present a Clear, Simple Call to Action (CTA)
So, you have the best tree service website. It's sharp, mobile-ready, keyword-rich, and visually appealing. What's next?
Make sure customers know how to reach you — anyway they want. A call to action (CTA) is a phone number, form, email, text option, hyperlink, button, or any other shortcut that takes customers directly to you or your contact info. If you have content like blog posts, social posts, or videos – use CTAs in everyone (see examples from popular social apps).
When creating a CTA, power words like "easy," "quick," "now," and "you" speak directly to customers and urge them to take action. CTAs shouldn't be flashy or garish. Their simple presence alone works.
It might seem like a little thing, but a straightforward "Contact Us" button amplifies customer convenience in a big way.
[Related: 5 Things You Need to Know About Writing a Website]

Get the Best Tree Service Website with Hibu
When you partner with Hibu, we make digital marketing simple and build effective, professional business websites.
We take the hassle out of having a spectacular site for your tree service business – and maximize your digital marketing with custom solutions, real results, one-on-one service, and flexible pricing.
Call us at 877-237-6120 or complete our Get Started form for a free, no-obligation consultation.