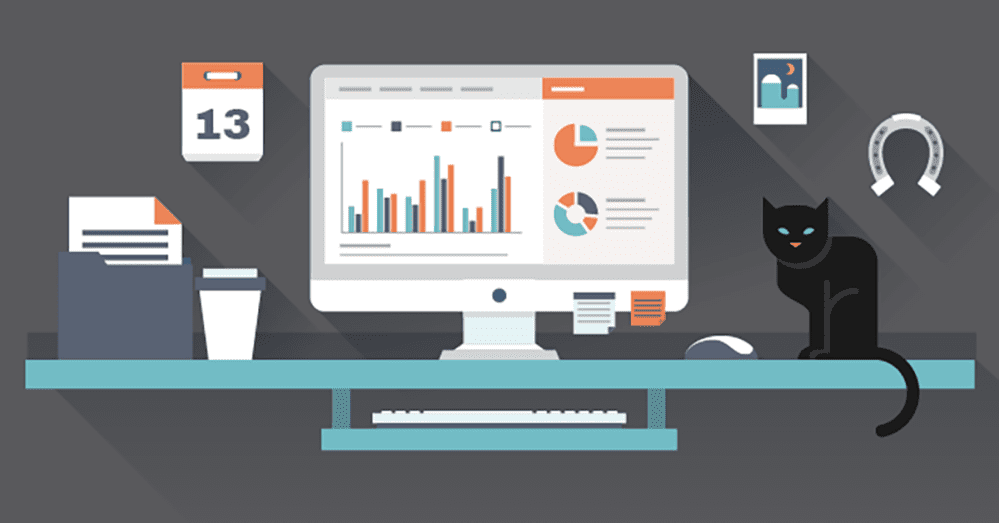 6 SEOmens that are bad news for your small business website
Search engine optimization (SEO) is an essential part of any online marketing campaign. And with 85% of consumers using the web to find businesses in their local area,1 it's important that you get it right to get found.
The problem is, as a small business owner, it's incredibly difficult to keep up with constantly shifting SEO best practices. Fear not though — sometimes knowing what NOT to do can be just as valuable as being told what to do for your SEO.
Here are the 6 most common SEOmens that you should avoid at all costs:
1. It's not a superstition — DIY can be DOA
There are plenty of tools out there that allow you to build your own small business website. But with 571 sites being created every minute2, you need more than just a website: you need a site that will actually get found, and that's where a lot of businesses get lost.
DIY sites are commonly cursed with poor On-Page SEO, lack of proper meta tags, bad site architecture, and just providing an overall poor user experience (UX). These are big problems – not just for search engines, but for your site visitors as well. If that sounds like an incredible amount of things to have to consider when building your site – that's because it is.
If you built your own site and this already sounds like too much to think about, don't be afraid to get a new website built by professionals.
[Related: Why DIY May Not Be Right For YOU]
2. Don't be hit by the curse of incorrect listings
Out of date listings. Duplicate listings. Multiple listings for multiple locations. There are plenty of ways listings can go wrong…and this basic, factual information in your business listings is something your customers rely on.
Google My Business is especially important, but double check each listing, as well as each page on your website, to make sure you have the correct business name… address… and phone number (or NAP for short). Including this information — and making sure it's consistent and correct everywhere online — is crucial to getting your site to show up in the local search results.
Plus, make sure to register your business with local directories like Yellowbook and your area Chamber of Commerce. These are easy and often free ways to drive more links to your site and boost your local SEO and overall ranking.
[Related: How to Correct and Protect Your Online Business Information]
3. Ignoring your mobile site is worse than breaking a mirror
"But wait a minute," you say, "I have a website that looks fine on my computer, why isn't that enough?" Because Google has updated its algorithm to reward mobile-friendly sites. When you combine that with so many consumers searching on mobile devices, it's easy to see that not having a mobile-friendly site will not only hurt your SEO, but could cost you business too.
You should check to see if your website is mobile friendly ASAP. If you're not sure what you're looking for, let us show you how to check your mobile website design in just 5 seconds.
4. Neglecting to update content is like having a black cat cross your site
As the saying goes, "Content is King." Google loves sites that consistently update their content, and so do the people visiting your site.
Don't think of your website as a "set it and forget it" project. Instead, you should think of it as a living thing that needs ongoing care and nourishment (in this case, new content). Blog posts, updated reviews/testimonials, or even adding new products and services to your pages can all keep your site "fresh."
5. You're basically walking under a ladder if you aren't seeking and sharing reviews
Reviews help make your business look more credible to consumers and search engines. High-quality feedback on review sites like Yelp and Google My Business can increase your ranking and even make your business show up on Apple Maps and Google Maps.
Asking for reviews can be a scary process, and you might feel like you're increasing your reputation's vulnerability. Just remember, the benefits of reviews extend past SEO – even the negative reviews.
6. When it comes to duplicate content, bad luck comes in twos (not threes)
Duplicate content is exactly what it sounds like — it's content on your site that either completely matches or is very similar to other pieces of content online.
There are many, very technical reasons why your site may have some duplicate content. Since Google's main objective is to provide users with a good experience… and it doesn't want to show users the same information from multiple sources… it treats duplicate content as less valuable (and sometimes hides it completely) – making it harder for your site to get found.
Put simply, the best practice is to locate and remove duplicate content from a site. Google Webmaster Tools is an excellent resource for identifying duplicate content.
Avoid these SEOmens and your small business website will bring you good luck — and business. If you're way too busy to do all of this yourself, contact Hibu.
1 biz.yelp.com | 2 dailymail.co.uk | 4 moz.com