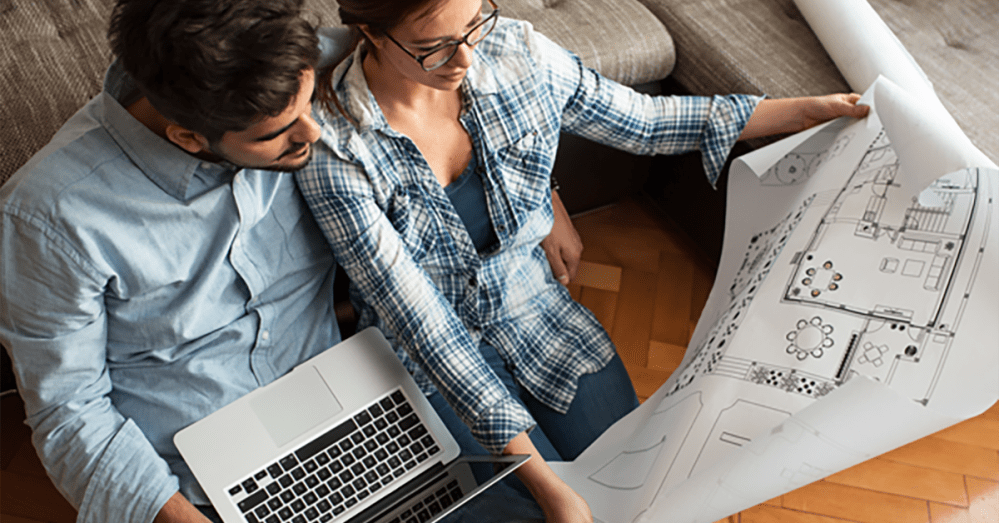 Five tips to help you start offering virtual estimates
With each passing day — especially in the midst of the COVID-19 pandemic — we're finding new ways to offer customers at-home digital options. Many home service businesses – contractors, landscapers, HVAC, paniters, plumbers and more – are now considering virtual strategies to help service their customers who don't feel comfortable leaving their homes for consultations.
When a potential client is on the edge about allowing home service professionals into their homes due to COVID-19, or is simply hesitant when it comes to home renovation and repairs, a virtual estimate can help both you and your client remain healthy and happy while also saving time and energy.
Virtual estimates also facilitate real human-to-human interaction between you and your customer. They'll develop trust in you and your services and be more likely to hire you. In the long run, you may even see gains in your profit margin thanks to telecommuting.
To start reaping these many benefits, here's how you can quickly implement virtual estimates into your business model.
1. Ask Customers to Complete a Questionnaire
Before spending any time chatting on the phone or via email, you'll want to determine if it's possible to offer a virtual estimate for the particular service your customer needs.
A simple online questionnaire is a great way to do this. Before a customer schedules a day and time appointment, they'll need to answer a few essential questions relevant to the tasks your business can and can't work around, such as the year the home was built, measurements, and so on.
This way, you can weed out who qualifies for a virtual estimate (and who doesn't) without taking up a minute of your time.
[Related: 7 Tips to Take Better Before & After Project Photos]
2. Choose a Platform
The biggest perk about virtual estimates is that you only need one platform to connect you and your services with an interested prospect. Depending on your business, some video call platforms will work better than others, so use the service that's the most user-friendly for you and your target customers.
Here are some popular online video call platforms to pick from (there's a good chance you're already using one of these, whether for business or personal video calls):

Zoom: This platform is the most popular among businesses, especially since work-from-home orders were put in place. While Zoom is great for companies, average people may be less familiar with it.
Skype: As the first video chatting platform, Skype introduced a lot of us to the idea of video alls, although many people don't actively use it anymore. Remember that your customers might need to download and install Skype if you go this route.
Facebook: Some people aren't aware that Facebook has video chatting features through Messenger. Since Facebook is the most commonly used social media platform, many potential clients will already have an account. Unfortunately, "meeting rooms" aren't available and most people usually don't have accounts that they use for business purposes (such as requesting estimates for home remodels). You'll have to send a meeting link to their personal Facebook account, which some clients might feel a little too close for comfort.
Google Hangouts: If your company already uses Gmail, you'll already have this video streaming service at your disposal. In addition, Gmail is the most commonly used email service, so most customers could already have an accessible account through Google.
3. Be Professional and Organized When Setting Up a Call
Being prepared for your virtual estimate consultation showcases your professionalism and also reinforces that you care about your client's needs.
First, make sure you're not the only one who knows how to work your chosen video streaming platform. You and your team should all be able to create, manage, and send invites for virtual estimates.
Once an appointment is on the books, send out meeting invites to the customer's phone and email as soon as possible (generally within minutes of booking through automated features) so that they can start planning around that date, and also have access to start or answer the call when the time comes.
Then, during the virtual meeting, make sure to ask the customer any questions you have about the answers they provided in their questionnaire; maybe a measurement was confusing or a material requested rose concern. Settling any potential obstacles during the call rather than later will help the project in the long run.
[Related: Ten Things We Learned About Small Business Marketing During COVID-19]
4. Create and Follow a Virtual Estimate Checklist
Performing an estimate virtually will require checking off the same items you'd address with an in-person estimate, so make sure you follow all of your usual steps. Virtual estimates may feel less formal, but you shouldn't treat them any differently than if you were there on site.
For example, when getting an estimate in person, a service professional will be able to see any quirks unique to the site (such as narrow doorways, staircases, and steep walkways) that are often overlooked in virtual calls but could play a big role in the total estimate.
As always, it's essential to note the details that are key to any project estimate – number of workers needed on the job, a close approximation of the time the job will take, any additional or unique materials and tools that need to be ordered, etc.
Make sure to address these areas with your client while on the call so there are no surprises when they see the final estimate. It's always better for a customer to find out their estimate is lower than expected rather than much higher. Big changes in costs make for unhappy customers.
Once you look over the client's information and analyze the details from the virtual call, send your estimate via phone, text message, or email within one to two business days. It goes without saying that the quicker you can follow up, the better it looks in the eyes of your potential customer.
If you don't hear a response within a day or two, send a follow-up email to clarify whether they received the estimate and accept the price. If they do, arrange to sign the contract before the job begins; and if not, wish them luck on their search.
5. Market Your Virtual Estimates and Services
Once you're prepared to offer virtual estimates, let your customers and potential customers know! You can market your services through either social or search to spread the word.
Having additional information about your virtual estimates on your site can also be helpful. Customers who are on the edge might appreciate FAQs about the virtual estimate process, or a video example of a virtual estimate being performed.
After all, virtual estimates aren't only a tool to make your current customers happier — they're also a way to attract more customers, so the more you promote them, the better.
[Related: 5 Tactics to Increase Visibility and Growth for Your Local Business (Free Guide)]