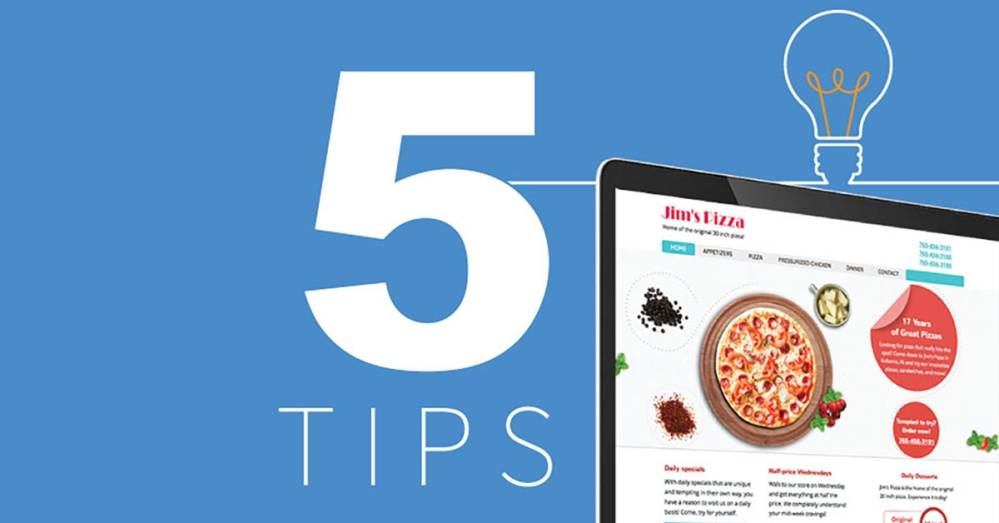 5 Tips for Good Small Business Website Design
Web design that keeps visitors on your site
There are few things more subjective in digital marketing than a "good-looking website." But there are some basic truths, conventions and best practices for website design that can help your small business positive first (and second, and third) impression on your local customers.
The average length of time a user spends on a website before making a decision about whether or not they found what they're looking for is 15 seconds — so you need to make sure your website design shows them 1) what your business does and 2) why they should stick around immediately. Having a user-friendly, engaging website design is the best way to keep your visitors on your site, giving them time to learn about your business and become new customers.

Five web design tips to keep visitors on your site
1) Make sure your logo is on every page
Your logo needs to be in the forefront — and it needs to be clean and readable. This will help increase your brand recognition and help your visitors know that they're in the right place. The more often your potential customers see a logo that is aesthetically pleasing, the more quickly they'll will associate it, and your brand, with positive feelings.
[Related: Top Ways to Promote Your Website Online and Offline]

2) Make sure your site is mobile-friendly
With over 3.5 billion people using smartphones, and many of those individuals only accessing the internet through those mobile devices, making sure your website is clear and functional on those devices is crucial.
Confirm that your website's mobile design is truly mobile-friendly by checking the following:
Are buttons, tap icons and text links spaced far enough apart to click easily?
Does your entire site fit on a phone screen without having to scroll side-to-side? Do you need to double-tap or "pinch and zoom" in order to clearly read the content on your site?
Do you have images, videos or animation that isn't loading on mobile?

And, of course, your site needs to load fast on mobile. When was the last time you waited for a slow website to load on your phone?

3) Use simple, intuitive navigation
You want to make your website as easy to navigate as possible… and since we've all been trained to expect certain things on a site, that's easier than you think.
Keep your navigation bar in a consistent place on each page of your site (across the top is best)
Organize your content and navigation logically ("Home" should almost always be your first navigation button)
Name your navigation buttons what you think your visitors will look for —"What We Do" will keep your visitors (and search engines) guessing more than the specific and clear "Interior Painting"

And of course, in your navigation and everywhere else, make sure you're using easy-to-read fonts and that anything clickable — navigation buttons, links, embedded video files, etc. — are easy to click (or tap on mobile).
[Related: Five Things Your Small Business Website Must Have]

4) Keep your site design consistent
Every page of your site should use the same overall style, including consistent fonts, colors and imagery. When your site changes dramatically from page to page (especially in key areas such as navigation or links), your visitors can get frustrated or confused. Conventions and repetition keep your site easy to use, and keep you from having to reinvent the wheel on each page too.

5) Have a clear and direct call-to-action (or CTA)
What do you want your visitors to do after they get to your site? Make sure your design draws attention to what you want them to do next:
Call us
Fill out a form
Make a purchase
Schedule an appointment
Subscribe to a newsletter

Remember, your website design is about much more than just looking good — it's about showing your visitors what they expect to see, and guiding them through your site so that they can become new customers.
Need help designing your website? Hibu can help build you a great website that delivers the right results. Contact us to get started today!