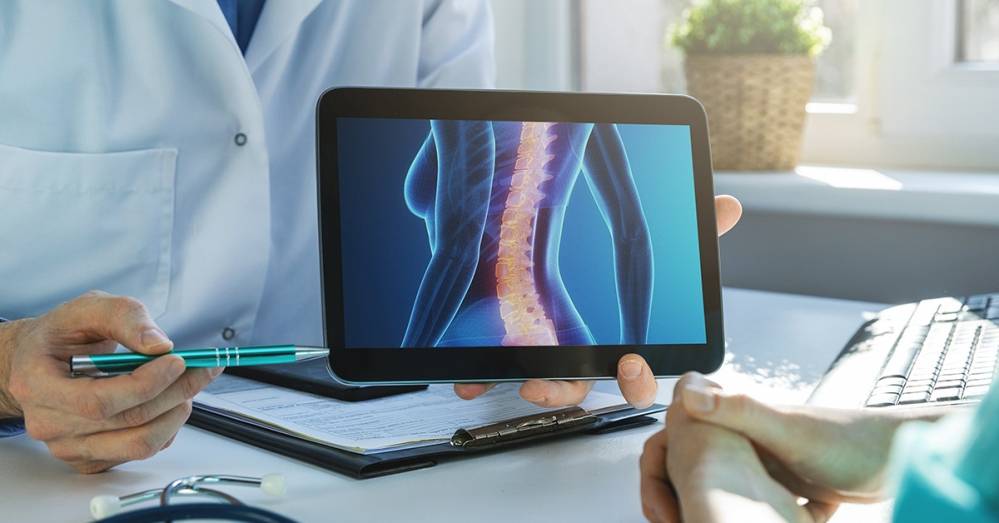 Digital Marketing for Chiropractors: Where to Start
After working hard to earn your chiropractic doctorate, you're now proudly running the clinic you've built.
But the number of practitioners with chiropractic licenses continues to rise — so how do you stand out among bigger clinics or competitors who have a head start online?
With about 5.7 million internet searches zooming through cyberspace per minute, you don't need a doctorate to understand that for most chiropractors today, digital marketing is the go-to route for reaching patients and boosting business. In fact, it's not an exaggeration to say you can't afford not to market your chiropractic practice online.
But, as the stat above indicates, the digital marketing arena is already crowded… not to mention ever-evolving and more than a little confusing. It can be difficult just to understand the jargon, let alone navigate all the ins and outs. That's why we've put together this online marketing guide for chiropractors, with digital marketing ideas and strategies for chiropractors.
What better way to kick-start the discussion than where most of your customers start… with the information about you they'll find if they search for a chiropractor in your area.
[Related: Digital Marketing 101 – Online Advertising Basics for SMBs]
1. Your Official Google Business Profile
The starting point for your digital marketing is a Google Business Profile. Google is by far the most-used search engine, so it's absolutely vital that your core business information — the name of your practice, your phone number and your address — is consistent everywhere someone searches for you online.
Setting up a business listing or profile may seem fairly simple…but you may not know about things like autogenerated listings online, or any number of other factors that you have no control over that can potentially fill your search listings with incorrect information. And if you feel confident that your information is correct, you might want to consider that over 95% of businesses we work with have incorrect information online. You can try to clean up your listings yourself, but the easiest, most effective choice is working with a digital marketing company that has experience with marketing for chiropractors and knows how to handle any incorrect information floating around online.
Add Specific Information
Your business listing must include the key information people are searching for, like your:
Name
Address
Phone number
Email address
Hours of operation
Services offered
General rates (if feasible)
Insurance plans accepted and other payment methods
Photos (interior and exterior) or videos
Link to your website
List of social media pages

Then, when patients search "chiropractor near me" or "chiropractic clinic near me," they can find you, get accurate contact information, and book an appointment in a snap.
Consider Partnering with a Pro for Listings Management
We mentioned that incorrect business information can spring up online and suggested partnering with a digital marketing company, like Hibu, to correct, protect and control your online business info. There's a lot more to it than you might think – and it's an ongoing process that you must maintain if you want to build trust and credibility with your patients and prospects.
[Related: Think Your Small Business Isn't Online? Think Again…]
2. Get a Professional Website Built
Once your business listings are claimed and corrected, invest in a professional business website. With so many people searching for chiropractors or chiropractic services online, an effective website is a must-have for you to establish your brand and your practice online.
Besides securing a domain name, a digital marketing company can build you a site that not only looks professional, but is easy to navigate on desktop and mobile, and built to convert visitors into patients. And as you know, a shoddy website sticks out like a sore thumb (we've all run across a few), and can have a negative effect on whether or not someone chooses you over your competition.
You need a website with a seamless user interface (UI, or how the website looks and operates) and user experience (UX, or how the user interacts with it). Getting those elements perfect is critical… which is why most chiropractors tend to avoid DIY website building — some things are best left to professionals.
Make Sure Your Key Information is Immediately Visible
The core information from your business profile should be where it's almost instantly visible on your website. Your home page should give a quick overview of who you are and the services you offer. Internal pages are added to expand each service or specialty.
For example, you can highlight aspects of your clinic and services on multiple pages:
Introduce staff with bios, headshots, and credentials / licenses
List your services and how they specifically help certain conditions
Address common questions about chiropractic techniques
Spotlight your clinic's interior and exterior with photo galleries
Educate patients with easy-to-follow information (videos or blog posts)
Use All the Tools at Your Disposal
When working with a digital marketing company on your website, be sure to ask about all the features they can add, including content:
Appointment-booking apps are convenient for staff and patients
Contact forms that capture email and cell phone fields let patients opt to receive notifications
Blog posts that educate patients about chiropractic medicine and give them an expanded view of your expertise
An FAQ page that addresses common reasons patients don't seek out chiropractic medicine and eases any concerns
[Related: Today's Website: Free Guide for Small Businesses]
3. Establish Official Social Media Profiles
Whether you're a solo practitioner or work with colleagues, social media marketing for chiropractors is a must. Beyond having business profiles on an array of platforms, you can reach patients directly with informational and even fun posts that show a more human side of you than your website.
Social media use is extremely influential in reaching and appealing to patients. It lends itself naturally to personalization and gives your patients the opportunity to "get to know you" (your practice or brand) and even interact with you before calling or stopping in. Memorable and engaging social media posts can make patients more likely to choose your clinic over another.
Social media is also a great place to share or solicit reviews and recommendations. Patients tend to trust others' feedback, so commentary from friends and family members are fantastic for increased word of mouth (WOM) and user-generated content (UGC).
And of course, social media marketing ties in with other digital marketing strategies.
Appear on Major Social Platforms
Start with having official business profiles on major social media platforms. A digital marketing company can make sure your info is consistent across profiles and run targeted ads promoting your practice.
As for which platforms you should appear on, Facebook and Instagram are clear choices (especially Facebook, as the most-used social media platform in the U.S.).
Facebook marketing for chiropractors is a frontrunner — its core audience overlaps significantly with the general target market for chiropractors. Your range of posting options is wide, so you can have posts crafted for particular events and user groups.
Instagram is more popular with younger users. Like Facebook, its reach is broad, and a presence there (with posts plus ads) can drive awareness in a big way.
Keep in mind that the tone used on one platform may differ drastically from that on another (LinkedIn vs. Snapchat, for example). That's another reason to partner with a digital marketing company for chiropractors — professional marketers will make sure your ads are engaging and reaching the right potential patients.
Note: Remember that your target market will vary according to your location, services and marketing approach. A digital marketing company can help you identify your ideal audience, then tailor messaging to them at the right times and places.
Cross-post Regularly on Social Media
Cross-posting — placing the same post (or a slightly different version) across platforms — is an integral part of social media marketing for chiropractors. Elements like hashtags, keywords and crosslinks can boost your visibility and can turn casual readers into new or repeat patients. As a result, WOM (word of mouth) and UGC (user-generated content, like reviews) increase.
Using one platform is good, but using multiple platforms together is great. When you have a cohesive presence alongside targeted ads, you'll drive traffic to your profiles… to your website… and ultimately to your clinic.
4. Start Content Marketing
Content marketing is a broad concept, but it covers essentially anything posted to your website, social media and other digital channels. From text to images to video, content can be used to engage, entertain and educate your patients while promoting your clinic.
While it takes a ton of work to create, perfect, optimize and consistently post quality content – something else a digital marketing company can do for you – you can and should post simple posts, pictures and videos on your digital channels.
Use a Variety of Content
With content marketing for chiropractors, pretty much anything goes as long as it appeals to and engages patients. That said, SEO is what will make your content visible — great content doesn't benefit your practice if no one sees it!
Here's a tiny sample of content marketing strategies for chiropractors:
YouTube videos in which you explain chiropractic therapy in simple terms
Blog articles on your website that cover specific techniques and how they help patients (this can address how people perceive chiropractic methods)
Instagram posts alerting users to your site's latest blog article (use hashtags like #chiropractor!)
Email updates summarizing the latest in chiropractic medicine (make it digestible and easy to understand)
Google ads that point patients searching for chiropractors to your clinic
[Related: 4 Reasons to Share Curated Content on Social]
5. Invest in SEO
By now, you've noticed that SEO runs through, well, pretty much all other digital marketing tactics.
It involves keywords and phrases that boost your ranking on major search engines like Google, Bing and Yahoo. Placing phrases specific to your location or service area and your services can raise your rank in the search results and make your digital marketing efforts even more impactful.
It's a simple fact — SEO is complicated. It takes time, effort, skill, and experience to get results.
Working with a digital marketing company for SEO, their SEO strategists will research which keywords work best for you. Then, they'll prime your website, content, social media, ads, and anything else digital for ultimate search visibility.
[Related: Today's SEO – How to Dominate the Search Results]
6. Search Marketing and Display Advertising
When it comes to marketing strategies for chiropractors, search marketing and display advertising are fantastic choices to increase clicks and brand awareness.
Use Search Marketing to Improve Your Visibility in Search Results
Search marketing (aka search advertising) means getting text ads placed near the top or on the first page of results on major search engines like Google.
This can not only optimizes your existing digital marketing efforts but can also generate impressive revenue. When you partner with a digital marketing company, they'll take into account what you want to promote, your location, your budget and your goals to craft a custom ad campaign for your clinic.
Invest in Display Advertising
Display ads are all over the web, so you're probably familiar with display advertising.
When you invest in display advertising (sometimes called banner advertising), a digital marketing company creates image and video ads that promote your clinic. The ads are targeted to reach your specific local audience on popular sites, social media platforms and apps that your potential patients use every day.
[Related: Where You Should Have Ads Online]
7. Engage in Email and SMS Marketing
When looking at your overall digital marketing strategy, email marketing for chiropractors can be a major source of leads and repeat business. Email and SMS / text marketing is cost-effective, and practically everyone with internet access uses email.
A digital marketing company can use timed, targeted email and SMS messaging to reach patients where they look regularly. Your patients, like most people today, live with their smartphones, and notifications immediately draw attention. But email / SMS marketing has to be done carefully, so teaming up with a digital marketing company is wise.
SMS and email marketing strategies for chiropractors include:
Send texts and emails when you offer a new service or gain a new partner
Notify patients when your clinic accepts a new insurance plan or policy (or when one changes)
Email updates about the latest chiropractic advancements (use straightforward language for readability)
[Related: Top 5 Ways Your Small Business Should Be Using Email Marketing]
8. Don't Underestimate Reputation and Review Management
As noted earlier, patients trust other patients. Most customers (91%) check out reviews before investing in any product or service, so word of mouth is by far one of your strongest marketing tools. You should see a significant increase in website visits with proper review management.
Reviews are just one part of your clinic's overall reputation. If you have incorrect info, bad reviews or reduced visibility online, patients searching for chiropractic care will almost certainly end up choosing someone else.
Reviews generally accompany your business listing, which is often the first thing patients see when they search. So, making sure your first impression shines is one of the best marketing strategies for chiropractors.
[Related: Taking Control of Your Reputation]
9. Find a Digital Marketing Company that Understands Chiropractors
When searching for the right digital marketing partner for your practice, look for one that has experience working with other chiropractors, offers personalized solutions (not cookie-cutter templates), and pricing that adjusts to match your budget.
It's important that the partner you choose understands what you want from your digital marketing strategy and listens to your ideas. Communicate your goals, and your marketing partner will build a digital marketing solution that's right for you.
[Related: The Extraordinary Results of Integrated Digital Marketing Solutions]
Get Started With Hibu
At Hibu, we'll work with you to create the ideal digital marketing solution for your chiropractic clinic. We'll work with you to build a comprehensive, synchronized digital marketing strategy that delivers real results.
Call us at 877-237-6120 or complete our Get Started form. One of our trained specialists will be in touch.