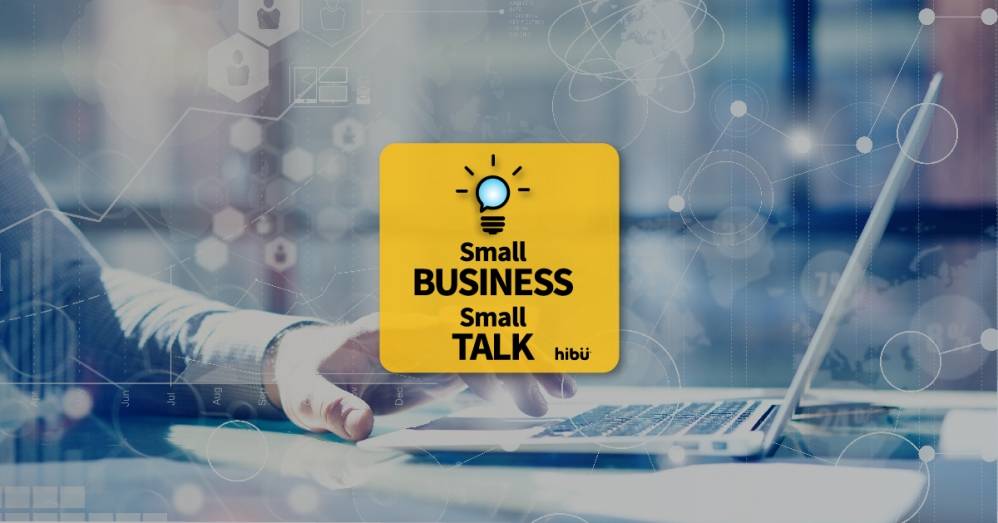 Podcast: Why your business needs "multi-channel" digital marketing
We sit down with Nick Hopkins, Hibu's AVP of Digital Product Management, and take a deep dive into the incredible results Hibu clients are seeing with multichannel digital marketing. What kind of results? How about more than double the clicks and calls!
Listen as they discuss how and why every small business that's advertising online can almost certainly get better results – and see a greatly increased return on their investment – with a multichannel digital marketing solution.
Listen to Small Business Small Talk powered by Hibu on any of these streaming services:
APPLE PODCAST | YOUTUBE | SPOTIFY | GOOGLE PODCAST | STITCHER
[Podcast transcript]
Chad
Hi, I'm Chad David with my co-host, Ian Messinger.
Ian
Hi there.
Chad
And thank you for joining us for this episode of small business small talk powered by Hibu. Today we're talking about "multichannel digital marketing." And to be more specific, why in today's world, it's more important than ever, that it's part of your approach to marketing your business. To help us dig into that topic, our guest today is Hibu's AVP of Digital Product Management, Nick Hopkins. Nick, thanks for joining us.
Nick
Glad to be here.
Chad
Excellent, excellent. As we've been doing these, we always like to start with learning a little bit more about our guests. So tell us a little bit about yourself and your journey here in Hibu.
Nick
Wow, so it's been a long story. I you know, I've been in the digital space since back in the 90s. started out working at MapQuest for a long time and and through that, you know, through developing that kind of mapping technology guide into local advertising for small businesses who want to They're businesses to show up on the map shirts like that. So that kind of morphed into a role in in digital advertising kind of broaden that beyond just the mobile and map based kind of advertising. And so now I touch all aspects of digital marketing, really, from websites to display, advertising, search, etc. Pretty much the whole gamut.
Chad
Yeah, sure. No, that's fantastic. And I mean, you know, let's just jump into the small talk… right. We say we're talking about "multichannel digital marketing," but that's a lot of words and a lot of long words to sort of talk about something. So like in everyday English, what are we actually saying when we're talking about multi-channel digital marketing?
Nick
So we're really talking about consumer behavior, right. So consumer behavior over the course of the Internet has changed a lot. You know, the advent of mobile phones, iPhones, you know, people are on their smartphone, on their tablet on the web. They're all over the place digitally. And so multichannel is really addressing people finding consumers across all those different platforms. What we call "channels" in the advertising space, right?
Chad
Yeah. And as we're looking… right, obviously, Hibu services small business owners – small to medium sized business owners. Are you finding that multichannel digital marketing is on their minds? when we're looking at them?
Nick
I would say the more savvy ones. Yes. But I think what we see is that, you know, one of the big mistakes that a lot of business owners make is they think that you know, to be online means they have to have a website, or they have to do search advertising, but they don't look at the bigger picture, right. So consumers aren't just on your website today, consumers spent an awful lot of time on Facebook and Instagram and properties like that. They also spent a lot of time on Google doing searches, but they have thousands of apps that they download and play with as well games and news and news and sports information kind of apps. All those places are fragmenting the time that consumers spend online. Therefore, as an advertiser, you want to be in all those places to the extent that you can, right? You don't want to put all your your eggs in one basket and say – well, I've got a search campaign running. I'm sure they'll find me there right now.
Chad
Yeah. Yeah, I mean, you know, we we talk a lot about the customer journey, and how traditionally, that customer journey was pretty much just from a to be straight line. But now it's from A to B back to A, from A to C, C to D, somehow Z jumped in there – it's at the end, how did we get to the beginning? And, yeah, it's definitely, I guess, you're saying part of having a multichannel digital marketing approach is to be able to be in those places, when people are looking for,
Nick
It's both being in those places, and then it's bringing consumers to those places where you are. So if you think about being in multiple places, you know, it used to be that to be online, you had to have a website. Now you it's really critical that you have a Facebook page as well because consumers spend an awful lot of time in Facebook and their discovery of small businesses often happen through Facebook And Google has something, they call it Google My Business Page, which is the branded page for a business, that – if you're on a Google search results page that's over on the right hand side – you've often seen them, I'm sure – if you're not there as well, you're going to lose out on visibility for people who are in Google searching for you.
Ian
Right, right. And just like, you know, a website would be, I guess, when you consider, you know, owned-property for an advertiser – "that's my website" – it's also… multichannel also pulls in, you know, making sure that you're in all those places where you're just kind of allowed to play there. So for example, Google My Business, Facebook page, obviously, no one person owns Facebook, they're just setting up, you know, kind of staking out their claim on Facebook. Same with Apple Maps, Google Maps, all those other places that, you know, consumers look for information today about business rates.
Nick
So we've actually moved off of just building websites for small businesses. When we contract with somebody to build a website, we're also… if they don't already have a Facebook business page… we're building that page. For them, they don't have a Google My Business Page, we're building that page for them. And we're taking the core content about their business, kind of all the all the important facts about their business, their name, their address, their phone number, their website, URL, all that information. And we're pushing it out to a whole network of other sites so that consumers can find them wherever they are.
Ian
Right. And that includes voice search, too, right?
Nick
It does, increasingly. You know, people are discovering businesses by, you know, asking Google Assistant on their smartphone, or by going to Siri and asking Siri, or if they're at home with their Alexa smart speaker. They're asking their speaker, you know, for a recommendation about, you know, where can I find some great pizza. And if your business isn't in their listing in their database, you won't be found on that on that platform.
Chad
And so, what we're talking about now is like the presence, right, it's very important for businesses to set up their presence online through their listing through their website, but once they have that presence in place, like then, what's the Next, what should what's the next thing that they should do? Right now?
Nick
It's a great question because being there is one thing, but just like, you know, just like you wouldn't want to put up a storefront physical storefront and then not have it look proper not have it draw people in your digital presence also has to draw people in, right? So you want to make sure you've got the right content, on that website, Facebook page, GMB page, and throughout the whole network, that's going to help the consumer make the decision to do business with you that's going to entice them to do business with you. So that's everything from the factual information about your business that I talked about before, to get a richer information, what services do you offer? What products do you offer? What are your kind of unique? What's your unique selling proposition? What makes you different? What makes you better than the guy down the street who does the same thing that you do offers the same kind of product that you do? And then on top of that, it's really the, you know, consumers more and more today, look for reviews about businesses. So it's capturing that kind of dynamic user-generated content, if you will. You can publish onto your website, your Facebook page, your Google page etc. where consumers are telling other consumers how great you are to do business with.
Ian
So those three layers, you know – the establishing your basic information making sure that you kind of stand out with that richer information and then those those proof points, those reviews, those confirmations that this is a good business to trust – that really kind of follows almost the evolution of you know, traditional advertising into the digital age, you know, used to be like you're looking for a plumber, there's one plumber in town, well, you know, then all of a sudden, there were a lot of options you can find plenty of plumbers on Google, which is great for the consumer, but then as a consumer you have to figure out, "Alright, now I've got five options… who do I choose?" And that's where that extra layer of reviews and you know, kind of confirmation comes in?
Nick
Yeah, exactly. I mean, every every business out there is competing, right and and digital has gotten more and more crowded and so it's more and more important that you stand out. And, you know, we look at for for a website presence. For example, we look at things like how well is that website converting, or engaging consumers who are coming into it. It's great to bring somebody to your website, but if they don't see what they're interested in, they don't engage. That is they don't do something on the website to show that they're interested. And they don't ultimately contact the business and become a customer. And that's been a futile exercise. Right? So we're trying to make sure that the the presence that we're building is engaging and will convert well. And in fact, we go back going back to talking about reviews that I mentioned before, you know, to give you a sense of how important they are to consumers, we actually see that when we publish positive reviews for our customer on the website, the engagement rate on that website almost doubles. So the number of times people who've come into that website, do some other action on that website is almost twice as high if they're, if that consumer is seeing positive reviews on that page when they first visited.
Ian
Right, right. And that level of engagement. I mean, it's I'm glad you brought that up because I think just like folks used to think I just need to get online with a website. I think not only were they not thinking about that multi channel aspect but they thought that in and of itself was crossing the finish line – "Hey, I've got a website!" But, you know, if we go back to your analogy of the physical storefront, you know, if you opened a store and you put a big you know, awning out front with your name on it, but no one ever comes in, you wouldn't pat yourself on the back and say, "hey, I've got a store." You go, my business is going, right, you gotta get in there. You've got to get them buying product and…
Nick
If you're the only coffee shop on the street, that's great. You're gonna get the business, butwhen there are 10 other coffee shops, one on every street corner, you've got to stand out, right? You've got to give somebody a reason to come into your shop.
Announcer
You're listening to Small Business Small Talk, powered by Hibu. Hibu is the country's leading provider of synchronized digital marketing for small businesses, delivering more visibility, more visitors, more leads and more customers. Visit us today at Hibu.com – H-I-B-U – Hibu.com
Chad
And we're back with Nick Hopkins. Hi Who's a VP of digital product management. And today we're talking about multi channel digital marketing. So we've got the content piece. So really, you've got your presence to start off with. Once you've got your presence, you use the content to make yourself stand out. So now once you have your presence, and once you have your content, what's next?
Nick
Well, next is you've got to actually tell somebody you exist. So it's great. Yeah, going back to the storefront analogy is great to have your storefront. It's great to make it look beautiful. But unless you have a lot of foot traffic coming by, you've got to tell other people your store is out there, right. And so you do that through advertising. And again, just as we talked about before, you know, multichannel makes sure that your ad is getting in front of people, when they're searching, when they're surfing, when they're browsing, when they're in apps, playing games, all those are opportunities to get your advertisement in front of people. Again, I think people make the mistake often of saying, I just need to be on search because that's when people are looking for me. And that's great search is a search is a wonderful platform, reran tons of search campaigns highly effective for customers. But you're capturing that consumer when they've already made the decision to purchase and now they're in Google and they're looking to decide who to purchase from. But if you think about it, you think about somebody who maybe is considering renovating their kitchen at some point, they're considering resodding their lawn, they're going to finally get around to repairing that crack in their roof and you know, that leak in the roof. You want to get to that person when they're early in that decision making process. And the way to do that is to go out beyond search and start to advertise on social media start to advertise on mobile websites and mobile apps, etc. So you're getting your your name and your brand out there. And you're top of mind for people when they do decide to make a purchase. Right?
Ian
And I think you can see that I mean, even even as consumers ourselves right or at least on on my phone, you know, I can go in and it will say hey, you spent this much time in browsers this much time on social media this much time looking at photos on your phone, you know, it really gives you a sense of like, wow, we are all multichannel consumers even if you're thinking you know, I check into Facebook maybe once a day… like, you probably don't.
Chad
Right. Or, make sure you spend enough of your time that you spend on that device and Facebook that it that matters that the images and the brands that are advertising to you, they're the ones that you will recall. And remember, even if you let's say you visited a site, and you left – as long as they can get back to you get back in front of your face there. Well, that's that's a, that's a win on their part.
Nick
Yeah. And that's a critical factor too, is that people, people don't follow a straight line in the digital world anymore. People have shorter attention spans than ever. They get interrupted more often, they're using their mobile phone while they're watching TV binge watching something on Netflix or something. And so they're not… you need to, you need to be in front of them in multiple places throughout the day, to make sure that you're getting their attention and you're driving them in when they're when they're ready to conduct you know, that that business transaction with you. So you know, people will often see, they'll go in and do a search, they'll end up on a website, they'll look at the website, they love it, but they get interrupted they go off to do something else. And now you want to get that message back. In front of them to remind them to come back again, right. And that's done through what we call retargeting. So taking somebody who's visited a website and putting an ad in front of them later on in the day, I'm sure most of you have probably seen that when you've gone on to, you go into Facebook, or you go into an app and you see an ad for something that you know whose website you visited a few days ago, that kind of retargeting is really effective. It's also true that, you know, when people see a display ad or an ad in social media, for example, often their response to that ad isn't actually they click on it, and go to the website and do something. It's actually to go into Google and then do a search for it. Right? So you see a lot of kind of cross coupling between these different channels where being on display or being on social media actually benefits you on the search side and vice versa as well.
Chad
And that's right. And that's really what we're talking about. So the importance of having this multichannel digital marketing strategy is the reinforcement, the fact that the sum is greater than the parts…
Nick
The whole is greater than the sum of the parts.
Chad
I was close. No math. Yeah, it's the reinforcement that that they give to each other and it's better than just having the one or choosing to just have the one the more you can layer those things, the greater return you can see on that investment.
Nick
Exactly not to make it a math thing again, but it's one plus one equals three.
Ian
And it's part of what's interesting multichannel marketing, too, because if you know if I go back to the analogy of putting all your eggs in one basket, you know, if you just have a website, you need that website to you know, create awareness, create interest, hopefully get found in search – you're asking it to serve a lot of different purpose. Where if you have these different… I don't want to say disparate products, but you know… these these different solutions in place, they serve different purposes. You know, display might be more about awareness and retargeting, you know, you might not need to rely on people to click on the display ad because you just need the display ad to kind of get your business top of mind again so that they engage with your website.
Nick
Right. Another way to think… it's diversification of your of your investment. Well, right just like you diversify a stock portfolio, you want to make sure that you're spreading your bets around. Yeah, I would say it's also critical that all those things work together very closely. So it doesn't do you any good if your display ad has a completely different branding message than your search ad and your website. If somebody clicks on your display ad goes to your website, and they see a completely different view of your business than they thought they were getting from the ad, they're much less likely to convert. So making all those things play together requires making the content across all those synchronous.
Ian
Sure, sure.
Announcer
You're listening to Small Business Small Talk powered by Hibu. Hibu builds synchronized digital marketing solutions for small businesses across America. Your website, online listings, reviews, search, social, display and more – all working together to maximize your results. Visit us today at Hibu.com. H-I-B-U. Hibu.com.
Chad
We're back with Nick Hopkins, Hibu's AVP of Digital Product Management talking about multichannel digital marketing. So you know, as we… as we get nearer to the end of our conversation, anything else that you feel like you'd like to add?
Nick
Well, I would just maybe go back and reiterate a couple points there around, you know, if you think about this as a kind of layered approach, you know, that the first layer being the presence and making sure that that presence is across all the key places where people spend time on the internet, Facebook, Google, and your website, that you make sure you have the right content within that presence, so that it so that it converts consumers who find that presence, and then you have an advertising campaign out there. That's that's making people aware of that presence and bringing them to it in a targeted way. Right. You want to bring the right consumer into that presence. You want to have the right message for them both when they see the ad initially when they come in, and then you want to reinforce that you know, we talked about retargeting before you want to if they don't convert the first time, you want to be able to bring them back by getting that message out in front of them. You know, it's kind of interesting. We look at the the data on this frequently all the you know, all the time and you look at a retargeted ad one of those ads that's read delivered to a consumer. And those actually click, you know, the click through rate on those, the conversion rate on those is five to 10 times higher than the initial ad out there. So that works that you have for getting that message back in front of people really works. And of course, that's why you see the big brands doing that on social media all the time.
Ian
So I'll ask the stupid question in the room here. Is that easy to do? I mean, if I'm… if I'm a small business owner, and I'm listening to this, and I go, "yeah, makes a lot of sense. I've got a website, I should start doing all these other things." That sounds like it's a pretty tall order.
Nick
You know, it's it's one of those things where each of the individual pieces taken by itself is straightforward, right? Plenty of places you can go to build your own website, right, some of them for free, whether you're going to build a good website. So that's actually going to have the right content on it. It's when you start to peel back the onion on what does it actually take to make it effective, right, as opposed to just check a box. That's where that's where it gets hard, right? You can run your own search campaign, you can go out and build your own display campaign. But when you start to add up all the pieces you need to do to do that. Well, it's time consuming. I mean, that's what that's why big companies have marketing departments, that for them, they bring in specialists to that. So we do find it you know, for us, for a small business owner, it is daunting to do it well. And that's why DIY, you know, websites, ad campaigns, etc., tend to underperform when, relative to when it's done by a professional.
Ian
And I suspect it's much the same. If you're a small business and you're working with 234 different partners, you talked about making sure that branding is consistent messaging is consistent. If you have one person managing your website, someone else doing your display ads that must also be a challenge where any one of those components might be decent in and of itself, but do they work together without you know, kind of one umbrella, you know, person looking at it? Yeah, maybe not.
Nick
Yeah, maybe a good analogy there is, you know, back back to the home, you know, do you want to be the general contractor and bring in, you know, different people to subcontract to do different parts of your home renovation, if you want to spend a lot of time and become an expert on hanging drywall. But otherwise, you know, you're generally better off hiring a general contractor who knows the business and knows how he knows what needs to be done and is making sure all those pieces are coordinated shortening.
Chad
Right. And I think, you know, as small business owners should be, they're always concerned with the returns that they'll get on that investment and investing in a in a synchronized strategy, I think will offer those better returns, it'll sort of it'll pay for itself, and making sure that you are having all of these things all together working together reinforcing one another to get you the conversions and the results that you need.
Nick
That's right. And that comes back to looking at the data. And as I mentioned before, you can, you can do a lot to drive traffic to a website. But if it's not the right traffic – if you're not bringing the right consumer in, who's the one… who's likely to actually do business with you, or when they get to the website, they're not seeing the right content – you're not going to get that kind of return on your investment, right? So it's making sure all those pieces work together. And we spend a lot of time when we're running programs for people looking at the data across the board, looking at how the search campaign is performing, the display campaign is performing, but also looking at how that traffic when it's coming into the website, how that's converting for the for the customer, and how well we're driving leads for that business.
Ian
And going back to that idea of working with with, you know, one partner, one general contractor, if you will, that's also gonna be easier when you're looking at that data. As the business owner when you're trying to calculate the return on investment. You don't want to sit there with five different reports and go I don't know how these overlap or don't maybe they look like they're conflicting. It must be so much easier to just look at one report and say, at a high level here how you're doing, you know, here's where we can do more, here's where we can improve.
Nick
Absolutely. And so we, when we do these multichannel programs for our customers, we provide all that data to them in a dashboard. But probably more importantly, we use all that data internally, in fact, more than what we actually show on our dashboard. And our operations teams use that data to analyze programs, analyze campaigns, analyze how different products are working together to make sure they tune them to get the best possible results.
Chad
Well, Nick, thank you so much. This has been super informative. You know, thanks for joining us.
Nick
More than happy to do it.
Chad
And thanks to everybody for listening to this episode of Small BusinessSmall Talk powered by Hibu. If you like what you heard, please be sure to subscribe and make sure you don't miss the next episode. And feel free to drop us a review. You know, reviews are important as we've just discussed, and we'd love to hear your feedback and it really helps out the show. Small Business Small Talk… out!
Announcer
Thanks for listening to this episode of Small Business Small Talk powered by Hibu. Hibu is a leading provider of synchronized digital marketing for small businesses across America. With Hibu, you get all the digital marketing your business needs, all from a single provider, all working together to maximize results. Visit us today at Hibu.com – H-I-B-U- Hibu.com.