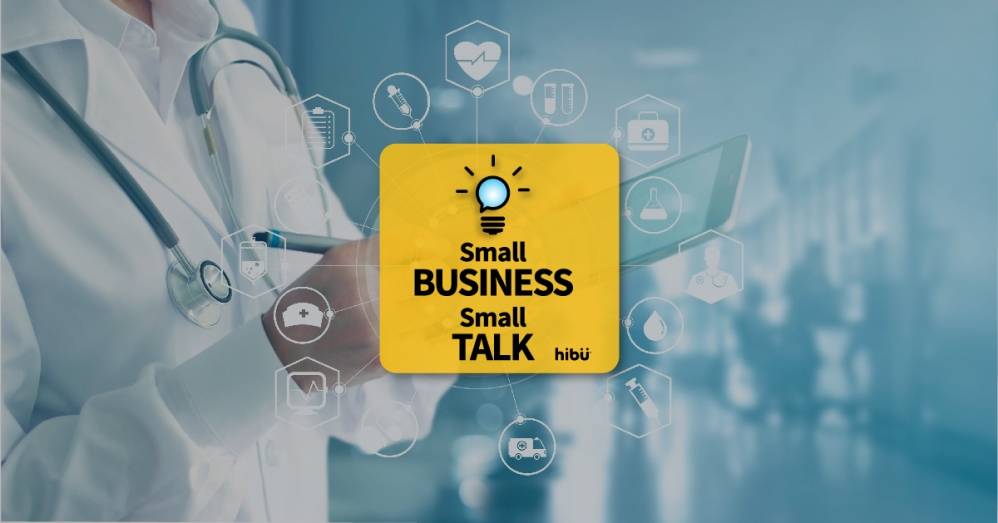 Podcast: Hibu talks to Dr. Robert Moore about marketing your medical practice online
Dr. Moore spoke with Hibu's podcast team at length about what he sees as the keys to using digital marketing to grow a medical practice.
Listen to Dr. Robert J. Moore, owner of Moore Foot & Ankle Specialists in Houston Texas explain what has worked for him and what he's seen in the online medical community, including:
How to find quality leads and reach the right audience
Lead generation strategies
Streamlining your marketing workflow and having everything under one roof
The value of Google reviews and how to get clients to leave them
What makes an effective medical website and how he utilizes landing pages
How getting specific on his niche specialty helped him with his marketing
The effects of Covid and telemedicine on his practice
Incorporating SEO, pay per click, social media and more
Listen to Small Business Small Talk powered by Hibu on any of these streaming services:
APPLE PODCAST | YOUTUBE | SPOTIFY | GOOGLE PODCAST | STITCHER
[Transcript]
Ian Messinger
Hi, I'm Ian Messinger with my co-host, Lauren Blackford.
Ian:
Thanks for joining us for this special episode of Small Business Small Talk powered by Hibu. And Hibu, we're dedicated to helping local businesses across America succeed and grow. And one of the ways we do that is by sharing firsthand accounts of how actual businesses use digital marketing to be profitable. Even in challenging times. Today, we've invited Dr. Robert Moore, owner of Moore Foot and Ankle Specialists in Houston, Texas, to speak with us about how digital marketing has worked for his practice. Hi, Dr. Moore, thank you for joining us on Small Business Small Talk.
Lauren Blackford:
Hey there.
Dr. Moore:
Thanks for having me, Ian – and you too. Lauren. This is one of my passions. And it's part of any business nowadays.
Ian:
Yeah, you know, I actually wanted to, to kind of get things started with in our prep call, you had referenced the fact that I just thought this was, you know, spot on for us that you really enjoy the lead gen aspect of your practice, which is, you know, it's not something that every every physician can say a lot of them you know, don't have the don't have the time don't have the patience, frankly, don't don't have the interest. You know, I can't imagine there were a lot of marketing components to, to getting your degree. So I think that's a good place to start, you know, you're you're very well versed and hands on with, with marketing, and where do you kind of find the joy in that.
Dr. Moore:
I would say, it's the lead quality. Ironically, I have a lot of referrals from rheumatologists things of that nature, cardiologists, people have extremity issues. And you're not sure if the patient is there's a plethora of problems, I'm going to list there on the right insurance, not waste every time on a phone. It wasn't someone who actually could come to the office, because they're really more of a hospital patients. So there's many reasons that, for lack of better words, waste a lot of time at the office, when they could be on the phone or doing something else. And then ironically, I'll get a patient who comes down and sits in my chair and says, "Yeah, I heard about you from my neighbor. But I really didn't know much about you. I jumped on, your reviews are great patients seem to like you." And they went down the list — we love your website seems like it's easy to navigate. So the whole experience besides going off on another tangent on telemedicine, for obvious reasons, is made the computer the all in the everything for patients. And then of course, someone who's really looked down deep on a guy like me, who sub specializes. Things like cosmetic foot surgery and ankle reconstruction. Oh, that's the guy — that's what I want. So you can't blast that all over your website, you have to do a little research. So that quality of patient also comes in more on the digital marketing side.
Lauren:
That's so interesting. So you're cutting out all that middle work of qualifying the patient, because they're qualifying themselves before they even, you know, pick up the phone and dial based on what you're putting forth and your digital marketing.
Dr. Moore:
Yes, and it's not like we're selling, you know, protein bars or things of that nature — these are real leads. Decent ROI night, these are bodies, this is our business, this is what we need to see in our clinic. So besides that, there's that aspect of it too, which is nice, because of course, traditional is fine. And I do get quite a bit of patient interactions. But even that, like I told you earlier, somehow there's a digital touch, maybe 50% of the time, just to see who I am and check me out.
Ian:
And that's, you know, ultimately that's what it really comes down to right is reaching the right patient not just every patient or you know a wide net, it's especially when you're a specialist in your field, it's finding the right people that are looking for what you do — and yeah the insurance angle is certainly certainly important. So what, for you, what's been kind of that right mix? That sweet spot of, you know, the the way you reach that right client? Is it, you know, your website only, is it a mix of website and… you tell us.
Dr. Moore:
Great question. It's a little everything. It's funny because you know the website's very important. SEO is king. Once you get up to a certain level and your… especially when you've been on on the grid for a while like me, that's a constant background of awareness, even on a national level. Once in a while, I'll get a lead from Istanbul or, or Pakistan. It's, it's kind of it's nice to know that the people are actually looking for things things, so you know that's working. And then your pay-per-click is important. That adds a little bit more Mojo on top of the SEO. We we did a little bit, of course, the reviews are huge too. And a couple of little things, I didn't really realize that were out there, like my business page. So for example, I have one of these perks that a lot of people don't, there's… I'm older, I'm slowing down. So what's my little niche, it's same day appointments, I'm not… my schedule is not packed. So I put that on my business page, and it just blew up. You know, it was a neat little accident. And then social media, that's great too, for awareness. It's… it kind of makes them, again, go back to the web, back to a search engine, or to your website. So it's definitely what we see at the office – teamwork, makes the dream work. And there's no exception in digital media.
Ian:
Springboarding off of that, you've managed to really get all of those different channels under one roof, rather than you know, working with one person to do this and someone else to do that. And then you dabble with a third thing over here. Was that kind of where you started? Was everything under one roof? Or did you eventually just pull everything together?
Dr. Moore:
No. You know… it's essentially the wild west of digital marketing. You had to kind of carve yourself out. Being under one roof is really cool. Because with these people, they know each other, they work together, they have different accounts. Usually companies have, like yours, have a great, I guess, breadth, if you will. I don't think there's anything bad that you guys will know a whole lot about some of the more commercialized products and services instead of oh, all we do is healthcare. I think that's great.
Lauren:
Yeah, I mean, when you work with with a company like ours, or the company that you know, you're working with, like you said, there's a huge breadth of knowledge and the you know, how we do it for you makes you able to run your business rather than run your marketing. And, you know, I think that's an important aspect. I want to go back and talk about reviews, you had said, you know, somebody looked at reviews for your business. I think that's an interesting thing, especially in the medical field today, how we've gone from referrals and word of mouth to more reviews-based businesses – how has that changed the way that you bring in new patients?
Dr. Moore:
This is gonna sound odd, because to be honest, that's what I like about reviews, to be honest, is king in the review, world. Being a good person and then capturing a patient. I was told one time, you may want to give them a little nudge. And in the beginning, I thought, man, I don't know, this is our professional. That's, you know, that's, that's not classy. But ironically, you'll talk to a patient who saw your reviews. And it doesn't matter what age or where they're from, or, you know, background, it seems like the whole quality of what they read is why they're there. And then if they have a good experience, they'll go back and they'll write one with a smile. And every once in a while we'll check up with one. In fact, I knew I didn't have any reviews for probably about a six month period. And it wasn't because patients were unhappy. It's just, it was just I guess we fell off the radar and patients were overwhelmed. Oh, yeah, absolutely. Just remind me it's a busy world. And therefore, you know, it's Mrs. Smith. And she says, "Oh, the staff was great. You actually talk to me." And that goes a long way because some of my other colleagues and had called me for some reason – "Oh, you're the you must be the web guru because your YouTube channel. How do I get these ugly reviews? Off?" I go. You don't! I'm just honest. I mean, if Mrs. Y is really angry that day and rants about her bill, just answer and say, I'm sorry. It's an arduous system now with deductibles and write offs. But it's interesting how reviews work and it's not hard. And I would I would encourage physicians to get a few of those a month.
Ian:
Well, I have to imagine whether it's quantifiable or not. That must also help with the same day appointments. I mean, there must be folks that are in that, you know, discovery learning phase and they run across a review and they go "wow, this guy sounds great." I'm gonna call them right now.
Dr. Moore:
Yeah. This afternoon, I was just on Airbnb and there were like, two on this one place and, like 750. Yeah, it's probably a nicer house. So there's that to your right. Yes, a good point with it are your eyes dart down to the numbers, and then you'll read a few. And then, of course, everything starts piling on top, they're close. Or there's a niche there. I think pay per click is really cool for that. Meaning, if you really want that out there to, besides your… using your website. And I think you kind of connected to or at least put quotes on there. If you want to isolate that I really want to do real pretty cosmetic, ingrown nail or whatever, something odd that nobody else does, you can pay per click that, and your competitors don't do that, you'll get all the calls.
Ian:
Sure. Well, I'm glad you brought up paperclip, because I wanted to go back to something you said previously about how you know, there seems to be kind of a little bit of a lift, if you're doing you know, SEO and paid. And I always think back to… gosh, it's got to be going on 10 years old, there was a study that… I think Mashable or someone did, where they looked at some results. And at least back then they found that there was a lift, because folks might see your pay per click ad – which can be, to your point, ultra-specific and very specialized, and rather than click on that ad, they may search for your name, the name of your practice, and then they find you through your SEO efforts. And I think that's one of the big benefits of working with a company that does everything is you know, if you were just in the Pay Per Click space, or just in the SEO space, you might be quick to dismiss that. No, no, no, no, no, no, don't just put all your money here, put all your eggs in this basket. And I think it's whether it's the quantifiable lift or just that sense of I'm in more places, I'm easier to find. You really get that when you you work with a company that kind of touches all of those things. And can can say, yeah, there's there's a connection here, there's an overlap, you want to be doing both of these, and that, by the way.
Dr. Moore:
You're correct. A mix of everything is always better. Just because every time you touch the web, or in the digital world, you're, you're you're putting something out there. I can't say too much about social media. I'm not on a lot. But I know for my profession, maybe you can expand on that, that it does okay. I'm not sure why some of my friends love it. But I think it's more like billboards or brand awareness, or Mrs. Smith hears about it from her neighbor, and says, Oh, I saw that I was on Facebook the other day. Again, I'm not sure how that works. I know they have lead generation on there. But for me, it's been generally, you know, back through the website and actually making an appointment. Something else maybe the general public doesn't know it may or may not be good for this interface, are the…are the forms. So another thing a company like you guys bring the table, it's a really clean form. If it's not easy, it's not accessible, they're not gonna fill it out. Totally used to that. And then of course, you can do links we have one where you you can scare people away make an appointment like whoa, I don't want to touch anything on this. I don't want to touch anything because…I'm not… "My God, I'll be sucked into the appointment vortex." So, if you've got a good landing page, and your landing page has a lot of information on it and content. I even have home remedies online. They tend to stay on that page longer. They and they won't get so scared about your "book now book now." You know, we're not selling Cadillacs. I'm not going to just stop marketing to my favorite physician friends. But this is different. I would like to be 75% digital marketing. This year. That's what I would like to be because those patients are the best.
Lauren:
A lot of business owners make the mistake of trying to hit the broadside of the barn when they're doing any sort of marketing. But what you've done is get so hyper-specific. Now I know that you are a sub-specialist, but you… you know the same day appointments and the things that are very specific toward, are what seem to be giving you the most success. Right? How did you get to that point of understanding that you need to put it out there what made you unique rather than trying to hit that broadside of the barn?
Dr. Moore:
That was a good question, Lauren. It was kind of accidental, I teach, so I was putting out these teaching videos. And when they were they were going on getting popular and some of the surgical equipment representatives would show their doctors. And I say Dr. Morris doing this. And then for you know it that little niche market where I was talking about their cosmetic wrist surgery, I thought well, I maybe I should build out a page for that. And that was a suggestion from the marketing team saying, hey, this is kind of what you're good at, so, why don't we make a little column for that that was neat. And then the ankle stuff to kind of funneled into that. But it started with the videos and it wound back into your world where I better let them know. And quit fighting this keyword thing or, you know, most of us are OCD. It's 463 page document on Google AdWords and keywords. Cuz, you know, Google offers all that stuff. Oh, I can do this. So it has nothing to do with that stuff has everything to do with that patient saying, I want this. And I'm gonna put a few keywords out there and I'm gonna, I'm gonna see what I'm putting out according to my brain, right? And every once in a while, it's the craziest stuff. I'm sure you guys have stories to where you know, someone's shopping for a swollen ankle it gives out. And next thing you know, you do some Google research would get something else you guys are fantastic at. And it comes up with you know, "catching ankle" in quotes. Catching ankle. I don't know these things, you know. And then all of sudden you get like four leads that week. And then it pops up and you guys get to zero in on that. So yeah, that's a great question. Again, that niche marketing is great, because we know what we like to do in the office, we know we're good and well trained doing the office at, and also that type of patient. For example, we love heal spurs, it's another thing that's… and it's worth mentioning, because someone might grab something from this, that's in a different specialty. You put everything out there, that's related, the Achilles pains are walking on their tippy toes with their heels killing them… they get arch pain, they get all kinds of stuff. You feed that to your team, like you guys… it's worth going into all that detail, I think, because it makes you think about where your business is, what comes in with that patient, what services you offer. And then you can target those things. And I happen to like these patients too, because they're, they're miserable. You're one quarter shot, sorry, one cortisone shot away from being like, you know, you're the best, you know, it's and they're so happy. And that's what that's what our job is?
Ian:
Absolutely, absolutely. Why, you know, Lauren mentioned the broadside of the barn approach. And it kind of aligns with what you were saying about social that, you know, for you, it really functions as more of a more of a billboard. And I think that's one of the challenges that a lot of folks face when they try to do things themselves is maybe they expect a channel that, whether it's their market, whether it's their industry, it is going to function as a billboard, but they're expecting lead-gen or vice versa. And I think that's one of the values of having that kind of diversified portfolio is that you then have the ability to say, no, no, no, no — such and such a channel is going to be just brand awareness, and kind of getting your name out there. And then we expect those people to Google a term, or Google your name or go straight to your website. And again, you don't you don't necessarily get that when you're putting all your eggs in one basket and saying, Well, I'm going to you know, I'm going to try this myself and I'm just going to do social media and that should do the trick. Right? I'm spending time on it. I'm putting money towards it that'll do it.
Dr. Moore:
Lauren was talking about the laser focus on what's your good. It's also important that you guys, I'm just imagining how you do it, but I'm sure every company as big as yours has a little Scrum and you know, all the parts meet about Dr. Moore's practice. What do you think? Well, he did say, you know, he's flattered… from the Istanbul, and then the lady who drove in from Florida, and boy, that's gonna really drive business. No, he didn't, you know, put up in a hotel. It was it was a nightmare. I mean, yes, we did a great job. And we were we loved the shout out and the review we got. And then I thought to myself, hmm, see, there's 4 million people in Houston, maybe I should focus here. So again, the team came back and said, "Hey, let's let's, let's pound local. Let's pound local right now." Yeah. And that was helpful, too. Speaking of getting laser focus.
Ian:
Yeah, no, absolutely. Absolutely.
Dr. Moore:
You'd be amazed how many people don't want to drive past 10 miles can see their, their surgeon.
Lauren:
That's usually the radius I put when I'm searching for something.
Ian:
There you go.
Dr. Moore:
But yeah, and then.. but back to the niche that was worth, kind of, I don't know how you guys do it, but leaving the ends loose. So I you know, I go past the walls of Houston. That's pretty cool, too. Because the niche markets are fun. Because you do business from that, if not anything telemedicine. That's really working. Well, that business for the old guys like me, because you've seen a lot. What do you think? And it's, it's been nice. Seeing that seeing that come? Especially during COVID? We were shut down for a while.
Ian:
Yeah, absolutely. My doctor is, gosh, I've been going to him for 30 odd years now. And he's just starting to get into tele-med. I mean, he was forced to because of COVID. But you know, it can it can take a nudge sometimes to get people to try something new, whether it's telehealth or whether it's, you know, marketing. And you know what, actually now that I now that I say that, it reminds me of another question I want to ask you, which is… we talked to a lot of different folks and all sorts of different industries, one of the biggest ones we serve is healthcare providers. And a lot of what we hear from people is just, I don't have time to do marketing, I don't have time to think about marketing, I don't have time to do the research to hire someone to do my marketing. So as someone who has been very both hands on, and also really handed that over to a group of specialists, what would you say to other medical practitioners who go ads just not I'll get around to it,
Dr. Moore:
is we're in a weird business, that unless you are, you know, tight as IBM, and you've got all these different people working for you, and a CEO, is operations are all over the map, you can't control it. This is just part of our industry. And we have a saying revenue corrects everything. And most industries do say that, too… ours in particular, but most of the revenue for us, and I know all my colleagues will agree with this is getting them into the clinic. And then you know, seeing them processing their first visit, making that relationship. Of course, new patients are the lifeblood of any practice, and a growing practice for sure. And they're hard. They're not the easiest. And unless you… I don't even think the old conventional stuff works well anymore. Like, like, mass postcards in someone's mail slot, like you know, here I am. And what's the wall somewhere? Oh, I didn't know they're down the street. But then again, Lauren said, you know, they're gonna look at their phone, and then Google Maps populates, they're going to do that first. So I would say to them that it's I think it's important because not only do we not have the time, but more time taken away the more resources time and money put into marketing, the more those chairs will get filled, and then it will be a moot point. The return on investment, the ROI, for digital marketing is is ridiculously good. I use no weight… and you can't… nobody can touch it. So if you're not involved in it, you're not really going to see the numbers you could see for any profession. I think, in the healthcare world. So that to me is what I like to talk about the most besides like we talked about earlier in my type of patient, the quality, speed, but I would I would say… I don't think my rooms would be full without it.
Ian:
Well, Dr. Moore, thank you for joining us today, sharing what you've experienced and helping us in our goal to help medical professionals like you across the country, and to everyone listening if you need help with digital marketing, for your medical practice, or any other local business. If you need a digital marketing partner who can deliver the kind of effective digital marketing we talked about today, help you with visibility on Google, with reviews and more, be sure to visit us @hibu.com. If you liked what you heard on this episode, please subscribe. Leave us a review. It all helps. Once again, this is Small Business Small Talk… out.
Here at Hibu, we're dedicated to helping small businesses across America succeed and grow. If you liked what you heard on this episode, make sure you subscribe and leave a review! As we discussed, sharing great reviews is key to succeeding online – even for a podcast.
Small Business Small Talk powered by Hibu gives you the insider expertise your local business needs to compete online. Small Business Small Talk brings you informative conversations with digital marketing experts who specialize in online marketing for small and medium-sized businesses.