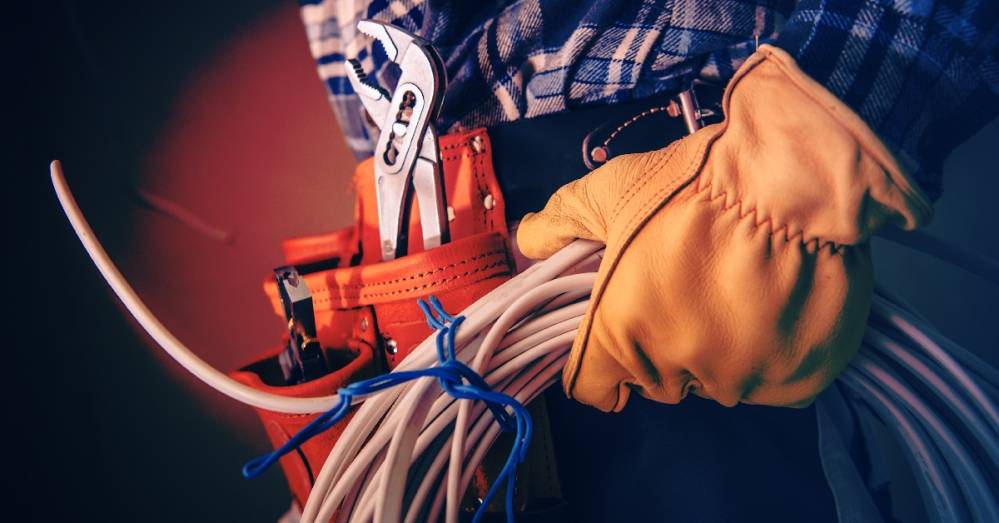 Digital Marketing Tips for Electricians
If you're an electrician running a business, marketing might seem frustrating, but you know you need to deal with it one way or another. You know you have to advertise somehow. Word of mouth and print ads were the primary building blocks of small business marketing once upon a time. But these days, digital marketing is what helps you get found and what helps you stand out from the competition.
Today, digital marketing for electricians has multiple moving parts, interconnected parts that work better together. And, right about now, you might be wondering, "How on Earth do I use all those parts to help my business?"
Well, there are no marketing secrets for electricians — but there are digital strategies and solutions right at your fingertips!
There are about 220,000 electrician businesses in the U.S. as of this year – it's time to make sure your digital marketing is as sharp as possible in order to compete online. And the sooner you start, the better off your business will be.
We've compiled five smart marketing tips for electricians to get you on the right track.
[Related: Small Business Digital Marketing 101]

1. Make Sure Clients Can Find You Fast
In terms of online marketing, electricians have a lot of local competition, and even more that shows up when someone searches for "Electrician" online. You need to must be instantly visible when local clients search.
Local search use is massive, and clients usually browse only the first page of search results. What's more, only about 3% of people click past the top five organic search results (results that aren't paid ads).
And that's a really big deal. To snag clients' attention and put your services up front, take care of two steps:
[Related: 4 Ways to Find Your Business Online]
2. Build Airtight Business Listings
Whether they need you to handle a small glitch or a giant overhaul, prospective customers are looking for three things. Along with being visible (showing up high in search results), you need to appear trustworthy, and you need to be believable. That means that all your business information online must be correct and consistent.
Basic information needs to be identical everywhere they see it -- your business name, phone number, address, and hours of operation. It may seem minor, but if these things don't match up across your listings, people will lose faith in your business… and they'll choose someone else.
One more thing to remember… customer reviews are an important part of your business listings When someone shops for a business or service online, they almost always contact the businesses with the higher customer ratings – four or five stars. Consumers shopping for an electrician are no different. When someone is shopping for an electrician in your area, they need to see that you have a lot of four and five-star reviews.
This brings us to your next big tip: polishing your website.
[Related: Think Your Small Business Isn't Online? Think Again]
3. Have a Smart Website
In this digital age, you need a website to compete with other local businesses for the attention of your potential customers. When clients find you via local search, they're likely to click your site URL and check out your services. What they see when they land on your website must be clear, well-branded, and visually appealing.
Of course, a whole lot more than aesthetics goes into a smart website. Today your site needs to be "visible" in voice search ("Hey, Siri!"), it must run flawlessly on smartphones, and have expert SEO. (We'll get back to SEO in a minute.)
Whether you already have a site and it's not delivering the results you want, or if need one, you might be considering building one yourself. There are certainly a lot of DIY options out there but be warned that there's a big difference between creating a website and building a website that actually gets you seen in search and converts visitors into customers.
Partner with professional web developers and watch your site become much more than drag-and-drop boxes. They'll research the target market for electricians in your area, tailor your site accordingly, utilizing expertise the average business owner has no knowledge of, like SEO keywords and schema – that "secret sauce" can be the difference between a site that gets you seen or not.
With a business listing, reviews, and a custom website, you'll nail down your digital foundation. And to be honest, these aren't so much marketing tips for electricians as they are marketing must-haves.
[Related: Why a DIY Website May Not Work for You]
4. Light Up Social Media
Now, it's time to get social – and by that we mean getting on social media. Social media marketing for electricians is a great way to attract, engage and retain local customers. By establishing yourself on social platforms, you can amplify word of mouth recommendations and garner great business reviews.
Sure, if you're only thinking of social media as something personal, rather than business related, it might seem odd that your electrician business needs its own social accounts. But Facebook (aka Meta) use alone is massive, and running paid social ads can help you reach a giant chunk of your local client base.
Add regular posts and media (think videos and pics of your impressive jobs), and you've got a winning strategy. Plus, you'll be able to build personal connections with your clients — current and potential! When your business feels like much more than a business, clients will find you approachable, likable, and trustworthy.
Don't underestimate the impact of showcasing your professional personality! That sense of personalization works wonders for brand loyalty.
[Related: How to Make the Most of the Time You Spend Marketing Your Business]
5. Invest in SEO Services for Visibility
SEO, or "search engine optimization," takes what you have online and maximizes your visibility on the web.
How so? Well, besides finding and using keywords and phrases specific to your location, audience, industry, and more, SEO specialists work with code and text to boost your search engine ranking.
For example, consider your business listing and website. You want them to show up high the first page of search results. After you've carefully crafted your social media profiles, you want them to appear in search, too.
If you don't rank highly on major search engines like Google, Bing and Yahoo, clients are unlikely to find you. Less visibility means less business.
SEO is one place where DIY is really not an option. It's best to leave SEO tactics to the pros. Specialists already know them, and they'll expertly work to grow your search ranking and client numbers. Because honestly — learning SEO probably isn't something you, or most electricians (or most local business owners) have the time (or desire) to do in addition to running your business.
Overall, it's a lot to digest. But know that SEO is incredibly powerful and one of the best marketing strategies for electricians. It runs through every vein of your digital marketing strategy, and its benefits are immense.
In the end, online marketing for electricians isn't complete without it.
[Related: Today's SEO: How to Dominate the Search Results]
At Hibu, We Have Experience Creating Digital Marketing for Electricians
You might be surprised at the results you can achieve with these marketing tips can do when you put them into practice for your electrical business. And, you'll be even more impressed (and successful) when you partner with a digital marketing company like Hibu. We make sure every digital marketing effort amplifies your business.
And we don't stop with these tips and tactics! We can integrate other services so that you hit all your targets:
Plus, we're genuinely dedicated to seeing you succeed! Our one-on-one service, custom pricing, and industry-tailored websites give you confidence — and serious return on investment.
The best marketing for electricians is right here, so get in touch! Give us a call at 877-237-6120 or complete our Get Started form.