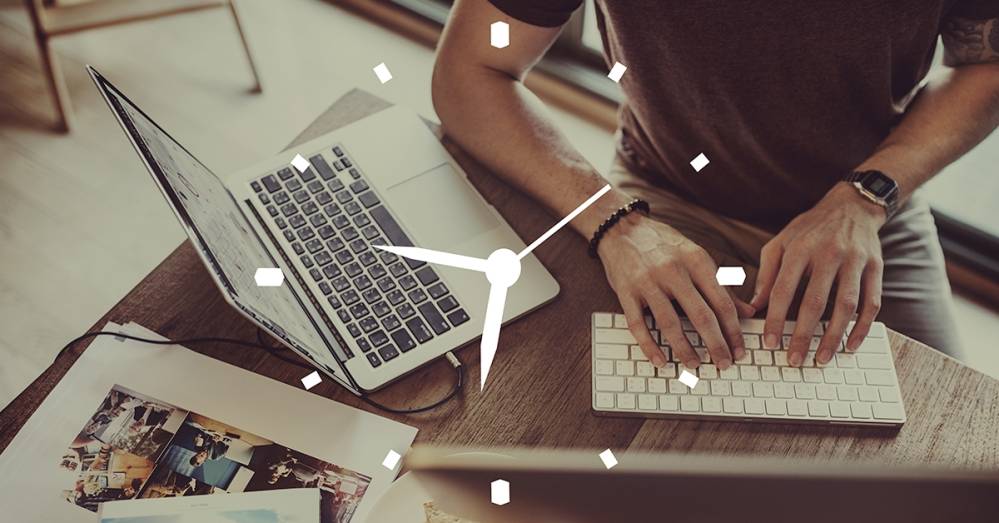 How to Make the Most of the Time You Spend Marketing Your Business
Being a business owner isn't for the faint of heart. It takes time, it takes funding, and it takes real commitment. Whether you run your business full-time or as a side gig, realistically, a business owner's work is never really done.
In fact, a New York Enterprise Report poll found that small business owners work twice as much as typical employees, with one-quarter saying they work more than 60 hours per week. But even if you work 20 hours a week more than others on your staff, there still may not be enough hours in the average day to get everything done.
After all, marketing alone is a full-time job – and it often requires you to be on-call at any given moment. But how can you balance your marketing needs with all the other tasks that keep your business running smoothly?
Something's gotta give.
It's simply not feasible to operate a successful business and single-handedly give your marketing strategy the attention it needs to succeed.
Luckily, you don't have to choose between running and marketing your business. Sometimes it's simply a matter of managing your time more wisely… and sometimes it's knowing when to ask for some help. In either case, the first thing you need to do is…
Determine Your Priorities
Not every task on your "to-do" list is going to be worth your limited time. If you only have a few hours to spend on marketing each week, obviously you need to spend those hours wisely!
Before you start to decide WHAT marketing you're going to do, you need to have a clear understanding of WHO you are marketing to. Regardless of the industry of your business, you need to identify your target audience – things like geographic area, age range, and more.
There are also certain aspects of marketing online that virtually every business should prioritize, like search engine optimization (SEO) and some type of online advertising – whether it's display advertising, search ads, or social marketing ads. These work in-tandem to build your brand's online presence and drive both short-term and long-term traffic to your site.
Having an effective website should also be a priority. Today, all the marketing you do – online and offline – should be driving traffic to your website. If your site isn't built to convert those visitors into customers… you're losing money.
From there, it's worth having a conversation (or two) with a marketing professional to determine what else could work to help grow your business – social media, reputation management, listings management, or something else?
Once you determine what's worth prioritizing (and what isn't), you can focus on what's most likely to give you the results you're looking for.
Consider Marketing Automation
According to a HubSpot survey, the average marketer spends roughly 16 hours per week – from 33% to 40% of their time, depending on their work schedule – on repetitive, routine tasks.
Whether you have an in-house marketing expert or you're trying to handle the workload yourself, that's roughly 2 days per week of staff-time that might be better spent on the day-to-day business stuff. The challenge is that a lot of those repetitive, routine tasks are a necessary evil. Without them, your larger marketing goals can't be achieved.
So what's the solution? Automation! Marketing automation has become a popular way to redistribute vital resources without sacrificing quality. You can automate personalized marketing campaigns and boost the productivity of your staff at the same time.
With marketing automation, you can lighten the load of your best and brightest so they can focus elsewhere. In turn, you'll be able to get those necessary marketing tasks done in record time and with less room for error.
Hibu Assistant, for example, is a marketing automation solution that helps you capture customer data, encourage customer reviews, and nurture sales prospects (or lapsed customers) through email and text marketing. This innovative program allows you to "close the loop," so to speak, on your marketing. You won't risk letting customers fall through the cracks, and your staff won't be stuck doing tasks that can be handled with automated technology.
Find a Trustworthy Partner
If you're already stretched thin, it's just not realistic to add marketing tasks to your to-do list. As a result, you'll find yourself trying to rush your marketing (and probably end up paying more) or missing out on opportunities for your business.
There's nothing wrong with getting help. What's more, you don't have to hire in-house staff to get it. Instead, consider working with a trustworthy partner to handle all your marketing needs. When you're able to rely on an expert (or several!), you can let out a sigh of relief and focus on the areas that really need your attention.
A partner like Hibu will work with you every step of the way to ensure you have a cohesive marketing strategy that puts your goals at the forefront. And because we provide an integrated, custom solution for your business, we can make your marketing work smarter – without you working harder.
Plus, with Hibu, you get all your digital marketing from a single provider. So, you won't have to keep tabs on different freelancers or delegate tasks to your staff members. We'll take care of everything – and you'll get a synchronized strategy that will increase your visibility and traffic through a multi-pronged approach.
When you're short on time, partnering with a proven digital marketing provider will help you reallocate precious resources so you can build your business and ensure your online presence continues to grow.
Save Time (and Money) — Get Started with Hibu Today
We know that, as a business owner, your time is valuable. You don't have to keep spending time you don't have to spare on marketing your business. We're here to create smart, custom solutions that'll grow your business and free up your time. To learn more, contact us today at 877-237-6120 or request your no-obligation consultation.