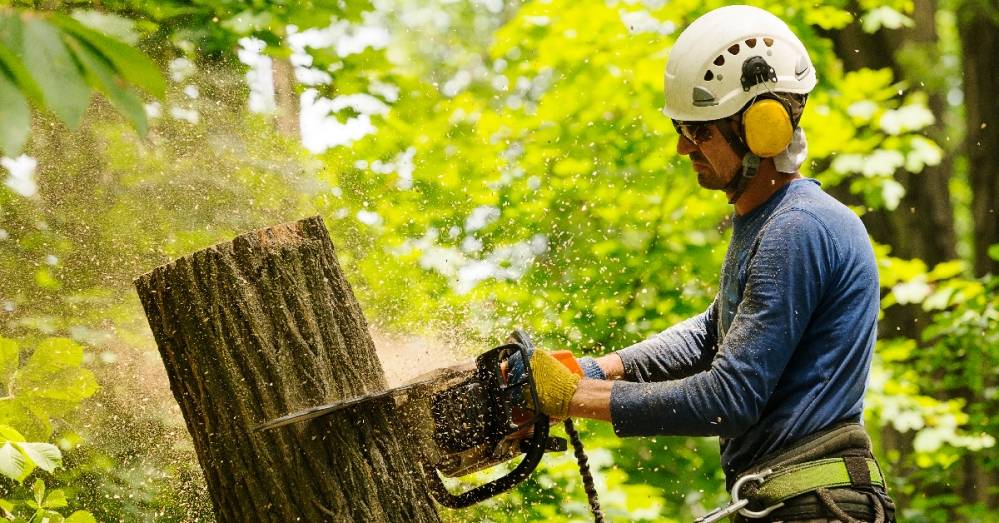 How To Market a Tree Service Business
Whether your tree service business is brand new or very experienced, the best way to raise your revenue is to pursue digital marketing. Traditional offline marketing definitely has its place. But with practically everyone in the nation (and in your local area) searching online, online is the place to be.
Fortunately, you can find a tree service digital marketing company that'll artfully spotlight your services with flexible, affordable solutions. Then, with a coordinated tree service marketing plan, you'll get in front of as many customers as possible.
So let's go over the primary steps you can take to embrace internet marketing for tree service businesses. Before you know it, you'll see returns on your investment and serious visibility.
[Related: Small Business Marketing Checklist]

Tree Service Digital Marketing: Your Key Steps
Digital marketing has plenty of moving parts — and all those parts need to work together to get you the best results possible.
That's one reason we strongly recommend partnering with tree service digital marketing experts. They'll help you nail each step and offer around-the-clock support along the way.
Plus, you'll have more time to focus on your tree service business instead of its day-to-day marketing! You've got hands-on matters to attend to.
Alongside a digital marketing specialist, these steps will put you on the path to a robust online presence.
[Related: The Extraordinary Results of Integrated Digital Marketing]

Get Your Online Business Listings Up to Date
At some point, you've searched for "(service/business) near me" before. It might be a plumber, an auto repair shop, a chiropractor — anything.
What search engines show first are generally business listings, which is why yours need to be correct and consistent. Every listing for your business should include the same:
Business name

Phone number

Address (if you have a physical location)

Website URL
Local search is powerful and prominent. It's how many of your customers find you! So when you create or manage an online business listing, you need accurate, up-to-date information out there for them to see.
An easy way to avoid any missed business opportunities due to incorrect information is with professional listings management. That will give you the ability to monitor all your listings – the ones you created, the ones you manage, and the ones that are autogenerated for your business.
[Related: Spring Cleaning Your Online Business Information]
Invest in a Professional Website and SEO Services
When customers find a business listing they like, they often visit that company's website. Then, they have a choice to make — they either stay and browse the site or leave after less than a minute.
That means your tree service website needs to achieve a few things in 60 seconds:
It needs to look professional. It doesn't have to be a one-of-a-kind work of art, but it needs to look like it was built by pros.

It needs to have the information your customers are looking for – what you do, where you do it, what your rates are, how to get in touch with you – and it needs to be obvious where they can find that information.

It needs to be fast and work seamlessly on a smartphone.

We know it might seem like overkill, but we can't overemphasize how pivotal a smart website is to tree service digital marketing. A smart website even accommodates voice and mobile search (search methods that continue to climb among consumers).
And how high up your website appears in search results is absolutely critical. That's where search engine optimization (SEO) comes in.
SEO is a complex subject. But in short, it's utilizing keywords and readability methods that tell search engine algorithms that your site is relevant and where to serve it up in the search results.
Chances are you don't have someone on your staff who moonlights as a web designer, web writer and/or SEO specialist. Remember, these are full-time jobs! And while your tree services may be the best in town... it's going to be hard to convince someone to call you if your website doesn't make a great first impression (or can't even be found on Google).
Ultimately, doing it yourself just doesn't make the grade.
Working with a digital marketing partner who specializes in promoting tree care companies is the clear choice. They'll both build that ideal website and prime it for SEO.
[Related: What Makes a Good Small Business Website?]
Use Social Media
Social media is for so much more than just staying connected with friends and family. Once you have a page or business profile, you can run targeted ads to reach customers looking for tree service pros right now.
Facebook (now Meta) is your first stop. It's an excellent platform to reach lots of potential customers. With that said, digital marketing channels intertwine. So make sure you stay active on all your accounts and keep your info (especially your contact data) accurate and consistent. That consistency builds credibility and authority.
When it comes to organic social posts:
Try to post frequently so your profile or page looks active

Post information that's valuable to your business, like any changes to your availability or even exciting news (like hiring a new crew member)

Post information that's valuable to your customers, like before and after photos or how-to videos

And when it comes to your paid social ads, work with an experienced partner who can make sure your targeting, budget and ad creative are all set up to deliver the best results possible. It's much more difficult – and takes a lot more time – to run a social ad campaign than to craft a social media post. Just like you'd recommend to your customers that they leave tree care to the pros, it's best to let experts handle your social media marketing.
[Related: The Facebook Marketing Guide for Small Businesses]
Adopt Additional Solutions
Your business listings, website and social media accounts are the trifecta that cement your online presence. Together, they can reach a huge audience, especially with thorough SEO.
But like we mentioned earlier, digital marketing has lots of moving parts — and all those parts need to integrate together.
After you establish these big three tree service marketing channels, you can add services and solutions that work better together to get you more business.
Here are some features to add to your tree service marketing plan:
When digital marketing specialists assemble and manage these pieces for you, you'll build a foundation that keeps expanding.
[Related: Small Business Digital Marketing 101]
Contact Hibu for Your Tree Service Digital Marketing Services
At Hibu, we know exactly how to market a tree service business.
Instead of telling you what you need to do... or asking you to rely on DIY tools with a big learning curve... we take care of the nitty-gritty tree service marketing tasks for you. The solutions we offer always fit your unique needs.
Call us anytime at 877-237-6120 or complete our get started form to talk to a digital marketing expert.