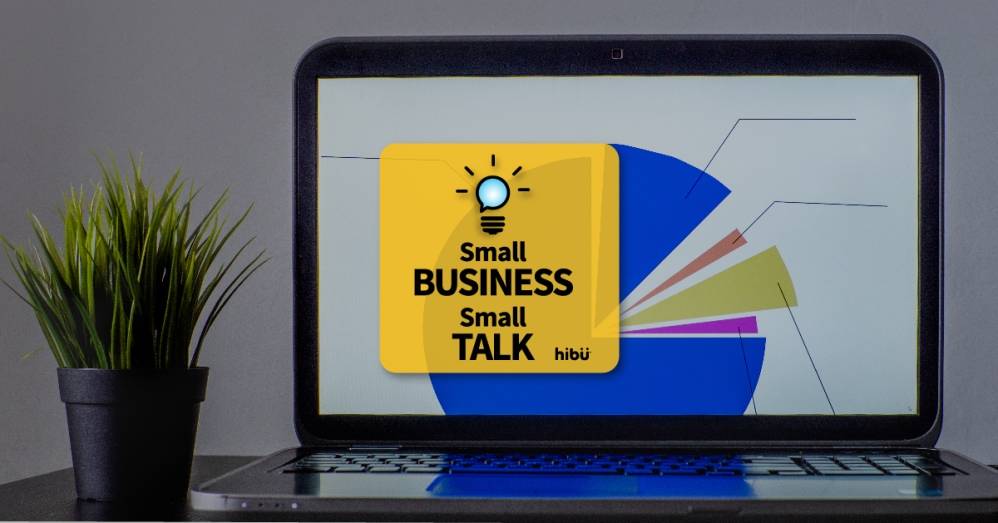 Podcast: Getting a bigger piece of the pie
Hi, I'm Ian Messinger with my co-host, Lauren Blackford. Thanks for joining us for this episode of Small Business Small Talk powered by Hibu.
Listen to Small Business Small Talk powered by Hibu on any of these streaming services:
APPLE PODCAST | YOUTUBE | SPOTIFY | GOOGLE PODCAST | STITCHER
[Podcast transcript]
Ian
Today we're talking with Scott Terrizzi, Hibu's Digital Manager, East. Scott, thanks for joining us. Why don't you tell us a little bit about what you do at Hibu? What your kind of roles and responsibilities and experience have been here. And after that I hear you want to kind of kick off this episode with an apology on behalf of our entire marketing industry here?
Scott
Yeah, so Ian and Lauren, thanks for having me. Very, very excited to have this conversation today. And really appreciate the invitation.
So, my history with the company, I've been with Hibu for 17 years. Moved from a couple of different markets, the Philadelphia market down to Atlanta. I spent seven years down in the Atlanta market, and then back up in the Philadelphia area where now I've got responsibilities across the East Coast, helping our digital sales reps, educate and help our clients win in the digital marketplace.
So yeah, the apology, it's something that if you've been around business owners for the past 5-10 years, or in this industry at all, you notice that there is a lot of jargon that gets thrown around and business owners are slammed with phone calls and conversations around digital marketing. And it's full of jargon. And it… we… make it, our industry makes it, so much more complicated than it really is today. And you know, one of the things that I like to do is just kind of apologize for the over complication of the of how to market your business in the digital world, it's gotten to the point now where we've come full circle, and if you've owned a business for a while or been around commerce, you know, what makes your business stand out and what makes people choose you. And that's really what's most important today. And if we can cut a lot of the noise out and a lot of the jargon and confusion and get to that, that's when our clients can have the best success.
[Related: Website terms your small business should know]
Ian
Right? Whether you're calling something a, you know, unique selling point or call to action or whatever, you know what, at the end of the day, it's all just about what's going to make someone choose you jargon aside.
Scott
Yeah, the space has moved, and marketing in general has moved to be consolidated, for the most parts, to the internet. When you look at, especially over the past six months with COVID, and the pandemic, people are on their screens more often than they've ever been. So, the way you used to approach the market through billboards, or radio, or television, or direct mail, or newspapers, or any other form of media has lost some of its action. And a lot of that has moved to the digital platform. So we've gone past the part where we really have to wonder where we find our clients or try to figure out where they're spending their time. In large part, they're spending their time on the internet, whether it's on social media or on search engines, or just kind of doing research or on different apps, you know, reading about their own interests, they're on a screen for the most part, and that's where they can be found. So that's a big part of the battle, when you're trying to find business as a business owner is how do you find the clients kind of where they're spending their time, and now we know where that the lion's share of the time they're spending on a screen of some sort.
Ian
Right. And that's a big, big change. I mean, the last several years, but as you said, the last six months in particular was with screen time up as much as it is. And that's an advantage, right? I mean, like you said, we know where to look for these folks, we know where they're spending their time, but it's also… it can be a disadvantage, if you haven't dipped your toe in that water yet.. if you're if you're still thinking, "Well, I'm having a big sale, and I'm going to run that in the paper." You know, and maybe you're familiar with all of that jargon, "And I'm going to run a full-page ad and I know the specs on that." You know, now it's really shifting that thinking to listen, everyone's on their phone, sitting on their couch, you know, it's where you have to be to reach them.
Scott
Well, it's, you know, the two questions were always were… How do I find them? Where are they? And then what do I say to get them to choose me? And that big, that first question is largely answered by a screen, right? You're the mobile platform, or a screen of some sort is where people are spending their time. So, you can spend less time figuring that piece out. And then it's, you know, where we start to complicate things, or our competition, in my opinion, starts to complicate things, is making it overly complicated to figure out how to incorporate your business into the screens and be shown where people are spending so much time. It's not as complicated as a lot of people make it seem. A lot of it is really, with digital marketing today, you have to compete on two fronts. One is with your budget as a small business against the other small businesses in the marketplace. And that's largely on the business owner. Figuring out, you know, within my budgetary constraints, what can I put towards making sure my business is found? So, there's the budget piece. And then the other piece is just message. What's my message versus the other people that show up in my marketplace? And, you know, the problem that many of them face today is exactly what you're talking about. Where on the internet do I place my ads? Or how do I get found there? And one of the great things with Hibu is that… we don't care, right? We help you get found on social media platforms, we help you get found on search engines, we make sure that your website is easy to find and easy to navigate around. And most importantly, speaks to the client. Because there's no deals to be had in the major search engines anymore. Most of the small businesses in today's marketplace, understand that everybody they compete with knows that they need to be found on the search engines and on social media. So there's, there's no deal to be had, where, there, 10 years ago or five years ago, they could find a word that nobody was bidding on, or…
[Related: The Complete Guide to Where You Should Advertise Online]
Ian
No one's in an untapped market at this point where they're the only ones advertising on Google in their zip code.
Scott
Yeah, the market is set, right? We've… everybody has found that that's where their clientele is. And now it's a race to get shown as much as possible.
Lauren
And what's the strategy there for local businesses to get shown?
Scott
For us, right, with Hibu, we have everything covered. So, you know, the first thing you need is a solid foundation, we usually take a three step approach — every business — you need a solid foundation, you've got to have a website, and you've got to have your listings. Akin to like a storefront, in days past where people could find you, right, your website is really that foundation, that people are going to see you they're going to get the idea of like the authentic voice of your business, what you do, how you approach the marketplace. And then from there, it's really showing it to more people and making sure that it's found on search engines, and on social media platforms, on apps, wherever people might be spending their time on these screens. So, you know, we're going to take that first step of making sure you have a solid foundation, making sure that you have reviews and reputation in place to be able to take on more leads. Because the last thing that you want is not that is a place where it's not a great landing place to send this volume to right, you want to have a nice foundation to send your volume to. And then you start adding more and more places around the internet sending traffic to that website.
Announcer
You're listening to Small Business Small Talk, powered by Hibu. Hibu is the country's leading provider of synchronized Digital Marketing for Small businesses, delivering more visibility, more visitors, more leads and more customers, Visit us today at hibu.com. H-I- B-U. Hibu.com.
Ian
And we're back with Scott Terrizzi, talking about how small businesses can get a bigger piece of the marketing pie.
Lauren
You talked a little bit earlier about finding the messaging. So, what recommendations do you have regarding finding that for local businesses?
Scott
So, this to me is the win for businesses today. And when we meet with a with a business owner today, the most important part of the conversation is making yourself stand out against the other folks, when I say there's no deals to be had online, it's because the market has found its equilibrium and price across industries. It doesn't matter what you do, whether a tree service company or a roofer, or an air conditioning company, those other businesses that you compete with in the marketplace, know they need to be there. So, there's no real deals to be had. Now, the one thing you can control is the efficiency of your marketing.
When we look at a tree company, for example, there's only going to be so many trees that fall on a county in the course of a month, and there's going to be a number of competitors that are fighting for the for those trees that have fallen, the bigger piece of the pie that you can get, the better off you're going to be. And when you look at your marketing, as it sits today, when you show up on any digital platform, it's really that second piece of competition, once you get beyond budget that is messaging that makes you grab a bigger market share than anybody else. And it's so common now as users. The great thing about digital marketing is that most of us as business owners or as advertisers, we use the platforms the same way as the people we're trying to reach. So, we understand the power of having you know, all of these, what we call SQOT factors of Speed. We speak to speed we speak to Quality. We speak to Offers and Testimonials and out messaging the other people that do what we do. As a consumer, we understand it very well. If we go buy something on Amazon, and we see one of the listings for that item is prime and one of them is not we're probably going to pick the Prime one, right? But if you're a member, if you see one has four and a half stars, and one has three and a half stars and everything else is held constant, we know we're going to choose the four and a half star. So, making that the focus of your marketing is so important today, and making sure you're doing an analysis of what other people around you are saying, and then out competing them. So having awareness as to, you know, if you if you're competing with two other tree companies, and they're a 4.6, and a 4.7, and you're a 4.5, we got to get you to a 4.8, because that's where people are going to compare on the screen, when you show up on a Google search, or when you show up in social media, people are only going to compare you to your peers. And if you stand out more than the other ones as the obvious choice, you're going to get a bigger piece of the pie.
[Related: The 4 motivating factors that turn your site visitors into customers]
Ian
Sure, and I'm glad you mentioned, you know, the kind of star or review rating too, because I think, traditionally, a lot of businesses when they think about messaging, they're thinking, you know, offers discounts, coupons, you know, guarantees, which are all valuable. But you're right, and a lot of cases today, the first thing people are going to notice is… oh, that's a lot of negative reviews there or, you know, the the, I think you had a perfect example of the… maybe even more likely scenario where right, you're a 4.5, and the guy, you know, two slots below you as a 4.7? Well, I'm probably going to look at him first. You know, it's just that that little bit that can really make the difference between whether I'm interested in your message or or theirs. And sometimes it's not the message necessarily, but you know, the the kind of crowdsourcing of you know, what other folks thought about your business
Scott
User-generated content is more important than it's ever been. And then the bigger part, in my opinion, is that our industry and our clients at large, they don't put enough emphasis on how do I look compared to my competitors? I have reviews, I have a coupon, right? I have a warranty or guarantee. Sometimes it's not good enough if you're next to somebody who has a better one.
Ian
Yep.
Scott
And that's a detriment to so many businesses today. Where the again, the apology for our industry comes into place where we say, No, we've got proprietary platforms that take care of your messaging. Business owners know what they built their business on, what value proposition they used, what promises they make to their client. And if you ask a business owner today, what are the top three reasons why somebody should pick you over their competitor? They know the answer to that. And the irony is nine times out of ten, it's not in their digital marketing. So how could you possibly think those are the most convincing things about your business and not use them and the thing that's going to convince people to choose your business show that, to me is the biggest mess in the industry today. And it's something that every business owner, when they hear about it feels empowered, because up until then it's jargon and things that we don't necessarily follow as well. As we do, I can out compete the other person that does what I do in my marketplace. And it's as simple as accepting the fact that people are using the internet to that, right, people are on screens. And today, we know that if somebody Google's for a roofer, they need a roof, at this point. What they don't know is who's going to do it, and they're going to get a whole list, there's going to be a lineup of all the roofers ready to roof their house. And if you can think of a way to review what other people are saying, and out message them, you're going to get a bigger piece of that pie.
So, it's just like, I use the analogy of a shopping list. When that roofing search is done, or when somebody knows that they need a roof, they've already bought the roof — they just don't know who they bought it from. It's the same as your grocery list. When you run out of milk, you write "Milk" on your shopping list, you just bought milk, you just didn't choose the milk until you go to the store. Or when you run out of eggs. You just you write it down. You just bought eggs, but you don't choose the eggs until you go to the store. Now when you go to the store, you pick from a lineup, right? Just like people will do of that roofer, you pick from a lineup of milk, you choose, hey, I'm a whole-milk person. And we go in there and we look at the milk and we actually compare the dates, right, we often will reach to the back to grab the newest milk because we know they put it in the back, right? Nobody wants to grab the front milk that's going to go bad in a couple days. Because we're comparing the options available and we're choosing the one that's best for us we're always putting ourselves in the best position that we can when we're making that purchasing decision. Nobody buys 11 eggs, right? We all open the egg carton to make sure one's not broken. And then take it, or if one is broken, we put it back and we leave it there for the next person to pick up. Or, you know, I use the analogy of a yellow banana and a brown banana. If you're hungry and there's… all there is are two bananas to eat and they're on the counter and one's yellow, one's brown… which am I going to grab? Yellow, right? The only people that grabbed a brown banana… either came after the person that took the yellow one if you're making a banana bread or a smoothie.
Ian
Right. Or you're a fruit fly.
Scott
Yeah.
We're often trying to figure out what to do with a brown banana. Not that we want it. Right?
Ian
Right. Right.
Scott
And in my experience over the years, that power that many, many business owners understood and used to make themselves stand out against everybody else has been taken away by the fact that just getting there as the race and that's the emphasis that many of our… our competitors that offer digital marketing place the emphasis on, when really getting there as a function of using your budget wisely. And with Hibu, we have the ability to get you across all platforms, which is really where the efficiency's found, it's not one or the other. It's across platforms. But it's really, what do you say, when you get there? Are you the shiniest of the bunch? Because there's going to be a group of you that people are going to choose from. They need the service. Are you the best answer to the question that they put in?
Get your digital marketing score to see if your business is everywhere it should be online >
Ian
Right. I remember in a past life working with a client who was trying to, you know, get some more engagement on their website, and they didn't really have any of those SQOT factors, you know, they weren't really saying much other than, "Hey, I'm here." And, you know, I told them and many others before and since – the easiest thing you can do is put yourself in your customers' shoes, "Go Google 'Roofer'." Look at the ads that come up. You know, this guy's offering free estimates, this guy's ready offering free written estimates this, this guy says, you know, jobs guaranteed completed on time, and you're saying, "I'm a roofer." Would you pick you? You know, it's very easy market research and, to your point, chances are, they know those competitors, and nine times out of ten, they're going to go, "Oh, well, I do that. I do written estimates." That's great. Make sure that's front and center then. You know, you've just got to be the guy who's saying it the most clearly in a lot of cases.
Scott
In my opinion, the most important part of it. And, such a great question – "Would you pick you?" Because often our initial reaction is, of course, why wouldn't I? But when you really look at the messaging, and you compare to the other people that are showing up, and you put yourself in the position of a consumer… would you? And many times, when you look at that, from the business owner standpoint, with the new lens of "Wow, I'm supposed to be competing here." Just like I'm used to, because I'd rather you know, Tim not get the job that I compete with all the time, I'd rather me get the job. Now that I know I'm supposed to compete, I can do that. And oddly enough, when I go to the job, and people are bidding, getting three quotes from three different companies that do what I do, these are the things I say.
Ian
Right.
Scott
These are the things I tell people, when I'm convincing them to choose me over the other two people that I compete with all the time, because I know everything about them, I know what they do, right? I know what they do wrong, I know what they're going to say, when they're trying to convince you, I know where their pricing is probably going to be because I compete with them forever, on the same clients over and over again. And everybody's sales pitch tends to be about the same. So when you start to really analyze, what's everybody saying? And then, how can I want up it? Because just simply having reviews is not good enough. One of the things I like most about our Reviews platform and our Reputation Management platform is that you can see what the other people look like. Right on our screen, you can see what your competitors look like compared to you. And if you have a problem, it couldn't be more glaring. You can see the three right next to each other, the four are right next to each other with you. And if you're at the top of the heap, that's amazing. Let's keep it that way. And if you're at the bottom, you have a problem. And we've got it we've got to bolster some reviews and get you lifted a little bit so that when people go on and look at you versus your competitors, you're the best because we pay so as a consumer we pay so little mind. So why we would choose the 4.9 over the 4.7, we just kind of follow the herd, right, we see consumer-generated content… more people like this than that, we're going to choose the one that more people like.
Announcer
You're listening to Small Business Small Talk powered by Hibu. Hibu builds synchronized digital marketing solutions for small businesses across America. Your website, online listings, reviews, search, social, display and more' all working together to maximize your results. Visit us today hibu.com. H-I-B-U ' Hibu.com.
Ian
And we're back with Scott Terrizzi, talking more about how small businesses can get the bigger piece of the pie.
Lauren
Now, Scott, you and Ian both mentioned "SQOT factors," and I think that's an acronym that not too many people are familiar with. Could you explain that again?
Scott
Yeah, so that's something that we learned over time. When people are making a buying decision, especially on the internet, but this is across all platforms, they're comparing… anytime they're comparing multiple options for any kind of service or item or product, they're going to compare these four things. And different people put different weights on any of these four things. But the four things that SQOT stands for are Speed, Quality, Offers and Testimonials. And you know, the key for maximizing your conversion, which again, that's where your efficiency is found, is that you have to have something for each. So if you speak to how fast you can make somebody's problem go away, or quality, how good you are at making that problem go away, or how good your product is… some kind of offer, because let's face it, it's the internet age and people expect that you don't have to be the least expensive in the group, but you've got to have something, and then hopefully your speed and quality and your reviews come in to kind of offset the fact that you don't have the biggest coupon in the bunch.
The last one is reviews. And online reviews are extremely important, because that's what users feel about that business in the marketplace. People that use that that company, kind of putting a review out there and saying what their experience was, is extremely important and weighs very heavily in a buying decision today. So, one of the things that we see a lot of… a lot of our prospects, people that are coming on board with us, miss i s one of these things. And what can happen is, if you miss one of these things, you miss the miss a complete buyer group. Whether it's speed, quality, offer, or testimonial, whatever that ultimate buyer is thinking about has to be answered.
[Related: 5 reasons why you need to focus on online reviews now]
And if, for an extreme example, if I talk about restaurants, and reviews, and the importance of that, my family will not go to a restaurant that doesn't have reviews. So, they could have the best food at the best price with the best service. And as far as we're concerned, we don't know because nobody reviewed it. So, as that restaurant owner, if you have no reviews, you just lost me as a client all together. And it's through no fault of the product that you put out, which is the food and the price and the service. So, having those reviews for me, and that point would be extremely important. And the same thing holds true for people that really want that quality company. Somebody that's, you know, if it's a home service company, somebody that's going to cover their boots up with those covers, and make sure to leave footprints in the carpet, or, you know, the offer can be important for some other people, or how fast can you make my problem go away. Imagine somebody with a leaky roof, or a water heater that's busted, for you to say, same-day service or hot water today. Why is it a massively powerful statement for somebody that's got a water heater that's leaking all over the place, to get that fixed and done today is a huge statement.
So, if you have something for each of those, and it's compelling, you're more likely to convert more users. If you miss one, you're going to walk away from say, 25% of the motivation of buyers, which is extremely detrimental.
Ian
Well, it's funny to hear you talk about the importance of speaking to each of those factors, because I'm picturing a small business owner's head kind of spinning going "How in the world do I fit all of those into a display ad?" or into a, you know, a search ad that's got a character limit. And that's really where the power of thinking holistically about your marketing comes in. You know, it's not about having all of those things on every piece you produce. It's about making sure that that that interconnected marketing plan, that solution that you have in place, no matter where someone touches a piece of your business and your marketing, they're either you know, seeing one of those or more than one of those for the first time, or they're reconfirming, what they saw on an ad because now they're on your website. And really getting all four of those becomes an easier proposition when you have, you know, you haven't put all your eggs in, you know, the website basket alone.
Scott
Yeah, and that's where our solutions come into play, where we're putting you across platform, you're going to have a lot of opportunity to put that messaging into a lot of different formats. And frankly, it's what we excel at. We are aware of how important that messaging is. And we want it to be in as many of those pieces and forms of media that you're that you're participating in. So, we build our ad copy to include as much of that as we possibly can.
Lauren
Now with the solutions, you talked earlier abthe benefit of having your advertising across all platformsout , how do our solutions work to get a local business scene across all these platforms?
Scott
Yes, so our solutions are built to hit the consumer across all points of the what we call the customer journey. If you think of yourself and how you walk around on the internet on the in the digital world, right? You might come across a website, you might use a search engine like Google or Bing or Yahoo, you might be on Facebook or Instagram or on social media, you might be in an app on your phone. And we call that the cup consumer journey. That's just where people are around the internet. And what we have is a platform with solutions that gets you and your business found in all of those places. At any level, across that customer journey, we're going to be able to interact with that customer for you, so that they can see your message.
So, what's most important is not necessarily being found in one place, because remember, there are no deals found on Google pay-per-click marketing at this point, everybody knows that they should have an ad there. But what's crazy today is that many vendors, but most importantly, most of our clients that we that we onboard, we only look at one place, right? And if we look at Google pay-per-click advertising as one particular facet of that customer journey, if you're only engaging people there, you're doing yourself a massive disservice. And the reason for that is you're paying retail money for that client to see your message. Now, everybody knows there's a conversion ratio involved in digital marketing. And there's some argument as to what is good or what is bad. But let's say you convert 20% of the people that see your message, click through to your website, they actually call you 22 out of 10, call you? Well, you paid retail dollars for all 10 of those people. And if you're only engaging them on pay per click, then eight of them, you've decided you never want to engage again.
Right now, with solutions, one of the things that we have in place is retargeting, right? And you're familiar with this, all consumers are familiar with this, if you've ever even thought of an item today, it follows you around until you buy it because it's the only thing you can think about until you do. Right? So, what happens is those eight people that left are still interested. Remember, the person that typed in "roof," they need a roof, they just haven't made a decision who yet. And those eight people that didn't choose to call you right now, which this could be completely no fault of your own, we could have got distracted, which is extremely likely in today's world, right? We can't get through a complete thought process to save our lives today. We've got to come back to it later. So those eight people that didn't choose to call you right away, they're still interested most likely in the service. And what's important is that we follow that around and remind them that you are not only a roofer, as you talked about before, but as we've talked about now, the best one in the market, you're the best option for them.
[Related: What is "Retargeting"? 30-Seconds Smart Video]
And we constantly remind them, and then there's other the other thing to think about is that that's not the only entry point, right? It's not just because somebody searched on Google that they're going to be a viable client. People enter this consumer journey from all different points.
So, whether they're spending time on Facebook, which is increasing now, especially with COVID, whether they're spending time on those social platforms or on their apps or on their phone, the point is screen time is up. And your ability to interact with your target customer is higher than it's ever been on those screens. And making sure you're taking advantage of the end user that we know or think… educated guess wise, is interested in your product or service, is where you get your efficiency. It's not just taking your shots in one spot or the other. It's zeroing in on that user, that's probably going to become a buyer over time. And then, them seeing you as many times as possible.
This has been in advertising industry forever. It's impressions, right? How many times can you show your television commercial? How many times does somebody see your billboard? How many times does somebody see your newspaper ad? And, you know, something that anybody can look into is that… I love… is the marketing rule of seven, which just says people need to see your message seven times before they engage in commerce with you. That's just kind of a rule that's been out there for a long time. But if you follow that rule more times than not, you're going to be able to engage with more clients more times over during their buying cycle, however long or short that might be, then your opportunity to convert them into a client for yourself is drastically improved.
Lauren
So that's a good point. It's not just about diversifying the portfolio so that you hit multiple audiences… it's about hitting the same audience member multiple times across all platforms to get their engagement.
Scott
Yeah, now for sure. It's just the same as a business owner today would want to follow up on a proposal. You know, if somebody had us out to their house, and we wrote a proposal for the roof or for their tree or further air conditioner, who would want to never contact that person again if we didn't hear back from them, right? We would want to follow up with them and show them that we're a business that's responsible for, you know, we're always going to be here and we're going to over-communicate at worst. We're going to make sure that we're always here for you to be able to find it.
Knowing that somebody is interested, is just the beginning. It's not the win or the loss. It's just the beginning. Once you know somebody is interested, you have to earn their business in their timeframe today and digital marketing has created this platform where, because we're so concentrated in one place like never before, the only time that the American consumers have been consuming media in one place was back when it was like radio, right? When we would gather around the radio for news and entertainment and weather.
Now, I always think of the movie the Christmas story when you know, poor little Ralphie sitting in front of the radio, and he's so captured by this form of media. And he's trying to figure out what the, you know, what the code is on the decoder ring? Yeah, what's the message? What's the message and we all remember what the message is? Right?
Ian
Right.
Scott
You remember what it was?
Lauren
Drink Ovaltine!
Scott
Because we knew even then, like, wherever people are spending their time let's sell them something.
Ian
Yep.
Scott
Yeah, you know, from there from radio, and it got so convoluted, right, our attention, our time was spent, radio, television, billboards, newspaper, direct mail, you could find us in so many different places. And, you know, from there, it's kind of reconsolidated back into one place, which is a screen and the mobile phone, which we call the mobile vacuum, it's, it's kind of sucked in all of those impressions into one spot. And if you want to place a bet, on where to find a potential customer for yourself, if you're a business owner today, this is a tough one to beat, that mobile phone is a really tough one to beat if you're trying to figure out where people are spending their time.
Ian
Yeah, well, there's something you said that that stuck out to me to you, you mentioned having advertising where we can make an educated guess that someone's going to be interested with a lot of these platforms, you know, from Facebook to display ad retargeting, it's better than an educated guess. It's, you know, making sure you have advertising, where we know people are, where we know that they fall into the demographic that you're looking for. You can almost apply that same "Would you choose you?" logic to this, where you could say to someone "What have you done on your phone today?" "Wow, I got up in the morning. And I was on my favorite website, and then I went to Facebook, and then I checked my email." And it's like, "Your business could have an ad in all those places, someone could have seen three ads, with the right message for your business before they get out of bed." But you're putting all of your spend into Google ads, or you're just focusing on your website. You know, it's just not… it doesn't match the reality of the short in attention span your audience has today, when they're all over the place.
Scott
Yeah, the screen today should be the goal, not the platform, not Google, or Facebook, or Instagram or the app — the screen is the goal. So the more of the screen you can show up on, the better off you are. And if you just look around as a business owner today, you're seeing people spend time on this thing at an alarming rate. If you're if you're anywhere, and you look around people are on their phone engaging in their in their screen, more than they're engaging in people around them. And we talk about it all the time, media has never had an audience captured like this before.
Ian
Yeah.
Scott
Never has there been a time where people… we see people talk all the time about how much of a shame it is, when you used to go to a restaurant. There's a moment in time right now where we may not be as much. But when you would go to a restaurant, you would see a family sitting at a table, and you would see them all looking at a screen and not engaging with one another. And we would talk about how much of a shame that is. But as an advertiser, and as a small business owner, that's an opportunity that's never existed before. And never has a piece of media been able to capture the audience while they were supposed to be eating with their family.
We talked about all the time, like never, as a business owner, could you put your message in between somebody's face and their chicken. But now they've got people using their screens to the point where we're interrupting ourselves during dinner to look at that screen. And if you can just engage that… that client when they're on the screen, which is at an alarming rate today, you're going to get an overwhelming response out of your digital marketing.
So, the goal should be the screen, not the property. And that's what, at Hibu, that's what we understand. Because we're partnered with all of these, we can get you on the screen with all of those properties that show on the screen, whether it's Google or Yahoo or Bing or Facebook or Instagram, or wherever else somebody might go. We know the screen is the goal, not the not the platform.
Ian
Yeah, if you go back to that, you know Rule of Seven. It's almost like ,what did that used to be? Well, that was two mailers, and a billboard, and a radio spot during drive time. And it's like now Rule of Seven could be, you know, the first two hours of the day they've seen you in seven different places, all on that screen or multiple screens that and a lot of cases we're all using at the same time.
Scott
And it can happen really fast.
Ian
Yeah.
Scott
And it can shift the consumer really quickly, faster than it ever has before. I'm sure I'm not the only person that bought something that they didn't even know they were in the market for. Because the machine knew I wanted it more than I did. After they suggested it seven or eight times. Yeah, I didn't want one of those. Right.
Ian
Yeah, yeah, that can be a huge, untapped audience. I mean, if we go back to that roofer we've been talking about, if you have a hole in your roof, you're going to convert pretty quickly, you've got to solve that. But there might be someone who's been, you know, thinking about redoing their roof, and you hit them enough times with the right message, they might go "Yeah, now is the time, I am going to kind of make a very pricey impulse buy that I might have put off for another, you know, six months."
Scott
Or, can you be synonymous with "roof" when it is time to buy?
Ian
Sure.
Scott
When I say you know what, today's the day, I've got to get a roofer. And I know, I've seen "X Roofing" over and over.
Ian
Right.
Scott
And that's easier done today than any time in the past.
Ian
All right, Scott. Well, thanks. Thanks for joining us again, and is there you know, any parting words of wisdom or anything you want to say to sum up our topic today about you know, getting a bigger piece of that of that pie?
Scott
Yeah, thanks again, for having me. It's been a great time. And I want anybody listening to this, especially if you own a business today, to feel empowered, listening to what we talked about that the things that you've always known to help you get more business in your marketplace still hold true. It's you versus the other people in the market, that do what you do, competing for the number of jobs that are going to be available. And the things that you tell your clients every day are the reasons why they should pick you over the others have to shine through on your on your marketing. It's not about just showing up anymore. Getting you to show up is relatively easy. It's really about what do you say when you do show up? And are you the shiniest of the bunch? And if you can focus on that and make sure that you're the shiniest in the bunch that do show up, you're going to win way more times than you do today.
Ian
Scott, thanks again for being here with us. This was this was really informative. If you liked this episode, please make sure you subscribe so you don't miss the next one. If you have a moment, feel free to leave us a review, they really help us out. And with that this has been Small Business Small Talk… out.