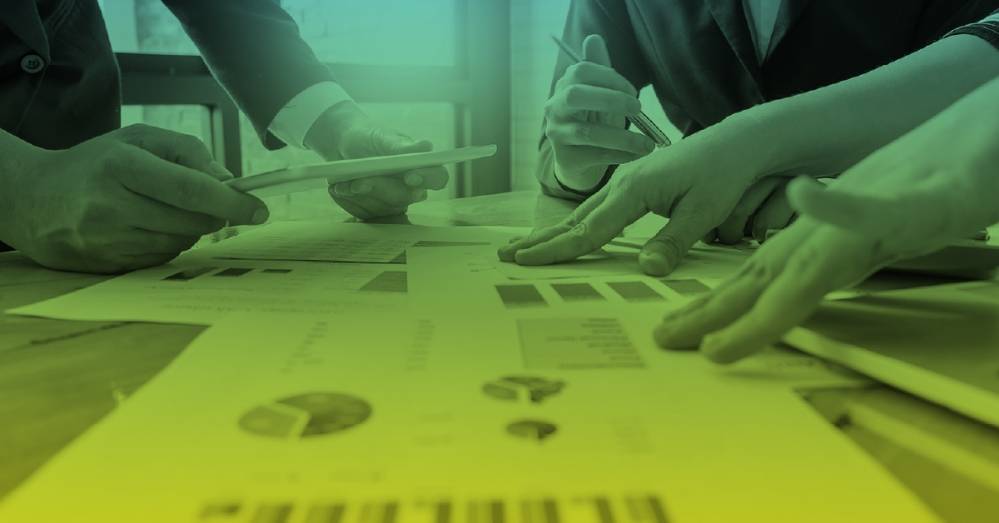 How to Make the Right Marketing Investments
Whether you call it your marketing budget, marketing spend, or marketing plan…they're all about the same thing: Making an investment in your small business's success.
Download your free copy of our guide "How To Make The Right Marketing Investments" now. It's a great way to go back to square one and think about how to make your digital marketing plan and budget work for you, by focusing on:
Identifying the right customers — and making sure your marketing can reach them, and your message will resonate with them

Taking a look at your local competitors — to see what they're doing, and where you can meet or beat them

Setting the right budget — so you can get in front of the right customers at the right time, everywhere they look for you
[Transcript]
Congratulations! You have the best business on the planet… but you're not going to succeed if no one knows what you're offering.
Unfortunately, products and services don't sell themselves (how amazing would that be!?!). No matter how great your product or service, if people can't find you, they won't buy from you.
That's where marketing comes in. And while the internet is filled with opportunities to get leads and customers, it's easy to get overwhelmed by all the things you "should" be doing to market your business.
Ultimately, it all comes down to you investing in the tactics that are right for your unique business needs and goals. So, let's pull back the velvet curtain on what investing in digital marketing entails and how you can make sure each dollar you spend is spent wisely.
Finding The Right Customers
You might think it all starts with figuring out your budget, but before we get there (and don't worry, we'll definitely cover figuring out your marketing budget later in this guide), we're going to start with your customers… and the best way to gain a deeper understanding of who they are.
Many businesses develop "personas" of potential customers to help them make the right choices as they market their business. A persona A persona is a representation of a business's customers or potential customers, based on what you know about their demographics, behaviors, and what motivates them.
Personas make it easier for you, later on, to tailor your marketing strategy and content to the specific habits and needs of your current and ideal customers.
The best personas are very specific. For example, you may know your target buyers are women who live within 10 miles of your store, but do you know what their particular needs and interests are? Where they spend their free time? How they shop online? In order to get a full understanding of what makes your best customers tick, it's critical to develop highly detailed personas.
To help you identify your customers' interests and habits, here are some questions to ask yourself to better develop your personas.
First things first…give them a name. When your persona has a name, they're easier to think of as a "real" person, and it becomes easier to think through the details of their life.

Describe what they do for a living and where they are in their career. How much education have they had? How much do they make at their job?

What are their general interests? What magazines do they read? What TV shows do they watch? How do they spend their free time?

Where do they hang out online? Do they use Instagram, Facebook, and other networks? Do they engage or merely browse?

What kind of problems do they have? What day-to-day frustrations do they experience? What problems do they have that you can solve?

Once you've created one persona to represent your ideal customer, you may think about creating secondary personas to represent other customers you might have. But, for now, just create one persona with as many specific details as possible.
When in doubt, remember to always ask "Why?" You want to get to the heart of what drives your customers or potential customers to do things — asking "Why?" gives you an opportunity to get to that nugget of truth.
Evaluating The Right Competitors
The research you did to develop your personas helps you find customers for your business. But there's also research you can do that will help give your business even more of a competitive advantage in the marketplace — competitive analysis.
Competitive analysis helps you learn from businesses competing for your potential customers. Your research will show you what other businesses are doing and what their strengths are. You should be looking for trends and themes. What do successful competitors do? Why does it work? Can you do it better?
[Related: The 4 motivating factors that turn your site visitors into customers]
It all starts with identifying who your competitors are. Whether you can instantly think of over a dozen competitors or can barely think of five, it's a good idea to start with Google and look up your product or service category and your area. Examine the businesses within the top 50 results, along with the ads that are displayed in response to your search — more likely than not, you'll come across companies you've forgotten about, or maybe even learn about a few newcomers.
Next up, it's time to analyze your competition by doing a deeper dive. If you want to do a complete competitive analysis, you'll need to dig deep into the background, location, products or services, marketing, sales, and personnel for each competitor you identified.
Throughout your research, keep in mind that you're looking for the "white space" within your market. Meaning, you'll want to figure out where your competitors aren't and how your business can use that as an opportunity to stand out.
Where is the attention, but competitors aren't going after it? Often, it's a place that's hard to reach – but it's definitely worth looking. Did you come across any ads for them during your search? If not, maybe your competitors don't understand the benefits of Search Advertising. Are they on Facebook, but don't post regularly? That's an opportunity for your business to cater to the customers who primarily interact with businesses via social media.
Done properly, competitive analysis will give you the insights you need to create your own unique marketing strategies, setting you up to stand out from your competition.
[Related: A 4-Step Guide to Analyzing Your Competition on Facebook]
Setting The Right Budget
It's time to talk about your budget.
Allocating the right amount of your budget to your marketing can be tricky. You want to avoid overspending. However, underspending or wasting money on methods that don't produce results can be just as costly.
Using a percentage of your gross revenue is one of the more favored methods of figuring out your marketing budget. It allows your spending to fluctuate as your revenue does. Though keep in mind, marketing budgets vary widely based on your industry, competition, profit margins, and a host of other considerations.
In general, businesses that sell directly to consumers (B2C) will need to budget more for marketing than businesses that sell to other businesses (B2B).
You should also consider allocating more of your budget towards marketing when your business is just starting out — you're still trying to build awareness of your business and attract new customers, both of which can be fairly costly.
Once your business is established, you can reduce your marketing budget because you will have a steady customer base. However, that doesn't mean you can stop marketing — you'll still need to invest in attracting new customers and retaining existing ones.
As you evaluate your performance and adjust your marketing budget, be mindful that you don't lead yourself into a chicken-and-egg situation — your sales start dropping, so you cut your marketing budget, leading your sales to decline even further. If you see sales slowing, it actually might be the right time to increase your marketing, particularly if you can see other businesses are cutting back on their marketing.
A budget is still just a means to an end. Even a well-funded marketing program won't produce the results you need without a sound plan behind it.
Find the custom solution that's right for your business and your goals >