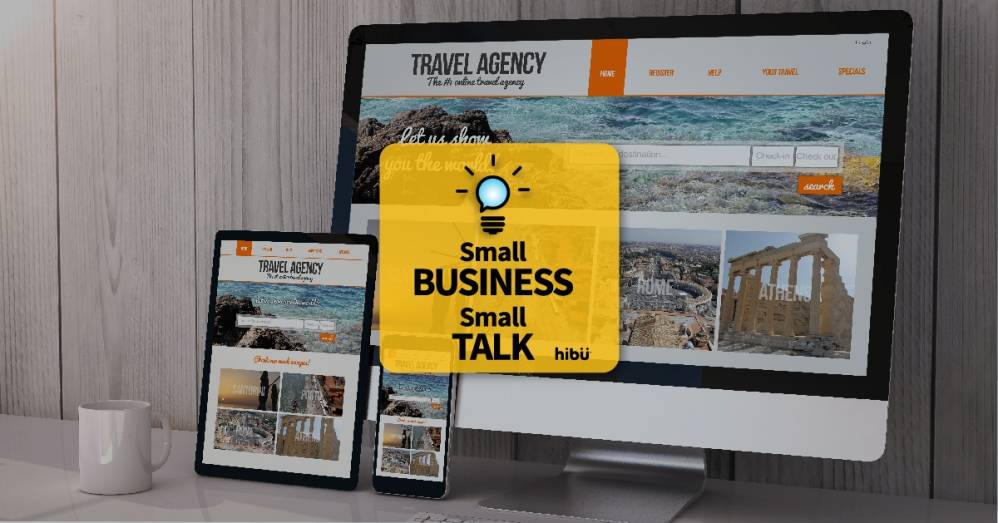 Podcast: What makes a good small business website?
Get the insider expertise your local business needs to compete online. Small Business Small Talk brings you informative conversations with digital marketing experts who specialize in online marketing for small- and medium-sized businesses.
In this episode of our Small Business Small Talk podcast, we talk to Paul Altobelli, Hibu's product lead for Websites.
Listen to Small Business Small Talk powered by Hibu on any of these streaming services:
APPLE PODCAST | YOUTUBE | SPOTIFY | GOOGLE PODCAST | STITCHER
[Podcast transcript]
Chad:
Hi. I'm Chad David with my co-host Ian Messinger. And thank you for joining us for this episode of Small Business Small Talk powered by Hibu. Hey, today we're talking with Paul Altobelli, Hibu's Small Business Website Product Lead, about what makes a good small business website. Hey, Paul. Thanks for joining us.
Paul:
Thank you.
Chad:
I mean, I guess to start off, I'd just like to hear a little bit more about you. Tell us how you got started.
Paul:
I've been messing with the internet since around 97 – 1997. I was working for this company, and it was an Internet-based advertising agency, as it was called. And my boss told me, "Look you cant – I'm not gonna give you a raise unless you learn HTML." And I didn't know what HTML stood for, so I went got a book called "HTML for Dummies."
Chad:
It's a good place to start.
Paul:
I built my first website called Paulbaby.com. And then almost immediately, I got pulled aside and said, "Hey, can you build a website for me?" And it was my church. So, the first website I built was for my church. And then after that it was another small business. And then another small business and all I've ever done. All I've ever known since the beginning has been small business websites.
Chad:
So just to jump right into it. When you think about all the small business websites you've seen in 22 years, what are you seeing that makes a good website?
Paul:
A good website… It has to come off as professional. I think the more amateur it looks, the less likely that somebody might interact with it. Now, if you're looking for something very, very specific and you comb the Web and you're only finding one result, well, then you're going to give it the time of day. But if there's a lot of websites out there – some are professional and some are not, you're probably gonna pay attention to the ones that are professional. And by professional I mean, it's a clean design. It's organized in a way that makes sense for the user. It's got the right sort of content that speaks again to the user, meaning the person that's searching for that product or service, and tells them everything they need to know so that they can make the decision – if I want to hire them or if I want to visit them or if I'm interested in more information.
Chad:
All right. I mean, that's perfect, I think exactly like you said in a highly competitive, obviously, right? There are billions of websites out there. You need to stand out. And one of the simplest but also most sort of involved ways to do that is to make sure your professionalism and the polish on your site, uh, you know, put you head and shoulders above the rest.
Ian:
Right. We've all seen a website that doesn't do that. We've all gone somewhere and said "Oh, no!"
Paul:
You could have websites that sort of pull the wool over your eyes and it looks professional. But then when you really start looking at it, it's missing a lot of things. So professionalism is what sort of grabs your attention and sucks you into the website. Consider that everybody that visits a website is going to give it only a couple seconds before they're deciding – do I stay or do I go somewhere else? And then once you hook them in and get him into the website, there's a lot of other things you need to consider in order to sell them. I mean, that's ultimately what that website's doing. It's sort of like an online salesperson.
Chad:
It's true. And so again, we're talking about what makes a good website. But, you know, in your experience, what sort are the common mistakes that you're seeing when people are getting together and trying to, like you said, get those sales?
Paul:
I think the first, the first big mistake that I see, the most common mistake has to do with the actual content itself. So many times you'll go to a website and they'll list, You know, say it's a contractor, home services guy. And he does windows, and siding, and roofing, and gutters, and skylights – and all those things you associate with a home contractor – and he puts all of his services on one page – one page. That hurts the small business website in a couple ways. One, again, going back to the user. That means they have to hunt to see – Do they take care of my windows? Do they do windows? Or do they do this, or do they do that? And then, secondly, the search engines still particularly like it when you put everything on one page. Google doesn't serve up websites. It serves up Web PAGES, and the more pages you have that are dedicated to a particular service or product, the greater likelihood you can get found. Think of it like, you know, lottery tickets. One lottery ticket. That's one in how many millions. But you buy 10 –well, you increase the odds a little bit more. You have 20 pages, 20 lottery tickets. You have more of a chance of getting found.
Narrator:
You're listening to Small Business Small Talk powered by Hibu. Give your business a website built to deliver results with a Hibu Smart Site – built for voice search, built to increase search ranking, and built to deliver more visitors and more leads. See what makes Hibu Smart Sites smart at Hibu.com – H-I-B-U Hibu.com.
Chad:
And we're back. We're here talking with Paul Altobelli, Hibu's Website Product Lead, about what makes a good small business website.
Paul:
Something else I see that happens a lot with small business websites is that they don't take the user into account. I've mentioned it already a couple times – in our business we call it "usability." Usability is really about how people understand how to use things. It's not about technology. And a lot of times small businesses, they get all wrapped up in the cool widget or gadget or slider or things that… all the bells and whistles (like parallax). Forget about it. Just give me, you know, tell me what I need to do. Tell me why I should hire you. You know, give me the factors, the motivating factors that are going to convince me that you're the one I'm hiring. You're the one I'm going to visit so on and so on. So usability is a big part. Always remember that you're trying to convince somebody. You're not trying to convince your dad that you built a good website. You need to convince the person that's visiting the website that this is a meaningful company or business.
Ian:
A lot of that comes down to using just the right conventions. I mean, you know, simple things that could go wrong. You know, like the phone number – is the phone number on every page? That's that's all part of usability.
Paul:
You want to make sure that the bits that you include on the website are in the places that people expect to see them. The phone number – almost every website you see the phone number or the information about that business — how to contact them — is in the top right hand corner of the site. The logo's in the top left hand corner. If you click the logo, it always takes you back to the home page. These are things that we've been seeing in websites for 20 years, they haven't changed. Some of the technologies change, but the core components of what makes a good website. What we we see in the website are pretty much the same as they've always been, you know, core components to we talked about. Call to actions, you know, tell the person what you want them to do. Don't assume that they're going to pick up the phone. Tell them so call us today to schedule your free estimate. You know you can't assume anything in websites. The moment you start to assume is the moment that that you're gonna lose that user. I always say that you want to pretend that the person that's visiting your website is your grandmother, your great aunt, someone like that.
I'm not saying that your grandmother isn't great and doesn't know how to use a website, but think of it in those terms. And if you could speak to them, then you could speak to just about anybody, so they get to the call to action. Telling people what to do is a key component of the site and the content itself. You don't want to make people think. That's another one– there's there's an author out there, his name is Steve Krug, he wrote a book in 2000. It's a bible for a lot of web folks. "Don't Make Me Think" by Steve Krug.
Ian:
It's been updated a few times, additions and updates are out there.
Paul:
You don't want people to think – the moment that they put any, even if it's a microsecond of thought, into trying to figure out what you mean is the moment that you're gonna lose them again. We've only got a small period of time to grab their attention. Get them to stay on the site. That's the professionalism. And then you incorporate these bits into the site to make sure that you could hook them in and then convince them to act. It's all about conversions for small business people. It's about, you know, getting the phone to ring and the cash register to ring, getting people through the door. That's that's what they want in a website. You could make the argument that it's about branding. Yeah, of course it is, and the branding associated with the website should match everything else that you're doing online and offline. Same logo colors, pictures and things of that sort. But ideally, it's about the content in there.
Ian:
There's a line that you've you've used before about, you know, "your website should be your best sales person." You know, it's not just there to say "I have a website. I have a url on my business card." It has to serve a purpose and has to have these kinds of things built into it to achieve those goals.
Paul:
Speaking of things, building websites, there's an approach you take to the copywriting called On-Page SEO. It's a term even my grandmother knows — search engine optimization. And there are things you need to bake into that content, into that site, to make it so that Google identifies and acknowledges your existence. And a lot of times with DIY sites and the way people go about building them themselves, they forget to do this. So On-Page SEO could be its own topic. We'll save that for another podcast.
Chad:
I like it.
Paul:
Talking about SEO – today, as we sit here with our phones on silent to make sure nobody calls us – mobile is definitely something that needs to be part of the plan. When you're thinking about building that website, you have to make sure that it's mobile friendly, user friendly. Make sure that you don't just put a phone number. "Call us today" – make sure that phone number is a button so that I can click it with my thumb and get in touch with somebody right away. So the usability of the mobile site and the speed of mobile — without it, I think we give websites even less chance. Uh, we have to consider when it's on mobile. I don't have time for anything, right? If it doesn't load fast, I can go to another website quickly. So you know, you have to consider that mobile site. Security is another one. Now, a lot of times you'll visit websites and this alert comes up saying this site might be "unsecure."
Chad:
Yeah, it's terrifying. And Google's basically said, "Look, if you don't make your site secure, we're not even going to acknowledge you exist, and we're not gonna put in front of anybody. We're gonna, in fact, warn people to not go there."
Paul:
You're right. Just so everyone's clear — security is about the users' security, right? It's because if I visit that website and the user's somebody interested in that roof — there's a form and I fill out that form, I hit submit. A hacker could come into that website and steal that information. So the security is about the user experience and making sure that that that information doesn't go into the hands of the wrong person.
Ian:
Especially if it's sensitive information. Credit card numbers, you know, any kind of medical history. Social security.
Paul:
Exactly. Exactly. And then, as I was saying earlier, you know, consider that all pages are important. A lot of times a lot of businesses will put everything on the home page or everything on that services page as we talked about earlier. You have to acknowledge that any one page, as I said earlier, could be number one in Google. If I have a page dedicated to roofing, well, then that's the page they're gonna land on – not necessarily the home page. So these are all mistakes we see all the time with small business sites. I know it's a long list, but you know, websites aren't easy to build, although there's a lot of advertising out there that says "This is Jack and Mary, and they've got a cookie shop. They didn't have any business. But then Jack went over to this business here and he got his free website. And before you know it, he couldn't make enough cookies, right?" Right. That's not true. Unless they have somebody that knows websites like me, or are they hire a company like Hibu to build their website.
Ian:
It reminds me of, you know, back in the probably back in 1997 you know, someone might have the title of a "Web Designer." And at the time, that truly meant DESIGNER. "I'm gonna make this look good." But, you know, I think a lot of folks today still make the mistake of thinking a website is one thing, or the person that builds a website is a jack of all trades. There are still people that are dedicated designers, and they could design you a great looking site, but it might not have the content you talked about. It might not have the back-end things you need, like security, like On-Page SEO. So it really takes more than just, you know, a DIY tool to get this right.
Paul:
Website development is really based on this concept called the four D's. You have to define the website, design it, develop it and deploy it. A lot of times with these tools, they're sort of combined everything into one. And that's that's really difficult. If I was going to recommend it to a loved one or a friend, you know, what is the first thing you need to think about when you're gonna build your website? I'm gonna say, "Get a piece of paper out and define what is that website going to be? What which page do I want? What do I want to convey back to that user? What if I want to promote in terms of one of my core competencies, what's gonna make me money right now?" And then you focus a page on each one of those bits, you define it and then you go into the design stage — and the design stage is twofold. It's the writing of the copy along with the design of the website. You know, the physical pushing the pixels and choosing the colors and making sure you have the right imagery. There's one more thing to mention — you see a lot of bad photos too.
Chad:
Oh yeah.
Paul:
They're crooked. They're dark.
Ian: They're OLD. I mean, sometimes they're very nicely shot stock photos from, you know, 1992.
Paul:
They don't fill the page. So the design of the website, along with the writing, is key. While I'm at it, when we talk about writing for websites, two things to consider as well. Steve Krug again says too much copy is a killer for website and website usability. He says, "Get rid of half the words on each page, then get rid of half of those words. So if you've got 300 words, chop it down to 1 50 then chop it down to 75 right." We don't have a lot of time. So within that 75 words, you know, you break it apart. You use things like bullet points and headlines so it's easy to scan. So these are all the bits that you're thinking about with your definition and in the actual design part. Then once you design and then you want to develop it, and that's the physical building of the website. Taking into account the copy and the design and the definition. It's really hard to design and develop a the same time. I've done it and it's really hard. I mean, everything we're talking about here. By the way, in the 22 years that I've been building websites, I've made mistakes so many times. You only learn in this business from experience and making mistakes, or as a friend of mine, a colleague here at Hibu, Scott Terrizzi, says, "You know, I've broken a lot of eggs." And the more eggs I break, the better I get at figuring out what are the right components, the right ingredients of a website.
Ian:
And it's a moving target, too. I mean, that's the nature of being in this space and building good websites, you know, when you talk about development, you know, five years ago, you didn't really have to worry about mobile so much. Now, it's part of development. I've defined it. I've designed it. I built it in this tool. Let's see how it looks on a phone. You know, that's that's kind of a new wrinkle that you know now mobile is part of the development.
Paul:
That's s so true. Part of development and putting it together is the actual quality assurance that everything you've assembled looks good on all devices. And you're calling out one of the big mistakes that we see. You remember mobile and speed, but you forget about what it looks like on the phone. How fast does it load? Right? With so many people looking at websites now on the phone and not necessarily on their laptops… we've got stats now, that it's above and beyond 50% of all website traffic is on their phones.
Ian:
And [Google] said that that half their traffic is from mobile devices.
Paul:
So that is a priority when it comes to websites.
Narrator:
You're listening to Small Business Small Talk powered by Hibu. Hibu is the country's leading provider of synchronized digital marketing for small businesses — delivering more visibility, more visitors, more leads and more customers. Visit us today at Hibu.com — H-I-B-U dot com. Hibu.com
Chad:
And we're back. We're here talking with Paul about what makes a good small business website. Real quick, to stay on the topic of mobile. We're not just talking about the way a site looks on the phone. We're talking about the way that people search today. You know, sometimes you're just asking your phone for information. You're pressing a button in your car while you're driving and asking.
Paul:
You know… "Where's the nearest coffee shop?" That's a small business. And that's voice search. You were talking about you know how keeping up with the technology itself and that is something that here at Hibu, we have to consider with every website we build. We use a phrase that our websites are almost future-proof. There's this technology out there, it's called schema. Schema markup — sounds all techie stuff. It's a type of HTML that we bake into our websites. You don't see it with your eyes, but the search engines do, the Alexas, and Siris and the Googles out there. They read it. So when I'm saying things like, "What's the… are there any diners in the area that serve key lime pie?" Google or Siri can can come back and go "Yeah, it's Mike's Diner on, you know, Main Street, and they're open until four o'clock." It's because of this schema, this type of HTML that we incorporate into our websites, that the voice search works. If you don't have schema, you don't have voice search. It won't work. The two go together.
Chad:
Search and voice search. It's so important because unlike searching on a computer where you get a list of results — with voice search, you get ONE result. You have one. You ask a question, you get an answer exactly. And so, making sure that you are that one result becomes, you know, the utmost importance.
Paul:
It's one of those things that truly differentiates the Hibu Website from our competition, from the ability of the DIYer out there, you know? I mean, nobody knows what schema is.
Chad:
Let alone how to spell it, right?
Paul:
So that's one of the things that we do with our Hibu sites that I'm very, very proud of. We talked about all the mistakes that we see with websites in terms of content and things of that sort and usability and mobile design. We make sure that every Hibu Website, we'll check off all those boxes that the content is there. We do that through copywriting for every page. Copywriting's hard. You know, I talked about how you don't want a lot of words, but if you're not into writing, especially writing for the web and incorporating that On-Page SEO that we discussed earlier into what you're writing… if you don't know what you're doing… you're not gonna get found. You're not gonna get acknowledged by Google. Regardless if you have schema or not. You need the right type of writing along with the right type of On-Page SEO and the schema to get found in 2020.
Ian:
Going back to the exercise you spelled out earlier. You know, if you have 150 words, trim it down to 75 then cut that in half. You've got to be, you know, you have to know what you're doing to be able to convey the message that's going to get the right impression across and get that user to take the action you want in, you know, 45 words. That's hard.
Chad:
And to have it still make sense. Not only do you have to know that you have to cut words, you have to know which words to cut. Right? Which ones need to be kept, right? It's good editing.
Paul:
Uh, a lot of times, especially lawyers in particular feel that we need all this stuff. What is, uh, what is Chapter 11? No way. Get the Wikipedia. I can just go to Wikipedia to find it. What I want to find out when I go to that lawyer's website is if I am in Chapter 11, why this lawyer is the guy I should be hiring, right? I've helped out this many people. I've settled this many cases, you know, I've taken care of this. I've done this. If my son is… has been arrested for DUI, God forbid, I'm looking for a lawyer to help him.
It's good to have things on websites, like, you know, tips on on what to do if you get arrested for DUI. But ideally, it's about why. Why choose me to get your son out of jail?
Chad:
Yeah. And I mean, in that same vein, not only is it sometimes the content that you're writing for yourself, but it's stuff that you include on your website, like you're looking and you're seeing — "Oh, there's a review here from somebody that was in the exact same situation that I was in." And they're giving you a glowing review. Well, you need to have that on the site. That social proof is super important in building trust.
Paul:
You're absolutely right, Chad. I mean, we call them "motivating factors" and the motivating factors that we incorporate into every website in the headlines into the copy itself, in the callouts, into the very first thing you see on the site when you come to it… these are the things that motivate people to act with that business. If you remember SQOT, right? There are speed factors — how quickly can you help me? Right. So, let's go back to my boy getting in, you know? How quickly can I meet with this lawyer, right? Is he 24/7? Can I call right now? Does he have chat on the site? You know, does he make, uh, can I meet him at the jail if I need to? Speed is key, and then you get into quality. That's the Q. And quality incorporates trust factors. You've got to trust this guy, right?
Chad:
Right. If he looks like… you know that… if you think you'll meet him at the jail because he's in the jail.
Paul:
If he just happens to be in the cell next to my kid, I don't think I'm gonna hire him, you know? And that's where the photography comes into play, too. You know, if he looks a little shady or the picture's blurry. No, I want somebody who looks professional. That looks like a lawyer. That's key. So, trust is incorporated into the quality and then you have the offer. That's the O in SQOT. Offer has to do with money. You know, for a pizza, it's easy. You're incorporating, uh, coupons — buy one, get one. It's pizza Friday night and these types of things. For a lawyer, it might be "we don't get paid unless you get paid," right? Just a phrase like that might be the differentiator between one lawyer and the next lawyer in terms of who I'm going to hire. And then finally get testimonials or reviews in today. Do you buy anything unless you're looking at reviews? No, no.
Chad:
I read reviews on pretty much everything.
Paul:
Everything. You need to incorporate those into the sites or people just aren't gonna pay attention. You could have everything else checked off, but if you don't have people on their giving him five stars and a lot of people getting five stars, you're gonna get somewhere else. "Well, this guy's got 20 reviews and this guy's got one." I'm gonna go with guys who's got 20. And that's motivating factors. With Hibu, all of our sites of secure so, we're meeting Google's requirements. They all have the On-Page SEO that we discuss ed so that Google will acknowledge your existence. We give you a dashboard — that's how we refer to our analytics. We're completely transparent with not just the website, but with all the solutions that Hibu offers, to make sure that you know how many visitors you're getting. What's the click through rate? How many people are clicking through how many people are converting, how many forms they're filling out? How many people are clicking on the phone number to call you? How many people are clicking on the coupon? You want to know the return on investment, the ROI with any sort of website. You're not building it just to build it. You want to make money from it — again, it's your online salesperson.
Chad:
Right.
Paul:
From Hibu's perspective, we want to be as transparent as possible, and we want to make sure that you know what's going on. Equally important, you want to see what isn't working. You know, when it comes to analytics, if you're not getting people, or if you're getting a lot of people visiting the website, but there's no conversion — well, then maybe the motivating factors are missing or they're not as effective as they could be.
Chad:
Or we need to make them more prominent.
Paul:
Or that the two other lawyers in the area better deals than you do right, you know, or you need more reviews, and you need to ask where people for reviews. So that's what's the importance of our dashboard and how that could benefit you as a consumer, as a small businessperson. And then one of the things that I think is the absolute feather in our cap that I don't know that anybody else is doing is we have free updates after the site and our our solutions go alive. We'll go back and tweak it however you want after it goes live. Not everybody does that. Back in the day, in the 22 years that I've been building websites, there was a time I would build a website in charge $75 an hour. Not so with Hibu. It's included with your solution and your websites.
Chad:
Well, this has been excellent. I guess I want to just throw it back to you one more time. Is there anything else you wanted to add?
Paul:
Well, we talk about mistakes that small businesspeople make. There are assumptions that people make today that "I just need a website." Today, you need so many things to get found and to be visible online in the Internet world, on your phone, on your desktop. And it's a combination of bits. It's search advertising. It's display advertising. It's listings. It's that, uh, you know, when you when you type something into Google and you see these recommended types of businesses, that's part of the Google My Business. You need to be part of that. You need to be on social. You know, all these are things that people can find your business with above and beyond just the website itself. So that is an absolute consideration today is that you just can't have a website all by itself, even though I'm the website guy and I believe the websites are the most important, they're not — but they're not the only part of the equation. And if you have all those those things — search, display, listings, social — if you have all of them, you have a greater likelihood of finding the right customer and getting them to convert and then making money and getting the cash register to ring in the foot traffic and so on and so on.
Chad:
Yeah, I mean right, like in the marketing world, we talk about hitting the right customer with the right message at the right time and given the sort of circuitous nature of the customer journey right now, it's not a straight line. They don't just type in your name into Google, go to your website and buy. They type in what they're looking for, and there they go to your website and then they leave. And then you hit them on social with retargeting display ad, and then they maybe they register that, and they go to your Facebook Page to see what sort of posts you're posting. And so, like you said, the website is definitely the core in the basis, but if you're relying on that alone, then you're sort of missing out. You're not gonna get the return that that you could be getting if you invested into the rest of it. Having that sort of like integrated synchronized marketing plan is the way to go.
Ian:
And that's key too. It's not just a matter of, you know, turning all these things lights on. And, yeah, I got search ads and I got display ads and I've got a website. It's making sure they work together.
Paul:
All in sync.
Ian:
Right. If you have, you know, one person building your search ads, someone else building your social ads, another guy that built your website… there's a good chance they probably don't even know each other, let alone have the same goals and and factor in that sense of its own ecosystem, right? You know, someone's not going to see just one piece of this. They're going to get retargeted or they're going to visit your website and then check you out on social and then look up your Google My Business listing. These things all need to be considered as one happy family.
Paul:
Agreed. 100% agree that's what you need to do.
Chad:
All right. Well, that was great again one last time. I'd like to thank you, Paul, for joining us.
Paul:
My pleasure.
Chad:
This has been Small business Small talk and, uh, yeah, Small Business Small Talk OUT.
Narrator:
Thanks for listening to this episode of Small Business Small talk, powered by Hibu. Hibu is a leading provider of synchronized digital marketing for small businesses across America. With Hibu, you get all the digital marketing your business needs, all from a single provider, all working together to maximize results. Visit us today at Hibu.com — H-I-B-U dot com — Hibu.com.