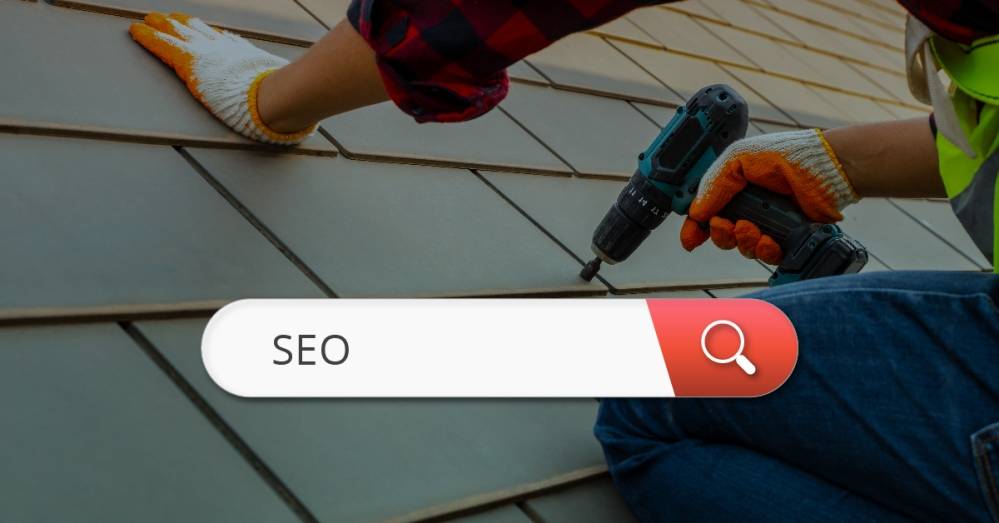 Let's assume you have a website for your roofing business (if you don't, call us immediately). That's a good first step, but it's only a first step. To really compete online today, you need to do everything you can to maximize your visibility online — and that starts with SEO (Search Engine Optimization).
If you're unfamiliar with the ins and outs of SEO, that's fine — it can be a little complicated. Basically, SEO is a key part of all your digital marketing, and without solid SEO tactics, you're losing business.
Remember — 46% of all Google searches are related to looking for local businesses (aka "local search"). SEO is what helps you appear high in the search results, so it's clearly key to grabbing customers' attention.
With that in mind, here are six SEO tips for roofers that'll help you boost your search ranking.
[Related: Today's SEO - How to Dominate the Search Results]

1) Make Sure Your Google Business Profile is Specific — and Accurate
If you don't have a Google Business Profile, make sure you get one as soon as possible! If you're not comfortable doing it yourself, be sure to reach out to a digital marketing partner (like Hibu) who can help you set one up. It's a crucial part of online presence.
If you have a Google Business Profile, pack it with specific information about who you are and what you offer, and clear contact information to make sure customers know how to reach you — name, address, and phone number. Then, add whatever you can to increase customers' trust in your business… and to enhance your SEO:
Hours of operation
Products and services offered
Price range (estimates, if necessary)
Pictures (of your business, staff, completed projects, etc.)
Link to your website
List of social media handles

In short, the more information your profile has, the better your SEO will be. And customers will know that your business is legitimate.
[Related: 4 Ways to Find Your Business Online]
2) Fill Your Website With Keyword-Rich Content
Content is essentially anything you put online — from social media posts to your business profile to blog posts or even just the text on your website. Blog articles are particularly good for SEO.
With blog posts (like the one you're reading now), you can provide valuable knowledge to customers, answer their questions, and offer engaging information while promoting your business. A blog article's not an ad — it's information that helps the reader. And when done correctly, that post is packed with keywords and phrases.
Those keywords match search queries specific to your business. For example, a customer might search for "What to look for in a roofing business." On your website, you have a post titled "What to Look for in a Roofing Business" that answers the question.
When a customer searches for something specific, like "metal roof," they have a greater chance of finding your business if you have a post that has those keywords (metal roof) and others related to the search phrase.
So, how do you find the best keywords to target? Like we said — SEO is a little complicated. And keyword-rich website content extends beyond blog articles. It includes your website pages, landing pages, picture captions — well, practically everything your business has online. To be honest, really filling your website top to bottom with SEO-heavy content, requires some pretty extensive digital marketing expertise and most local businesses rely on a digital marketing company for SEO services.
[Related: 6 SEOmens That Are Bad News for Your Small Business Website]
3) Get On Social Media and Post Regularly
Yep, SEO extends to social media too. That means when you post to your social media profiles (definitely "profiles," plural), use terms specific to your name, area, products and services.
It's easy to think of social media as just a way to keep up with friends and family. But, with about 240 million U.S. Facebook users, you've got a gigantic resource to promote your business (and that's just Facebook). When what you share engages or entertains customers, it can build your brand and drive them to your website… and you're on your way to more business.
Let's say you've published that post, "What to Look for in a Roofing Business," to your website. On your social media, post a short post about the subject and link to the article — it'll increase your visibility (SEO) and drive traffic to your website. Simple!
Posting relevant content regularly lets customers know your business is active and you're ready to help them with anything related to roofing. When customers find your business interesting in social media (and anywhere online), you'll stand out above the competition.
[Related: Social Media Terms Your Small Business Should Know]
4) Use Customer Reviews to Your Advantage
Nothing is as powerful as word-of-mouth advertising. Of course, there's good word of mouth and bad. When customers talk about you (online or offline), if what they have to say is good, you get business. When that customer feedback is online, you can take those good reviews and put them to work increasing your SEO.
But don't focus only on good reviews. You can even take bad reviews and make them a positive opportunity. Let's say a customer complains and leaves a low star rating or a negative review. If you handle that complaint with grace and professionalism, you earn customers' respect. Prospects like to see a business responding to a negative review in a positive way.
And because customers trust customers more than they trust ads (that's just the truth), reviews can be one of your most powerful tools. To amplify SEO, highlight great reviews on your website, in social media, and your business listings. It's vitally important that you do whatever you need to do to request and share customer reviews.
Plus, when customers talk about you to one another, they create word of mouth (WOM). Think of WOM content as a small snowball that you start rolling down a hill — once it gains momentum, you can stop pushing. It just gets bigger and better when you do great work.
[Related: Can Your Small Business Survive and Thrive Online?]
5) Invest in Full-Service SEO Solutions: On-Page and Off-Page
Ultimately, if you want to maximize your visibility online, you should consider going all-in on SEO — talk with a digital marketing partner who offers SEO services.
With on-page and off-page SEO services, specialists ensure each of your digital marketing is optimized to appear when customers are searching for what you offer. To be clear, this isn't a one-and-done thing— SEO specialists work continuously to make sure you have an advantage over your competition.
SEO Specialists conduct keyword research, learn specifics about your business, look up location-relevant information, and pinpoint your target market. These strategies generate leads, which then drive business.
Your SEO partner will also ensure that you are set up for voice search, have a mobile-friendly website — possibly even help with relevant content / posts and more. You'll be on the cutting edge of the latest search engine algorithms — and not just on Google — also on Yahoo and Bing.
6) Integrate SEO Strategies with Other Digital Marketing Services
One final tip: don't limit yourself to this SEO list. You need a comprehensive digital marketing solution that includes SEO. Just like we said at the very beginning — a website alone is not enough, and SEO alone isn't enough either. A complete digital marketing solution will include some or all of the following, in addition to SEO :

Bottom line… because SEO runs through every part of digital marketing, using it to your advantage is one of the smartest moves you can make.
[Related: The Evolution of Small Business SEO]
Let Hibu Boost Your Online Ranking
At Hibu, we save you time and money by doing all the work for you — all the digital marketing your roofing business needs, all from one partner.
When you're ready to maximize your roofing business's visibility online — to stand out in search results and a whole lot more, give us a call at 877-237-6120 or complete our short Get Started form for a no-obligation consultation.