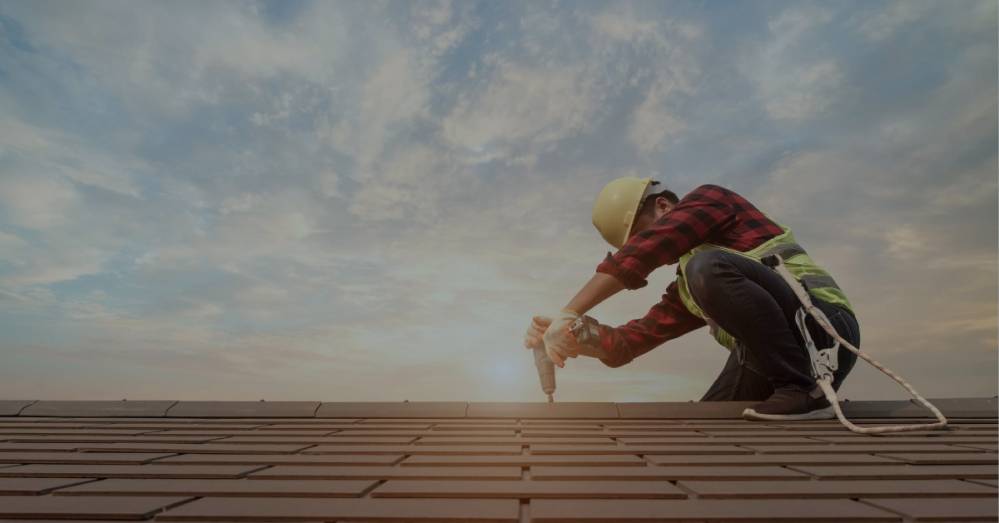 Digital Marketing For Roofers Made Simple
A storm hits, and water starts seeping through the shingles. The next thing a homeowner knows, they've got a serious problem on their hands. They have to make a quick call to a roofer.
So how do you make sure they can find your business and call you?
To get that call, digital marketing for roofers is critical. It's your best bet to make sure your business can get ahead of major industry competition.
We've collected some quick tips for online marketing for roofers. We'll lay out three key steps you can take to get those clicks and phone calls — and keep them coming.
[Related: How to Survive as a Small Fish in a Big Pond]

Why Does Digital Marketing Matter for Roofers?
As part of a steadily in-demand field, you've got guaranteed business…but only if you can get in front of the right local customers before your competitors do.
And where are your customers today? Searching online for the services they need. They're looking for immediate answers on:
Google and voice search devices ("Alexa, what roofers near me have 24/7 emergency service?")

Social media and review sites for big purchases and decisions that can wait (like replacing a roof)

And eventually your website to find out if you're the right choice for them

The web's where people look for local businesses, check for info (like customer reviews of your business), and decide who they want to hire.
In other words, if your roofing business isn't present and active online, you're a lot easier to miss. And that's why you need integrated digital marketing solutions.
[Related: Top Tips for Your Small Business Marketing]

How to Market Your Roofing Company Online
Now, let's get into those three key digital marketing strategies for roofers.
1. Establish an Online Presence — Everywhere
For starters, you need to have an accurate, active presence on multiple online channels — including your search listings, your website, your social media profiles and more.
Then, you coordinate those channels and amplify them with search engine optimization (SEO) and ads (ideally both search and display).
You can even request and control reviews and manage your online reputation (or better yet, automate the process so you're not forgetting to ask your customers to leave you feedback).
When your marketing is in sync, you're more likely to bring in more customers. That's because they'll be able to find you everywhere online, whether they're just starting to research a "nice to have" new roof or looking to hire a roofer for an emergency right now.
[Related: Small Business Digital Marketing Survival Kit]

2. Stay Active and Coordinated
It can be intimidating trying to figure out where you should invest your time and budget online, but there are a few foundational pieces every roofer should have in play online…and keep up to date as often as possible.
Your Online Business Listings
You may not know it, but there are listings for your business all over the internet. Some you may have seen...some you may already manage…and some you've probably never seen. And any of them may have the wrong information listed – the wrong business name, the wrong address, or the wrong phone number (or NAP for short).
You need a plan to keep these listings current and correct, and to add details to them where you can, like:
Your Website
A modern website for your roofing company is a must, but "modern" can be a moving target. Today, that means:
A website that you update regularly – because those updates tell Google (and your customers) that you're actively in business

A website that looks good on mobile devices and can be found via voice search too

A website that's integrated with all your other marketing — meaning it showcases your customer reviews and your social media posts, and it has the same NAP info as your online listings

And of course, a website that encourages visitors to become new customers. In other words, a modern website does more than just look good. It's integrated into your broader marketing plan and helps your roofing company generate leads.
Your Social Media Accounts
Maintaining an active presence on Facebook and more has plenty of benefits for roofers:
It gives you a place to have a back-and-forth dialogue with your customers (and people who are thinking about becoming customers)

It's another place where you can solicit reviews for your business, and put them front and center for potential customers to see

Facebook has great tools for running targeted ads – to reach those same potential customers, and even more qualified leads who haven't even heard of your roofing business yet
Like your online business listings and your website, you always want to make sure your Facebook Page is up to date. And on Facebook, that means both your NAP and posting to your Page regularly so customers know your business is active online.
And don't forget to check your Facebook messages too – plenty of consumers want to message businesses directly through Facebook, and not responding is like ignoring their phone call.
[Related: 4 Reasons to Share "Curated Content" on Social]

3. Check Out Marketing Companies for Roofers
Now, let's say you've already established your business online. You have a website. You have a Facebook Page. Maybe you've even tried some PPC ads. But there's a big difference between having a website, social media and ads…and having a website, social media and ads that actually work to drive more leads to you. Ask yourself:
Is your website optimized for mobile and voice search?

Do you have know how to research keywords for your website and ads?

Do you have targeted ads running to compete with established (sometimes nationwide) roofing companies everywhere local customers search for your business?
If the answer to any of those questions is "no"…then it's probably time to work with a professional marketing partner. Aside from knowing how to implement the best practices mentioned above, they may specialize in digital marketing for roofers, giving them insight and experience about what will work best for your business.
Here are just a few important qualities to look for in a digital marketing company:
Flexible pricing
One-on-one service
Proven results for their other clients
[Related: Hibu Client Conversation - Miller's Pro Roofing & Siding]

Searching for a Marketing Agency for Roofers? Look No Further…
Digital marketing has lots of moving parts. It's often difficult to figure out which parts are the best fit for your roofing business best — and then you still need a plan to keep whatever you choose up to date while search engines, consumers and your competitors keep making changes too.
Whether you need social media marketing, a website refresh, content creation, SEO, ad placement or another strategy altogether, we're here for you at Hibu.
We excel in helping small businesses succeed online and in their local markets, and we'd love to see your roofing business boom. Partner with us to convey your singular vision for your business. We'll listen closely — and work with your budget.
Digital marketing for roofers has never been easier.
Call us at 877-237-6120 or complete our get started form for a free, no-obligation consultation.