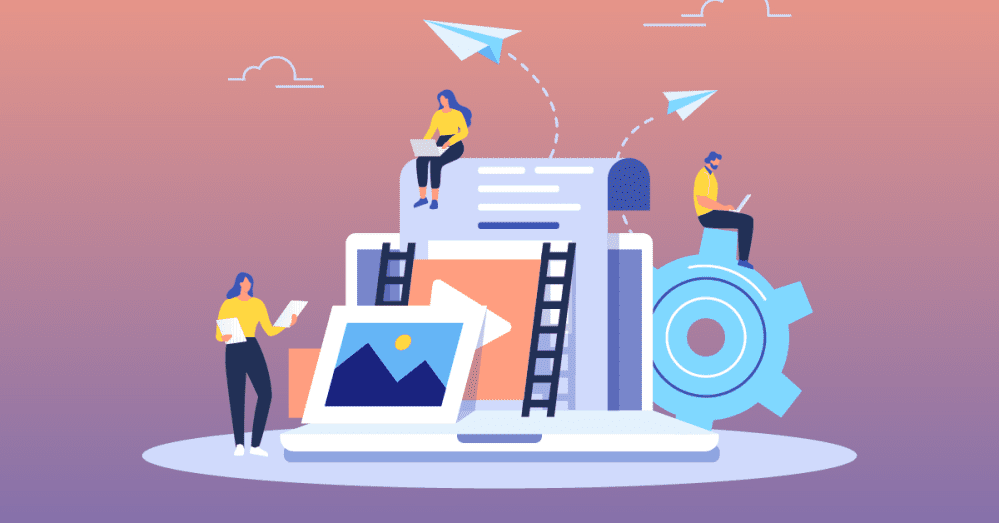 Top Tips for Your Small Business Marketing
Although there are roughly 31.7 million small businesses operating nationwide, according to the U.S. Small Business Administration (SBA), the five-year survival rate for new employer establishments hovers below 50%. That means small business owners have to be skilled, determined, and resourceful if they want their organizations to go the distance.
It's not all about providing an excellent product or service, either. You also need to know how to effectively market that product or service. And in our tech-driven world, the vast majority of that marketing has to be done online.
Tragically, as Fundera reports, approximately one in every five small businesses fails to invest in digital marketing. But since a staggering 81% of customers say they perform online research prior to making a purchase, it's no wonder that 75% of small business owners now feel that internet marketing is an effective way to attract new customers.
That said, you may not know exactly where to start. Armed with the following tips (and the right digital marketing solutions provider!), you'll be able to market your small business in a way that generates more leads, improves brand awareness, and outpaces the competition.
Prioritize User Experience
It's no longer good enough to just have a website; you need to have a website that really works for both your brand and your customers. Beyond providing the basics like contact information and service or product overviews, your website should help guide visitors along every stage of the buyer's journey by answering questions, addressing concerns, and providing ample value.
That sounds like a tall order, but a lot can be addressed by prioritizing the user experience. Often shortened to UX, "user experience" refers to how well a website addresses the needs, values, abilities, and limitations of web users, according to Usability.gov. Additionally, UX should promote the goals and objectives of the brand while improving the quality of all user interactions with the site and its offerings.
So, what does this have to do with your marketing? You can't expect to promote your products if your site is sluggish or confusing. If a visitor can't figure out how to get where they want to go, they'll quickly click the "back" button on their browser.
Human visitors aren't the only ones who care about the user experience, either. Page experience now plays a substantial role in how Google ranks websites in search results, which means the quality of your site has a direct impact on your SEO. If your site is hard to navigate, loads slowly, can't be accessed on mobile devices, or is otherwise frustrating to use, that will be reflected in your rankings, traffic and sales.
Before you can move forward with other aspects of your marketing strategy, make sure your website is in order. If that requires a redesign or some technical improvements, take care of that first! The success of the rest of your marketing efforts depends on having a welcoming website that makes customers want to stick around.
[Related: Introducing Hibu Smart Sites]
Create Content Customers Care About
If you've had any exposure to marketing in the past, you've probably heard that "content is king." That phrase still rings true, even with all of the changes we've seen in recent years. In fact, the 2021 State of Marketing Report from HubSpot found that 81% of marketers were actively using content marketing as part of their strategy.
Quality content gives visitors a reason to come to your website, as well as a reason to put trust in your brand. It also provides your small business with an excellent opportunity to optimize your website for search engines.
Whether you're writing an industry deep dive yourself or you're outsourcing your content marketing to other skilled professionals, these articles, images, and videos should tap into what your audience cares about most – and the value you can provide to them.
If you aren't sure what your customers want to know, it's time to do some research to find out. Learn more about their background, the burning questions they have, and the answers that seem to be missing online. Then, you can fill those gaps by publishing top-tier content that will position your company as an industry leader.
Of course, it's not enough to post awesome content every once in a while. You'll need to stick to a consistent schedule and optimize your content to ensure that customers will find your content online. (When you work with us, you'll know that the right keywords will be included so you show up in search results!)
[Related: Dominate the Search Results with Hibu Local Ranking]
Use Both Paid and Organic Search
SEO is a crucial part of any modern marketing strategy. When you appear prominently in organic search results that are relevant to your customers' needs, you'll get more traffic (and subsequent sales). You'll also improve your brand perception by building trust – all for an affordable price.
The flip side of SEO, however, is that it takes time. While websites and content can be optimized relatively quickly, you won't see the impact right away. Even with a perfectly executed SEO campaign, you may not notice significant rankings progress for at least a few months.
In short, SEO is a marathon, not a sprint.
Unfortunately, many small business owners don't have a lot of time to devote to maximizing their SEO. While SEO is great for sustaining organic traffic and sales over time, it's not ideal for a quick solution. That's why most marketing experts will recommend that you also include paid ads in your marketing strategy.
Whether you use Google Ads that appear at the top of search results or display ads on hundreds of different sites and mobile apps, these kinds of advertisements can be a great way to drive traffic to your site quickly and introduce customers to your brand. Although your budget won't go as far with PPC (pay-per-click) ads as it will with SEO, it often provides the push that small businesses need to get their marketing off the ground.
Really, these two techniques work best in tandem. They complement each other and make marketing strategies stronger as a result. So, if you've been trying to decide between the two, our question to you is, "why not both?"
Think Local (Listings)
Small business owners are uniquely positioned to benefit from local marketing. After all, your community is essential to your survival! By marketing to local customers, rather than targeting a nationwide market, you can make a greater impact (and reach the right people!)
It actually pays to get specific with your SEO and PPC. If you're too broad, you'll end up appealing to no one and competing with everyone. Narrowing the field of view allows you to focus on the customers and communities that really matter.
Optimizing for location-specific keywords can be a great way to tap into this audience, but so can making use of local listings. Your online business listings will be among the first results that show up when a local customer performs a search for your brand or for what you sell. When you properly manage those listings, you'll drive traffic (both web and foot) to your business.
Local listings management will ensure your business information is published accurately and consistently all across the internet. And by taking full advantage of the listings available to you, you'll increase your visibility in web, mobile and voice search results.
[Related: Your Listings Over Time]
Be a Social Butterfly
Did you know that 73% of small businesses are now investing in social media marketing? SEMRush data tells us that platforms like Facebook, Instagram and Twitter are the new frontier for small businesses.
While you don't have to be a social media master on every single platform, don't dismiss the importance of being active on these sites and apps. Having an official page set up for your business is the bare minimum. You'll want to post valuable content frequently… respond to comments and messages… and run ads to widen your reach. (Fortunately, you don't have to handle this on your own!)
[Related: The Smart Business Owner's Guide to Social Media Marketing]
Don't Forget About Reviews
Review management is a huge part of digital marketing today. Although you don't necessarily have control over everything customers say about your business, leveraging the power of reviews can have a massive effect on your reputation, traffic and sales.
According to Oberlo data, almost 90% of customers consult online reviews before making a purchase. Reading reviews has become an integral part of the buyer's journey – and nearly 80% of customers say they trust online reviews from strangers just as much as personal recommendations from people they know!
While it's true that you can't put words in your customers' mouths, you do have the ability to influence them before they leave their reviews. Businesses that consistently provide excellent customer service can typically weather almost any storm. And by reminding customers that the small act of leaving a review can help support your business in the long term, you'll probably find your most loyal clients, customers, or patients will be all too happy to lend a hand.
Of course, you'll need to be proactive about those reminders. Hibu's online review management solutions make it easy for your small business to collect and share the feedback, ratings and reviews you need to raise your profile online. Since we know that reviews play a role in search rankings and overall visibility, they need to be more than an afterthought.
[Related: The Importance of Online Reviews]
We'll Help You Follow These Tips Today
If you're a bit overwhelmed by the thought of putting these thoughts into action, you're not alone. Although some small business owners attempt to do it all, the reality is that marketing your business is a full-time job!
That's why we've dedicated ourselves to building custom marketing solutions to help small business owners achieve their goals. With Hibu's help, you'll have the tools and the team you need to reach the next level – without having to add another task to your list.
To learn more, contact us today at 877-237-6120 or request your no-obligation consultation.