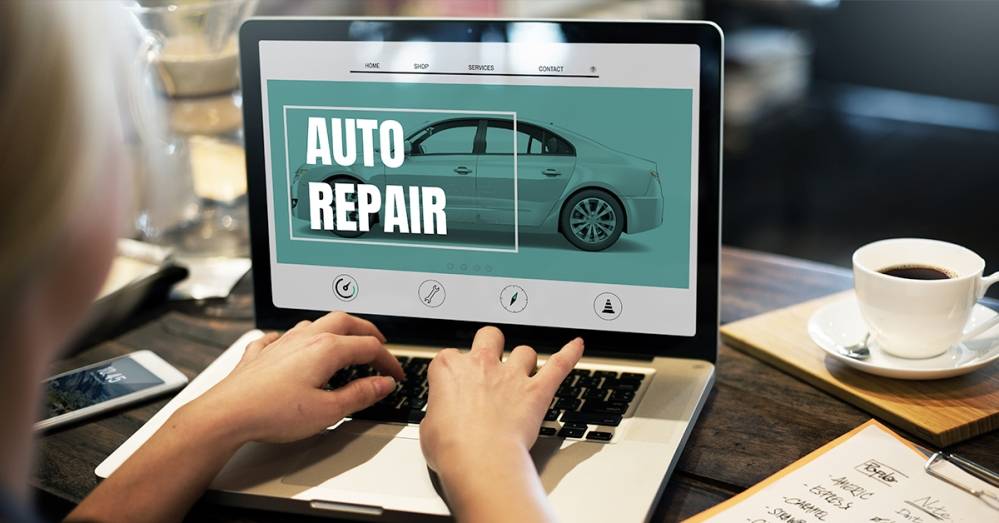 5 Auto Repair Website Design Tips to Attract New Customers
But what makes an auto repair website appealing? What separates it from all the other competitor sites? How can it draw in new customers?
While a website can't do all the work of marketing your business by itself, every small business needs one – especially in an ultra-competitive field like auto repair. It's your "home" on the web, and any other marketing efforts you do lead back to it — from your online business listings to your ads, your social media, and more.
So, to make sure you get your money's worth from your site, follow these basic auto repair website design tips.
[Related: Today's Website: Free Guide for Small Businesses]
1. Put Important Information Front and Center
First things first — your website should list the most important information about your auto repair shop (which also happens to be the most important information for potential customers) in prominent places:
Your business name and/or logo
Where you're located
Your phone number and business hours
Then, when customers scan your website, they can easily contact you (or drive over to you). No one likes to have to dig to find crucial information, so making sure it's easy to find is a standard website design best practice for your auto repair business.
Try dedicating a section of your home page (or a link from your home page) to your core price ranges for common services. Customers will know what to expect and appreciate your transparency — which can build trust in your business.
Near your price ranges and list of services, you can also list any special offers and your latest discounts. And don't forget, "offers" don't have to be monetary — there are plenty of reasons consumers choose small businesses other than saving money.
Overall, go for a minimalist and to-the-point home page that displays the basics every new customer needs to know. If your home page answers the questions below, your site is off to a great start:
Who are you and what do you do?
Why should I choose you?
How do I contact you?
[Related: Website Branding: How to Market Your Auto Repair Shop]
2. Use a Clean, Simple Design
Good user experience (UX, or how a customer interacts with a site) and a good user interface (UI, or how the site looks and runs) are crucial. But these are difficult to master on your own… unless you specialize in website design on the side.
The best way to make sure your site has an intuitive, usable design is to work with a digital marketing partner who will build you a website with spectacular UX / UI – the hallmarks of a professional website.
But what makes a site seem professional or unprofessional? A surefire way to turn off new customers is to have a website that's clunky, cluttered and disorganized — and that goes for both the visual design and the content on each page. For example, don't underestimate the importance of white space! It gives users' eyes a break and adds impact to on-screen text and visuals.
And beyond looking good, your auto repair website has to be easy to use. After all, a beautiful design won't keep people on your site if it's frustrating or confusing to use.
This all leads to another great reason to partner with a digital marketing company. Specialists will make sure your website is easy to navigate… enjoyable to browse… and good looking too, all to keep new customers on the page longer than the average 54 seconds.
[Related: The Complete Guide to Auto Repair Shop Marketing]
3. Add Photo Galleries for Impact
We keep circling back to appeal, but it's truly critical for your auto repair shop website.
Artfully-placed and professionally-shot photos are exactly what you need to keep customers on the page. And consistency isn't just important in your overall design — your color scheme, layout, pics and logo should all be cohesive.
Once you gather the photos, your digital marketing partner can create a dedicated photo gallery of before-and-after photos. These will show off your shop and highlight what you're capable of fixing. And while your photos should be in focus and have decent lighting (most smartphone cameras can take pictures that are perfectly fine), they don't have to be staged — in fact, gritty realism can be appealing too.
For example, a bustling auto repair shop in a little Southern city kept a tire with a screwdriver stuck all the way through the rubber. It displayed the tire in its lobby and kept a photo of it permanently posted on its home page — a mascot of sorts. It was a quirky and simple yet effective way to showcase the work the shop does.
Talk about adding personality. When you stand out from other auto repair shops in the area — through better photos or photos that tell a unique story — you're more likely to be remembered the next time someone needs work done on their car or truck.
Images and photo galleries also personalize your mechanics, your staff and your business as a whole. When new customers feel like they know you before they step in the door, they're more likely to actually do it. And when your work exceeds their expectations, they'll keep coming back.
[Related: The 3 Times You Must Market Your Automotive Business]
4. Make Sure Your Site Works on Mobile Devices
About 211 million people in the U.S. use mobile phones to search for services. And 82% of mobile users have searched for local results (like "auto repair shop near me").
Needless to say, your website must run spectacularly on mobile if you want to appeal to new customers (especially younger customers).
Having a website that flops on mobile is a common mistake of DIY website design — and it's another great reason not to do it yourself. With customers carrying out so many searches on their cell phones and a standard browsing time of under a minute, you can't afford to have a site that doesn't sync with mobile layouts.
Working with a digital marketing company will give you access to web developers who can tweak elements and optimize functions for a mobile-compatible site. The final result is a professional, custom website that runs smoothly on smartphones. You'll eventually enjoy increased website traffic, longer browsing times and more business.
It's a lot of bang for your buck.
And if you already have a website, we recommend checking whether it runs well on mobile. If it doesn't, it's time to call and get website design help.
To further increase the appeal of your site, make sure the site works with voice search. If someone's driving, notices a thump and needs to search for a nearby auto repair shop, they shouldn't have to take their eyes off the road or their hands off the wheel.
[Related: 10 Missing Pieces on Local Business Websites]
5. Highlight Online Reviews and Testimonials
Calling attention to your customer reviews may be last on this list of auto repair website design tips, but it's certainly not least.
Word of mouth (WOM) is one of your best friends when you're promoting your auto repair shop. WOM marketing is when customers talk to other people about your business — online, in person or otherwise. And today, consumers trust other people more than advertisements.
That's why you need to highlight real customers' star ratings, reviews and testimonials on your website – it can have a truly significant impact on the number of customers who call you.
Whether you showcase your reviews on your website's home page, a specific page of your site or on your social media profiles, putting your reviews front and center helps you establish trust with new customers.
A digital marketing company can help you find the easiest ways to request reviews. Oh, and if you find out someone's leaving not-so-great reviews for you somewhere, specialists can help with that, too.
[Related: The Complete Guide to Auto Word-of-Mouth Advertising]
Don't DIY: Let Hibu Build Your Website
Building a website is a chore, and you're a busy business owner. And doing it yourself? That's both difficult and risky.
We'll take the load off your shoulders and help you attract new auto repair customers with a custom Hibu Smart Site. We work with you to make sure your auto repair website reflects your brand and is designed to convert visitors into customers.
Plus, as a Google Premier Partner, we can optimize your website for local search. Check out everything that goes into a Hibu Smart Site.
Call us at 877-237-6120 or complete our Get Started form to talk to a local digital marketing specialist.