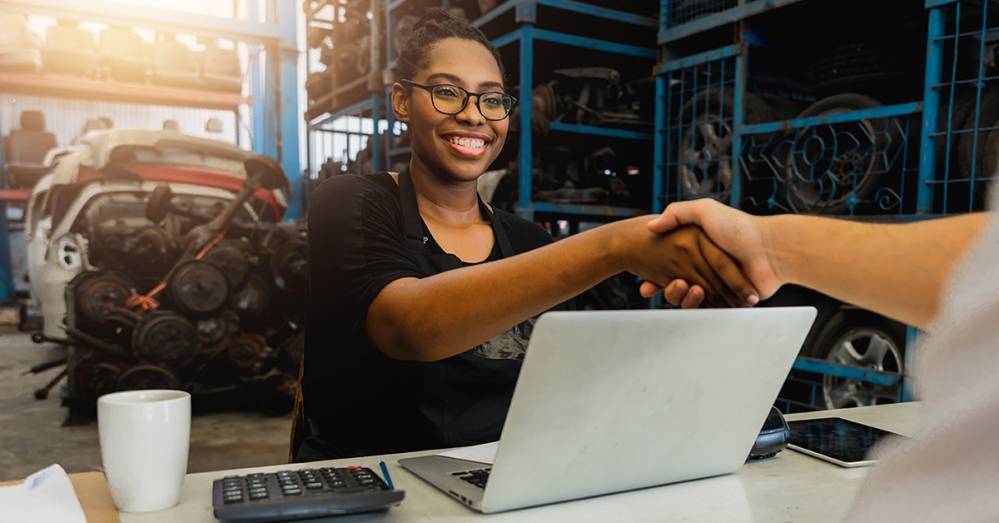 The 3 Times You Must Market Your Automotive Business
For local automotive repair and service businesses, one of the hardest things about marketing can be finding the time to do it. Your work goes on year-round… customers expect you to work quickly… and there aren't a lot of quiet times where you can think about (and launch!) new marketing campaigns.
But you know what they say — what doesn't get attended to, doesn't get done. So how do you find a balance between running and promoting your automotive business that will get you the biggest return on the time you spend?
Let's take a focused look at some of the best times to promote your automotive services.

1) When you have a discount, promotion or special offer
You're probably used to this already – sending out mailers for winter service specials, maybe posting to Facebook about a Labor Day Weekend tune-up discount. Consumers love a good deal, and your automotive customers are no different.
You don't have to limit yourself to just thinking in terms of $50 dollars off or a 10% discount on work over $1,000 either. Think about what makes your automotive business special and what matters to your customers…and highlight that in your marketing:
Do you have a service guarantee or warranty?
Do you offer after-hours drop-off or pick-up?
Do you provide written estimates?
All of that may seem like business as usual to you, but you'd be surprised how many of your competitors only highlight their prices…and not the customer service and convenience that matters to their customers.
[Related: Why consumers choose one local business over another]

2) When you haven't seen a customer for a while
It's no secret that owning a car means regular maintenance. From state inspections to emissions inspections to 5k / 10k / 25k recommended maintenance, there's always something coming up that your automotive customers should address.
All of these milestones are great opportunities to get your automotive business top of mind for your past customers (and maybe keep them from taking their business to a dealership or someone else when the clock runs out).
[Related: What is retargeting?]
3) When you haven't turned a lead into a customer yet
Between your website, any advertising you're doing and the regular calls that come in, you should be building a list of customers and leads to re-market your services to. It's a lot easier to start a conversation with someone who's already shown interest in your automotive business…and even easier if you already have their contact information.
Of course, promoting your automotive services to leads who haven't become customers yet can be a tedious, time-consuming process…and you've got customers right in front of you, and on the phone right now, to worry about. That's where marketing automation comes into play – saving you time, hassle and working for you 24/7.
Automated email marketing for automotive businesses
Email marketing is still an incredibly effective way to communicate with leads and customers…especially if you're emailing them with promotions and/or timely reminders.
Of course, there are still challenges. You have to craft the right message…send it at the right time…and make sure it's going to people who want to receive it (and manage your email address list so you stop emailing anyone who unsubscribes). And if the week gets busy and – oops! – you forgot to send the email promoting your holiday weekend special, that's a missed opportunity.
That's where automated email marketing can be a powerful tool for automotive businesses. It allows you to program which messages to send, and when to send them, so you can focus on your business while your marketing works for you (and not the other way around).
Automated SMS text message marketing for automotive businesses
You'd be hard-pressed to find someone that doesn't have a cell phone…and chances are, their phone is always on and always within an arm's reach. Text message marketing can be an incredibly effective way to turn customers into return customers, and leads into new customers.
The same rules for email marketing apply to text message marketing, plus the possibility that you'll need to get customer to opt-in to receive text messages. Here again, an automated solution from a platform and partner that can set up your SMS text messaging program and keep it running smoothly can be incredibly valuable.
[Related: Hibu Assistant – Automated Marketing For Small Businesses]

Follow these rules to market to your automotive customers at the right time
If you focus on just these 3 times and tactics, your auto service business can have a fully functional, "always on" marketing plan that reaches your prospects and customers when they need your services.