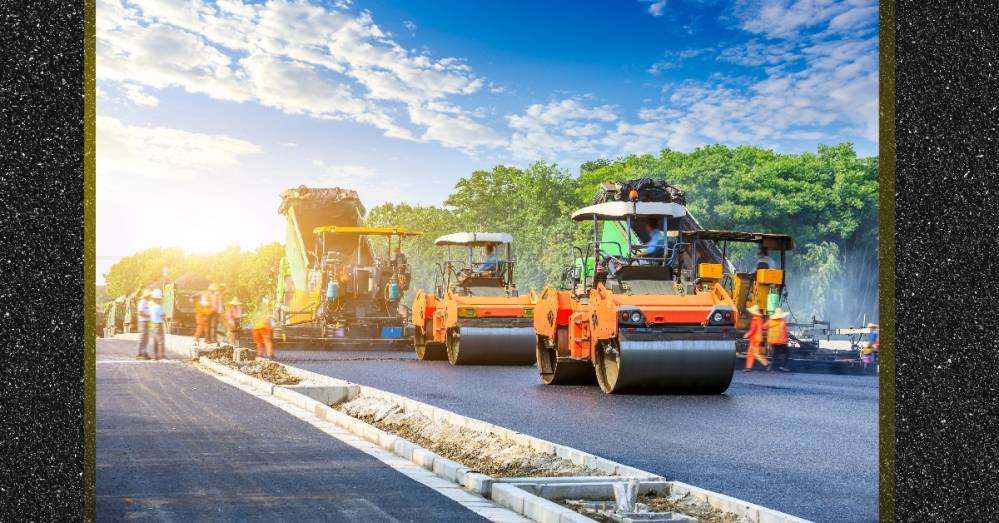 Pave Your Way to Success with These Asphalt Paving Marketing Ideas
You know marketing is mandatory, but you just don't have the time or resources — let alone the dedicated staff — to do it. Asphalt paving is a solid industry with $25 billion in revenue. But you're still competing with major companies and contractors — 192,122 of them as of 2023.
It's no walk in the park — and if you're even in the park, you're probably there to patch the pavement. Clearly, you've got your hands full.
That's where digital asphalt paving marketing comes in.
Why Online Marketing for Paving Contractors and Companies is a Must
Four out of five customers turn to search to find local services. PR Newswire reports 76% of customers look online before stepping inside a business, let alone contacting it! That means SMBs like yours must stand tall online to draw in local customers.
Asphalt Paving Marketing Strategies That Cement Your Digital Presence
Your paving company marketing has lots of moving parts — figuring out which to use first can be a headache. These four asphalt paving marketing ideas are your company's digital foundation.

1. Business Listings That are Always Accurate
Your first stop is making sure you have correct business listings, and it's something you want to stay on top of. You might be surprised how much incorrect information you'll find online about your business. For example, autogenerated business listings that you had nothing to do with appear across the web with incorrect info. Check it out yourself with our free business listings scan!
If your business listings are not up-to-date, that's bad news for your company — 73% of customers lose trust when they spot inaccurate data.
With listings management, you correct, protect and control all those details – and that's key to your asphalt paving marketing. Plus, you keep customers' trust — and stay present and relevant where it really matters.
[Related: See How Your Online Business Listings Change Over Time]
2. A Smart Website That Customers Find ASAP
Naturally, you need a website. And your website's got to cover all the bases by boosting how customers view your business — and helping them find it in the first place. A smart website goes further and helps keep customers' attention past the average 54-second window.
When searching for a service, there's a good chance that a local customer will do one of these three things:
Pick up their smartphone
Simply utilize voice search ("Hey Siri")
Do a quick Google search and look at the first few highly-rated businesses that appear

That means your website must be built with these features:
With a smart website, you'll hit all three targets, and your paving marketing gets a major head start.
Tip: Don't do it yourself — leave it to the pros. Then, leverage SEO services to add heft to all your asphalt paving marketing ideas.
[Related: Today's Website: Free Guide for Small Businesses]


3. Reviews That Showcase Your Company's Credibility
Using customer reviews to establish credibility is a pillar of marketing for paving contractors. And it's more important than you might think:
That's more than enough reason to highlight reviews — word-of-mouth marketing is powerful!
With review services, you showcase your satisfied customers' own words across your digital presence. For seamless paving marketing, gather and spread those reviews in three steps:
Request reviews
Post positive reviews… everywhere
Respond to reviews – good and bad (it's even more important to respond to the bad ones)

Reviews can be your most powerful marketing tool – whether you handle them yourself or you partner with a paving marketing specialist – make sure prospects and customers can see your reviews.
[Related: How To Ask Your Customers for Reviews]
4. Reputation Management That Protects Your Business
Your company's online reputation can mean the difference between earning new (and keeping current) customers!
It's reviews, and star ratings, and a lot more — it's your whole digital first impression. Your asphalt paving marketing needs consistency for your company to stay sharp and outshine the competition. That starts the minute a customer spots your business listing, website, social account, social ad — anything with your name on it.
If controlling EVERYTHING someone might see about you online seems like it takes a lot of time and effort, it does. But with reputation management, you can take control of that pivotal first impression:
Maintaining consistent info across digital channels
Keeping an eye on the competition
Adding and updating customer reviews
Responding to and mitigating any negative reviews

Protect that all-powerful first impression – too often. Especially online, you don't get anything more.
[Related: 8 Ways to Deal With Negative Business Reviews]
Avoid Bumps in the Road to Effective Marketing
At Hibu, we offer comprehensive solutions that work together to maximize results. With one-on-one service and custom pricing, let us streamline your asphalt paving marketing to get you real results.
From placing social, search, and display ads to maximizing your marketing to automating emails, we're happy to do the heavy lifting when it comes to marketing your paving company. Meanwhile, you get deep insights and watch your business thrive.
Call us at (877) 237-6120 or complete our Get Started form for a free consultation!