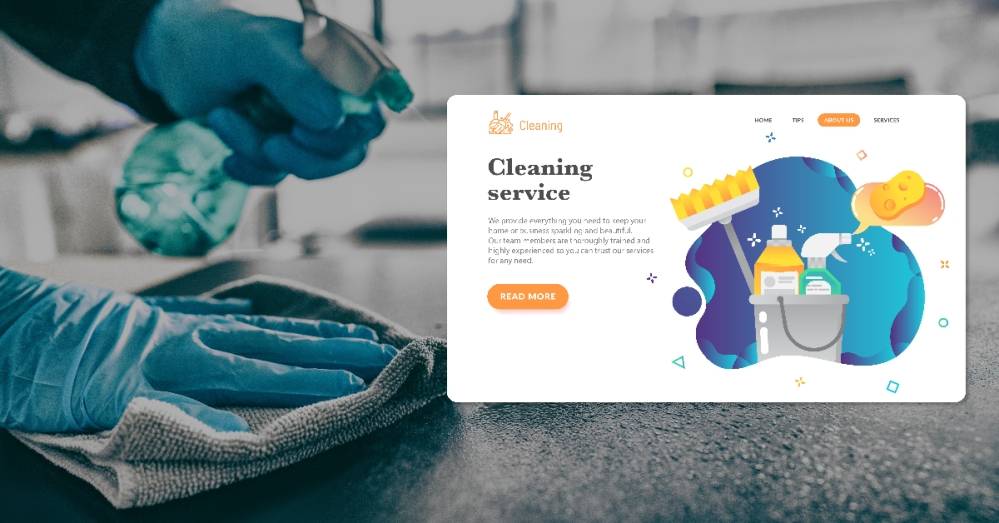 5 Ideas for Cleaning Service Websites
Let's face it — few people truly enjoy cleaning. That's why your cleaning business provides a valuable service. You have the time (and motivation) to polish places that are out of reach, or that your clients simply ran out of time to clean themselves. And your digital marketing can genuinely showcase that attention to detail — the best house cleaning websites certainly do.
Let's take a look at how to make your cleaning services website stand out from your competitors and rank highly in search results.
[Related: Today's Website: Free Guide for Small Businesses]
1) Show Off Your Cleaning Services with Photos and Videos
The old saying is especially true for your cleaning business — a picture is worth a thousand words. So when you want to showcase how thorough your cleaning services are, using pictures and videos is one of the best ways to do it.
For starters, take a look at the cleaning websites of your main competitors. We bet you'll find a common thread: tons of crisp photos and high-quality videos.
With that in mind, document your cleaning business's outstanding work. That might mean difficult projects, super-detailed tasks or run-of-the-mill jobs. One way or another, your clients want to see what you're capable of handling.
Then, highlight those cleaning projects on your cleaning services website. Remember that clients should be able to find and view your photos and videos easily – starting with making sure they load lightning-fast on desktop and mobile.
Ultimately, you want to use media to show potential clients what you do...instead of just telling them with the words on your site.
[Related: Check Your Mobile Website Design in 5 Seconds]
2) Make Sure Your Website Design is Clean and Uncluttered
Overall, website design is a tricky task — that's the main reason we recommended not doing it yourself. Hundreds of variables contribute to how your site looks and performs, from its basic layout to behind-the-scenes code, and that's a lot to manage on top of your day job.
Even the most seemingly small elements in your site design can make a big difference in how clients perceive your cleaning business. For example, a complementary color scheme is more important than you might think — it influences how clients feel while browsing.
With that in mind, less is usually more when it comes to website design. It's a common mistake to think that more info leads to more traffic and makes better cleaning websites.
Cluttered pages can lead to fewer clicks, and clients are more likely to look for the Back button when a site's too busy visually. So think about going for an understated, organized look that implies order and cleanliness (exactly what your business delivers).
Note: Crammed-in page elements also mean slower page-loading times, and that can be a serious issue for your site visitors and for your search ranking. Studies show that the first five seconds after clicking a URL can influence whether clients stick around or leave your site. — and a site that doesn't load right away doesn't help.
[Related: 5 Tips for Good Small Business Website Design]
3) Use Engaging and Optimized Text
Let's say you've settled on a tidy, aesthetically pleasing and easy-to-use cleaning company website design. Now you need to think of your site's text — every word on every page matters.
The content of cleaning service websites needs to engage clients. Like visual design, content — that is, pretty much any text on your cleaning website — makes a world of difference.
From the basics your site visitors need to know (like your core services and contact info) to content that search engines are looking for, put careful thought into your cleaning website content. Clients should know:
What you do
What sets you apart from your competitors
How to get in touch with you (and hire you!)

That's not to say you can't have fun with an engaging website! Clients usually like a business that doesn't take itself too seriously, or one that at least seems conversational and approachable. Integrating interesting, informative text that also ups your search ranking via SEO equals hitting the sweet spot.
But again, that's challenging to pull off by yourself — so don't go it alone. Digital marketing specialists can lay out your cleaning business website's services while creating engaging, optimized text. Together, you'll catch clients' attention.
[Related: 5 Things You Need To Know About Writing a Website]
4) Spotlight Your Staff Members and Their Experience
As a cleaning company, your staff members are inside clients' homes and businesses. And those are personal, private spaces they'll be welcomed into. Ultimately, clients appreciate seeing the faces of the folks who are routinely in those areas.
So creating thoughtful, detailed staff bios helps your cleaning company establish accountability and credibility. Trust us — personalization goes a long way.
Plus, this "Staff" part of your website combines other important cleaning company website design elements. Staff photos add visual impact (design), and brief bios add engaging text (content).
You could even have special photo and/or video gallery for each employee's expert handiwork! (again, with their permission.)
[Related: The Smart Business Owner's Guide to Social Media]
5) Place Key Information Where Clients Can Find It
Finally, all these ideas need to come together in a precise, thoughtful layout that's usable for your clients.
An usable site guarantees that clients can find key info at a glance, and it's a must if you expect your site to generate leads. We touched on this earlier, but some information, like your company name and logo, should be on each page.
Cleaning websites must make it as easy as possible for clients to find:
Your contact information (phone number, email address, etc.)
Your service area
Your hours of operation
The services you provide (with prices, if possible)
Discounts, deals and specials
Links to your social media accounts
Your star ratings, reviews and testimonials

Note: At a minimum, the same information that's in your online business listings should be on your cleaning services website. And make sure that information matches everywhere online!
[Related: Small Business Digital Marketing 101]
Contact Hibu for Crisp Cleaning Service Website Design
At Hibu, we like to think the best cleaning websites are the ones we build for our clients like you.
Take a few minutes to take a virtual tour of a Hibu Smart Site. And when you're ready to blast your competitors out of the water, get in touch and partner with us.
Give us a call at 877-237-6120 or fill out our Get Started form. One of our specialists will be in touch for a free consultation.