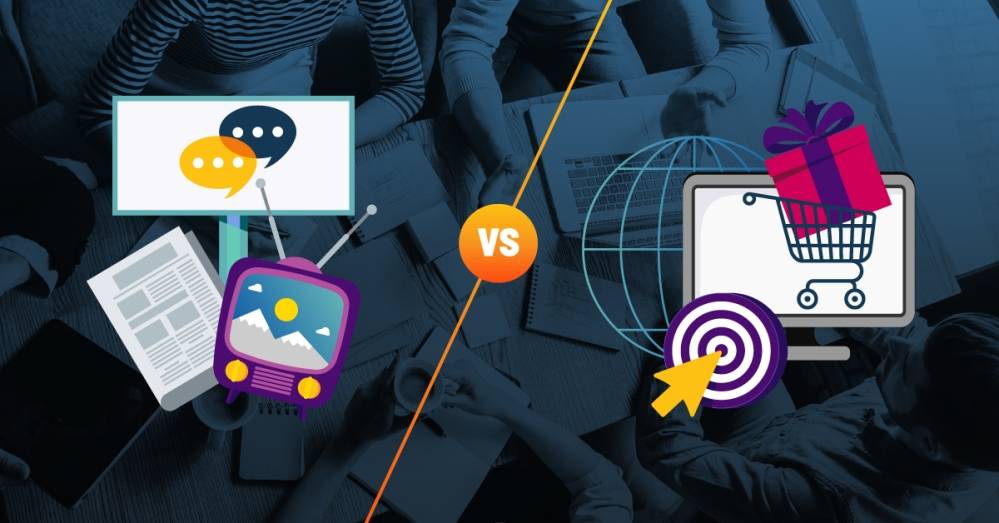 Online vs Offline Marketing — How Each Impacts Your Local Business
As a business owner, you're often faced with difficult decisions that can have a significant impact on your company's ability to grow. One decision many owners struggle with is the choice between offline and online marketing.
All local businesses have a set marketing budget, so you can't just promote your business everywhere. No one can. But how and where you market your company can have a huge impact on whether customers choose to buy from you or a competitor, so it's imperative to put effort into learning more about which is right for your business.
When trying to gain and retain customers' attention, every second counts. Studies show it may take customers as little as three seconds to decide whether they wish to do business with your company. According to the Association of Psychological Science (APS), on average, it only takes a person seven seconds to form an impression of your brand. Because of this, the wrong marketing decision may end up costing you potential business in a matter of moments.
While marketing practices continue to evolve, it's essential to develop an understanding of these changes in order to make the most informed decisions possible. Let's look at the differences between offline and online marketing, as well as the impact they can have on your business. Armed with this information, you can make better decisions about how to market your brand.

Online Marketing
Online marketing has transformed substantially in recent years. What was once only seen as just having a website has transformed into a multi-faceted and attention-grabbing approach that can establish your brand, drive sales, and build customer loyalty.
As online marketing continues to grow, the impact it can have on a company does as well. Understanding how to effectively utilize it for your business can help it grow beyond your wildest expectations.
Search Engine Optimization (SEO)
SEO marketing has developed in recent years to allow businesses the opportunity to stand apart from their competitors on online platforms. With proper SEO strategies in place, companies can gain traction in organic search results and a significant amount of traffic to their websites.
By using SEO marketing strategies for your business, you can help get your site to appear across the search engine and bring in a wave of new consumers you would never see if you relied solely on offline marketing strategies.
Social Media Marketing
Social media marketing has also become a major component in how businesses are able to develop a consistent consumer base. According to a 2023 report:
Over 90% of U.S. marketers at companies with 100+ employees are expected to use social media as part of their marketing strategy

More than two-thirds of consumers expect brands to maintain a social media presence

38% of respondents say they've purchased an item from a business after seeing the brand's social media advertisement

Looking at these numbers, it's clear that effective social media marketing can promote products, cultivate customer relationships, and boost sales in major ways.
According to LinkedIn, 78% of businesses that use social media platforms to make sales outsell peers who don't use social media. With an effective social media strategy, your business can leverage the power of platforms like Facebook, Instagram, and LinkedIn to boost brand awareness, traffic, and sales. It will also make interacting with customers and learning about their wants and needs simpler.
Offline Marketing
As technology continues to grow, offline marketing still manages to be a popular way to gain the attention of customers. Billboards, TV commercials, and mailed advertisements can keep customers aware of your brand. They also can play a major role in helping consumers decide which businesses to support.
According to Fast Company, approximately 65% of people are visual learners, making visual content one of the most effective ways to convey a message and gain attention. This helps to highlight how impactful this form of marketing can be for businesses.
Another benefit of offline marketing is the effect it can have in your local area. Your company's signage – and even the physical location of the business – act as a constant reminder for people passing by. While your organization will require additional marketing in order to fully develop a reliable consumer base, having a presence in the local community can help you grab people's attention.
However, offline marketing has its limitations. For example, people outside the immediate area of the advertisements may remain unaware of your company. Even if you pay to have advertisements placed in a variety of areas, you're limited in the amount of people you're able to reach.
Additionally, this form of marketing doesn't provide a chance for the business to directly interact with the consumers. The information is set and cannot be immediately altered after customer feedback. This lack of interaction may keep you from understanding your customer's pain points or their response to your offerings. Without this information, an organization can't grow to match the desires of its consumers. Moreover, customers are unable to obtain additional information unless they put in the effort to find it themselves. In today's age of advancing technology, relying solely on offline marketing may cause your business to miss a large part of your customer base and cause you to fall behind your competition.
Get the Online Marketing Expertise Your Business Needs
Understanding the differences between online and offline marketing is just the beginning. While many businesses employ a combination of both, it's clear that online marketing is essential in our tech-driven world. Neither offline nor online marketing are foolproof. Without proper strategies in place, it can be hard for your business to stand apart from the crowd. This is especially true in most major cities where it's highly likely that there will be multiple businesses offering services or products that are like yours.
Additionally, maintaining your brand's social media presence – creating and sharing valuable content, keeping up with customer comments and messages, and running ads on a variety of platforms – is a full-time job. Without help from an experienced digital marketing provider, you may soon find you're in over your head – struggling to recover your ROI or your brand reputation.
As online marketing continues to change and transform, it's important to make sure your business is keeping up with these changes. By working with a digital marketing solutions partner, you can ensure you're embracing the most up-to-date online marketing options to improve your online presence and maximize your results.
For the best results, you'll want to work with a provider you can trust. To learn more about Hibu can help you get the most from your digital marketing, contact us today at 877-237-6120 or request your no-obligation consultation.