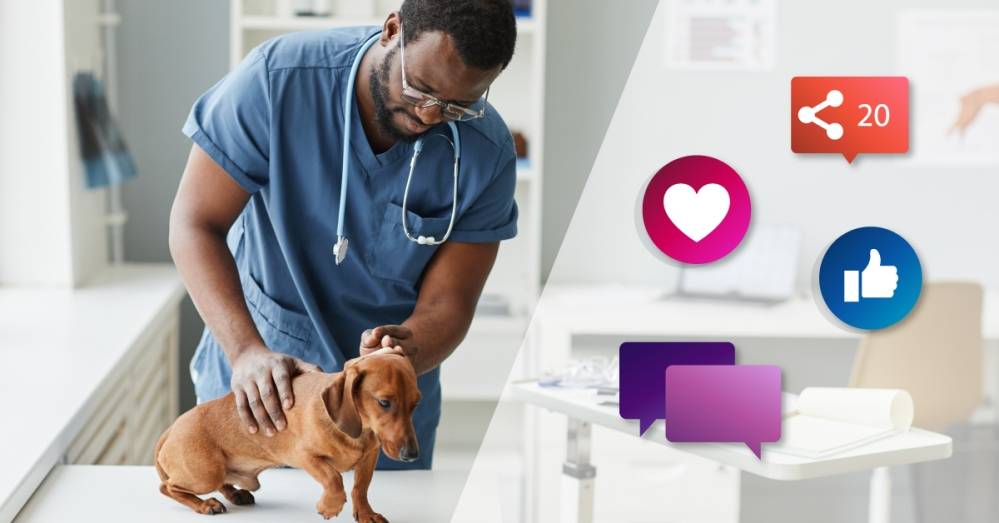 4 Creative Veterinary Social Media Ideas
Who doesn't love showing off their pets on social media? And anyone who has a beloved fur baby knows that your veterinary services are invaluable. Pets are like family!
Social media and pets — it really is the perfect social media marketing combo for a veterinary clinic.
That means you have golden opportunities to highlight your expertise and engage with followers. Plus, veterinary social media accounts have all the tools you need to delight, entertain and advertise your services.
That said, you might feel stuck with the same-old promos and standard updates. No worries — here are four fun veterinary social media post ideas to kick-start your creative side.
1) Share Inspirational Pet Stories, Photos and Videos
As you surely know, your clients are dedicated pet lovers. So they'll enjoy reading feel-good stories while gazing at fluffy faces as they learn about what you do.
That strategy's a cornerstone of veterinary social media posts. But it's also a powerful marketing strategy!
As you go throughout your day, take note of engaging stories, and take plenty of photos and videos that document daily life in your clinic. When you share well-written text and high-quality pictures, your clients get a glimpse inside your office and see the people behind the scenes.
You can also share one-of-kind client stories (with their permission, of course) via social media posts. By spotlighting clients and their unique situations, your clinic becomes warm, inviting and familiar to potential clients.
As a result, you won't simply give clients a serotonin boost — you'll showcase your capabilities while simultaneously creating credibility and trust. And clients definitely want to trust your clinic before they trust you with their pets.
[Related: The Smart Business Owner's Guide to Social Media]
2) Get in the Spirit of the Holidays
The year's chock-full of holidays that you can tailor entire social media campaigns around.
Christmas is the most obvious seasonal marketing route. Do you put up a tree at your clinic? Take photos and sprinkle them across festive veterinary social media posts! You can even make ornaments framing those sweet photos of your fuzzy (or scaly or feathery) patients.
And what about holidays that don't get as much attention — say, Presidents' Day? Posting about interesting history, like the first presidential pet, can draw clients in. Or if you have a client who dresses their pup as George Washington, you've really hit the social target.
So scour your calendar, and highlight holidays big and small on your veterinary social media accounts.
[Related: The Power of Crossposting on Social Media]
3) Dress Up With Your Patients
Yes, it may sound silly. But silly is fun, and fun draws people in, so you should definitely have fun with veterinary social media.
You might wear matching sweaters with a client's chihuahua on Instagram. Or you could don the same color scheme as the rescue tabby cat's litter on Facebook.
We know you're a highly educated professional. But you can be a professional who connects with clients through, well, a little horseplay. Remember, more likes, comments, shares and followers lead to more awareness... increased awareness leads to higher engagement... and of course, more engagement leads to more clients.
Fun veterinary social media posts can scoop up those social engagements. Hey, getting social with that hideous Christmas sweater just might be the ball that gets word-of-mouth marketing rolling. Wear it with pride!
[Related: How To Market a Small Business: Tips and More]
4) Educate While You Engage
Creativity comes in many forms, and knowledge is definitely one of them.
With a bit of careful wordsmithing, you can take your fun veterinary social media posts into the educational realm. You don't have to be a novelist — just be yourself… and use a spell-checker.
Maybe you're telling a story about a rare condition you treated. Or talking about an experience with one of your own pets. Or tackling some frequently asked questions that will educate your audience (and potentially save you from having to explain something for the thousandth time). Talking about topics you know inside and out with authority and empathy establishes trust — and clients find trust truly important.
You've hit three key bases — education, entertainment and expertise.
And that's a smart reason to start sharing true tales on veterinary social media.
[Related: 4 Reasons to Share "Curated Content" on Social]
Partner With the Veterinarian Social Media Experts at Hibu
Staying active and engaging with clients via veterinary social media marketing is crucial to your clinic's social presence. But reaching the right clients with targeted social ads – not to mention the budgeting, ad creative and management behind those ads – takes full-time dedication that you probably don't have.
A partner like Hibu will design and target Facebook and Instagram ads that reach the right clients in the right places. With social ads, you'll go beyond just sharing fun veterinary social media posts to boost awareness... drive website traffic... and generate leads.
Give us a call at 877-237-6120 or fill out our get started form. One of our digital marketing specialists will be in touch for a free, no-obligation consultation.