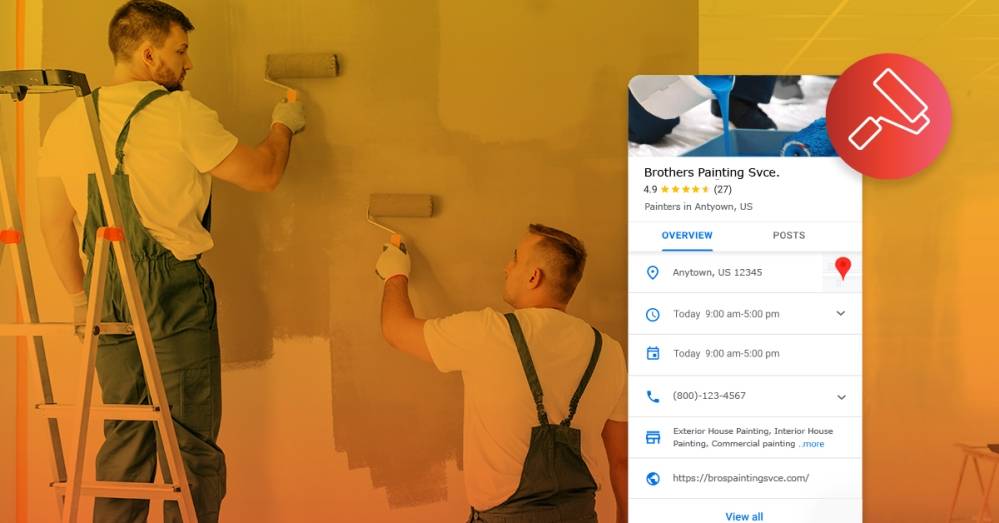 A Guide to Google Business Profile for Painters
Formerly known as Google My Business, Google Business Profile is one of the easiest and most effective ways to reach local customers. As long as you know the basic facts about your business, it doesn't take long to get your Google Business Profile for painters up and running.
To help you get started, we've put together this quick guide.
[Related: The Small Business Guide to Lead Generation]
What Is a Google Business Profile, and Why Is Having One Important?

A Google Business Profile is a free, formal online listing that cements your business in Google search results, Google Maps and other crucial Google channels.
With a quick Google search for your business name, customers know where to find you and how to contact you. They can also check out your painting services, browse your reviews and give you a call if they like what they see.
A Google Business Profile can also boost traffic to your website, garner customers' attention and establish trust — when it's set up correctly (more on that later).
Once you claim your business and enter key contact information, you can then verify your business. It's a fantastic digital marketing strategy (and one in a long list of business-boosting solutions).
You can check out Google's full guidelines for further information, but we've covered the core elements below.
[Related: 5 Tactics to Increase Your Local Business Visibility]
What to Include in Your Google Business Profile for Painters

At a minimum, your Google Business Profile must include the basics about your painting business:
Your business name
Your phone number
Your address and/or the area you serve

But ideally, you should add more detail that gives customers a quick but comprehensive snapshotof your painting business. The more information they have at their fingertips, the greater your chances are of gaining new customers.
Consider adding this information:
A brief but appealing description of your business with specific keywords
Your hours of operation
Your website URL
Basic business category (home repair, home maintenance, etc.)
Your social media handles
Price range(s)
Services and/or products offered
Photos of your business's exterior and interior, plus photos of your handiwork
Any updates, like temporary closures, holidays or other times you aren't available
Answers to any customer questions (this is an ongoing process)
Positive customer reviews
Per Google, when you have a complete Google Business Profile, customers are 2.7 times more likely to think your business is reputable… 70% more likely to step in the door… and 50% more likely to seriously consider using your services.
Overall, having someone create a Google Business Profile for your painting business is a fantastic first step on the road to integrated digital marketing.
[Related: Marketing Solutions That Work Better Together]
What to Watch Out For

Here's the bad news — outdated, incorrect or autogenerated business profiles and listings float around the web. You can check all your business listings for yourself.
In one survey, 95% of participants said they'd found incorrect business info online when they searched. And in another survey, 73% of participants noted they lost trust in a business when they ran across inaccurate information.
That's a massive blow to your bottom line… and a blow to your business's reputation.
So, how do you fix it? When you partner with a digital marketing company like Hibu, we'll correct, protect and control your painting business's profiles and listings across the web. It's a critical piece of the digital marketing puzzle that you can't afford to neglect.
Plus, customer reviews typically accompany a Google Business Profile. And because customers trust other customers, those reviews and your reputation are key to gaining or losing new and repeat business.
A digital marketing company can request and share positive reviews for you, which can increase your star rating and earn customers' trust. Then your painting business can see growth from increased word of mouth — and more revenue as a result.
[Related: Think Your Small Business Isn't Online? Think Again]
Master Your Google Business Profile for Painters With Hibu

At Hibu, we know the importance of Google Business Profiles. Thanks to our experience, we're experts at synchronizing your business information to maximize its digital marketing potential.
We'll regularly update your Google Business Profile so it's one less task on your to-do list. Plus, we'll optimize and streamline your official business profiles / listings across other major search engines, like Yahoo and Bing.
We'll also fix any incorrect Google Business Profile data and give you insights on what's helping (or hurting) your business with our Hibu Listings Management tool. But that's just the beginning.
Contact us today to stand out among competitors… use your profile for marketing… and do more to grow your online presence. Call 877-237-6120 or complete our Get Started form, and one of our digital marketing specialists will get in touch!