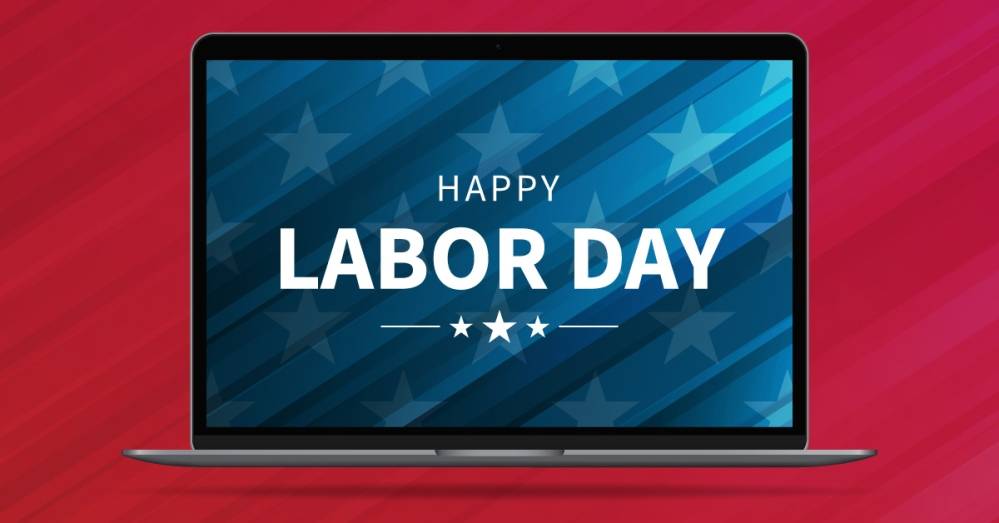 Labor Day, Your Small Business, and Why You Shouldn't Wait to Start Your Year-End Marketing
Labor Day is here – and although Summer is (unofficially) over, there's no rest for small business owners! Not that you don't deserve some time off, but your business marketing needs to keep working hard… in fact, after Labor Day might be exactly when your marketing needs to kick into high gear.
To that end, let's take a look at the history of this holiday, as well as how small businesses can make the most of their year-end marketing, starting this Labor Day.
A Brief History of Labor Day in the United States
At the height of the Industrial Revolution in the late 1800s, according to History.com, the average worker in the U.S. was forced to work 12-hour days (for six or seven days a week!) just to get by. Child labor was also incredibly common, with unsafe and unsanitary conditions posing significant dangers for workers as young as five years old.
It was the resurgence of labor unions, which had been around for about a century, that started to bring about change. But that change didn't come easy, with many demonstrations and strikes turning violent. Eventually, boycotts and rallies convinced employers to renegotiate hours, wages and working conditions.
Labor Day was an official holiday in 24 states before it was finally signed into federal law by President Grover Cleveland in June of 1894. Now, on the first Monday of September each year, we celebrate Labor Day and the sacrifices and successes of the American worker. The holiday also signals the unofficial end of summer – and, ironically, serves as a major sales promotion for all sorts of businesses across the country.
Labor Day is an Opportunity for Small Businesses
While Labor Day reminds us to thank our local laborers and (possibly) enjoy some well-deserved time off, it's also a huge opportunity for small businesses to build on their success… and kick-off their big end-of-year push.
Because this holiday closes out the summer season, many businesses will run Labor Day sales to move discounted Summer merchandise and make room for Fall and Winter inventory – or offer promotions on Fall and Winter services to get consumers thinking ahead. Even companies that don't have seasonal offerings can run Labor Day promotional campaigns to entice customers to stop in or shop online.
Not only will many appliance, outdoor and recreational businesses offer deep discounts during this time, but stores that carry back-to-school staples will often get in on the action. The 2022 National Retail Federation survey found that 64% of Americans were hoping to score some deals on back-to-school items, so it's worth considering whether your small business could benefit from running a sale at the end of August or very beginning of September. In fact, since so many consumers are looking for back-to-school specials, it could pay to have a promotion even if you don't offer back-to-school products or services.
Encourage Customers to Shop Small with Your Online Business Listings
At a time when 46% of all Google searches are seeking local information, improving your local search visibility during Labor Day is paramount. HubSpot data shows that 72% of consumers who performed a local search visited a store within 5 miles of their location, while 88% of searches for local businesses performed on mobile devices resulted in either a call or an in-person visit to the business within just 24 hours.
That shows just how essential online listings management is for locally owned businesses. Our Hibu Listings service makes sure that your business information is accurate across all platforms — and that it's easy for customers to find when they search (especially on mobile). When your online business listings are managed properly, you'll remove barriers for your customers – making it even easier for them to purchase from you.
Whether your customers are from your community or just in town for the long weekend, having accurate and optimized business listings can help them find you right away.
[Related: What Your Online Listings Tell Your Customers]
Build Trust with Reviews This Labor Day
It might surprise you to learn that risk aversion is often more important to customers than cost savings. Yes, it's great to save money, but most of us would rather be confident that we're buying from a great business that sells quality products.
That's why small businesses also need to focus on their online reviews this Labor Day. Online review management has become an integral part of running a small business in 2022, as we know that almost 80% of shoppers trust online reviews just as much as personal recommendations. The more online reviews your business has, the easier it is to build trust with new customers.
But building your online perception takes time and effort. When you're tasked with the day-to-day responsibilities of actually running your business, it's tough to find the resources to build your brand reputation. With Hibu Reviews, it's easy to gather customer feedback and maximize the impact of the reviews you receive.
When you have real reviews from real customers, your marketing dollars will go further. You'll already have built trust with buyers, so your marketing and advertising campaigns will be that much more effective.

[Related: The Importance of Online Reviews]

Reach Labor Day Buyers with Display and Social Ads
Display advertising and social media marketing can help you reach your target audience when time isn't necessarily on your side. In fact, display and social ads can start generating clicks and conversions within a matter of hours.
That's great news if you're running a special Labor Day or end-of-summer sales promotion. Although it takes time and know-how to build these ad campaigns (which is where a digital marketing partner like Hibu comes in!), you won't have to wait long to start seeing results. Time-sensitive ad campaigns can drive traffic to your website and boost interest in your brand within a relatively short period.
Although Labor Day is marked with a day off of work, that doesn't mean buyers are off their phones or offline. The holiday weekend is a great time to move seasonal inventory or you reach customers who are already out shopping in your area with ads on their favorite sites, social media and apps.
But remember: Labor Day isn't the end-all, be-all for your small business marketing. In fact, it's only the beginning of the (year's) end.

[Related: Where You Should Have Ads Online]

Why Start Your Year-End Marketing by Labor Day?
After the Labor Day weekend has passed, you'll need to look to the future if you want your marketing and advertising efforts to succeed.
Labor Day and back-to-school season go hand-in-hand, and don't forget what's right around the corner:
Halloween
Thanksgiving
Black Friday
Small Business Saturday
Cyber Monday
…and of course Christmas, Hannukah, Kwanzaa and the New Year

With so many sales-heavy holidays on the horizon, it pays to be proactive with your marketing. Generally speaking, you'll want to start promoting seasonal sales about 3 weeks to 1 month ahead of time. For instance, you'll want to launch Halloween-related promotions in September, while Thanksgiving shopping starts to see an uptick right at the beginning of November. Customers start to look for Christmas deals immediately after Thanksgiving, so don't dawdle.
Take this time to plan out the rest of your marketing efforts for the year. Even if it's too late to promote your Labor Day sales, it's never too early to get everything set for Black Friday or Small Business Saturday! Seasonal marketing campaigns always require a bit of leeway, so you won't want to wait until the last minute to get your plan in gear.
In addition to any seasonal campaigns you launch, you'll want to continue making progress with your other marketing tasks.
Make sure your website details any seasonal specials (or changes in service – we see you, landscapers switching to snow removal)
Update your online listings reflect seasonal offerings, relevant updates, and holiday hours of operation
Keep those online reviews coming in! By the time most buyers are doing the bulk of their holiday shopping, you'll want your brand reputation to be truly stellar

If you're able to use Labor Day as the kicking-off point for your year-end marketing, you'll come out on top in 2023.

[Related: 5 Things to Do This Summer to Maximize Winter Revenue]

Hibu Salutes Small Businesses This Labor Day (and Every Day!)
With 31.7 million small businesses currently operating throughout the United States, there's no denying that small business owners represent the heart and soul of the American workforce. And while the last few years have been undoubtedly difficult for millions of business owners, we're forever impressed by their determination – not only to survive, but to thrive.
On Labor Day, we celebrate the outstanding achievements of small businesses across the nation and recognize the immense sacrifices of the American laborers who have shaped our economy and fought for our rights in the workplace. At Hibu, we've made it our mission to support small businesses in achieving their goals. And there's no better time to start than today. To learn more, call us today at 877-237-6120 or request your no-obligation consultation.