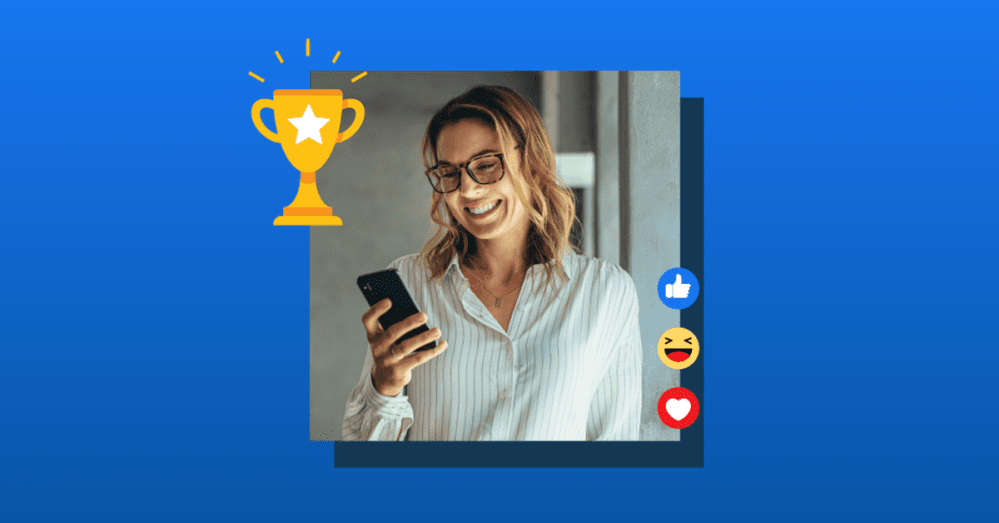 How to use Facebook contests for small business marketing
One marketing strategy that is guaranteed to get you some engagement is a contest run through your business's Facebook Page. We all know how important social media is for your small business, and with 1.79 billion daily active users, Facebook provides a huge opportunity. Facebook contests are a great way to interact with your customers, promote a new product, gather user-generated content and more. But how do you create and run a Facebook contest successfully?
Determining your specific marketing goals
Before you create your contest, you need to focus on what your small business wants to gain from running this type of marketing strategy. A social media contest has the ability to do multiple things for your business, including:
Increase potential customers
Raise business awareness
Spark engagement in a new, different way
Build your email list
Promote a new product, service sale or event
Gather helpful information about your customers
Increase sales
Once you pinpoint your specific goal or goals, you can develop your specific contest strategy.
Choosing the right prize
Why does anyone enter a contest anyway? Yes, the recognition and social status of being a winner is great, but many people are entering contests with their eye on the prize. Deciding what type of prize you'll award to your contest winner or winners should be high up on your priority list. The prize should be something that aligns with the interests of your target audience (and no, it doesn't have to be expensive!)
For example:
A bakery could give away a special cookie decorating kit
A clothing and accessory boutique could give away a purse in their new seasonal line
An auto shop could give away a free oil change or tire rotation
A restaurant could give away a romantic dinner for two
Choosing something that is relevant to your business will increase the likelihood of quality entries from individuals who are actually interested in becoming (or continuing to be) loyal customers.
[Related: The Power of Crossposting on Social Media]
Deciding on the types of contests
What type of contest you run will depend on your goal. Do you want to spread brand awareness? Want to spark engagement by showing off your new product in real people's homes? Maybe you need a new label designed, and want to reach out to the public for ideas. The following are just a few types of contests you can run on Facebook:
Photo contest
Have your participants send in a photo of them using your product, or enjoying your service, and choose the best one. If you go this route, be sure to share the entries as you receive them to spark more engagement with your audience.
User-generated art
If you're trying to figure out a label design for your new bottled beer, or a made-over logo for your salon, run a contest calling for art. Calling for UGC (user-generated content) will not only make your customers feel acknowledged and important, but will give you some fresh and inspirational ideas for your visual marketing. Similar to the photo contest, be sure and share the entries as you receive them.
Like or Comment to win
These are the most simple of the Facebook contests. Have a main contest post or photo, and ask participants to either 'like' the post to enter their name in a drawing, or comment on the post as an entry. If you're looking for a more creative contest with similar guidelines, you can ask questions in your post and choose the user who comments with the best answer.
Promoting your Facebook contest
Once you've figured out your goals, picked out a prize, and decided on what type of contest you're going to run, the next step is to get those entries. Promote your contest as if you were promoting any other event or special sale online.
Create a Rules & Regulations landing page
Create a landing page with all of the contests rules, regulations, and deadlines. Even if you're running your contest specifically through Facebook, a landing page on your website with thorough instructions could help people answer any questions they may have while also keeping them around your site.
Use Facebook ads
Promote your contest on your Facebook Page with Facebook advertisements. You can use Facebook ads about your contest to target specific demographics and track your ad performance through Facebook's automatically generated reports.
Come up with a hashtag
Another way of promoting your Facebook contest is to create a designated hashtag. Make sure your hashtag is specific enough to be uniquely yours, but simple enough to easily remember. This is a great way to track all posts made about and for your contest online.
Picking a winner
Once the contest is finished and the winner is chosen, be sure to publicly announce the results and thank all participants.
If you're looking to gain more followers, crowdsource ideas for your next big product, or simply bring some more excitement into your social media page, running a Facebook contest is the way to do it. But sometimes, managing a small business's social media presence can be overwhelming — which is where Hibu comes in.
Hibu can help you with everything from setting up your small business's Facebook Page to running targeted ads and more. Contact us today to get started.