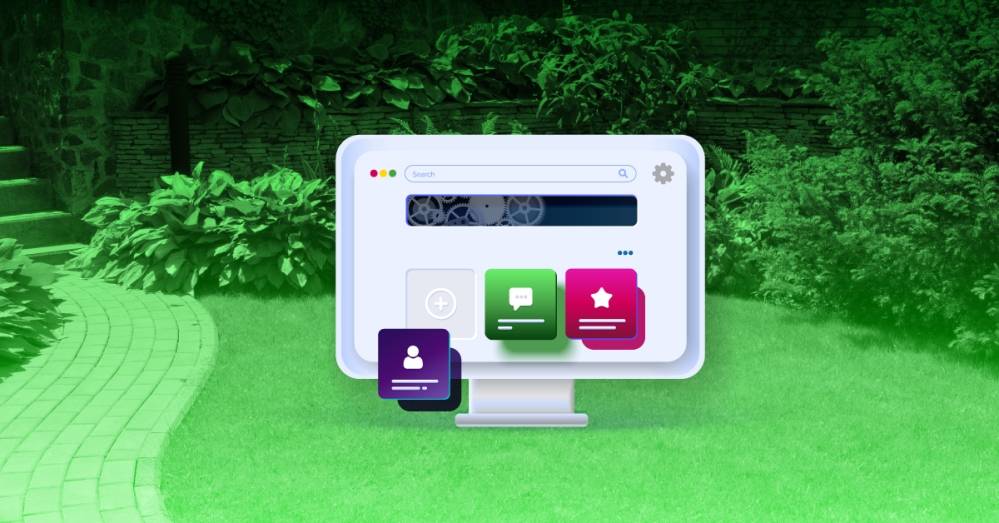 6 Landscaping Website Design Tips
If you work in landscaping, you have an eye for what works when it comes to well-manicured lawns, perfectly pruned shrubbery and gorgeous gardens.
But what about websites?
Having a wealth of knowledge in landscape design is a lot different than knowing how to craft a successful business website. And website design is crucial to grabbing online visitors' interest and turning them into real-life loyal, happy customers.
Let's look at just a few of the things that should be part of a successful website design for landscapers.
[Related: Online Marketing for Landscapers - 5 Affordable Options]

1) Mobile-Friendly Design
Just like in landscaping, function needs to lead design. Recent statistics report that over 60% of website traffic comes from mobile devices. That's a 75% increase from only eight years ago — a huge difference.
Needless to say, your landscaping website absolutely must be mobile-friendly. That includes voice search capabilities, too.
Your landscaping website design should be optimized to be visually appealing from a smartphone or tablet. But that's not all — more importantly, using your site on one of those devices should be easy. That means simple things like making sure visitors don't have to "pinch and zoom" to read the text, or scroll side to side to see the full width of your site.
Ultimately, a mobile-friendly website lets visitors interact with your website successfully no matter what device they're using, and achieve the same goals – getting information about your landscaping business, finding your phone number, reading your reviews, and anything else they could do while visiting your site on a computer.
Plus, search engine algorithms prioritize mobile-friendly sites, so a mobile-friendly landscaping website design is important if you want a high SEO ranking (and we know you do).
[Related: 5 Tips for Good Small Business Website Design]

2) Intuitive Navigation
With website design, as with landscaping, it's important to anticipate how a visitor will engage with the space. That's why navigation is a huge part of website design.
For example, if a potential customer visits your landscaping website looking for the types of services you offer and isn't sure where to click, they won't waste their time wading through an overcrowded navigation bar.
Simply put, they're likely to leave your site – and maybe go straight to one of your competitors.
Bad website navigation is one of the biggest reasons for a low conversion rates and a high bounce rates. According to a 2019 Small Business Trends survey, 94% of respondents said website navigation is a top priority.
An easy-to-navigate landscape website design will make sure visitors can find what they're looking for in a snap, and that convenience will keep them coming back.
[Related: Top Tips for Your Small Business Marketing]

3) Visitor Value
One of the top things landscaping websites should do is provide value.
Let's say your website has a few nice photos, your address, your phone number, and a list of your services. It's easy to think that's all you need.
But effective landscaping website design also needs to offer visitors true value to boost engagement... establish authority in your field... and encourage site visitors to become new customers.
While value can be subjective, there are some basic things your site must include (and you'll hear more about these later on too!):
Well-written, unique content

Original photography (preferably pictures of your work!)

Reviews from past customers

You should also consider a list of prices... videos... a social media feed... and even a blog (if you have time to create blog posts, or a partner who will do it for you).
All of these can make your landscaping website a valuable destination for local customers, whether they're visiting for the first time or coming back again and again.
[Related: Today's Website: Free Guide for Small Businesses]
4) Customer Reviews
Word-of-mouth marketing is one of the primary ways most local businesses attract new customers.
In addition to learning about your landscaping company through your website content, many people will want to know what your current customers have to say about your services.
In fact, 72% of consumers say reading positive testimonials and reviews increases their trust in a business. If that's not enough to convince you, 88% say they trust online reviews as much as recommendations from friends and family.
For your potential customers, testimonials from previous customers provide invaluable insight. They can really amplify trust (and conversions), especially if customers easily find them on your landscape website's home page.
[Related: The Small Business Guide to Lead Generation]

5) High-Quality Images
Your landscaping website will definitely need images to show off your work. But a website shouldn't look like the camera roll on your phone.
Your site should use high-quality images to engage visitors... showcase your variety of services... and highlight some of your best jobs.
Landscaping websites should have a well-organized gallery section where customers can scroll through to see your projects. Each image should have information in the caption – including the type of service, the date and the location.
These galleries need to be accessible on both desktop and mobile devices. Otherwise, your company will look messy and unprofessional — not the kind of vibe a landscaping business should give off.
And don't stop there — you can use videos to your advantage, too. If you browse your main competitors' websites, you'll find the best landscaping websites showcase both images and video.
[Related: How To Easily Create How-to Videos for Your Customers]

6) No Complications
Within seconds of arriving at your landscaping website, visitors should have a distinct impression of what your company is all about and how to get started.
You don't want a wall of text, confusing navigation, blurry pictures or an overall messy layout to deter them.
People looking for services typically spend less than one minute on a site if it's clunky or difficult to read. Those 60 seconds are crucial.
We also know that certain elements go a long way toward keeping potential customers on your site:
Descriptive, concise content that draws visitors in, includes calls for action, and has top-notch SEO

Aesthetically pleasing images and colors

An easily searchable navigation bar

And that's just the beginning. A website can be uncomplicated and still rich with data. Just remember that simplicity doesn't equal profitability — don't fall for the DIY trap.
[Related: 5 Ways to Increase Visibility and Growth for Your Local Business]

The Grass Is Always Greener With Hibu Web Design Services for Landscapers
With regard to landscaping websites, Hibu has the experience to power your digital marketing success.
We help local landscapers like you achieve your goals — attracting visitors and turning them into repeat customers. With our one-on-one services and flexible pricing, we're ready to help your business flower and grow.
Call us at 877-237-6120, or complete our get started form. One of our digital marketing specialists will be in touch!