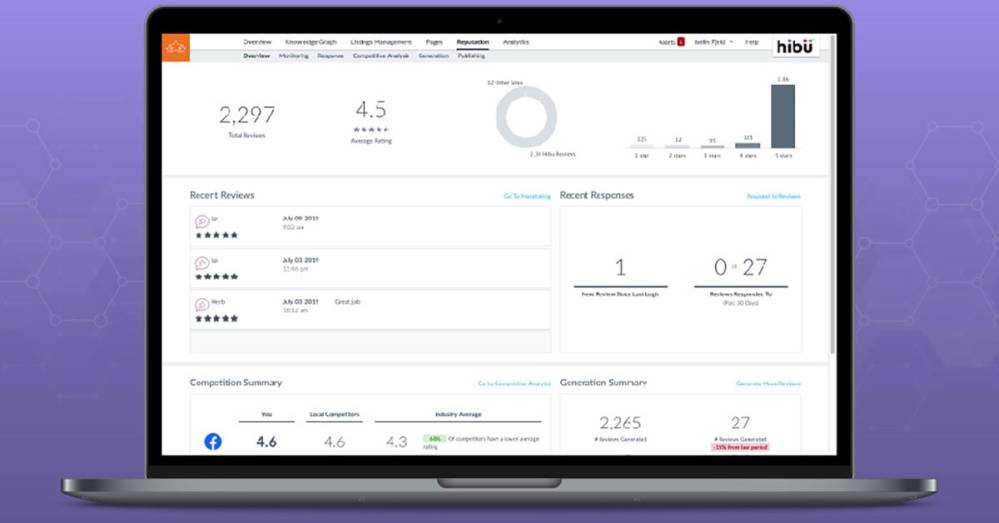 The Most Efficient Way to Manage Your Business' Reputation Online
You probably already know how important it is for your business to manage its reputation online. The information and reviews your current and potential customers come across about your business can make all the difference when it comes to choosing you over the competition. In fact, almost 90% of individuals research a company online before deciding to purchase their products or services, so a strong online reputation is not just important — you could say it's almost required to do well and be successful.
Without a way to manage your online reputation, you're playing fast and loose with one of your business' most valuable assets — the first impression it leaves on a potential customer.
In order to truly manage your reputation, you need to be able to:
Make sure the FACTS about your business, like your name, address, and phone number, are accurate and up to date on the most popular search engines, directories, apps and voice search-enabled devices
AND
Respond to the FEEDBACK, the public ratings and reviews, people are leaving on top sites like Google and Facebook

And if you're like most business owners you don't have the time to spend hours searching for yourself online, trying to find all the places you appear, submitting requests to update incorrect information and figuring out how to respond to negative reviews.
That's where Hibu Reputation comes in.
Hibu Reputation works with Hibu Reviews and Hibu Listings Management to put you in control of your digital foundation — and it's all possible from a single, simple dashboard.
From one place, you'll be able to:
Monitor your online business listings and reviews
Reach out and respond to your customers
Even see how your reputation stacks up against your competition
Keep your business information updated
80% of people say they lose faith in a local business when their online business listings show incorrect information, so make sure the facts about your business, such as your name, address, phone number, and store hours, are accurate and up to date. You can find this information on popular search engines, business directories, apps, review sites, social pages, and of course, your own website. This will help your business' legitimacy and build trust with anyone looking up your services.
Ask for positive reviews
If someone has a positive experience with your company, you want them to put it out there for others to see. Ask for positive reviews by linking to your Yelp page on your website, following up with recent customers via email, or posting on social media requesting clients to share their satisfaction.
Respond to customer feedback
Manage your online reputation by always responding to feedback, both positive and negative, via public ratings and reviews that people are leaving on different sites. Did you know that 71% of consumers change their perception of a business after seeing the business respond to a review? Be polite and engaging, and if the review is a negative one, apologize and ask what you can do to make it right and keep them as a customer.
[Related: The Complete Guide to Managing Your Online Reputation for Small Business]

Stay up to date on your competitors
By looking at your top competitors and putting yourself in the shoes of your ideal customer, you're going to find out what works and what doesn't work. Emulate the successful practices and analyze what isn't going right (or common industry problems).
If you're like most business owners, you don't have time to spend hours searching for yourself online, submitting requests to update incorrect information, figuring out how to respond to negative reviews, and researching the competition.