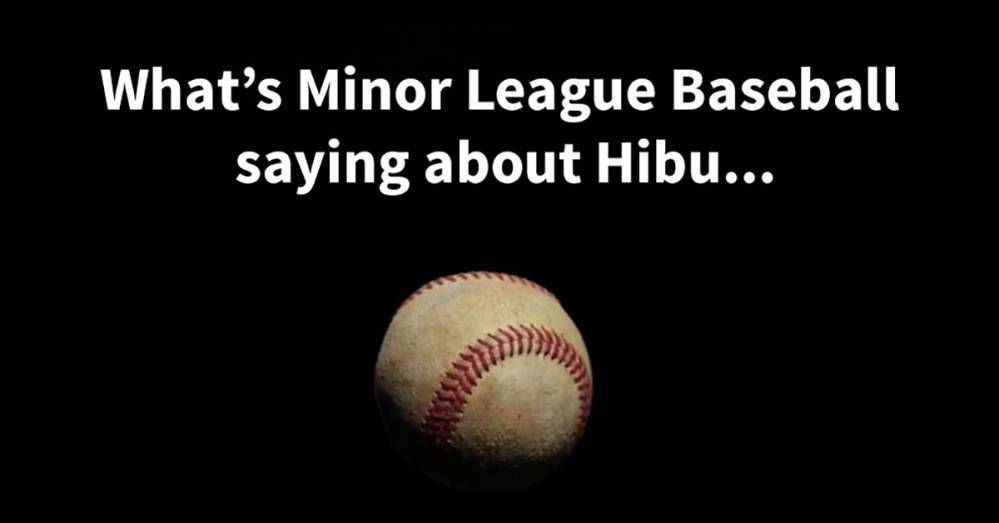 What Minor League Baseball Saying About Hibu
Hibu is helping Minor League Baseball teams score!
Along with helping small to mid-sized businesses across America, Hibu also helps dozens of Minor League Baseball teams drive revenue and increase attendance.
2019 was a very good year for MiLB attendance overall, as more than 41 million fans passed through the turnstiles of the 160 MiLB teams — and Hibu is proud to have partnered with more than a quarter of those teams to help drive those results!
Hibu's impressive MiLB line-up
Hibu partners with an impressive line-up of MiLB teams using Hibu Display ad campaigns to help drive website traffic, sell tickets and increase attendance. From the Jacksonville Jumbo Shrimp to the Hartford Yard Goats, the Lakewood Blue Claws to the Rochester Red Wings, and even the Pulaski Yankees and the Salem Red Sox, we worked closely with each team to put together a custom display advertising solution that was tailored to help them achieve their marketing goals.
Hibu's Display Ads score big!
Our display ads worked to drive fans from the sites that they were surfing to the team websites. And with more and more fans spending their time on mobile devices, the click-to-call feature on the ads drove in a lot of phone calls.
Hibu display ads also run on Facebook, giving the teams the social presence they need to reach an increasingly social fanbase.
We also utilized "pre-roll" video ads. These allowed teams to communicate with their fans through a one-on-one commercial!

But most importantly, the overall success our MiLB clients have achieved can be attributed to more than just individual ads working alone. With their ads being shown on the web's most popular sites as well as on Facebook, each campaign is built to work as a whole campaign (like a team, if you will), each one reinforcing and assisting the other to produce the best results.
Hibu and Minor League Baseball… a great example of the major-league impact you can have with the right team working together.
What's Minor League Baseball Saying About Hibu…
Obviously, we're HUGE baseball fans here at Hibu — and it looks like Minor League teams across the country are big fans of ours. Keep reading to see what just a few of the teams we've helped have to say about working with Hibu.
Jacksonville Jumbo Shrimp
"Hibu is the perfect complement to our marketing strategy of promoting upcoming home-stands. Bill and Gina are easy to work with and help create a roadmap to reach the folks in our market we want to attract to specific games and home-stands. There are a lot of similar products in the market, but Hibu stands out because of great customer service and the absolute best 'bang for your buck' value in the digital space!"
– Noel Blaha, Assistant General Manager
Rochester Red Wings
"Working with Hibu has been a true partnership which continuously gets easier and the end results continue to impress. Bill and Gina understand our goals and simultaneously provide impactful and meaningful results. We are certain that Hibu was a major factor in increasing our single game ticket sales in 2019 while posting our highest overall attendance since the 2010 season! The Red Wings look forward to working with Hibu again in the future and highly recommend them to any team considering an enhancement to their current digital marketing program."
– Rob Dermody, Director of Ticket Operations
Lakewood BlueClaws
"We've been very happy with Hibu over the last several seasons. Our 2019 campaign was the most successful yet, driving more than double our expected click totals. Additionally, a huge chunk of web traffic to web pages surrounding our holiday packages and ticket offerings came through this program. Finally, Bill and Gina are fantastic partners! By dealing with artwork change, campaign analytics, and other details in such a quick and timely manner, they make every client feel like they are number one!"
–Greg Giombarrese, Director of Communications
Portland Sea Dogs
"With nearly 2,000,000 impressions generated, Hibu once again delivered for the Sea Dogs in 2019! The Sea Dogs recorded the highest number of sold out games since 2009, I have no doubt that Hibu contributed to our success at the turnstile. The staff at Hibu works tirelessly to create a campaign that works for you. We have found the Hibu team to be extremely accommodating to our individual needs and highly recommend them."
– Chris Cameron, Vice President / Communications & Fan Experience
Pulaski Yankees
"Our partnership with Hibu is an integral component of our marketing strategy and our goal to drive more ticket sales online. In 2019, we saw an 87% increase in online ticket sales, due in large part to the success we had with our Hibu campaign. We had tremendous success when integrating Hibu's Facebook ad strategies with our existing social media marketing, and we're excited to continue our partnership with them for years to come!"
– Betsy Haugh, General Manager
Ready to launch a truly integrated digital marketing campaign? Take the first step by talking to Hibu today.