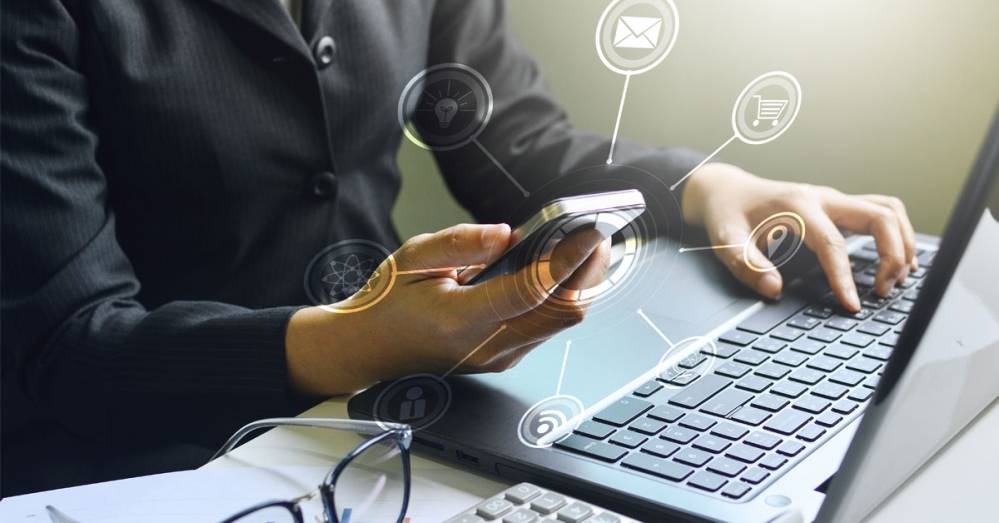 How Marketing Automation Can Save Time (and Make Money!) For Your Small Business
It's a given that running your business requires a whole lot of time and effort – but fortunately advancements in technology have made it possible for small businesses to automate many of their necessary marketing tasks. Not only will this help you and your employees redistribute resources to priority areas, but it can actually save you time and money.
What is Marketing Automation?
The term "marketing automation" really is exactly what it sounds like: it's a way of automating specific marketing tasks, using a program or service to achieve a marketing goal, rather than requiring manual action from you or an employee. Marketing automation typically involves using software to streamline your processes by removing the need for human intervention.
That doesn't mean that you'll no longer be part of the process, though. Overall direction still comes from you, and marketing automation still requires some level of oversight. However, it eliminates the monotony often associated with repetitive marketing responsibilities while reducing the potential for human error, like missing crucial communication dates.
Plus, by using the latest technology, you can significantly improve your marketing results. Let's take a closer look at things you should know about marketing automation…
Overview: Why Should You Automate Your Marketing?
If you're like most small business owners considering making the switch to a new system, you need to be convinced of its value. In other words, you probably want to know whether marketing automation can help your bottom line. The answer here is a resounding "yes!"
Marketing automation can increase efficiencies throughout your organization — and help you create a better, more personalized experience for your customers. And it does all of that while giving you back some of the time you're spending doing things manually (like asking for reviews or reminding existing customers that it's time for another visit).
The 2021 State of Marketing Automation report identifies the top 5 reasons for exploring marketing automation are:
Streamline sales and marketing efforts
Increase customer engagement
Improve the customer experience
Reduce manual tasks
Increase lead capture

And according to the 2021 Marketing Automation Report, those expectations are typically met when businesses embrace automated marketing.
Nearly 50% of marketers agree that automation software saves time and improves personalization capabilities
45% say it increases marketing return on investment (ROI) and overall efficiency
Almost 40% say that marketing automation improves lead quality

Not surprisingly, roughly 50% of businesses are now using marketing automation in some capacity. And of those who use it, 91% say it's "very important" to their overall marketing success.
The bottom line is… you have enough to worry about. Staying on top of emails and calls should be your top priority. With marketing automation, you can free up your time for the tasks that matter most (like providing great customer service) while boosting your overall profitability.
Which Types of Marketing Automation Work for Small Businesses
Keep in mind that no one is asking you to replace members of your team with robots. While automation can certainly help you personalize your marketing efforts with better data and reduce the potential for redundancies and errors, it can't take the place of staff members – who possess both the expertise and nuance needed to handle more complicated tasks.
In short, marketing automation is ideal for more repetitive responsibilities that need to be performed but that don't require a human touch. Think of marketing automation as a way to redistribute your most valuable resources – your employees — to the areas that will benefit the most from their hands-on expertise. You're not eliminating anyone's job when you automate your marketing — in fact, you'll probably improve morale because your valued employees won't be forced to spend their time on monotonous, repetitive tasks.
So how exactly can you start using marketing automation for your small business? Here are a few ideas to consider implementing first…
Build Your Customer List Automatically
One of the hardest things for any small business is building and maintaining a customer list – and doing it all in one place. Even if you're diligent about keeping track of every email address you receive…and matching it up to a customer or lead's name and number…you may have this information in multiple files, or even in a mix of digital files (like an Excel spreadsheet) and physical forms (like a notepad or even just sticky notes). Just managing your lists can be a burden, let alone using them to generate more business.
Marketing automation can help you collect and export all your customer data in one place. Imagine how easy it would be to get a list together for an email about holiday specials if you only had one file to reference. You'll still have to keep track of which contacts become customers (as well as which ones become repeat customers, and which ones you never hear from), but having all that information in one place – and knowing that future contacts will get routed to that same place – can drastically reduce missed opportunities to build connections with your customers.
Send Automated Emails and SMS Text Messages to Stay In Touch
Sometimes the only difference between a one-time customer and a loyal, reliable repeat customer…is the business remember to reach back out to them. And there are plenty of simple messages that can be set up to send automatically via emails and/or SMS text messages:
Requests for reviews
Reminders about seasonal or regularly scheduled visits
Specials and seasonal promotions

SMS text marketing is a natural fit for automation. Since open rates for text messages can climb as high as 98%, it's no wonder that consumers are reportedly 4.5 times more likely to reply to an SMS marketing message than to a marketing email in their inbox. As long as they opt in to text messages from your business, you can send them special offers and re-engage with them regularly to keep your brand top of mind.
With Hibu Assistant, you can set up automated emails and SMS texts to make sure your customers know exactly when it's time to interact with your business – and never worry about forgetting to reach out to them again.
Request Reviews Automatically
This one is so important, we're including it twice. Online reviews are crucial for both brand awareness and website traffic. In fact, 90% of customers now consult online reviews before making a purchase.
Your brand's online reviews can help you build trust and online visibility… but remembering to ask customers to share their feedback is a chore. With so many other business responsibilities to worry about, it's no wonder that review generation often falls by the wayside.
Fortunately, review generation and management can easily be automated. With Hibu Assistant, for example, we'll automatically request feedback from your customers and encourage them to share their thoughts on the most popular platforms. When you receive a new review, whether it's positive or negative, you'll be notified right away so you can respond accordingly. And because your reviews will automatically be published on your website, you'll have immediate social proof for the next person who considers choosing your business.
Ready to Start Automating? Hibu Assistant makes it easy.
Hibu Assistant can help you start automating your marketing. From email and text message marketing to online review management, we're here to make marketing your small business even easier. To learn more, call us today at 877-237-6120 or request your no-obligation consultation.