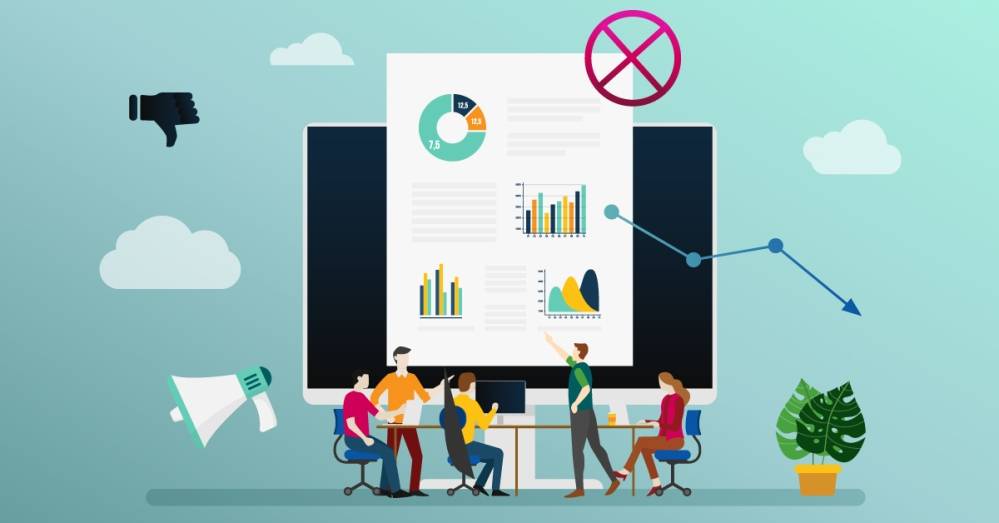 Costly Marketing Mistakes Your Local Business Could Be Making
As a business owner, you know that your bottom line matters. And while we all know the old saying — "you have to spend money to make money" — the right amount to spend isn't always clear. You've probably wondered, how much is too much? But, you should also consider what costs are you paying without realizing it? Are their costs you're missing completely in your marketing calculations?
Marketing your business is a necessity, but too often, business owners end up eating the hidden costs of marketing simply because they go undetected. To help you avoid that scenario, we're sharing some of the most common costs of marketing your business that you might not have considered – and how Hibu can help you avoid them entirely.

The Costs of Stopping and Restarting Your Marketing
Even if you think you've established a clear-cut plan for your marketing, it's easy to let your strategy fall by the wayside. It's a lot to stay on top of even under ideal circumstances – especially if you're trying to cut costs. Marketing is one of the first things to go.
But here's something we know from previous "worst case scenarios" — companies that continue to market through economic recession typically come out on top. Overall, consistency is key when marketing your business. When you stop and restart your marketing efforts every few months, you're constantly playing catch-up. As a result, you'll likely miss out on crucial opportunities to reach your target audience, which can translate to fewer leads and sales.
If your efforts are inconsistent, your results will be, too. And because your marketing budget won't go as far when you're trying to make up lost ground, you'll end up spending a lot more without as much to show for it.
Fortunately, it doesn't have to be this way. Marketing your business consistently every month will ultimately cost less than getting caught in an endless stop-and-start cycle.
The Costs of DIY Marketing Mistakes
As a business owner, you're probably accustomed to taking on all kinds of responsibilities that don't technically fall under your job description. You might even attempt to handle your own marketing and advertising. While this is works for some, it's generally not recommended. Here are a few reasons why:
Focusing on the wrong marketing channels. A multipronged marketing strategy is usually best, but that doesn't mean that every marketing channel is a good fit for your goals and your target demographic. For example, you might have heard a lot of chatter about TikTok marketing, but is that platform really the most effective option for your brand? Ask yourself… is your audience on TikTok? Just because a channel or platform is a good choice for one business…or popular with one demographic…doesn't necessarily mean you should invest marketing dollars into it. Diving head-first into one channel (and ignoring the others that are a better fit for your brand) can be an expensive learning experience.

Failing to keep up with technology. Most business owners can't be expected to be marketing experts. Not only does each channel have its own set of standards, but the world of digital marketing is ever evolving. It's a challenge for seasoned marketers to keep up! If you try to manage your SEO or PPC campaigns without a solid foundation of knowledge and attention to detail – including what Google or Facebook may have changed — you'll end up wasting valuable time and money. You might not know what's working (or what isn't), which won't help you to improve your strategy over time. There's a lot you can learn by trial and error, but do you really want to spend thousands of dollars and who knows how many hours on those lessons without seeing real results?

Misreading the analytics (or not reading them at all). What you might not realize is that a lack of knowledge won't just waste time and money now… it can also keep you from achieving your goals in the future. If you're following outdated advice or you're not addressing underlying issues, you could actually impede your ability to rank in organic search results or run online ads for your business. And even if you do manage to achieve results at first, there's no guarantee that success will last. When Google updates its algorithm, you might take two giant steps back – without having any idea of how to move forward again.
The Costs of Using Separate Vendors for Each Marketing Channel
Even reputable vendors and contractors can have their downsides… and added costs. Say you find a company to handle your social media marketing… but they don't handle SEO or display advertising. You really like this vendor and decide to hire them – but you still need someone to handle your other marketing needs.
Many small businesses try to cobble together a team of outside vendors. But using several different providers for each individual marketing channel can result in a confused strategy. Plus, you'll be responsible for communicating with each vendor and ensuring that all of their strategies are cohesive with one another. That requires an immense amount of oversight on your part, which means you'll have to take focus away from other areas of your business. You'll be tasked with managing a whole marketing team and funneling everyone's communications — talk about inefficient.
It's not entirely realistic to get a handful of marketing vendors on the same page. Each company will approach marketing in a different way. You could easily be overwhelmed, your strategy will feel convoluted, and your results will almost certainly be lower than with a single integrated campaign. In the end, that could disrupt your productivity and profitability. And those will be burdensome costs to bear.
Last but not least, there's the added monetary expense that generally comes from paying a number of different providers as opposed to just one.
How Hibu Can Keep Marketing Costs Down and Efficiency Up
With all of these hidden costs to consider, you might think there's no way to save money and market your business at the same time. But that's where Hibu comes in.
As your one-stop solution for digital marketing, we'll create a unified strategy for all of your marketing channels where the whole works better than the parts. That way, you'll know that your SEO, paid search, social media marketing, reputation management, and website are all working toward the same goals.
More importantly, we'll manage your marketing campaigns – and your marketing results – so you can stay focused on running your business. No more DIYing, in-house hiring, or freelancer vetting needed…or time and money lost focusing on the wrong channels and the wrong target audiences.
Marketing your business will always come with a cost, but those costs are completely manageable (and will pay off!) with the right digital marketing partner. To learn more, contact us today at 877-237-6120 or request your no-obligation consultation.