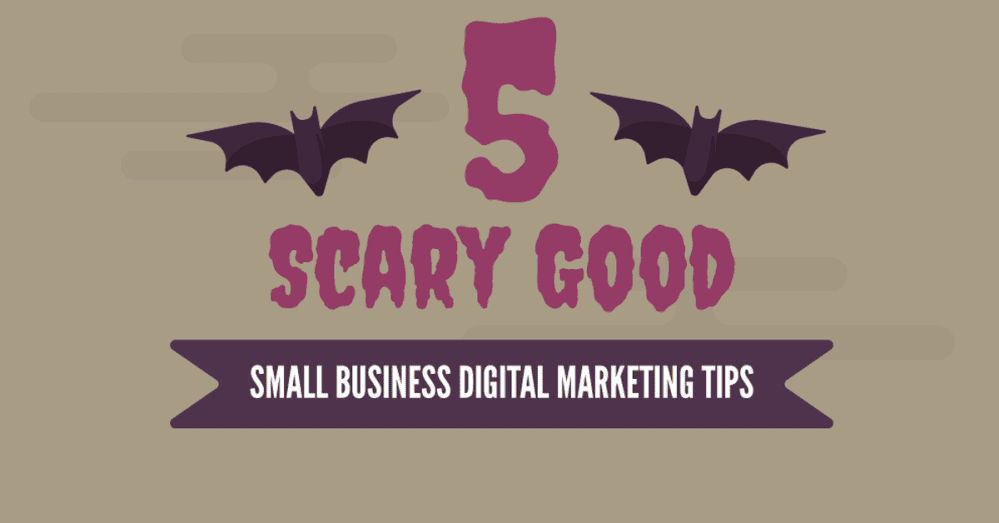 5 Scary Good Small Business Digital Marketing Tips
The Internet can be a scary place and having to figure out your business' digital marketing can be a pretty daunting proposition. Here are five tips to help you slay your digital marketing monsters and grow your business online.
#1: Transform your social media into social marketing
Congrats on getting your business set up on social media — now what? Just posting to your business' Facebook or Twitter page isn't enough. For your business to be competitive today, you need a well-rounded social marketing program that includes organic posting, monitoring and engagement, and paid advertising.
What happens if you haven't posted on social in a while?
Maybe you've already taken a few first steps. Lots of small businesses are still haunted by a social media page gone horribly wrong. That Facebook page you set up… and then never posted a single post. That Twitter account that doesn't have a single tweet. These can be very scary indeed.
We get it. If you're like many, you feel as if you just don't have a ghost of a chance of getting a handle on social media. You just can't get in the spirit. But you'd be wrong, take a look at this quick video to see how to handle a lapsed social media account:
Remember, if you aren't harnessing the full power of social marketing for your business, you're falling behind.
Want to know how to get started? Check out our Smart Business Owner's Guide to Social Media.


#2: Solicit reviews to soar above the competition
It's easy to underestimate the importance of online reviews. But the truth is that positive reviews can mean the difference between getting new business or watching your competitors get new business.
You need to encourage your happy customers to take the time to write about their experiences. Your customers understand how important reviews are, and as long as they're happy with your product or service, they won't be annoyed if you ask them for a review.
Remember: even happy customers don't tend to go looking for ways to leave you a good review. You need to make it as easy as possible for them to leave you a positive review.
#3: Bone up on blog basics
Many business owners overlook the potential rewards that blogging can provide. Done properly, a blog is an excellent way to connect with your audience and generate quality leads for your business.
Always write with your potential customer in mind. Think of the questions or issues they may have and write articles that provide information that they would find useful. That's how you keep your readers coming back for more.
What kind of blog post should you write for Halloween?
If you're having trouble finding something to post, an easy way to break through that writer's block is to look at any upcoming holidays that you could take and spin into some quality content for your readers.
With over 3 billion searches taking place every day, Google — and by extension Google Trends — gives us an unparalleled look at what the world is searching for. For Halloween, they've created an interactive experience, Frightgeist, that you can use to help you discover what people have been talking about
Frightgeist uses Google Trends to find out what costumes and characters are trending around the country and you can use it to decide what you should mention or different ways to frame your Halloween-themed blog post
Writing quality posts takes time, but if you plan your content and stick to a schedule, you'll be reaping the benefits in no time.
#4: Make videos that suck customers in
Video is the key content trend of the moment — if you're not creating video content for your business, you need to be considering why not, and whether it may be a viable option moving forward.
Start with short videos. After all, you'll only have a few seconds to capture your audience's attention, and once you have it, you won't have it for very long. Don't waste too much time on lengthy introductions — get to the point of your video fast and get your message out quickly. Your audience will thank you for it.
If you're posting your video to social media (and you definitely should be!), remember that many people watch videos without any audio whatsoever. If you have people speaking in your video, think about adding captions so that your video's still engaging to those with the volume down.
#5: Carve yourself a top spot with great UX
You may have heard the term "User Experience (UX)" recently and are probably wondering what it means and if it matters for your small business. The short answer is YES.
When someone (aka a user) visits your website, you have a very short time to grab their attention, showcase your products and services, and convince them to choose your company. If you're not taking the time to consider how users progress through the information on each page and what information they need, then you're going to miss out on customers.
The same goes for the experience your visitors have on their mobile devices. Your mobile-optimized website (you do have a mobile-optimized website, right?) will make sure that users can, well, use your site – no matter what device they're using.
Visit hibu.com today to see how your local business can leverage the power of social, search marketing and more to help you grow your business online.