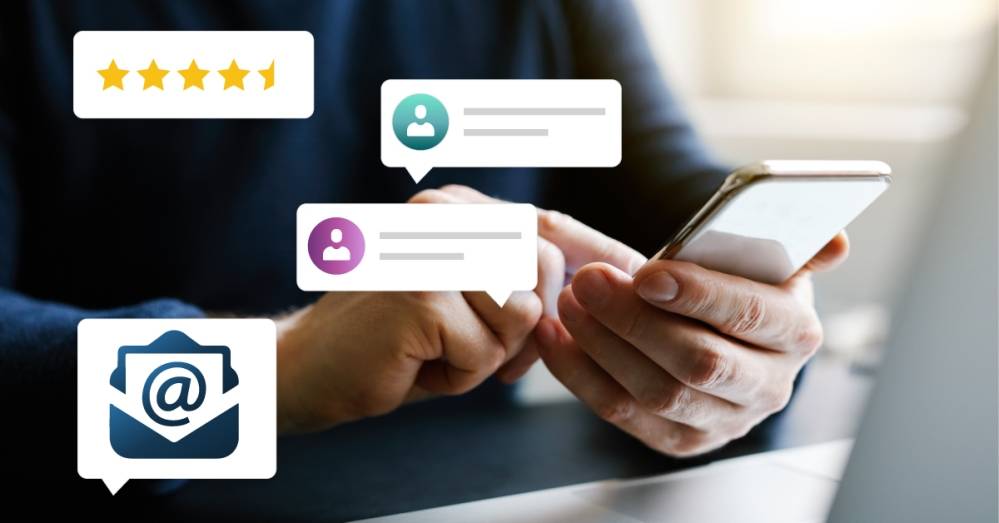 3 Ways to Stay Engaged With Your Customers Without Spending More Time
With that much on your plate, you're probably used to making tough decisions about what to prioritize. Unfortunately, that could mean you don't have much time left over for customer service, engagement or and retention.
According to Salesforce, 80% of customers say the experiences provided by a company are just as important to them as the products and services they provide. In other words, customer engagement is key to your continued growth as a business. But how can you manage that when you're already stretched thin?
The good news is that you can do both — by leveraging your digital marketing. With the right platform, and the right partner, you can keep your customers engaged... boost your brand perception... and create memorable experiences that will lead to long-term success.
Here are just three ways you can stay engaged with your customers – even when you're too busy to do it yourself.

1) Automate Customer Emails and Texts
Despite the fact that the average person receives well over 100 marketing emails from businesses every day, email marketing still has one of the best returns on investment (ROI) of any other marketing channel – with an average return of $36 for every dollar spent.
Automating emails to your customers can save your business time and effort, not to mention drive additional revenue – especially when you automate emails about:
Seasonal promotions

Special offers for new or repeat customers

Reminders about recurring services (like an oil change or air duct cleaning)

SMS text messages can be used the same way, and have open rates as high as 98%.
None of that matters, of course, if you don't have the bandwidth to keep up with your email or SMS marketing. Although sending messages every so often is arguably better than never sending them at all, good marketing requires consistency.
The end result of automating your promotional emails and texts is more engaged customers who will keep your brand at the forefront of their minds – and a little less "down to the wire" work for you.

2) Update and Monitor Your Social Media
Sprout Social reports that 55% of consumers learn about new brands via social media, with 78% of consumers saying they're willing to buy from a company after they've had a positive experience with them on social.
In other words, social media is a powerful tool for your local business. That goes for both social media (the posts you create and publish on your personal profile or a business page) and social media marketing (ads and sponsored posts from your business page).
Posting updates on a regular basis will encourage customer engagement, which can boost the visibility of your future posts. And of course you need to stay on top of checking your social media messages and comments, too (just like you check your email inbox).
Launching a paid social ad campaign will allow you to target the customers you want with a message they can see repeatedly. Instead of the one-time "blast" you get from an organic social post – which will only be seen by some of the people already following you – paid social ads are more likely to help you reach your goal, whether that's more website visits...increased brand awareness...or form fills.

3) Automate Your Review Requests
Not every business will have promotions to include in automated emails, but every business needs to be in the business of getting reviews from their previous customers. According to Search Engine Journal, 91% of consumers between the ages of 18 and 34 trust online reviews just as much as personal recommendations from friends and family...which is why it's good to think of online reviews as today's word of mouth recommendations.
Ultimately, you want both a decent number of reviews – research also shows that the average consumer will believe a business's star rating only when it has more than 40 reviews – and relatively recent reviews. And while it's easy for you to verbally ask customers to leave you a review, it will be easier for them to remember if you send a followup email or text message (remember that 98% open rate for text messages?).
The easiest way to make sure every customer gets those followups is automation. And getting that automation to work well takes a lot of moving pieces:
Connecting your customer lists

Sending the emails and texts

Monitoring the responses (so you can get valuable feedback about what's working for your customers, and so you can respond to any negative reviews before they discourage a future customer from contacting you)

That's why so many businesses – especially ones that have to balance day-to-day tasks with things like asking for reviews – turn to professional digital marketing partners. The right partner with the right tools can set up your email automation, social media management and everything else you need to stay in front of your customers in the digital space while you stay in front of them in real life.

When You Need More Time To Engage With Your Customers Online, Hibu Has Your Back
Staying on top of your business's marketing needs can feel overwhelming. You deserve support from a reliable provider who can take your success to the next level. With Hibu's proprietary platform and integrated digital marketing solutions, you can stay in touch with and nurture your customers without having to cut corners in any other part of your business. To learn more, contact us today at 877-237-6120 or request your no-obligation consultation.