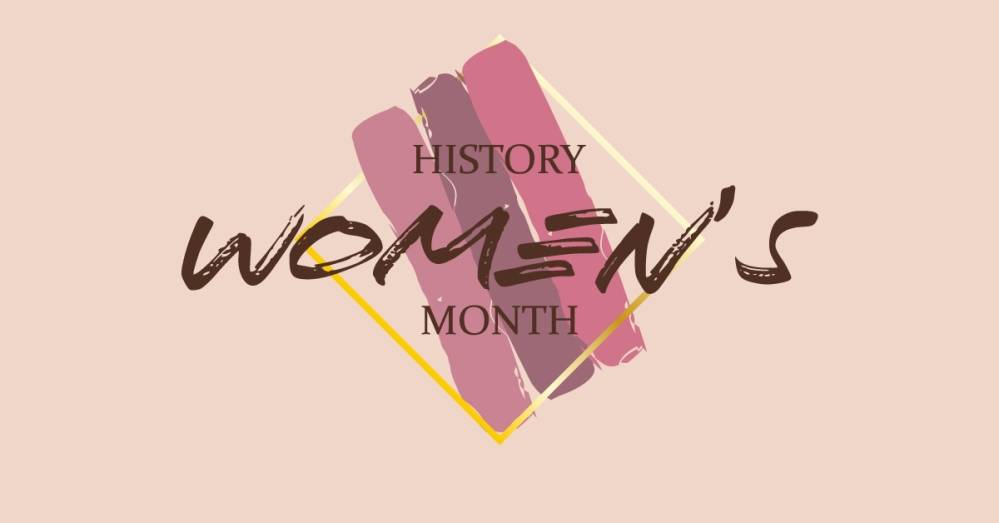 Celebrating Women's History Month
Celebrating International Women's Day and Women's History Month
[Updated March 2023]
Since 1987, March has been designated Women's History Month – a national observance recognizing and honoring the accomplishments of women. And while the definition of womanhood in America has changed over time, the efforts and initiatives taken by women to improve their lives and their country remain unwavering, regardless of the added challenges and hurdles they had to overcome.
Building the foundation for a country takes strong voices and creative innovators, and there is no shortage of women throughout our history who have made significant contributions… right up to and including powerful, accomplished women today. For Women's History Month we chose to spotlight four women who are currently making history in their own unique ways. These women dominate in computer programming, design, entrepreneurship, and mass media. They are inspiring future generations of women to pursue their dreams in fields that are traditionally male-dominated.
2023
Jessie McGuire — Managing Partner, ThoughtMatter

Jessie McGuire is the Managing Partner at brand design studio ThoughtMatter, leading a diverse team of artists, writers and strategists to create daring designs and identities for global brands, local communities, art museums and foundations, institutions and non-profits. Jessie has been integral in shaping the purpose and creative vision of ThoughtMatter, spearheading projects and campaigns that reflect the agency's culture and mission, including a modern redesign of the U.S. Constitution and the For The People docuseries. Her passionate approach has also informed ThoughtMatter's work with cultural institutions like Yerba Buena Center for the Arts, and innovators like Web3 diversity pioneers World of Women, as well as companies like Viacom, Procter & Gamble and many others. In addition, Jessie has raised awareness and support for socially progressive causes such as March for Our Lives, Girls Write Now and The Joyful Heart Foundation as well as on community-minded efforts for The New-York Historical Society, Downtown Staten Island and The Center for Arts Education. Jessie holds a BFA in Communications Design and Advertising Art Direction from Pratt Institute and a MPS in Branding from The School of Visual Arts. Before joining ThoughtMatter, she produced and designed projects for billion-dollar brands owned by Kimberly-Clark, P&G and Colgate Palmolive. In addition, Jessie formerly served as the Advocacy Chair on the board of directors of the New York chapter of AIGA, and is a regular speaker at conferences across NYC. When Jessie is not building brands, Jessie can be found mentoring the next generation or running in Brooklyn—alone, in a race or after her two kids.
Source: https://www.printawards.co/jury-judging-criteria-3
De Nichols — Senior User Experience Researcher at YouTube
De is Senior UX Researcher at YouTube and leads its product inclusion research practices. As a creator, De develops digital and visual art experiences, tools, and initiatives to help communities engage racial equity and civic issues within their communities. De is the visioning artist of the Mirror Casket (2014), a sculpture and performance created as protest art during the 2014 Ferguson uprising, which was collected by the Smithsonian Institute's National Museum for African-American History and Culture in 2016. Her projects such as Sticky Note to Self, United Story (2015), and FoodSpark integrate art and public interventions to help audiences reflect and respond to cultural microaggressions facing women, queer communities, and people of color.
Source: https://www.printawards.co/jury-judging-criteria-3
Sara Remi Fields — Senior Product Designer and Strategist at LinkedIn
Sara Remi is currently a Senior Product Designer and Strategist at LinkedIn. She lives in Brooklyn, New York and enjoys writing, calligraphy, and book binding in her free time. She completed her Masters in Branding from the School of Visual Arts in 2020 and has been a teaching assistant in the program for 3 years.
Source: https://www.printawards.co/jury-judging-criteria-3
Mitzi Okou — Product Designer at Spotify
Mitzi is a UX and visual designer from Atlanta, Georgia who received her Bachelor's degree in Graphic Design from Savannah College of Art and Design. She currently resides in Boston, Massachusetts where she is working as a product designer for Spotify. As an up-and-coming designer, she has placed in hackathons put on by companies and institutions such as IDEO, SCAD and MIT that solved for issues ranging from the wealth inequality in the music industry to federal socio-economic injustice. As a design activist, Mitzi recently organized a free and accessible virtual conference called "Where are the Black designers?" that highlighted and brought awareness to allies within the creative and tech industry about the experiences and struggles of being a black designer within the field. She hopes to use the platform to support black designers throughout their career and help them create their own narrative by connecting them with the established legacy of the black design community, creating a hub of resources, and establishing inclusive spaces within the tech and creative field
Source: https://www.printawards.co/jury-judging-criteria-3
2022
Tabitha Babbitt — American Inventor
Tabitha Babbitt, a tool maker and inventor, created the prototype of a circular saw when she saw men working hard at work sawing logs. An improved version of her design is still being used today.
Hedy Lamarr — Film Actress & Inventor
Hedy Lamarr is best known for being an Austrian-born actress, famous for her acting and beauty, but she was also a brilliant inventor. During World War. II, she invented a system of wireless communication called 'spread spectrum' to fight the Nazis during World War II. This technology was the foundation for today's WIFI and mobile phones.
Katharine Burr Blodgett — Chemist
In 1953, Katharine Burr Blodgett invented 'invisible' (non-reflective) glass by adding layers of film to both sides of a sheet of glass until the visible light was reflected by the layers, cancelling any reflections from the surface of the glass. This technology is now used in windshields, movie cameras, and computer screens.
Marie Van Brittan Brown — Nurse & Innovator
When Marie Van Brittan Brown observed that police were slow to respond to calls for help at times, she took matters into her own hands and devised the CCTV (Closed-Circuit TV) system to help ensure people's security. Her inventions are the basis for modern day CCTV systems used around the world.
Aarti Ramakrishnan — Business Technology Leader
Co-Founder and COO of Singapore-based Crayon Data. Aarti Ramakrishnan was named one of the Top 10 Most Impactful Women in Technology in 2020. Under her leadership, Crayon's creates solutions built using the latest technology and makes these capabilities available to clients faster than anyone else.
Laura Boccanfuso — Entrepreneur & Innovator
Founder and CEO of Van Robotics, Boccanfuso's smart robot (ABii) personalizes K-5 math and reading lessons into a fun social activity for children. She says her long term goal is "to leverage the considerable potential of robots and other technologies to improve the lives of individuals with learning, social and communicative challenges."
2021
Michal Tsur — Co-Founder of Cyota, President and Co-Founder of Kaltura
Dr. Michal Tsur is an experienced entrepreneur with many years of knowledge of technology startup work. She co-founded Cyota, a world-leading provider of security and anti-fraud solutions to financial institutions.
She is also the President and co-founder of Kaltura, the developer of an open source video platform, powering video and media management, publishing and monetization for leading media companies, universities and enterprises.
Tammarrian Rogers — Director of Engineering at Snap, Inc.
Snap, Inc. has grown into a lot more than an app where the pictures disappear these days, and Tammarrian Rogers is helping to make the company's continuing evolution run smoothly. As director of engineering, Rogers oversees the teams. responsible for the final experience and stability of the core Snapchat app.
Before landing at Snap, during her 20-year career at Microsoft, she led teams in the Office, Online Services, and Windows Divisions, and was responsible for overseeing numerous programs and initiatives designed to improve efficiencies and code quality.
Sheryl Sandberg — Chief Operating Officer of Facebook
Sheryl Sandberg's a role model for anyone—yes, women and men—who aspires to be successful. She's currently the Facebook's COO and the first woman to sit on Facebook's board.
Sheryl is also an accomplished author. Her book, Lean In: Woman, Work, and the Will to Succeed which strives to promote gender equality, is one of the most popular business books of the decade. Even managing to spark its own movement.
2020
Kimberly Bryant — Founder of Black Girls Code, Electrical Engineer
There's no secret code here, Kimberly Bryant's goal is simple – increase the number of girls of color that innovate in the STEM (Science, Technology, Engineering, and Math) fields. Her belief is that it is "not lack of interest but lack of access" to programs and tools that teach STEM subjects that is alienating women of color. In 2011, Bryant started Black Girls Code, an organization to provide after school programs and workshops to young girls so they can learn and improve their skills in computer programming and coding. Check out Black Girls Code for more information about Kimberly's passion project.
Marie Forleo — Entrepreneur at MarieForleo.com, Online Marketer, Business Mentor
Listed on Forbes.com "Top 100 Websites for Entrepreneurs", MarieForleo.com is a motivational gateway to the enterprise of Marie Forleo, Entrepreneur. As a business mentor, Marie strives to help other young women meet their business goals with online marketing strategies, organized campaigns, and a philosophy deeply rooted in integrity for a product, not just for potential profits. Her marketing and training programs fund four non-profit organizations that support women entrepreneurs in developing countries. Read more about Marie.
Mellody Hobson – President of Ariel Investments
Living proof that hard work can pay off, Mellody worked her way from intern to president at Ariel Investments, the largest minority-owned investment firm. She has also shattered stereotypes to become chairperson and member of high-powered boards— from Starbucks to DreamWorks Animation.
When she's not in the boardroom, Mellody also makes sure she gives back. She works with a variety of civic and professional institutions which include serving as board member of the Field Museum, the Chicago Public Education Fund and the Sundance Institute.
2019
Katie Moussouris — CEO and founder of Luta Security
As the CEO and founder of Luta Security, Katie Moussouris advises companies, lawmakers, and governments on the benefits of hacking and security research to help make the internet safer for everyone.
Moussouris's most recent work was in helping the U.S. Department of Defense start the government's first bug bounty program, called "Hack the Pentagon." Essentially, inviting people to try to hack into their systems and then report software vulnerabilities that have the potential to be exploited. Her earlier Microsoft work encompassed industry-leading initiatives such as Microsoft's bug bounty programs and Microsoft Vulnerability Research.
Ayse Birsel – Co-Founder of Birsel + Seck Design studio, Award-Winning Industrial Designer
Turkish-born Ayse Birsel applies the aesthetic elements of her homeland to create simple and beautiful industrial designs for organizations throughout the world. Her award-winning work is found in permanent collections at the MOMA and Philadelphia Museum of Art. Through her design studio, Birsel + Seck, she inspires clients and young designers to challenge traditional design rules with her Deconstruction:Reconstruction™ model. Through her book, Design the Life You Love, and course-work she inspires non-designers to use design to create a life they find more meaningful. Learn more about the impact Ayse has had on design.
Susan Kare — Graphic Designer
We don't often think about the people who make our screen experiences work so well. Susan Kare was the designer who helped bring the Apple computer to life with her typography and iconic graphic design skills.
She shaped many of the now-common interface elements of the Mac, like the command icon.
Utilizing a minimalist grid of pixels and constructed with mosaic-like precision, her icons communicate their function immediately and memorably, with wit and style.
Arianna Huffington – Co-Founder and Editor-in-Chief of The Huffington Post, Prolific Author and Blogger
Born in Greece, Arianna Huffington studied economics at the University of Cambridge in Britain before moving to the U.S. Initially a conservative commentator, Huffington would shift parties to liberal politics and eventually start The Huffington Post in 2005. Today the "HuffPost" sees roughly 86 million unique visitors each month. In addition to her work in political commentary, she's a prolific author and co-author, having penned over 29 books on a variety topics of successful blogging, government, and lifestyle improvement. Her political opinions, her published work and her presence in media make her an extremely powerful role model for young women driven to work in media. More about Arianna.