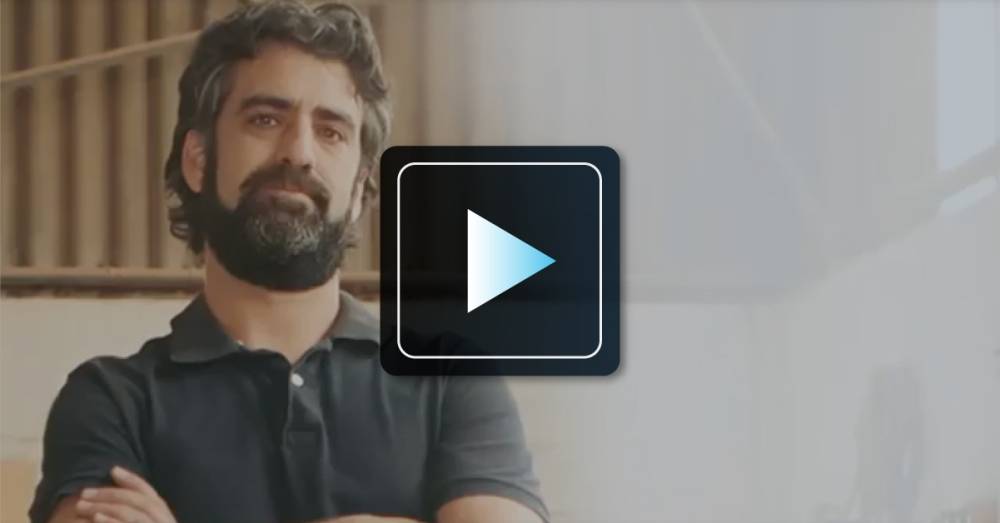 Joe's Story: Today's Local Business Online Marketing Journey
A lot of small business owners believe that if you have a website, you're doing all you have to do to get found online. Add some search ads, maybe some social media, and you're covering all your bases.
Actually, there are a lot more bases to cover if you want your business to get found… get chosen… and get repeat customers.
Our last video showed you all the steps a consumer takes today when choosing a local business like yours. Now you can see that same journey from the small business owner's side – showing how your business needs to stay with prospects and customers from their initial search, to making contact… and even after they buy.
Watch the video above and see how Joe was struggling to get new customers, until he realized what he needed to do to stay with his customers throughout their decision-making journey… and how easy it was to be there every step of the way.
[Video transcript]
This is Joe. He owns Airmanor Heating and Air Conditioning.
Joe's tried advertising his business online himself, but he didn't get many leads.
He claimed his Google listing, but he kept seeing incorrect information about his business online.
He's been told he has some bad reviews online, but he doesn't know what to do about it.
On top of all that, Joe's website is over 3 years old, and hasn't been touched in at least 2 years.
Plus, Joe's really annoyed that his top competitor has ads online that keep popping up on all of his favorite sites. It's making him crazy.
Joe tried using Google AdWords to place search ads 3 years ago when he opened his business…but he burned through a month's budget in just a few days, and it wasn't getting him any leads.
Frankly, Joe was struggling. He worked with one person on his website, an agency on search ads, someone else on social…too many different people, each with a different account, all with different logins, and nothing was connected to anything else.
That's why Joe talked to Hibu. Hibu is different than the other marketing companies Joe tried to work with. Hibu can help Joe with all his digital marketing — not just one or two parts.
Joe talked with a Hibu marketing specialist named John. John explained all the ways consumers search for, discover and engage with businesses today.
Hibu's digital marketing solutions work together to keep Joe's business in front of his customers, from their initial search while they consider their options right up until contact is made, and even after they buy to keep them coming back.
John talked with Joe about the importance of building a strong online foundation, starting with making sure Joe's business information is correct online — so people looking for him can find accurate contact information.
That problem Joe had with bad reviews? Hibu showed Joe how Hibu Reviews can help him generate more positive reviews, and distribute them on his new website and Facebook Page.
And when prospects and customers go to Joe's new website, they'll find a cutting-edge site that's professional, with a lot of positive customer reviews — and it's mobile friendly, so it's simple to use on smartphones and tablets. And getting his new site was easy — Joe didn't even have to change his web address.
Of course today, a business needs more than a great website. Hibu could help Joe set up a social marketing plan too. Plus, John from Hibu showed Joe how he could use Google AdWords effectively, and how they could get his ads on the web's top sites.
Joe was thrilled. Hibu can help him get found no matter how a consumer searches for a business. He took John up on his offer and agreed to take advantage of Hibu's synchronized digital marketing solutions, all designed to work together.
Two months later, Joe talked with John, his dedicated Hibu rep, on the phone. Joe's business information is correct across the web, and it's easy to keep his information up to date and accurate. His new website is getting more visitors. His search and display ads are getting clicks and calls. He's getting and sharing lots of positive reviews. Now, his ads are all over the web — and all these clicks and calls, visits and views, are turning into hot leads and real customers.
Hibu understands the way today's consumers search for what they want…discover their options…and engage with the businesses they choose. Now, thanks to Hibu, more of those consumers are choosing Joe.
Let's talk about how Hibu can get more customers to choose your business. Hibu — digital marketing made easy.