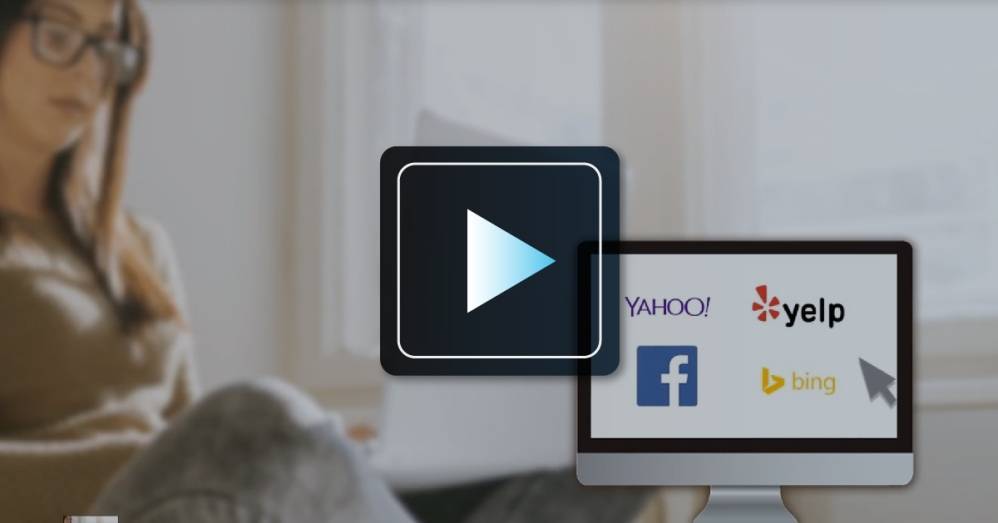 Erica's Story: Today's Local Customer Journey
Once upon a time, when you wanted your house painted, or your car repaired, or needed a doctor or lawyer or landscaper…you asked a friend, or checked the yellow pages, or simply drove into town.
Needless to say, when today's consumer is searching for a local business, product or service, they search online… but that initial search is only the first step of an extremely involved journey.
If your digital marketing is just a website and search, you're missing a lot of steps your customers take when making a buying decision.
Watch the video above and follow Erica as she shops for local heater repair — and see every step she takes along the way… and all the places in her journey where your business needs to be.

[Video transcript]
This is Erica, a typical consumer in the digital age.
Erica needs her heater repaired. Let's see how she finds what she needs.
Like most consumers today, when Erica needs something, she searches online.
Erica started by searching for local, reliable heating repair on Google. She could have gotten started any number of ways. This is just one example of how consumers search for…discover…and engage with local businesses today.
On the search results page, she clicked a search ad for a promising business — Airmanor — and was taken to their website. It was a great site, well-written and designed, with current, up-to-date content, professional, with a lot of positive customer reviews. And it showed exactly what she needed.
But Erica got distracted. Something came up and her search ended.
Later that day, Erica was on her phone, checking out her Facebook News Feed, and right away she saw an ad for Airmanor — the heater repair business whose website she had visited earlier. Erica clicked their ad and was taken to their Facebook Page. Their Facebook Page was professionally produced with current posts…relevant content…and, again, lots of positive reviews.
And, it looked and felt just like their website, with the same branding and the same high-quality images. She could tell this business cared about their brand, and the high level of service they delivered to their customers.
Erica clicked the "Reviews" tab, checked their ratings, and read a few customer comments. She was thrilled — this was obviously a business she could trust. So, she decided to contact them. And again she had choices. She could call…she could use Facebook Messenger…or, she could go back to their website. And that's what she did.
Airmanor's mobile website had the same look and feel as their desktop site and Facebook Page, but was incredibly easy to navigate on her phone. She decided to book an appointment right on her phone. She even got a reminder about the appointment later that day.
The end. Well, it could be the end — but that would only be one small part of the consumer journey.
Erica's journey continued long after her service call. When her service call was over, Airmanor repair man handed Erica a card, asking her to please leave them a review online. She was so pleased with the service they delivered that she posted a 5-star review with a great comment. She clicked "Submit" and was prompted to share her review on their social media page (and she did).
Later that day, Erica saw her review with a "Thank you" from Airmanor in her Facebook News Feed — and her review had 10 Likes from her friends.
Over the next several weeks, Erica saw timely and relevant posts from Airmanor in her Facebook Feed, including lots of good ideas on home maintenance…heating…and air conditioning.
Then, months later, she received a reminder that it was time to have her air conditioner serviced, and the business she loved was offering a really great deal. Erica took advantage of the offer and booked a service call.
Erica's consumer experience worked out very well. She searched for the right business to meet her needs…discovered her options…and was able to engage them. And it was easy for her because all of Airmanor's digital marketing worked together to win and keep Erica's business.
This is how consumers find and choose a local business today. It's not just a website, or a Facebook Page, or social ads…it's all those things and more working together. It can seem incredibly complex. Not just setting up your website and social media pages, but building search and ad campaigns…gathering reviews, and then making sure those reviews appear on your site, social and more.
That's what you need Hibu — digital marketing made easy. With Hibu, you get everything you need, all working together, all from a single provider.
Talk to us today about making sure your customers' search leads to you.
Hibu — digital marketing made easy.
Want to see what this consumer journey is like from a small business owner's perspective? Check out today's local business online marketing journey.