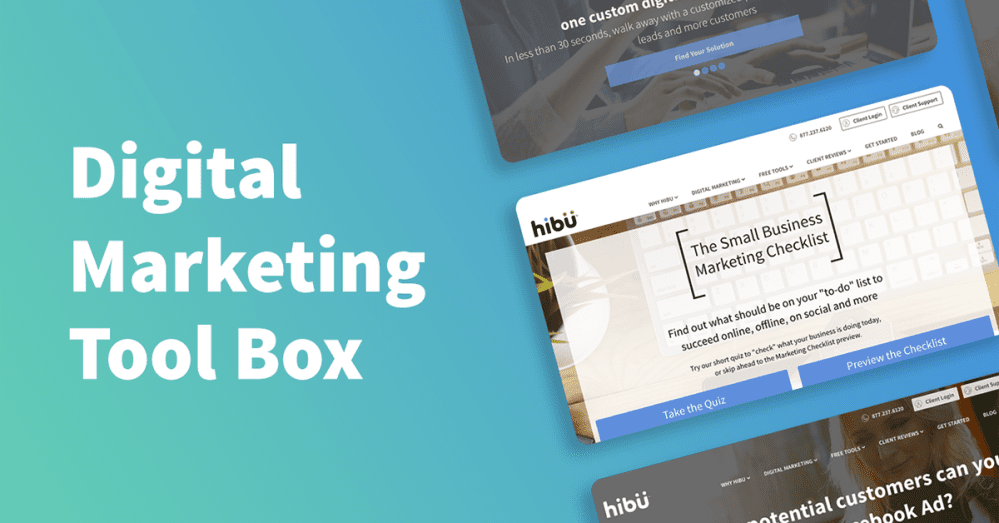 Digital Marketing Tool Box
When it comes to marketing your business online, having access to the right tools can mean the difference between meeting your goals and wasting your money. That's why we want to share our digital marketing toolbox with you! These tools are specifically crafted to help improve your brand's marketing, website performance, analysis, digital experience, and more.
Find the right tools to match your business' needs below:
Get a customized digital marketing plan
Every local business is different, but there's one thing they all need: a tailor-made plan to get more leads, more customers, and more business. See first-hand how taking control of your digital marketing can have a major impact on your business. It only takes about 30 seconds — really! — to find the plan that's right for where you want your business to go and what you're ready to invest to get there. Get your plan here.
Your "to-do" list to succeed both online and offline
When we speak with small business owners, we hear a common theme when it comes to marketing – they say "where do I start?" Most of them feel stuck at the starting line. To solve that, so that you can get into the race, we created the Small Business Marketing Checklist, filled with ideas for both online (including mobile) and offline marketing.
Get your checklist here.
Measure your potential
It's hard to effectively evaluate a new channel for your marketing without knowing the best and worst-case-scenario. Find out if Facebook Ads are worth your money with our quick and easy reach calculator. Quickly discover your potential reach and get a clearer picture of how many more leads and sales you could earn if you decided to advertise on Facebook.

Want even more digital marketing resources? Visit hibu.com to get all the latest updates on our digital marketing solutions for small businesses.