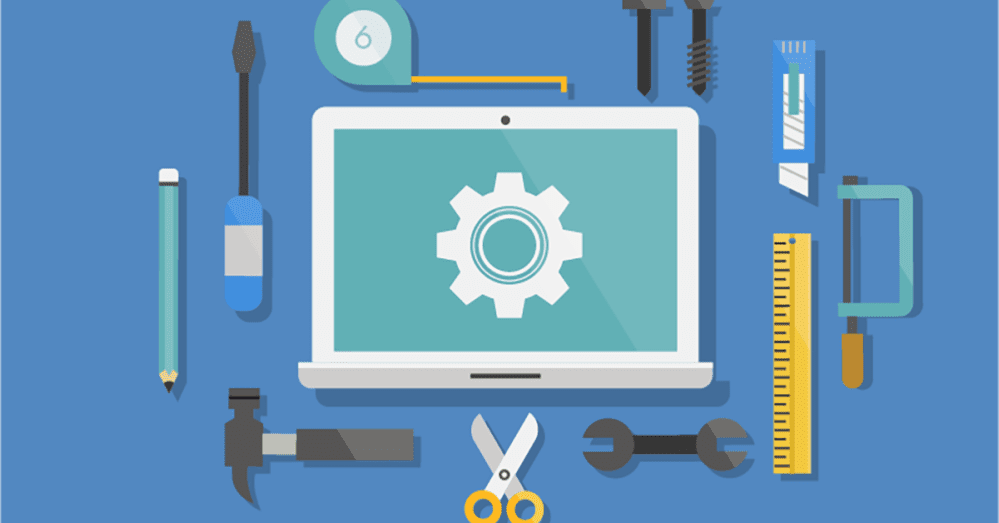 The Small Business Toolbox: 6 Free Online Tools
Small business owners love to save time and money. That's why it pays to have tools that work well without breaking the bank — and "free" is a price point that works for everyone!
From useful online to-do lists and file sharing, to email campaigns and video calls, here are some of the best virtual tools for small businesses that don't cost a thing.

1) Evernote
Running a business means having tons of things to do and never enough time to do them. That's where Evernote steps in.
Evernote, with all its features, can make your business (or even your personal life) more manageable. Many use it to quickly save any thoughts or ideas that come up during the work day, but, it does much more than just take notes:
Quickly create to-do lists
Easily save web pages to read later
Store documents with the click of a button

Evernote also syncs across all your devices, so you can work from anywhere without missing a beat.

2) Dropbox
Do you need to share a huge file that's too big to send via email? Want to access your business files from anywhere, whether that's on your mobile device, tablet or home computer? Dropbox is a simple and easy way to do all of that — for free. Dropbox is a digital file sharing tool that ends the challenge of storing and syncing files on different devices and computers. With a free account, you get up to 2GB of space, and can easily save all your documents to the cloud — letting you access them from anywhere, and share them with anyone.

3) Canva
The style and aesthetic of your brand is important. A well-designed website and online materials can make all the difference in attracting (and keeping) customers. A 2019 study by Quick Sprout proved that users will stop interacting with a company's content if they have a bad experience with how it looks — they'll go out in search of other, more visually pleasing content. You don't want bad design to drive customers away.
A whopping 30 million active monthly users trust Canva to help them with quick design tasks. Created to help the Average Joe create eye-catching imagery, Canva is a digital imaging tool that can help your brand stand out in a unique and cool way. Not only is it completely free (you only need to pay for any stock photos you use), but it's also easy to use… has a large selection of templates… and is chock-full of free graphics and icons. And, if you need, inspiration, take a look at their free online design school, packed with design tips for non-designers.

4) Skype
Skype is the gold standard for video conferencing. All you need is an internet connection and a computer, cell phone or tablet with a functioning camera, speakers and microphone. If you need your employees or clients to feel as though you're all in the same room, even when you're miles away, video conferencing between Skype accounts is the perfect solution.
[Related: Digital Marketing Toolbox]

5) MailChimp
Your business's email list is arguably your most valuable and important collection of current and potential customers — and finding a way for your small business to build and manage that list is crucial. Reaching out and interacting with people by sending something directly to their inbox is an essential method for building customer relationships, and should be part of your digital marketing plan. MailChimp to the rescue!
This digital marketing tool has drag-and-drop features… dozens of free templates… and the ability to customize your email marketing campaigns. MailChimp has the potential to revolutionize your marketing — not bad for zero dollars.

6) Boomerang
Ever wanted to send an email on a Friday but didn't want it to get lost in the recipient's mailbox over the weekend? Boomerang is a third-party Gmail add-on that allows you to take FULL control of when you send and receive emails. You can schedule when you want your emails to be sent, ensuring that you hit their inbox right when you want to.
It also gives you the ability to "boomerang" emails back to yourself. If there's an email in your inbox that you can't tackle right now, you can select when you'll have time to look at it again and Boomerang will archive it. When the time comes, Boomerang will bring it back to your inbox.
Have you ever wished you could remind yourself to follow up with the all the people you email every week? Boomerang can shoot you a reminder to follow up with them directly to your inbox.
Join the over 350,000 small businesses worldwide who are already using Boomerang and tame your inbox.
When it comes to Boomerang, the only real challenge might be choosing which feature to try first.
Ever wanted to send an email on a Friday, but didn't want it to get lost in the someone's mailbox over the weekend? Boomerang lets you schedule when you want your emails to be sent, ensuring that you hit recipients' inboxes right when you want to.
Ever wished you could remind yourself to follow up with all the people you emailed last week? Boomerang can also shoot you a reminder to reply or follow up with them directly to your inbox.
Ever needed to respond to an email…but not right now? Boomerang let's you "boomerang" an email back to yourself when you'll have time, like after business hours or later in the week.

Not bad for a free Gmail add-on!

So, what are you waiting for? They're all FREE!
Get out there and test these tools, and see what works for your small business. Whether you decide to use one or all of them, having any of them in place will put you well on your way to having a lot more time and energy to focus on what's most important – running your business!
Hibu also has a collection of free tools for your business to take advantage of on our website — such as custom digital marketing plans, Facebook reach calculator, and business listing checks.