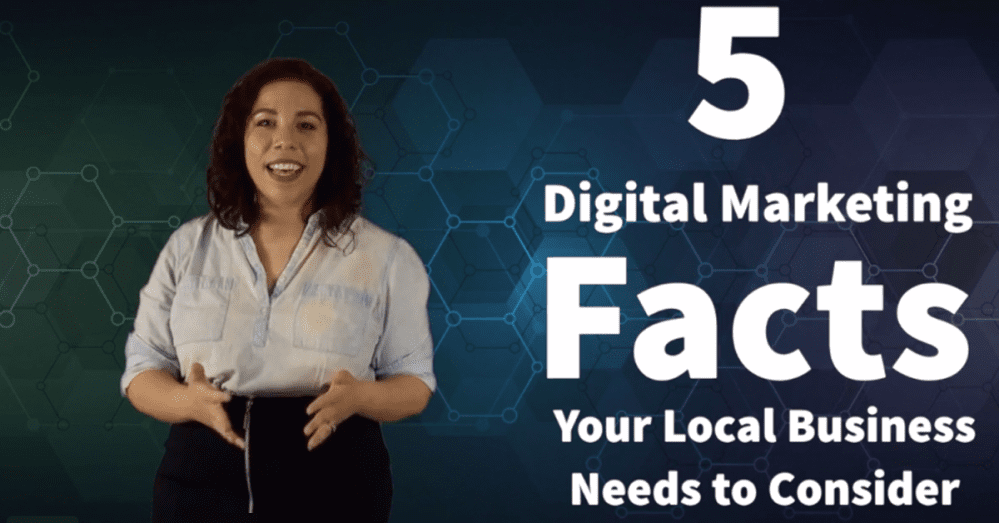 5 Facts your business needs to consider now
One of the most challenging parts of advertising your local business online is simply keeping up with non-stop evolution of the web. A few years ago it was enough to have a website, then it had to be optimized for mobile – now it has to be built for voice search too. And that's just one example of how things keep changing.
Think voice isn't something you need to worry about? What percentage of searches are expected to be voice-searches by next year… 10%? 20%? 50%? More?
Watch this quick video to get the answer to that question and four more digital marketing facts you need to be aware of now as you plan how you should be using digital marketing.
[Video transcript]
If you have a local business today, it's tough keeping up with all the changes going on with digital marketing. A smart move yesterday, may be less smart today.
Here are five digital marketing facts you need to consider when thinking about how you're going to advertise your business online.
5 digital marketing facts that could impact your business success
1. Incorrect business listings
85% of small businesses have incorrect information online. That can have an impact on your search rankings. And that can have a major impact on getting or losing new leads.
2. Search rankings
Businesses that show up on the first page of results get 92% of consumer traffic. Optimize your visibility by making sure your listings are correct and up-to-date. And share good reviews.
3. Website speed
A slow or difficult website can increase abandonment by 75%. An old website can easily cost you new customers.
4. Voice search
About 20% of all mobile searches are voice searches and that's expected to grow to 50% by 2020. 76% of people who search for a local business on their phone actually visit that business within 24 hours — and 28% of those searches end in a purchase.
5. Schema technology
About 80% of websites don't have the advanced technology needed to communicate key information to Google and other search engines — reducing their search ranking and their visibility in search and in voice search on Siri, Alexa, and Google.
At Hibu, we can help you make smart, informed decisions about your digital marketing. Like having a website with the advanced technology to outperform other sites and making sure all your digital marketing works together in sync. After all, local businesses have gotten 476% more unique website visitors when all their digital marketing is in sync and from a single provider.
Get the facts you need from a partner with decades of experience working with local businesses.
Now that's smart!