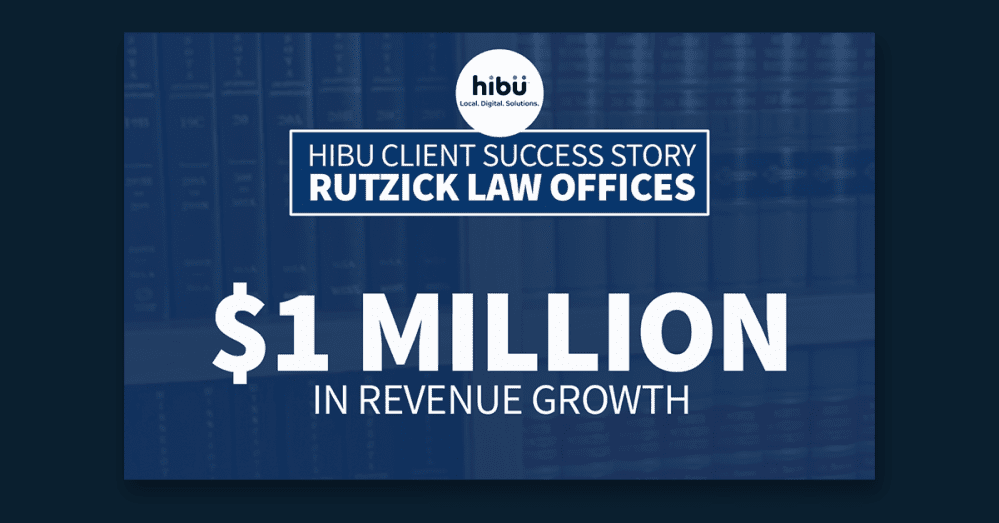 Client Success Story: Rutzick Law Offices
What's your digital marketing look like? A website? Search ads? Maybe some social? Are you happy with what you see when you compare the money you're investing vs the profit you're generating? Would you be happy with a million dollars in growth?
$1 million in revenue growth
If you own a small business, you've got to look at that figure and think that's a goal you'd like to achieve. Rutzick Law Offices in St. Paul, MN, has carefully built a connected digital marketing campaign over the past few years and the results they've achieved have been significant. To quote Steven Rutzick, "Our growth has been substantial."

It's a different world today… and your digital marketing has to work together to deliver results
Digital marketing today is different than it was just a few years ago. Just a few years ago, if you had a good-looking website, you could argue that that was enough. But it's not enough anymore.
Today your website needs to be the central hub of an interconnected digital marketing solution. To get the most out of your marketing efforts, your site needs to be in sync with everything you're doing online – your social, online listings, search, and reviews – and we have cold hard, real-money results that prove this point.
Watch the video and take a look at the Rutzick Law Case Study for a closer look at what Hibu did for them… then let's talk about what a synchronized digital marketing solution could do for your small business.
[Transcript]
I have been in business for over 45 years. Rutzick Law started approximately thirty years ago. We were in the top one hundred trial lawyers in Minnesota.
When Hibu came here, we knew nothing, basically. For sure, I knew nothing. We were back in the old, old, old, old days of the Yellow Book, and we knew that we needed advertising.
This business goes by how many clients you have and how we can represent people.
So, we're up against numerous many, many, many other law firms that do the same thing that we do. But it doesn't mean anything when they're out there advertising and people see their names out there. So, we had to do the same thing. And basically, Hibu helped us do that.
We knew we had to move to the next level. We needed someone to help us with that. Hibu came in and showed us how to do it and set us up with a really good website and they presented us different ways to go about our marketing scheme.
They simplify the whole, the whole process of how we should go about doing it. They put it together, we liked it we ran with it.
It just seemed that they have had the right answers for us at the right prices. And we went with them and we're not sorry we did.
We had a lot of calls. Before, we were dealing with Hibu, you know, it's mostly referrals that we would get from other clients. You know, satisfied customers. We did some direct mail. Since we started going with Hibu, our growth has been substantial. I would say maybe in the million-dollar range.
It's been good. We're happy. I think Hibu was really good to work with because they're so accessible. One phone call, you always get a phone call back. Any questions, they get answered.
It's been very easy. It's seamless, almost. They come in. They give us new products. We don't have to call them and say, "Hey, man, we need something else" No, they come here. It's good.
Check out the video above to hear Steven discuss their digital marketing success. Then, visit the new Hibu Resource Library to see a more detailed Rutzick Law case study – plus a lot of other useful tools and information.