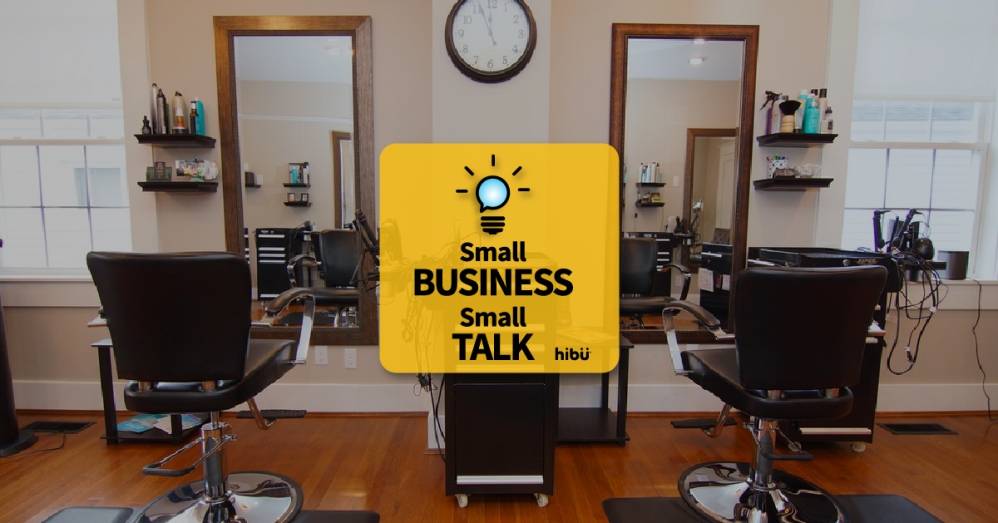 Podcast: Digital Marketing for Salons and Spas
Today we're speaking with Tracy Brucks, owner of Style and Grace Salon & Day Spa in Champaign, Illinois. Tracy talked with us about her experience navigating the salon and spa business owner. After she took over an existing salon business, she both rebranded her business and expanded digital marketing efforts with spectacular results. Listen in as we discuss:
Buying an existing business, rebranding, and revisioning
Google reviews in service-based businesses
Navigating Covid in a salon business
How to build trust and clear communication with your clients
How to improve business by tracking leads
Investing in marketing and advertising
New updates coming to her business soon!


Small Business Small Talk powered by Hibu gives you the insider expertise your local business needs to compete online. Small Business Small Talk brings you informative conversations with digital marketing experts who specialize in online marketing for small and medium-sized businesses.
➜ Listen to Small Business Small Talk powered by Hibu on all your favorite podcast listening platforms
➜ Style and Grace Salon & Day Spa:
https://www.styleandgracecu.com/
https://www.facebook.com/styleandgracesalondayspa/
https://www.instagram.com/styleandgrace_salon/
________________________
[Podcast Transcript]
Ian Messinger
Hi, I'm Ian Messinger with my co-host, Lauren Blackford.
Lauren Blackford
Hey there.
Ian Messinger
Thanks for joining us for this episode of Small Business Small Talk powered by Hibu. At Hibu, our goal is to help local businesses across America succeed and grow with digital marketing. And a great way to do that is to hear firsthand stories of how actual businesses have used digital to reach their specific customers. Today, we're talking with Tracy Brucks, owner of Style and Grace Salon and Day Spa. Tracy, welcome to Small Business Small Talk.
Tracy Brucks
Well, hello.
Ian Messinger
How are you?
Tracy Brucks
I'm doing well. How are you guys today?
Tracy Brucks
Good. Good. Feels like seeing someone we already know. Since we've, we've worked together before. So nice to see you. Again.
Tracy Brucks
It's nice to see you as well.
Ian Messinger
So today, we really just want to talk about you know, we've spent a few of these podcasts talking about different industries and businesses within those industries. And today, we really want to learn about your experience in the in the personal care sector and with your salon. And I think where I'd love to start is if you could just kind of tell us the story of how Style and Grace came to be.
Tracy Brucks
Well, Style and Grace is a full salon and day spa. And I was an employee formally at that establishment for a little over 20 years. And behind the scenes, the owners of the company came to me and said, hey, have you ever thought about doing this on your own? And I hadn't. So next thing I do, I am scrambling and decided, I think it's a great idea. And next thing I know, I'm walking in and saying "hello, everyone, I have now purchased the business." And this is what we're doing. And I was really blessed. Everyone supported me stayed on. And that's how we became Style and Grace.
Ian Messinger
Wow. So that's a that's a big change from being an employee for that long to taking over the business. So what was that transition like? You know, were there I have to imagine there were things you either wanted to change or even maybe had to change. You know, was there? Was there a rebranding involved? What did that look like when you when you took over as the new owner?
Tracy Brucks
Yeah, absolutely. Well, in the very beginning, I didn't have the biggest picture of what I wanted to see have happened because I was just busy keeping us afloat. And after that, I realized we really need to get out there and no longer be "formally known as…" I really wanted to make sure the business was very successful prior to so that was very nice. He had a lot of guests that were already coming in, I really wanted to come and make sure that we were known as Style and Grace. And we were a new company. And we were going to have some fresh looks and some fresh ideas and a new mission statement. And getting it out there was very important to me.
Lauren Blackford
That definitely says something about your reputation that you change the name of the salon, but you maintain the employees and the customers, and they kept coming back for your services that you now rebranded, how was that experience for you and maintaining all of that, but creating something new?
Tracy Brucks
It was… it was a lot. It really was a lot. I was posed many different questions, even from customers themselves, like what do you think? And what are you wanting to do next? And so that really opened my eyes to know that they were ready for new and they weren't ready just for status quo, they wanted to change. So that's when I got busy and got in there and really have been done doing a lot in which to really change the vibe of the whole salon. And getting out there's been it's been part of the hardest. In the beginning, we just relied on social media. And then I realized that that was not going to be enough. And that's where Hibu came into play.
Ian Messinger
Yeah, I you know, that's a familiar story to us, you know, folks that are whether they're starting a business… taking over a business… and a lot of cases, you know, inheriting a family business, just that kind of, you know, you get to that point where you realize, you know, you want to make it your own. And maybe in the process of making it your own there are marketing and promotional standpoint, things that could be changed, maybe improved, maybe just a, you know, a hard left in some cases. So, what did that look like for you as you started with social media? And was there a… was there a point where, before you got connected with Hibu, was there a point where you kind of hit a wall and said, I've done all that I can or was it just building on what you were already doing online,
Tracy Brucks
it was just building on what I was already doing, I realized I really wanted to make an impact with today's market. Everyone is shopping for the next best thing. And so, to be out there – and I really wanted to make sure that what I was selling was being told – and so, us is just doing just social media wasn't enough for us anymore. I needed the website, I needed the interaction. And I needed to be able to get in there and be able to communicate and with all the different platforms that we've had. So far with Hibu I feel like I've really, really been managing that and doing that to their fullest potential. Now, finally.
Ian Messinger
As you kind of… I mean, as you mentioned, you had worked at this salon for 20 years, you've obviously been doing this a while. What have you seen out there as far as other similar businesses, what they're doing to promote themselves? And you know, have you? Have you learned from them? Have you learned, oh, hey, I can do that too. That would be great. Or have you? Have you seen things where you've gotten? Oh, that's a misstep, that's an opportunity for me.
Tracy Brucks
I've seen a little bit of both, I'll be honest, because I do pay attention because I try to keep up with the trends. And that's one thing that I think for myself, personally, I get behind when it comes to just what the look of what people are wanting to see. And that's only on social media. That's nothing that you guys are providing. For us. It's the platform itself. And I've definitely seen a lot of things I want to stay away from, especially during COVID, a lot of people showed anger versus compassion. And it was just a direction I know, I didn't want to go. To be honest with you, I don't have the best answer. When it comes to watching what other people are doing or aren't doing and where I just always no, I'm focusing on myself as to what I think that our business and branding needs to be done.
Ian Messinger
No, that's a great answer. I mean, that's, you know, at the end of the day, there's a lot of conventions, maybe that work for everyone. I mean, you rattle off a few… you've got to be on social media, you have to have a website, et cetera, et cetera. But you know, at the end of the day, it all comes down to an individual plan for for your business and what you want it to look like and what kind of results you want to you want to get out of it.
Tracy Brucks
Absolutely.
Lauren Blackford
So, Tracy, let's talk about reviews. Because we know in the service industry reviews are key right now, they've almost replaced word of mouth — and you have almost 300 reviews. So, talk us through how reviews became an important part of your digital marketing.
Tracy Brucks
While reviews are like many interviews, I mean, people are going through and they want to know, before they send money or decide they want to spend money with you, as a business, they're gonna go through and do all of their homework. That's why it's so important to be on all of the platforms to make sure they can get all the information they want. And reviews are huge. Because I know for myself, even before I go to a restaurant I go through, and I read a few of the reviews just to see if the culture is what I'm wanting to see or if the clients are, well, yeah, the culture is something that I want to be a part of. And going through and knowing exactly who you want to see. Or you might read a review and say, Hey, this is really great, I see that Stephanie does a great job with long hair, that's what I'm looking for, as a matter of fact, and then they can even cross reference, go to the website, see a picture of the technician, and be able to text the technician and then take it to the next platform to be able to see her work. So, I mean, it just it all evolves and plays one after the other. That's for sure, reviews are very important.
Lauren Blackford
I mean, just on a personal note, I'm in the midst of planning a wedding right now. And I was just looking at a bridal boutique nearby, and they have all the designers that I like, and I was very excited. But before requesting employment, I went to look at their reviews, and all their reviews were three stars or less. And I was like no, not going there. So, it really is amazing. Even if a place has everything that you think you want, you don't know until you look at the reviews and see what the service actually is. So it's super important in all service industries, but especially in something like a salon or like, you know, Bridal Boutique, things where service is the most important thing.
Tracy Brucks
Absolutely, we're doing… having such a personal connection… so they want to make sure that they have that personal connection, or feel like they can have it once they walk in.
Ian Messinger
Well, I have to imagine the last couple years with COVID, that that's probably been important as well, you know, there might be people that are looking to see like, do I feel safe going here? Am I going to be comfortable? You know, are they? What kind of practices do they have in place for customers coming in? Like I imagined I could be wrong. And please correct me if I'm wrong. But I imagine it shows up in the reviews too.
Tracy Brucks
Absolutely. You are very right. That was actually COVID was tough time. Of course, all of us know what a tough time it really was. And having the platform in which I have through Hibu right now, or at that time. And still currently I was able to stay connected with my guests and let them know every what the mandates were what we are doing and what we were doing in order for check in and how I mean really wanted to create an environment that they knew that I was taking all of this very seriously that… updates… 100% as to what we were doing in order to make sure that they felt comfortable and safe coming into the salon and we did quite a little bit all the way from an outdoor check in room that we built for people and then they stayed in with pagers and we made videos, we were able to share it all through the website. I mean, so everyone was very well informed. Anytime that we wanted to go through and if there was a new mitigation or a new change, we were able to go in and directly contact Hibu and say this is what we need on our website today, need this to read and everybody was so responsive. And so it was, it was perfect that we were able to keep everyone. And then our guests learned where to go, they learned to go to the website and take a look, they learned to go. And so they knew that we were keeping up and stay on top of things. So everyone was so well informed the whole time, which I think really, really made, a lot of people feel more secure, and safe.
Lauren Blackford
It touches on a really good point, because you spent a lot of time making sure that your website and all of your other marketing had the most up to date information. So you let your customers know that those your website was the center of your truth. That's where you go for any information. And I think that creates a sense of trust between the business owner and the customer. If you know everything is up to date, and everything is going to be updated as quickly as things were changing, and do change now, so that your customers know exactly where to go to find out what they need to know, which is fantastic.
Tracy Brucks
I agree. It was it was wonderful. And they still now… now they still know that we're going to keep everything up to date no matter what it is because they're… I don't want to say the word trained, but I know you guys catch the gist.
Ian Messinger
Yeah. You know, I mean, I think I think you've set a helpful expectation. And they are now kind of rising to that and going, hey, you know, maybe it's a holiday weekend, and they want to find out, oh gosh, I'd love to go get my hair done before, you know, the Fourth of July picnic, you know, and they know they can go and check and see if you guys are available. So yeah, I think that's a that's a good thing.
Announcer
You're listening to Small Business Small Talk powered by Hibu. Hibu is the country's leading provider of synchronized digital marketing for small businesses, delivering more visibility more visitors, more leads and more customers visit us today at hibu.com. H-I-B-U. hibu.com.
Lauren Blackford
We're back with our guest today, Tracy Brucks, owner of Style and Grace Salon & Day Spa. So Tracy, taking a look at your dashboard, it looks like your digital marketing brings in a lot of leads — over 4,000 in the past 90 days, which is incredible. So let's talk about the importance of the leads that were bringing in for you and the importance of tracking them, how has that affected your business?
Tracy Brucks
There is one area that I really, really enjoy when I go through and I open up and I get to look through my Hibu dashboard. And that is to see the call leads, and how often people are actually clicking and following through and our phones are constantly going — and then seeing that it's working for me. It's not just somebody calling off their cell phone, they were on our website, they actually saw what we were about, they read our mission statement, they did their homework, and then they still chose to call us. And because we have the call to action, and with that just directly from the website that… and then of course the emails as well, we get so many emails from the website, that it's really nice to be able to have people just once again have that full interaction.
Ian Messinger
Yeah, absolutely. And you know, I imagine as as the owner and for your employees, it's also whether they think about it consciously or not, it must be comforting to know that so many people who are coming in aren't just kind of wandering in clueless, you know, they've engaged with you online, they know what you're all about, they they know what to expect.
Tracy Brucks
Absolutely, and it's really nice because we have a feature that if they use their actual the website itself, the call or the phone number that's provided, we can actually record the audio. And so with that, then I can listen, it's great for training for receptionist — really great for training with receptionist if you hear anything — but you can also really get to know what that customer is wanting. And they'll tell receptionists a full life story. And so then you get to know a little bit more about them as well as they're learning about you. And then we get to really see what's working for us and what people are looking for.
Ian Messinger
Sure. I mean if you've listened to a dozen calls and everyone's asking do you do "x" that's probably a lightbulb moment of oh we better we better make a video about that or put a post up on Facebook saying yes we do.
Tracy Brucks
Or what is that service? I must know right now. Yeah. I need to bring in that. I'm absolutely…
Ian Messinger
Yeah, yeah, for sure. Without feeling like you're bragging too much or go ahead and brag if you'd like is there something specific where you really feel like you know with by working with Hibu or otherwise you know, you've really kind of managed to carve out a space for yourself you know something that's really a almost a secret weapon for you.
Tracy Brucks
You know what? Working with Hibu has definitely is put me I know that my advertising dollars are going to good use. 100%. I'm gonna be able to see the number have new guests that we have on a pretty regular basis trying to come in. And I mean, I can't say enough, I really can't,. It has really been worth the investment that I make every month towards Hibu. From what I see what the return of the guests coming back in.
Ian Messinger
I love that you use the word "investment," because I think that's one of the things that can be a challenge for any small business is, you know, especially if they've been around a long time. You know, a lot of times in the past advertising used to be exactly what it says an ad — I'm going to run this ad in the newspaper. And really now that we're talking about, you know, modern, digital interconnected marketing, it is an investment, it's saying I'm going to carve out, you know, this budget every month, and I'm going to put it toward my solution. And it's going to go to work for me and it's going to generate business. It's not a one and done, you know, hey, I hired the you know, the skywriter to to do something this weekend. So, no, I love that you use the word investment. That's, that's great.
Tracy Brucks
Oh, yeah, that's you have to divest to get your return. Short, that's the way I see it every month.
Ian Messinger
Is there anything coming up soon for you in terms of you know, hey, I'd like to do a little bit more of this or whether that's through your marketing plan, or we mentioned earlier, maybe things you've heard guests asking for, and you're going oh, we need to start, we need to start doing that.
Tracy Brucks
Honestly, all of my, all of my focus, we're gonna write to do some more remodel. Since we purchased the building in 2018. It was a 20-plus-year-old building that hadn't had a whole lot of love. And so we're in the process of going through and redoing all the floors, we're going to have a big area well, once again, the website is going to help us out because we're actually closing for a couple of days, and really new, it's a big remodel. So that's creating the newest buzz with the guests in the salon. They've been loving watching all the different things we've been doing to the salon, and now we're doing something really big, we're redoing all the floors. So that's, that is my full attention right at the moment — making sure everyone's well taken care of before we close down, and after and making sure everyone knows exactly what's going on.
Ian Messinger
Well, Tracy, thanks for joining us today sharing your experience and your knowledge and helping us help personal care business owners like you, or any other local small businesses across the country. And to all of you listening, it doesn't matter what industry you're in, you need an effective digital marketing solution that generates leads and customers visit us at hibu.com to see how Hibu can deliver the kind of results you want. If you liked what you heard on this episode, be sure to subscribe. And please if you can leave us a review. It really does help. This is Small Business Small Talk… out.
Announcer
Thanks for listening to this episode of Small Business Small Talk powered by Hibu. Hibu is a leading provider of synchronized digital marketing for small businesses across America. With Hibu, you get all the digital marketing your business needs, all from a single provider all working together to maximize results, visit us today at hibu.com. H-I-B-U. hibu.com.